SVC:MBAMSwissArmy Rootkit is a detection for a harmful program that impersonates a genuine anti-malware product in order to bypass antivirus detection. Usually, Trojan with this characteristic will append Windows system files to run the malware every time Windows starts. It is created as a system service that is configured to run automatically on each boot-up process of Windows. The detection occurs if antivirus software detects that there are suspicious changes on the file including huge increase in size, altered header, and other misbehavior that are common to Trojans and viruses.
In an instance, that you are sure that computer is free from any virus threats, then the detection of SVC:MBAMSwissArmy Rootkit could be a false positive if Malwarebytes Anti-Malware is installed. There are reports that some versions of Avast antivirus fails to classify MBAM files as harmless. If that is the case, you must need to update your antivirus program to the most recent release. Database, pattern files, and the program itself require vital update from time to time. It is necessary to detect most recent malware threats, which are regularly updated to evade antivirus detection.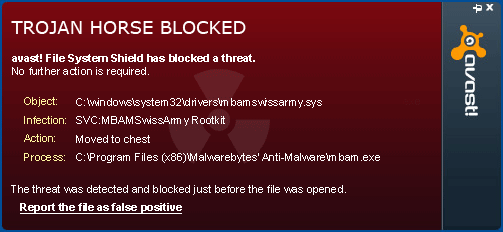 How to Remove SVC:MBAMSwissArmy Rootkit
Method1 : Using TDSSKiller
Anti-rootkit utility called TDSSKiller is a free tool from Kasperksy that neutralizes complicated malware which effectively hides its process, folders, files and registry entries.
1. Download TDSSKiller from this link. Save the file to your desktop.
2. Extract the contents using archiver applications.
3. Reboot the computer in Safe Mode to avoid SVC:MBAMSwissArmy Rootkit from loading at start-up. You may want to print this procedure as we have to restart the computer to complete the removal process.
- Restart the computer.
- Before Windows begins to load, press F8 on your keyboard.
- It will display an Advanced Boot Options menu. Select Safe Mode with Networking.
- Windows will now start in Safe Mode.
4. Locate and run the TDSSKiller.exe file.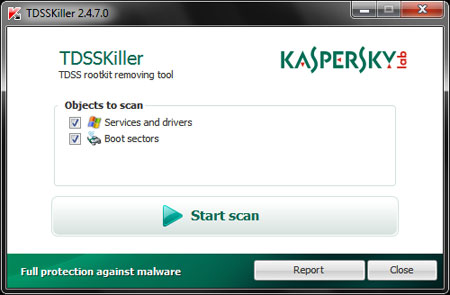 5.
On Object to Scan, please mark
Services and drivers
as well as
Boot Sectors
.
6.
Click on
Start Scan
to begin scanning your system. This may take a while.
7.
After the scan is finished, it will reboot the computer. That should complete the disinfection process.
Method 2: Using ZeroAccess Fix Tool
For automatic removal of SVC:MBAMSwissArmy Rootkit using a free tool, you can refer to this guide. Download the tool and carefully follow the instruction to remove the Trojan from an infected computer.
1. Download the file FixZeroAccess.exe from this page. Save the file to accessible location like Windows desktop.
2. Close all open programs.
3. Temporarily Disable System Restore if you are running on Windows XP). [how to]
4. Browse for the location of the file FixZeroAccess.exe.
5. Double-click on the file to run it. If it prompts for a security warning and ask if you want to run the file, please choose Run.
6. If will open a Zero Access Fix Tool End User License Agreement (EULA). You must accept this license agreement in order to proceed with SVC:MBAMSwissArmy Rootkit removal. Please click I Accept.
7. It will display a message and prepares the computer to restart. Please click on Proceed.
8. When it shows a message about "Restarting System" please click on OK button.
9. After restarting the computer, the tool will display information about the identified threats. Please continue running the tool by following the prompts.
10. When it reaches the final step, the tool will show the scan result containing deleted components of SVC:MBAMSwissArmy Rootkit. Your computer is now free from the harmful Trojan.