Trojan Dropper:Win32/Necurs is a computer threat specifically crafted to download other malware it fetches from specified server. There are several versions of this Trojan that carries various additional payload. However, the common goal of Trojan Dropper:Win32/Necurs is to drop and install malware, fake program, and adware on the affected computer. Backdoor is another function that can be initiated by this threat, in which it allows a remote attacker to access the infected system.
Damage Level: Medium
Systems Affected: Windows 9x, 2000, XP, Windows Vista/7
Characteristics
When Trojan Dropper:Win32/Necurs is executed, it will drop a number of files inside the System folder of Windows. The threat also includes certain strings on Windows registry that loads a harmful code on each time you start the computer.
If Trojan Dropper:Win32/Necurs is loaded and running, it configures the firewall settings to allow the Trojan traffic to pass-through. With this transmission, attacker may gain access on the computer and is able to perform the following actions:
Drop and execute remote files
Log key strokes from the computer
Steal sensitive data like user name and password
Update the Trojan and increase its dominance on the infected PC
Distribution
Trojan Dropper:Win32/Necurs spreads in a number of ways. It often arrives as an attached file to spam email messages. There are also cases, that another type of virus will download and execute this threat on the target computer through malicious links.
There will be no other visual signs of the infection other than constant warnings and alerts that flashes by your installed antivirus program. See the screenshot image for your reference.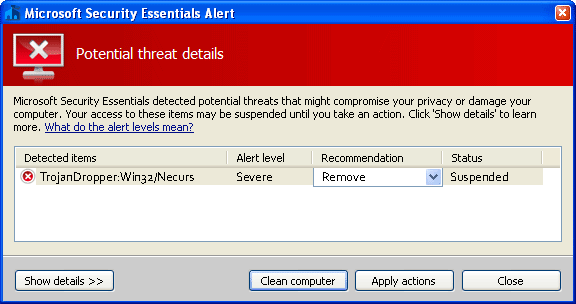 How to Remove Trojan Dropper:Win32/Necurs
1. Temporarily Disable System Restore if you are using Windows XP. For Windows Vista/7 users, you may use System Restore to return Windows to a previous clean state. However, you must have a saved restore points to accomplish this. Otherwise, proceed with the removal process.
2. Open your antivirus application and update the virus definitions. This method ensures that your antivirus program can detect even newer variants of Trojan Dropper:Win32/Necurs.
3. Start Windows in Safe Mode with Networking.
- From a power-off state, turn on the computer and press F8 repeatedly.
- Your computer will display Windows Advanced Boot Options menu. Select Safe Mode with Networking.
- System will boot Windows loading only necessary drivers and system files.
4. Open your antivirus program and run a full system scan. After the scan, delete all infected items. If unable, better place them in quarantine. Once the scan is complete, please proceed with the next step.
Online Virus Scanner:
Another way to remove Trojan Dropper:Win32/Necurs without the need to install additional antivirus application is to perform a thorough scan with free online virus scanner that can be found on websites of legitimate anti-virus and security provider.
5. Go to Online Virus Scanner list and run a virus scan. This may require plug-ins, add-on or Activex object, please install if you want to proceed with scan.
6. After completing the necessary download, your system is now ready for online virus scanning.
7. Select an option in which you can thoroughly scan the computer to make sure that it will find and delete entirely all infections not detected on previous scan.
8. Remove or delete all detected items.
9. When scanning is finished, you may now restart the computer in normal mode.
Automatic Removal of Trojan Dropper:Win32/Necurs
In order to completely remove the threat, it is best to
download
and run Malwarebytes Anti-Malware. Sometimes, Trojans will block the downloading and installation of MBAM. If this happens, download it from a clean computer and rename the executable file before executing on the infected machine.