Trojan.Fakeavlock
Trojan.Fakeavlock is a generic detection for a computer Trojan that will lie about the security status of the system. It also blocks user's access to installed software and state that the file is compromised. It can nearly make the infected PC unusable. The only way for user to regain access is to purchase the registered version of the endorsed program.
There are instances that Trojan.Fakeavlock may arrive alongside with a rootkit Trojan. This combination attack is harmful that even antivirus program may not stop. Rootkit is a malware that uses advanced method to infect a computer. It injects malicious code to legitimate system process to conceal the infection. Next, it will monitor running processes and instantly shut off those it may assess part of antivirus program.
When user initiates an instance of Trojan.Fakeavlock, it will directly alter the registry to make it run each time Windows starts. Additional changes are carried out to complete the following tasks:
Hide files and folders on the infected computer.
Lock all applications and prevents user's access.
Hijack Internet browser to display fake warning message.
Disable any antivirus or security software it may found on the computer.
Next, Trojan.Fakeavlock will reveal itself as useful security software. It will mimic the process of real antivirus program. The Trojan hides in a nice-designed graphical user interface that will instantly scan the computer when launch. To mislead its victims, this threat will execute the following actions:
Display fake pop-up alerts and messages stating virus presence.
Run a virus scan each time user starts to use Windows.
It repeatedly prompts for software activation in order for user to remove identified threats.
As you have observe, the main goal of Trojan.Fakeavlock is to sell the program so that people behind this attack may profit from this illegal activity.
Damage Level: Medium
Systems Affected: Windows 9x, 2000, XP, Windows Vista, Windows 7
Here are some screenshot images of the Trojan guise as a security program.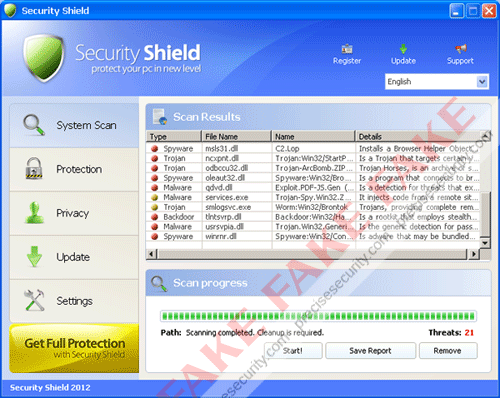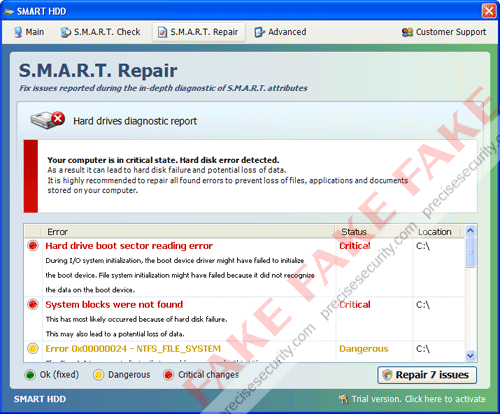 How to Remove Trojan.Fakeavlock
Boot Windows in Safe Mode With Networking
1. First thing to do is to reboot the computer in Safe Mode with Networking to avoid Trojan.Fakeavlock from loading at start-up. You may want to print this procedure as we have to restart the computer to complete the removal process.
- Restart the computer.
- Before Windows begins to load, press F8 on your keyboard.
- It will display an Advanced Boot Options menu. Select Safe Mode with Networking.
- Windows will now start in Safe Mode.

Trojan.Fakeavlock Removal Tool
2. Download anti-malware program from this location and save it on your Desktop or any location on your PC.
3. When finish downloading, double-click on the file to install the application.
4. Follow the prompts and install with default configuration.
5. Before the installation completes, check prompts that software will run and update on itself.
6. Click Finish. Program will run automatically and you will be prompt to update the program before doing a scan. Please update.
7. When finished updating, the tool will run. Select Perform full scan on main screen to check your computer thoroughly.
8. When scanning is finished click on Show Results.
9. Make sure that all detected threats are checked, click on Remove Selected. This will delete all files and registry entries that belongs to Trojan.Fakeavlock.
10. Restart your computer.
Note: If Trojan.Fakeavlock prevents mbam-setup.exe from downloading. Download the software from another computer. Renaming it to something like 'anything.exe' can help elude the malware.
Alternative Removal Method for Trojan.Fakeavlock
Option 1 : Use Windows System Restore to return Windows to previous state
If Trojan.Fakeavlock enters the computer, there is a big chance that Windows files, registry entries and other essential components are also infected. System Restore can reinstate clean system files by restoring the configuration to an earlier date. The method also replaces compromised files with a clean version. If you have a saved restore point before Trojan.Fakeavlock infiltrates the PC, we highly encourage you to execute this procedure if none of the above works. You may proceed with Windows System Restore, click here to see the full procedure.