Trojan.Zeroaccess!inf4 is a detection triggered by Norton antivirus if computer is infected with Trojan.Zeroaccess.C. This Trojan is a multi-component malware that yields unique actions for each attack because its payload is based on victim's operating system. If Trojan.Zeroaccess!inf4 is identified on your system, this signifies that there are a range of payload being executed by the malware.
In most cases, security software detects Trojan.Zeroaccess!inf4 on Windows' system files particularly services.exe. Attackers intend to inject code into these system files so that the Trojan will run each time it is executed. Furthermore, the Trojan may escape antivirus detection because the running process is a valid Windows component.
Due to the nature of this threat, symptoms may vary from time to time. This sophisticated technology placed the infected computer to a botnet circle in which attacker may send commands and run other malware into it. Zeroaccess has undergone a series of adjustment and new versions may represent new strategy. Thus, only obvious and typical sign would be the threat revealed by your antivirus program. See screenshot of actual detection by antivirus program below.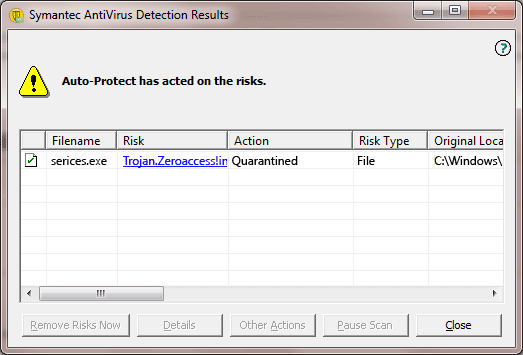 How to Remove Trojan.Zeroaccess!inf4
Systematic procedures to get rid of the threat are presented on this section. Make sure to scan the computer with suggested tools and scanners.
Step 1 : Restart Windows in SafeMode with Networking
Starting Windows is Safe Mode only loads minimal sets of files and drivers. Most start-up malware and viruses don't run in this mode because Windows only loads basic components to initiate the system.
NOTE: You will need to PRINT or BOOKMARK this procedure, as we have to restart the computer during the removal process.
To start Windows in Safe Mode with Networking, please do the following:
1. Remove all media such as Memory Card, cd, dvd, and USB devices. Then, restart the computer.
Boot in Safe Mode on Windows XP, Windows Vista, and Windows 7 system
a) Before Windows begins to load, press F8 on your keyboard.
b) It will display the Advanced Boot Options menu. Select Safe Mode.
Start computer in Safe Mode using Windows 8 and Windows 10
a) Close any running programs on your computer.
b) Get ready to Start Windows. On your keyboard, Press and Hold Shift key and then, click on Restart button.
c) It will prompt you with options, please click on Troubleshoot icon.
d) Under Troubleshoot window, select Advanced Options.
e) On next window, click on Startup Settings icon.
f) Lastly, click on Restart button on subsequent window.
g) When Windows restarts, present startup options with numbers 1 - 9. Select "Enable Safe Mode with Networking" or number 5.
h) Windows will now boot on Safe Mode with Networking. Proceed with virus scan as the next step.
2. Once the computer boots into Safe Mode with Networking, please proceed with the steps below.
Step 2 : Scan the Computer with TDSSKiller to Remove Trojan.Zeroaccess!inf4
Anti-rootkit utility called TDSSKiller is a free tool from Kasperksy that neutralizes complicated malware which effectively hides its process, folders, files and registry entries.
1. Download TDSSKiller and save the file on your desktop or any accessible spot.

2. Extract the contents of downloaded file (tdsskiller.zip) using archiver programs like Winzip or Winrar.
3. Locate the folder where you extracted tdsskiller.zip and double-click the file TDSSKiller.exe to launch the scanner.
4. Once TDSSKiller is open, please mark Services and drivers as well as Boot Sectors. Picking these options ensures that the program will inspect boot sector and system files that are infected with Trojan.Zeroaccess!inf4. Please refer to attached image.
5. Click on Start Scan button to begin scanning your system. This may take a while. You need to complete this process to make sure that the program detects and delete all components of Trojan.Zeroaccess!inf4.
6. When scan has finished, you may restart Windows normally. This part of the removal process using TDSSKiller is now complete.
Step 3: Run Another Scan with ZeroAccess Fix Tool
This additional step will guarantee that no more components of Trojan.Zeroaccess!inf4 are present inside the computer. If in case the first scan fails to catch all threats, running ZeroAccess Fix Tool ensures that all remaining Trojans, viruses, and malware will be deleted.
1. Download the file FixZeroAccess.exe from the provided link. Save the file to accessible location like Windows desktop. This is a free tool created by Symantec to remove variants of Zeroaccess Trojan.
2. Close all open programs.
3. Browse for the location of the file FixZeroAccess.exe. Double-click on the file to run it. If it prompts for a security warning and ask if you want to run the file, please choose Run.
4. It will open a Zero Access Fix Tool End User License Agreement (EULA). You must accept this license agreement in order to proceed with Trojan.Zeroaccess!inf4 removal. Please click I Accept.
5. Finally, it displays a message and prepares the computer to restart. Please click on Proceed.
6. When it shows a message about 'Restarting System' please click on OK button.
7. After restarting the computer, the tool will display information about identified threats. Continue running the tool by following the prompts.
8. When it reaches the final step, the tool will show the scan result containing deleted components of Trojan.Zeroaccess!inf4. Your computer is now free from any harm.
Ways to Prevent Trojan.Zeroaccess!inf4 Infection
Here are some guidelines to help defend your computer from virus attack and malware activities. Being fully protected does not have to be expensive.
Install protection software to block Trojan.Zeroaccess!inf4 and other threats
Having an effective anti-malware program is the best way to guard your computer against malware and threats. Although full version of anti-malware will cost some penny to obtain, it is still worthy to buy one. With real-time scan, it will be safer for you to browse the web, download files, and do more things online.
Keep all programs up to date
It is important to download critical update for installed programs. Software updates includes patches for security flaw that may utilize by an attacker to enter the computer. This flaw may be taken advantage by Trojan.Zeroaccess!inf4, viruses, and malware to attack the computer. Crucial programs to watch for updates are MS Windows, MS Office, Adobe Flash, Adobe Acrobat, and Java Runtime.
Activate security features of your Internet browser
SmartScreen Filter, Phishing and Malware Protection, and Block Attack Sites are the respective security features of Internet Explorer, Google Chrome, and Mozilla Firefox. Although, it may not fully guard your computer from online attack, at least it can lessen the risk. Enabling these features also helps to secure your private data and avoid identity theft.
Be a responsible Internet user
Antivirus programs and security features of Internet browser facilitates real-time protection and monitors harmful activities online. However, it tends to malfunction for some reasons. Thus, you do not have to be fully dependent on these tools. It is always best to practice safety measures when using the Internet.