Trojan:Win32/Claretore
Trojan:Win32/Claretore is a Trojan that can cause browser redirect to an infected computer. This threat may lead to installation of other malware if a browser of victim is redirected to a bad server. To complete the task, Trojan:Win32/Claretore needs to inject its own code into running process of Windows. Once a copy of the threat is running, it can now intercept Internet traffic and do the payload.
Damage Level: Medium
Systems Affected: Windows 9x, 2000, XP, Windows Vista
Characteristics
If Trojan:Win32/Claretore is executed on the computer, it will drop a copy of itself on several folders. This Trojan also establishes Windows start-up routine by making changes to your Windows registry. You can view list of files and registry entries of this Trojan on technical details area on this page.
As soon as Trojan:Win32/Claretore is running, it will hook a command on Windows process and intercept victim's Internet traffic. The Trojan can command the destination address and point the browser to a specified web site, which are usually harmful or satiated with advertisements.
There is also an event that attacker are utilizing Trojan:Win32/Claretore to generate online revenue. For example, it will replace reference advertisements on visited web site with its own code resulting to fraud clicks.
Distribution
Trojan:Win32/Claretore spreads through a number of ways typically applied by other threats on the same group. File-sharing networks, malicious links, and spam email messages are also part of this Trojan's distribution channel.
To prevent this threat from infecting your computer, you may activate Microsoft Security Essentials alert. MSE can identify and isolate Trojan:Win32/Claretore before it can enter the PC. See the screenshot image below.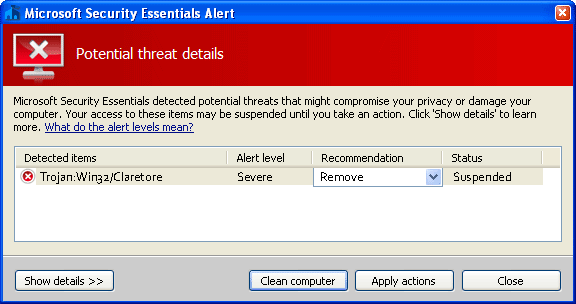 [cf]regis[/cf] [cf]files[/cf]
How to Remove Trojan:Win32/Claretore
1. Download Microsoft Safety Scanner from this link and safe it on your desktop. This is a free tool from Microsoft that offer on-demand scanning. It helps remove computer infection such as malware, virus, and Trojan.
Note: If you have previous version of Microsoft Safety Scanner that is more than 10 days old, please disregard it. Download a new from the official web site. Every 10 days, Microsoft will release the latest edition of this tool with updated anti-virus definitions to ensure that it will detect even most recent malware threats.
2. Open your antivirus program and update the virus definition. Refer to your antivirus manual on how to initiate an update. Most antivirus software provides one-click process.
3. Restart Windows in Safe Mode.
– Turn off the computer. Then turn the power on, immediately press F8 on your keyboard right after a text appears on the screen.
– It will display a selection. Please choose Safe Mode and press Enter. Most threats like Trojan:Win32/Claretore will not load when you run Windows in this mode.
4. Once Windows starts in Safe Mode, open your antivirus program and run a full system scan and clean/delete all infected files. If it cannot perform clean/delete, better put the infected file into quarantine so that it will remain inaccessible.
5. Locate the file of Microsoft Safety Scanner (msert.exe) that you download earlier. Double-click to run the file.
6. When it shows End user license agreement, please accept and click Next to continue.

7. On Scan Type window, please select Full scan. The tool will scan the entire system. This is ideal to detect and remove all threats that are present on the computer.
8. Click Next to begin the scan. This process will take a while to finish. Please be patient and let MSS complete the scan procedure.
9. Once the scan operation ends, it will provide a report for identified threats. Please remove all the threats.
10. Reboot the computer and run another scan after Windows boots normally to make sure that Trojan:Win32/Claretore is gone.
Alternative Removal Method for Trojan:Win32/Claretore
Option 1 : Use Windows System Restore to return Windows to previous state
If Trojan:Win32/Claretore enters the computer, there is a big chance that Windows files, registry entries and other essential components are also infected. System Restore can reinstate clean system files by restoring the configuration to an earlier date. The method also replaces compromised files with a clean version. If you have a saved restore point before Trojan:Win32/Claretore infiltrates the PC, we highly encourage you to execute this procedure if none of the above works. You may proceed with Windows System Restore, click here to see the full procedure.
Option 2 : Trojan:Win32/Claretore manual uninstall guide
IMPORTANT! Manual removal of Trojan:Win32/Claretore requires technical skills. Deleting system files and registry entries by mistake may result to total disability of Windows system. We advise you to perform a backup of registry before proceeding with this guide.
1. Kill any running process that belongs to Trojan:Win32/Claretore.
- Press Ctrl+Alt+Del on your keyboard.
- When Windows Task Manager appears, look for Trojan:Win32/Claretore files (refer to Technical Reference) and click End Process.
2. Delete all registry entries that belong to this malware.
- Press [Windows Key]+R on your keyboard.
- In the 'Open' dialog box, type regedit and press Enter. This will open registry editor.
- Find and delete registry entries as mentioned in Technical Reference section below.
- Close registry editor. Changes made will be save automatically.
3. Scan the computer with antivirus program.
- Connect to Internet and open your antivirus software. Please update to obtain the latest database and necessary files.
- Restart the computer in Safe Mode.
- Just before Windows logo begins to load press F8 on your keyboard.
- On Windows Advanced Boot Options, select Safe Mode and press Enter.
4. Delete all files dropped by Trojan:Win32/Claretore.
- While still in Safe Mode, search and delete malicious files. Please refer to 'Technical Reference'. Make sure that you execute 'End Task' first before deleting the file. Otherwise, the system will not let you perform this action.
Technical Reference
Associated Files and Folders:Added Registry Entries: