Win32:Atraps
If you are looking for guides to remove Win32:Atraps, then you can find it on this page. Free tools and removal procedure is included to get rid of the Trojan at once.
Win32:Atraps is a multi-part family of Trojan that is may cause severe damage when it reaches a computer. This malware is able to hide its presence on the system by injecting its code to legitimate processes. This Trojan also attempts to boot the computer into SafeMode by infecting the Safeboot registry keys.
When user executes Win32:Atraps, it will drop certain files on Windows system directory. It may also modify the registry that will severely affect computer's operation. It also affects various phase of system performance. It can make the system run slower due to course applied each time user executes a program. The infection also cause Internet browser to suffer with a lots of redirect problem. Win32:Atraps is designed to hijack Internet searches and point them to a location of another malware. Due to the character of this Trojan, payload may differ much for different infections, although similar action includes the following:
Connects to a remote server in order to download and execute arbitrary files.
Contact a remote host to receive commands.
Disable antivirus programs and other security features on the infected system.
Win32:Atraps is a highly dangerous threat that uses sophisticated stealth techniques in order to deter its detection. It instantly kills running processes that belongs to antivirus programs. Most variants of this Trojan can cause permanent changes to the computer that can lead to malfunction. As such, reformatting is required in order to restore Windows.
Damage Level: Medium
Systems Affected: Windows 9x, 2000, XP, Windows Vista, Windows 7
[cf]regis[/cf] [cf]files[/cf]
Image below reveals how real-time protection from antivirus program blocks Win32:Atraps before it runs on the target computer.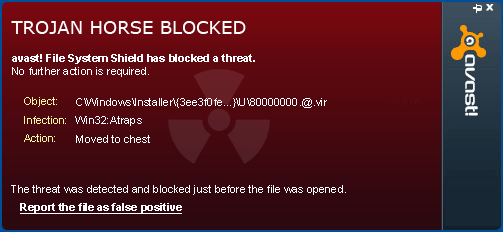 How to Remove Win32:Atraps
1. Temporarily Disable System Restore if you are using Windows XP. For Windows Vista/7 users, you may use System Restore to return Windows to a previous clean state. However, you must have a saved restore points to accomplish this. Otherwise, proceed with the removal process.
2. To be able to identify even the most recent variant of Win32:Atraps, open your antivirus application and update the virus definition file.
3. Start Windows in Safe Mode with Networking.
- From a power-off state, turn on the computer and press F8 on your keyboard repeatedly.
- Your computer will display Windows Advanced Boot Options menu. Please select Safe Mode with Networking.
- The system will boot Windows loading only necessary drivers and files.
4. Open your antivirus program and run a full system scan. After the scan, delete all infected items. If unable to delete, better place them in quarantine. Once the scan is complete, please proceed with the next step.
Scan with Norton Power Eraser:
Additional virus removal tool provides deep scanning technology to eliminate other threats not detected by a normal virus scan. Use this tool with extra caution.
5. Go to NPE web page and download the tool.
6. Once the download completes, double click on the file NPE.exe to run the program.
7. It will prompt for End User License Agreement, click on Accept to continue.
8. On NPE main window, click on Scan. Then select Exclude Rootkit Scan. Click on Continue to proceed.
9. Virus scanning may take some time. After running the scan, NPE will display the scan result.

Important! If there are any detected threats under Suspicious, remove the check mark. Only threats in Detected category are necessary to remove at this point. Make sure that you mark the Create System Restore Point before proceeding with the fix.
10. Now click on Fix to start removing the threats including Win32:Atraps remnants if there are any.
11. When done, Norton Power Eraser will restart the computer. Then after a reboot, it will initialize and display the eliminated threats.
12. You may now close Norton Power Eraser.
Alternative Removal Method for Win32:Atraps
Option 1 : Use Windows System Restore to return Windows to previous state
If Win32:Atraps enters the computer, there is a big chance that Windows files, registry entries and other essential components are also infected. System Restore can reinstate clean system files by restoring the configuration to an earlier date. The method also replaces compromised files with a clean version. If you have a saved restore point before Win32:Atraps infiltrates the PC, we highly encourage you to execute this procedure if none of the above works. You may proceed with Windows System Restore, click here to see the full procedure.
Option 2 : Win32:Atraps manual uninstall guide
IMPORTANT! Manual removal of Win32:Atraps requires technical skills. Deleting system files and registry entries by mistake may result to total disability of Windows system. We advise you to perform a backup of registry before proceeding with this guide.
1. Kill any running process that belongs to Win32:Atraps.
- Press Ctrl+Alt+Del on your keyboard.
- When Windows Task Manager appears, look for Win32:Atraps files (refer to Technical Reference) and click End Process.
2. Delete all registry entries that belong to this malware.
- Press [Windows Key]+R on your keyboard.
- In the 'Open' dialog box, type regedit and press Enter. This will open registry editor.
- Find and delete registry entries as mentioned in Technical Reference section below.
- Close registry editor. Changes made will be save automatically.
3. Scan the computer with antivirus program.
- Connect to Internet and open your antivirus software. Please update to obtain the latest database and necessary files.
- Restart the computer in Safe Mode.
- Just before Windows logo begins to load press F8 on your keyboard.
- On Windows Advanced Boot Options, select Safe Mode and press Enter.
4. Delete all files dropped by Win32:Atraps.
- While still in Safe Mode, search and delete malicious files. Please refer to 'Technical Reference'. Make sure that you execute 'End Task' first before deleting the file. Otherwise, the system will not let you perform this action.
Technical Reference
Associated Files and Folders:Added Registry Entries: