Win32:Patched-HO [Trj]
Remove Win32:Patched-HO [Trj] by scanning the computer with various anti-virus tools and software. It is not advice to delete the affected file because it can cause instability to Windows and affected software.
Win32:Patched-HO [Trj] is a detection for legitimate Windows components that was patched by a Trojan. Normally, patched file was build to run a malware each time user starts Windows. Common files being modified are executable files, driver files, and system files often used by the operating system.
Normally, Win32:Patched-HO [Trj] is dropped by a Trojan or malware. It may also enter the computer if you pay a visit to malicious web sites. Clicking on any given links can be another source of infection because it can lead you to malware web pages that can install Win32:Patched-HO [Trj].
Since Win32:Patched-HO [Trj] affects files that belong to the system; it is not advisable to delete it. Removal of system files may possibly bring instability to Windows and other programs installed on the infected computer. Most anti-virus program can clean the file by making a copy and restore it to original contents. Security tools are also designed to delete relevant data like files and registries.
If disinfection using your own anti-virus program fails, we recommend restoring Windows to a previous point. This process is only valid if restore points were made before Win32:Patched-HO [Trj] infects the system. Aside from System Restore, other method you may try is scanning the computer with various tools and software. Software recommended is listed in the procedure below. Follow the guides and complete the entire scan to make sure that Win32:Patched-HO [Trj] is totally removed from the PC.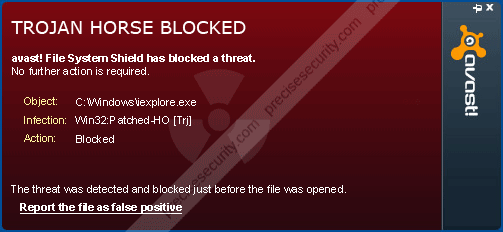 How to Remove Win32:Patched-HO [Trj]
NOTE: We suggest that you PRINT or BOOKMARK this guide. There are steps that we may have to restart the computer in order to successfully remove the threat.
Step 1 : Run a scan with your antivirus program
1. Temporarily Disable System Restore if your system is running on Windows Me/XP. [how to]
2. Start Windows in Safe Mode with Networking.
- From a power-off state, turn on the computer and press F8 on your keyboard repeatedly.
- Your computer will display Windows Advanced Boot Options menu. Select Safe Mode with Networking.
- Windows will boot loading only necessary drivers and system files. Expect that it will run with minimal features and low-resolution display.
3. Open your antivirus program and download the most recent update. This method ensures that your antivirus program can detect even newer variants of Win32:Patched-HO [Trj].
Updating your antivirus software is a one-click process. Please refer to your software manual for complete instructions.
4. Once updating is finished, run a full system scan. After the scan, delete all infected items. If unable to clean or delete, better place the threat in quarantine.
Step 2: Run another test with Norton Power Eraser
1. Click on the button below to download Norton Power Eraser from official web site. Save it to your desktop or any location of your choice.
4. Once the file is downloaded, navigate its location and double-click on the icon (NPE.exe) to launch the program.
5. Norton Power Eraser will run. If it prompts for End User License Agreement, please click on Accept.
6. On NPE main window, click on Advanced. We will attempt to remove Win32:Patched-HO [Trj] components without restarting the computer.
9. On next window, select System Scan and click on Scan now to perform standard scan on your computer.
10. NPE will proceed with the scan. It will search for Trojans, viruses, and malware like Win32:Patched-HO [Trj]. This may take some time, depending on the number of files currently stored on the computer.
11. When scan is complete. All detected risks are listed. Remove them and restart Windows if necessary.
Alternative Removal Methods for Win32:Patched-HO [Trj]
Option 1 : Use Windows System Restore to return Windows to previous state
If Win32:Patched-HO [Trj] enters the computer, there is a big chance that Windows files, registry entries and other essential components are also infected. System Restore can reinstate clean system files by restoring the configuration to an earlier date. The method also replaces compromised files with a clean version. If you have a saved restore point before Win32:Patched-HO [Trj] infiltrates the PC, we highly encourage you to execute this procedure if none of the above works.
To verify if System Restore is active on your computer, you can type system restore into the Start menu search box. Typing rstrui on the same box and pressing Enter also opens this function.
If previous restore point is saved, you may proceed with Windows System Restore. Click here to see the full procedure.
Ways to Prevent Win32:Patched-HO [Trj] Infection
Take the following steps to protect the computer from threats. Suggested tools and security setup within installed software helps prevent the same attack on your PC.
Install an effective anti-malware program
Your first line of defense would be an effective security program that provides real-time protection. We have a
list of anti-malware program
that are tried and tested. It does not only scan files but also monitors your Internet traffic and is extremely active on blocking malicious communication. Click on the button below to download our recommended anti-malware program.
Always update your installed software
Software vendors constantly releases updates for programs whenever a flaw is discovered. Getting the updates makes the computer more secured and help prevents Trojan, virus, malware, and Win32:Patched-HO [Trj] similar attacks. If in case your program is not set for instant update, it usually offered from vendor's web site, which you can download anytime.
Maximize the security potential of your Internet browser
Each browser has their own feature where in you can adjust the security settings that fit your browsing habit. We highly encourage you to maximize the setup to tighten the security of your browser.
Apply full caution when using the Internet
Internet is full of fraud, malware, and many forms of computer threats including Win32:Patched-HO [Trj]. Implement full caution with links that you may receive from emails, social networking sites, and instant messaging programs. It might lead you to malicious sites that can cause harm to your computer. Avoid strange web sites that offers free services and software downloads.