Win32:Sirefef-AHF
It is hard to remove a rootkit Trojan like Win32:Sirefef-AHF if the malicious process is loaded and running on the system. Therefore, we highly advise to use a removal tool as instructed on this page.
Win32:Sirefef-AHF is a detection for an element of the Win32:Sirefef family of malware. This multi-part family of Trojan that regulates Internet browsing on infected computer. The threat also modifies search results that can redirect browser to unknown web page. Authors are utilizing Win32:Sirefef-AHF to generate a pay-per-click advertising income. In some instances, browser may point to a web site that performs pay-per-download actions which serves the same purpose of making money for the attackers. Family ofWin32:Sirefef-AHF contains different elements that carry various functions, such as download of other malware, hiding virus presence, or executing other payload as designed by malware authors.
If this Trojan is executed, it will drop some files under Windows folder consisting of random characters. Typically, Win32:Sirefef-AHF hides the file and makes it inaccessible by setting the proper attribute like read only, system, and hidden. Moreover, rootkit module of Win32:Sirefef-AHF injects harmful code to valid system process so that the Trojan will run under antivirus radar.
There are various ways how Win32:Sirefef-AHF can reach a target computer. The common method as observed to date is through the use of another Trojan. Other than that, infected web sites and malicious links are also seen as other transmission method for Win32:Sirefef-AHF.
Once the threat gains access on the computer, there is no typical sign to detect presence of Win32:Sirefef-AHF infection except for frequent warning coming for installed antivirus program. See sample screenshot image below.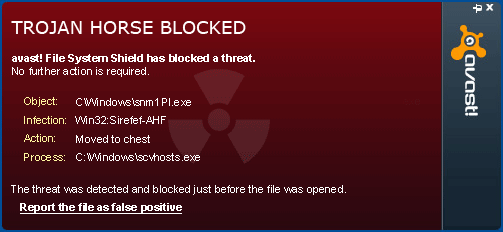 How to Remove Win32:Sirefef-AHF
Method1 : Using TDSSKiller
Anti-rootkit utility called TDSSKiller is a free tool from Kasperksy that neutralizes complicated malware which effectively hides its process, folders, files and registry entries.
1. Download TDSSKiller from this link. Save the file to your desktop.
2. Extract the contents using archiver applications.
3. Reboot the computer in Safe Mode to avoid Win32:Sirefef-AHF from loading at start-up. You may want to print this procedure as we have to restart the computer to complete the removal process.
- Restart the computer.
- Before Windows begins to load, press F8 on your keyboard.
- It will display an Advanced Boot Options menu. Select Safe Mode with Networking.
- Windows will now start in Safe Mode.
4. Locate and run the TDSSKiller.exe file.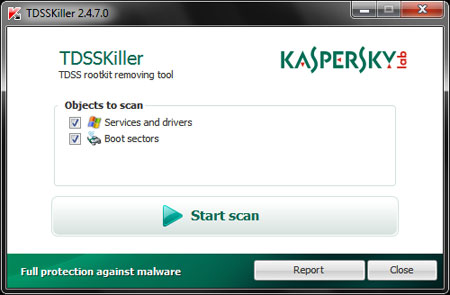 5.
On Object to Scan, please mark
Services and drivers
as well as
Boot Sectors
.
6.
Click on
Start Scan
to begin scanning your system. This may take a while.
7.
After the scan is finished, it will reboot the computer. That should complete the disinfection process.
Method 2: Using ZeroAccess Fix Tool
For automatic removal of Win32:Sirefef-AHF using a free tool, you can refer to this guide. Download the tool and carefully follow the instruction to remove the Trojan from an infected computer.
1. Download the file FixZeroAccess.exe from this page. Save the file to accessible location like Windows desktop.
2. Close all open programs.
3. Temporarily Disable System Restore if you are running on Windows XP). [how to]
4. Browse for the location of the file FixZeroAccess.exe.
5. Double-click on the file to run it. If it prompts for a security warning and ask if you want to run the file, please choose Run.
6. If will open a Zero Access Fix Tool End User License Agreement (EULA). You must accept this license agreement in order to proceed with Win32:Sirefef-AHF removal. Please click I Accept.
7. It will display a message and prepares the computer to restart. Please click on Proceed.
8. When it shows a message about "Restarting System" please click on OK button.
9. After restarting the computer, the tool will display information about the identified threats. Please continue running the tool by following the prompts.
10. When it reaches the final step, the tool will show the scan result containing deleted components of Win32:Sirefef-AHF. Your computer is now free from the harmful Trojan.
Alternative Removal Method for Win32:Sirefef-AHF
Option 1 : Use Windows System Restore to return Windows to previous state
If Win32:Sirefef-AHF enters the computer, there is a big chance that Windows files, registry entries and other essential components are also infected. System Restore can reinstate clean system files by restoring the configuration to an earlier date. The method also replaces compromised files with a clean version. If you have a saved restore point before Win32:Sirefef-AHF infiltrates the PC, we highly encourage you to execute this procedure if none of the above works. You may proceed with Windows System Restore, click here to see the full procedure.