Win32:Trojan-gen is a heuristic detection for harmful files that attempts to launch an attack to the computer. When installed antivirus software sends an alert about Win32:Trojan-gen, it only signifies that presence of security risk is identified, however, antivirus software is uncertain of its characteristic. The detection process for Win32:Trojan-gen is based on a pattern that is included in the program. In-depth diagnostic by antivirus vendor is required to retrieve exact detail of the infection.
Damage Level: High
Systems Affected: All Windows
Characteristics
When Win32:Trojan-gen runs on the computer, it greatly affects the overall system performance. Other variants of this threat may consume resources more than what the PC can handle, thus, it will result to system crashes. Overall, Trojans are made with different objectives. Some are developed to steal information such as user name and passwords. Others will attack the system in order to drop more threats and execute on the same machine. In addition, there are variants created to allow remote access on the infected computer. Since Win32:Trojan-gen is a generic detection; files identified on your system may comprise any of the mentioned tasks.
Most recent versions of malware that belongs to Win32:Trojan-gen group are multi-part. This simply means that first attack may initiate succeeding attacks until final objectives are met. Rootkits are also employed by Trojans to be able to hide the presence once running on the affected computer. Apart from that, rootkits appends own code to vital Windows files and processes, which most often causes permanent damage to the operating system.
Distribution
Win32:Trojan-gen spreads through a number of means ordinarily employs by other similar threats. There are findings that some malicious links will direct victims to a Trojan download page. These links will reach user via spam email messages, instant messaging software and malicious web sites compromised by other threats.
For generic Trojan detection, user may observe typical alerts posted by installed antivirus program. Security software will react accordingly base on Trojan's attribute as shown in the image below.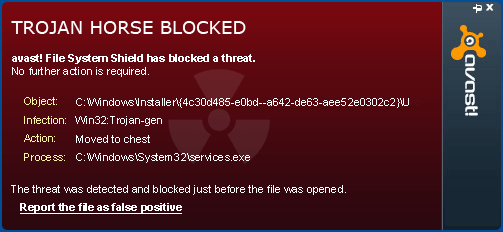 How to Remove Win32:Trojan-gen
1. Temporarily Disable System Restore if you are using Windows XP. For Windows Vista/7 users, you may use System Restore to return Windows to a previous clean state. However, you must have a saved restore points to accomplish this. Otherwise, proceed with the removal process.
2. Open your antivirus application and update the virus definitions. This method ensures that your antivirus program can detect even newer variants of Win32:Trojan-gen .
3. Start Windows in Safe Mode with Networking.
- From a power-off state, turn on the computer and press F8 repeatedly.
- Your computer will display Windows Advanced Boot Options menu. Select Safe Mode with Networking.
- System will boot Windows loading only necessary drivers and system files.
4. Open your antivirus program and run a full system scan. After the scan, delete all infected items. If unable, better place them in quarantine. Once the scan is complete, please proceed with the next step.
Online Virus Scanner:
Another way to remove Win32:Trojan-gen without the need to install additional antivirus application is to perform a thorough scan with free online virus scanner that can be found on websites of legitimate anti-virus and security provider.
5. Go to Online Virus Scanner list and run a virus scan. This may require plug-ins, add-on or Activex object, please install if you want to proceed with scan.
6. After completing the necessary download, your system is now ready for online virus scanning.
7. Select an option in which you can thoroughly scan the computer to make sure that it will find and delete entirely all infections not detected on previous scan.
8. Remove or delete all detected items.
9. When scanning is finished, you may now restart the computer in normal mode.
Automatic Removal of Win32:Trojan-gen
In order to completely remove the threat, it is best to
download
and run Malwarebytes Anti-Malware. Sometimes, Trojans will block the downloading and installation of MBAM. If this happens, download it from a clean computer and rename the executable file before executing on the infected machine.