Fake FBI Warning that arises on computers these days is a harmful virus. It is probably the most widely-spread virus from Reveton family of malware. When this fake FBI Warning infiltrates a computer, you will notice that PC is inoperable. All you will see is a fake warning message stating, "Your computer has been locked." You don't need to be afraid of this warning, as stated, it is fake FBI warning message.
The only thing you must be concern of is how you can remove Fake FBI Warning virus from the computer. You must focus in unlocking the desktop instead of worrying about the message claiming that you are in violation of laws. All messages that you can find in the FBI virus came from a broad imagination of the malware authors. It is their way of convincing you to shell out money by paying the so-called penalty ranging from $100 to $200.
There is nothing new to this Fake FBI Warning. In fact, there are already several variants of it like FBI Online Agent and fake Department of Justice. Malware authors keeps on revising the layout so that victim's may not recall and start avoiding the malware. It may come into your computer in a different way and looks, but removing the Fake FBI Warning from each desktop is quite identical.
Removal approach requires tools to remove a Trojan, Rootkit, and malicious components inside the infected computer. To do this, you will need an efficient tool, which we already provided in the virus removal section on this page. Follow the guide and scan the PC with recommended remover to stop the fake FBI warning messages from appearing on your machine.
Screenshot Images of Fake FBI Warning on the Computer:
From the first release of the Fake FBI Warning, you may notice that it is still using MoneyPak as form of payment. This fake desktop warning by FBI declares that you have violated copyright laws and request you to pay a fine of $100.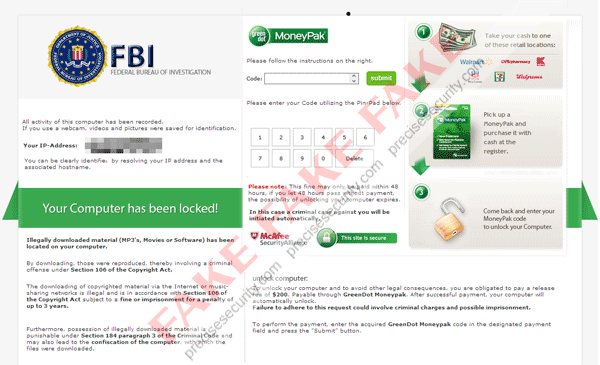 Second issue of the Fake FBI Warning contains similar messages. Only noticeable difference is the layout and color scheme. Again, MoneyPak is the payment method required by malware authors in order to unlock the PC.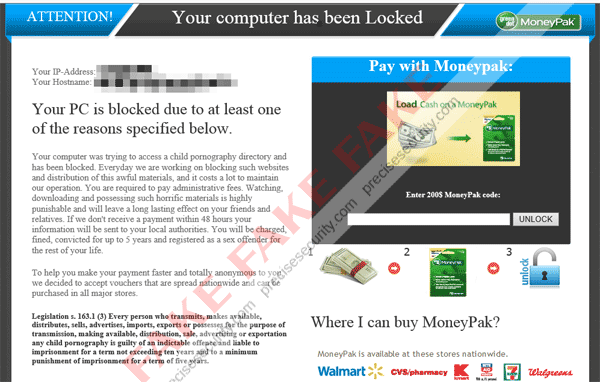 This ransom activity continues until this date and minor changes were made to the fake warning. Other screen versions of Fake FBI Warning are released occasionally and here are some of the most recent variants.
How to Remove Fake FBI Warning
Systematic procedures to get rid of the threat are presented on this section. Make sure to scan the computer with suggested tools and scanners.
Option 1 : Manually deleting Fake FBI Warning files and data
Malware of this kind usually disables Internet access and prevent execution of installed programs. This is the reason why we recommend manual removal as the first option. You may however skip this step if you are worry of deleting files in the system. Accidental deletion of legitimate files may lead to Windows malfunction, so, please be very cautious with these steps.
Start Windows in Safe Mode
1. Remove all media such as Memory Card, cd, dvd, and USB devices. Then, restart the computer.
You must boot computer in Safe Mode. Please follow the guide base on your Windows version.
Boot in Safe Mode on Windows XP, Windows Vista, and Windows 7 system
a) Before Windows begins to load, press F8 on your keyboard.
b) It will display the Advanced Boot Options menu. Select Safe Mode.
Start computer in Safe Mode using Windows 8
a) Before Windows begins to load, press Shift and F8 on your keyboard.
b) On Recovery interface, click on 'See advanced repair options'.
c) Next, click on Troubleshoot option.
d) Then, select Advanced options from the list.
e) Lastly, please choose Windows Startup Settings and click on Restart. When Windows restarts, you will be send to a familiar Advanced Boot Options screen.
f) Select Safe Mode from the selections menu.
Delete files dropped by Fake FBI Warning
2. Go to Applications Data folder to delete files dropped by the virus. Depending on your installed operating system, follow the guide below.
Open Applications Data folder on Windows XP, Windows Vista, and Windows 7
a) Click on Start, then on 'Run' or Search 'Program and Files' field, type %appdata%.
b) Click OK or press Enter on the keyboard to open the corresponding folder.
Access Applications Data folder on Windows 8
a) Move your mouse to the lower-right corner of the screen. Menu will slide-out.
b) Click on the Magnifying Glass icon to run search tool.
c) Under Search Apps field, type %appdata% and press Enter on your keyboard. This should open the desired folder.
3. Next, proceed to the folder Roaming > Microsoft > Windows > Start Menu > to see the shortcut link that calls the ransom program each time you start Windows. Delete the said file.
4. Using the same procedures above, go to User Profile folder by typing %userprofile% in the box.
5. Proceed to folder
AppData > Local > Temp
. Find and delete the following files:
Remove Fake FBI Warning start-up entry with MSCONFIG of Windows
6. Using the same procedures above, please run msconfig to open System Configuration of Windows.
7. Click on Startup tab. You will see a list of programs that runs when Windows starts. Disable the entry that belongs to the virus by removing the check mark beside the item. Click OK to save the setting. Refer to the image below.
Run Anti-malware scan to check and delete other threats
8. Download the Removal Tool and save it on your Desktop or any location on your PC.
9. When finished downloading, locate and double-click on the file to install the application. Windows' User Account Control will prompt at this point, please click Yes to continue installing the program.
10. Follow the prompts and install with default configuration.
11. Before the installation completes, check prompts that software will run and update on itself.
12. Click Finish. Program will run automatically and you will be prompted to update the program before doing a scan. Please download needed update.
13. When finished updating, the tool will run. Select Perform full scan on main screen to check your computer thoroughly.
14. Scanning may take a while. When done, click on Show Results.
15. Make sure that all detected threats are checked, click on Remove Selected. This will delete all files and registry entries that belongs to Fake FBI Warning.
16. Finally, restart your computer.
Note :You may skip Option 2 if you have successfully removed the virus using the procedures above. We highly suggest you to proceed to Additional Scans below.
Option 2 : Remove Fake FBI Warning instantly with this Rescue Disk
This procedure requires a tool from Kasperky. Thus, it requires Internet access to download the files. If the virus blocks your Internet access, you have no other choice but to execute this guide from another computer.
Download Kaspersky Rescue Disk
1. Download the ISO image of Kaspersky Rescue Disk 10 (kav_rescue_10.iso) from this link.
2. Download the Kaspersky Rescue Disk Maker (rescue2usb.exe) from this link.
Create A Bootable USB Drive
3. Insert a clean USB flash drive to available slot. To record the ISO file and create a bootable USB drive, double-click on rescue2usb.exe. It will extract the files and create a folder called Kaspersky Rescue2Usb.
4. Kaspersky USB Rescue Disk Maker should run after the extraction. If not browse the Kaspersky Rescue2Usb folder and run the rescue2usb file.
5. From Kaspersky USB Rescue Disk Maker console, click on Browse and locate the file kav_rescue_10.iso.
6. On USB Medium, select the USB drive you wanted to make as bootable Kaspersky USB Rescue Disk. This will become a bootable virus scanner.
7. Click in Start to begin the process.
8. When the process is complete, it will display a notification message. Your tool to remove Fake FBI Warning is now ready.
Boot The Computer From The USB Kaspersky Rescue Disk 10
9. Since Fake FBI Warning uses a rootkit Trojan that controls Windows boot functions, we need to reboot the computer and select the newly created Kaspersky USB Rescue Disk as first boot option. On most computers, it will allow you to enter the boot menu and select which device or drives you wanted to start the PC. Refer to your computer manual.
10. If you successfully enters the boot menu, choose the USB flash drive. This will boot the system on Kaspersky Rescue Disk. Press any key to enter the menu.
11. If it prompts for desired language, use arrow keys to select and then press
Enter
on your keyboard.
12. It will display
End User License Agreement
. You need to accept this term to be able to use Kaspersky Rescue Disk 10.
Press 1
to accept.
13. The tool will prompt for various start-up methods. We highly encourage you to choose Kaspersky Rescue Disk Graphic Mode.
Remove Fake FBI Warning Using Windows Unlocker
14. Once the tool is running, you need to run WindowsUnlocker in order to delete registry that belongs to Fake FBI Warning. On start menu located at bottom left corner of your screen, select the K icon or select WindowsUnlocker if it is present on the Menu.
15. Select Terminal from the list. A command prompt will open.
16. Type windowsunlocker and press Enter on your keyboard.
17. From the selection, choose 1 - Unlock Windows to remove Fake FBI Warning. Use up/down arrow on keyboard to select and press Enter.
18. This utility will start removing any components that blocking you from accessing the computer. It will display a log file containing actions performed on the infected computer like deleted infected file and removed registry entries.
19. After removing components of Fake FBI Warning. You need to scan the system using the same tool. On start menu, select Kaspersky Rescue Disk.
20. Be sure to update the program by going to My Update Center tab. Click on Start update.
21. After the update, go to Object Scan tab and thoroughly scan the computer to locate other files that belong to Fake FBI Warning.
22. Restart the computer normally when done.
Additional anti-virus and anti-rootkit scans
Ensure that no more files of Fake FBI Warning are left inside the computer
1. Click on the button below to download Norton Power Eraser from official web site. Save it to your desktop or any location of your choice.
4. Once the file is downloaded, navigate its location and double-click on the icon (NPE.exe) to launch the program.
5. Norton Power Eraser will run. If it prompts for End User License Agreement, please click on Accept.
6. On NPE main window, click on Advanced. We will attempt to remove Fake FBI Warning components without restarting the computer.
9. On next window, select System Scan and click on Scan now to perform standard scan on your computer.
10. NPE will proceed with the scan. It will search for Trojans, viruses, and malware like Fake FBI Warning. This may take some time, depending on the number of files currently stored on the computer.
11. When scan is complete. All detected risks are listed. Remove them and restart Windows if necessary.
Remove the Rootkit Trojan that installs Fake FBI Warning
For automatic removal of rootkit Trojan using a free tool, you can refer to this guide. Download the tool and carefully follow the instruction.
1. Click on the button below to download the file FixZeroAccess.exe from official web site. A new window or tab will open containing the download link.
2. Close all running programs and remove any disc drives and USB devices on the computer.
3. Temporarily Disable System Restore if you are running on Windows XP). [how to]
4. Browse for the location of the file FixZeroAccess.exe.
5. Double-click on the file to run it. If User Account Control prompts for a security warning and ask if you want to run the file, please choose Run.
6. It will open a Zero Access Fix Tool End User License Agreement (EULA). You must accept this license agreement in order to proceed with rootkit removal. Please click I Accept.
7. It will display a message and prepares the computer to restart. Please click on Proceed.
8. When it shows a message about 'Restarting System' please click on OK button.
9. After restarting the computer, the tool will display information about the identified threats. Please continue running the tool by following the prompts.
10. When it reaches the final step, the tool will show the scan result containing deleted components of Fake FBI Warning and other identified virus.
Alternative Removal Procedures for Fake FBI Warning
Option 1 : Use Windows System Restore to return Windows to previous state
During an infection, Fake FBI Warning drops various files and registry entries. The threat intentionally hides system files by setting options in the registry. With these rigid changes, the best solution is to return Windows to previous working state is through System Restore.
To verify if System Restore is active on your computer, please follow the instructions below to access this feature.
Access System Restore on Windows XP, Windows Vista, and Windows 7
a) Go to Start Menu, then under 'Run' or 'Search Program and Files' field, type rstrui.
b) Then, press Enter on the keyboard to open System Restore Settings.
Open System Restore on Windows 8
a) Hover your mouse cursor to the lower left corner of the screen and wait for the Start icon to appear.
b) Right-click on the icon and select Run from the list. This will open a Run dialog box.
c) Type rstrui on the 'Open' field and click on OK to initiate the command.
If previous restore point is saved, you may proceed with Windows System Restore. Click here to see the full procedure.
Troubleshooting Guides
Did Fake FBI Warning blocks your Internet access?
It is usual that rogue program prevents user from downloading removal tools from the Internet. Thus, infected computer may be denied to access the Internet by making changes to computer's proxy, DNS, and Hosts file. To fix Internet connection problem, follow these steps:
1. Download the free program called MiniToolBox. Click the button below to begin. Save the file on your hard drive or preferably in your Desktop.
2. Close all running Internet browser and double-click on the file to run. It opens a window showing a list of features.
3. Make sure that you have a check mark on the following items : Flush DNS, Reset IE Proxy Settings, and Reset FF Proxy Settings.
4. Click on the GO button to start the process. The program automatically closes and displays a text file for your reference.
5. If the above solution does not work, you may try other method like fixing a virus-blocked Internet access. Make sure that your hosts file is free from any malicious entries. View steps in cleaning Windows host file.
Ways to Prevent Fake FBI Warning Infection
Here are some guidelines to help defend your computer from virus attack and malware activities. Being fully protected does not have to be expensive.
Install protection software to block Fake FBI Warning and other threats
Having an effective anti-malware program is the best way to guard your computer against malware and threats. Although full version of anti-malware will cost some penny to obtain, it is still worthy to buy one. With real-time scan, it will be safer for you to browse the web, download files, and do more things online.
Keep all programs up to date
It is important to download critical update for installed programs. Software updates includes patches for security flaw that may utilize by an attacker to enter the computer. This flaw may be taken advantage by Fake FBI Warning, viruses, and malware to attack the computer. Crucial programs to watch for updates are MS Windows, MS Office, Adobe Flash, Adobe Acrobat, and Java Runtime.
Activate security features of your Internet browser
SmartScreen Filter, Phishing and Malware Protection, and Block Attack Sites are the respective security features of Internet Explorer, Google Chrome, and Mozilla Firefox. Although, it may not fully guard your computer from online attack, at least it can lessen the risk. Enabling these features also helps to secure your private data and avoid identity theft.
Be a responsible Internet user
Antivirus programs and security features of Internet browser facilitates real-time protection and monitors harmful activities online. However, it tends to malfunction for some reasons. Thus, you do not have to be fully dependent on these tools. It is always best to practice safety measures when using the Internet.