VBS:Malware-Gen
This page contains removal guide for VBS:Malware-Gen. You should follow the procedure to delete the virus as well as other harmful threats inside the computer.
VBS:Malware-Gen is a heuristic detection for a malicious Visual Basic Script file. Due to the vast component of this threat, several Trojans, viruses, and worms can be one of them. In most instances, VBS:Malware-Gen variants are developed to automatically load a file into the computer. In this case, you need to find and delete the file before it can further harm your PC.
Damage Level: Medium
Systems Affected: Windows 9x, 2000, XP, Windows Vista/7
Characteristics
When VBS:Malware-Gen is initiated, it might create a copy of itself on various folders of your computer. Most of the time, it can be spotted on System folder of Windows where other vital files are also located. Other strains of this malware can overwrite executable files with a set of instructions that performs the following:
Download other threats from a remote server
Delete a set of files to immobilize antivirus program
Initiate an output strings to execute a file or display messages the next time Windows starts
Modify the start page of an Internet browser
Shut down a computer in specified time
Because of the wide characteristics for strain of this virus, there may be other payload not included in the list above. We will update this content as soon as there are new developments regarding VBS:Malware-Gen.
Distribution
VBS:Malware-Gen deploys through a number of ways mainly applied by other threats of the same nature. There is also an observation that malicious links will force victim's Internet browser visit the malware download page. Typically, this link will reach user via spam email messages, instant messaging software and web sites that are already compromised by various web-infecting Trojans and viruses.
When this virus arrives on a secured computer, there is a high chance that installed antivirus program can detect and remove it before causing any harm. As you can see in the image below, active antivirus program isolates the file infected with VBS:Malware-Gen.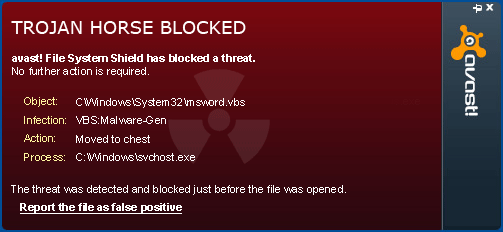 How to Remove VBS:Malware-Gen
1. Temporarily Disable System Restore if you are using Windows XP. For Windows Vista/7 users, you may use System Restore to return Windows to a previous clean state. However, you must have a saved restore points to accomplish this. Otherwise, proceed with the removal process.
2. Open your antivirus application and update the virus definitions. This method ensures that your antivirus program can detect even newer variants of VBS:Malware-Gen.
3. Start Windows in Safe Mode with Networking.
- From a power-off state, turn on the computer and press F8 repeatedly.
- Your computer will display Windows Advanced Boot Options menu. Select Safe Mode with Networking.
- System will boot Windows loading only necessary drivers and system files.
4. Open your antivirus program and run a full system scan. After the scan, delete all infected items. If unable, better place them in quarantine. Once the scan is complete, please proceed with the next step.
Online Virus Scanner:
Another way to remove VBS:Malware-Gen without the need to install additional antivirus application is to perform a thorough scan with free online virus scanner that can be found on websites of legitimate anti-virus and security provider.
5. Go to Online Virus Scanner list and run a virus scan. This may require plug-ins, add-on or Activex object, please install if you want to proceed with scan.
6. After completing the necessary download, your system is now ready for online virus scanning.
7. Select an option in which you can thoroughly scan the computer to make sure that it will find and delete entirely all infections not detected on previous scan.
8. Remove or delete all detected items.
9. When scanning is finished, you may now restart the computer in normal mode.
Automatic Removal of VBS:Malware-Gen
In order to completely remove the threat, it is best to
download
and run Malwarebytes Anti-Malware. Sometimes, Trojans will block the downloading and installation of MBAM. If this happens, download it from a clean computer and rename the executable file before executing on the infected machine.
Alternative Removal Method for VBS:Malware-Gen
Option 1 : Use Windows System Restore to return Windows to previous state
If VBS:Malware-Gen enters the computer, there is a big chance that Windows files, registry entries and other essential components are also infected. System Restore can reinstate clean system files by restoring the configuration to an earlier date. The method also replaces compromised files with a clean version. If you have a saved restore point before VBS:Malware-Gen infiltrates the PC, we highly encourage you to execute this procedure if none of the above works. You may proceed with Windows System Restore, click here to see the full procedure.