JS.Proslikefan
If your PC is infected with JS.Proslikefan, you may follow the procedure on this page to contain this threat. Remove the worm at once before it can further harm the system.
JS.Proslikefan is detection for a malicious Java Script worm that influences social networking activities on the compromised system. It normally spreads on harmful sites and unsafe file-sharing networks. JS.Proslikefan also deploys locally through mapped network drives, removable drives, and file-sharing software. When it enters the computer, JS.Proslikefan makes a duplicate version of itself on various folders.
Damage Level: Medium
Systems Affected: Windows 9x, 2000, XP, Windows Vista/7
Characteristics
If user executes JS.Proslikefan, the worm instantly creates a copy of the harmful file on different locations. It also modifies Internet Explorer, Google Chrome, and Mozilla Firefox settings to replace its homepage with the specified web address. To secure a place on Windows start-up, JS.Proslikefan alters the registry and adds an entry. Aside from inserting a code, the threat also deletes some values, which deactivate Windows Safe Mode function. Additional registry changes on DNS make the web traffic to be redirected to unknown location.
Next, JS.Proslikefan verifies the system for a presence of security program and end its process once identified. It also prevents users from visiting security web sites by blocking the domain name on the Windows Hosts file.
The threat attempts to contact a command and control (C&C) server to download additional files to be able to perform the following actions:
Redirect search result to unknown web page
Gathers data such as user name, computer name, and operating system's version
Execute Facebook commands once user is logged in
Distribution
JS.Proslikefan spreads in various ways. It utilizes the Internet to deploy a copy worldwide. Locally, the worm propagates via removal drives, risky network shares, and file-sharing programs.
Some signs of JS.Proslikefan infection are browser redirection, blocked Internet, and disabled antivirus software. If you have efficient antivirus software that overcomes the attack, it instantly issues an alert and isolates the infection. See sample screenshot image below.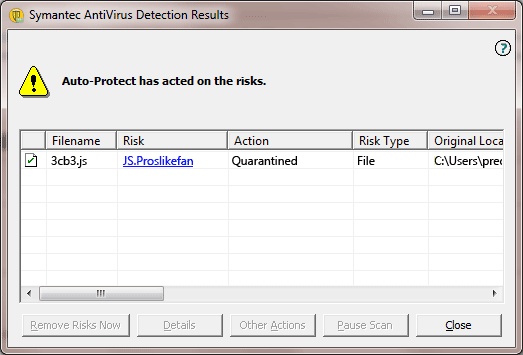 [cf]regis[/cf] [cf]files[/cf]
How to Remove JS.Proslikefan
1. Temporarily Disable System Restore if you are using Windows XP. For Windows Vista/7 users, you may use System Restore to return Windows to a previous clean state. However, you must have a saved restore points to accomplish this. Otherwise, proceed with the removal process.
2. Open your antivirus application and update the virus definitions. This method ensures that your antivirus program can detect even newer variants of JS.Proslikefan.
3. Start Windows in Safe Mode with Networking.
- From a power-off state, turn on the computer and press F8 repeatedly.
- Your computer will display Windows Advanced Boot Options menu. Select Safe Mode with Networking.
- System will boot Windows loading only necessary drivers and system files.
4. Open your antivirus program and run a full system scan. After the scan, delete all infected items. If unable, better place them in quarantine. Once the scan is complete, please proceed with the next step.
Online Virus Scanner:
Another way to remove JS.Proslikefan without the need to install additional antivirus application is to perform a thorough scan with free online virus scanner that can be found on websites of legitimate anti-virus and security provider.
5. Go to Online Virus Scanner list and run a virus scan. This may require plug-ins, add-on or Activex object, please install if you want to proceed with scan.
6. After completing the necessary download, your system is now ready for online virus scanning.
7. Select an option in which you can thoroughly scan the computer to make sure that it will find and delete entirely all infections not detected on previous scan.
8. Remove or delete all detected items.
9. When scanning is finished, you may now restart the computer in normal mode.
Automatic Removal of JS.Proslikefan
In order to completely remove the threat, it is best to
download
and run Malwarebytes Anti-Malware. Sometimes, Trojans will block the downloading and installation of MBAM. If this happens, download it from a clean computer and rename the executable file before executing on the infected machine.
Alternative Removal Method for JS.Proslikefan
Option 1 : Use Windows System Restore to return Windows to previous state
If JS.Proslikefan enters the computer, there is a big chance that Windows files, registry entries and other essential components are also infected. System Restore can reinstate clean system files by restoring the configuration to an earlier date. The method also replaces compromised files with a clean version. If you have a saved restore point before JS.Proslikefan infiltrates the PC, we highly encourage you to execute this procedure if none of the above works. You may proceed with Windows System Restore, click here to see the full procedure.
Option 2 : JS.Proslikefan manual uninstall guide
IMPORTANT! Manual removal of JS.Proslikefan requires technical skills. Deleting system files and registry entries by mistake may result to total disability of Windows system. We advise you to perform a backup of registry before proceeding with this guide.
1. Kill any running process that belongs to JS.Proslikefan.
- Press Ctrl+Alt+Del on your keyboard.
- When Windows Task Manager appears, look for JS.Proslikefan files (refer to Technical Reference) and click End Process.
2. Delete all registry entries that belong to this malware.
- Press [Windows Key]+R on your keyboard.
- In the 'Open' dialog box, type regedit and press Enter. This will open registry editor.
- Find and delete registry entries as mentioned in Technical Reference section below.
- Close registry editor. Changes made will be save automatically.
3. Scan the computer with antivirus program.
- Connect to Internet and open your antivirus software. Please update to obtain the latest database and necessary files.
- Restart the computer in Safe Mode.
- Just before Windows logo begins to load press F8 on your keyboard.
- On Windows Advanced Boot Options, select Safe Mode and press Enter.
4. Delete all files dropped by JS.Proslikefan.
- While still in Safe Mode, search and delete malicious files. Please refer to 'Technical Reference'. Make sure that you execute 'End Task' first before deleting the file. Otherwise, the system will not let you perform this action.
Technical Reference
Associated Files and Folders:Added Registry Entries: