W32.Downadup.E is a worm that propagates on Internet by exploiting the Microsoft Windows Server Service RPC Handling Remote Code Execution Vulnerability. W32.Downadup.E will also attempt to download a copy of its variant W32.Downadup.C on to the compromised computer and spread it on the attached network if any was found.
When this Trojan executes, it will create a copy of itself under Temp folder of Windows. The file consists of a random filename executable file. It can also drop other file that will run as a service driver of Windows.
Next, W32.Downadup.E will modify a network driver file called tcpip.sys that will halt the network connection on the infected computer. For the same purpose, it will also alter several registry entries of Windows.
In order to spread a copy, this worm will make the infected computer as an HTTP server. It then attempts to establish a connection to a host computer and download the worm. Infected PC can then be a host computer for other exploited unit. This simple routine can propagate the worm faster instead of using a fix location.
If you have an installed antivirus program with the most recent update, there is a high probability that it can catch the worm ahead. On the image below, you can see how Symantec real-time protection captured and deleted W32.Downadup.E.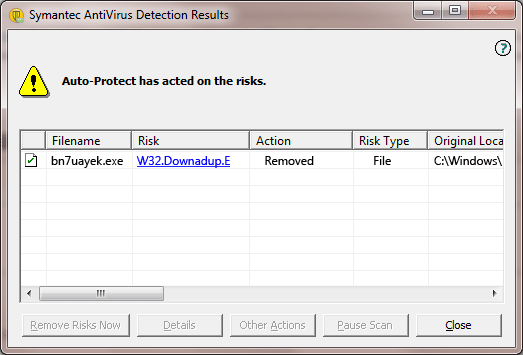 Alias: WORM_DOWNAD.E
Damage Level: High
Systems Affected: Windows
How to Remove W32.Downadup.E
Systematic procedures to get rid of the threat are presented on this section. Make sure to scan the computer with suggested tools and scanners.
NOTE: We suggest that you PRINT or BOOKMARK this guide. There are steps that we may have to restart the computer in order to successfully remove the threat.
Optional : Scan and remove W32.Downadup.E with this special tool
1. Download the Downadup removal tool from this link and save it on your Desktop or any accessible location.
This tool is available free. It can delete members of the Downadup family of Trojan. The tool is created with removal function; it cannot protect the computer from threats.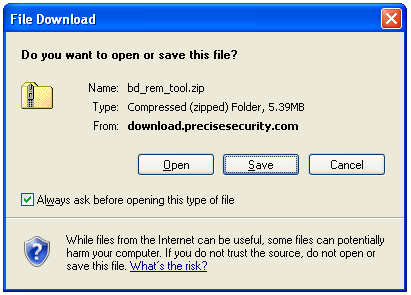 2. Double click on downloaded file, chose "Extract all files..." from the File menu, and follow the wizard's instructions. You can use any other archiver, like WinZip. This will create a folder called bd_rem_tool.
3. Double click on the file "bd_rem_tool_gui.exe" (or just "bd_rem_tool_gui"). Make sure that all files have been extracted from the zip archive, because all the contents are required for the removal tool to run. Follow the tool's instructions.
4. If you have Restricted Access (not Admin) on Windows Vista and XP, right click the "bd_rem_tool_gui" program and choose "Run as Administrator". Enter the computer Administrator User name and Password when prompted. This will scan the computer for presence of W32.Downadup.E. Remove all detected threats.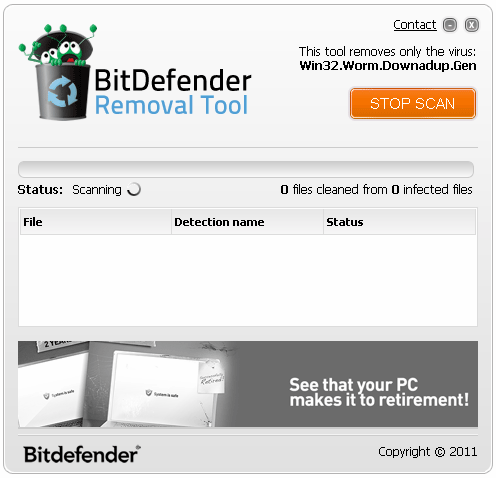 5. Reboot your computer when scanning is finished.
Step 1 : Run a scan with your antivirus program
1. Remove all media such as Memory Card, cd, dvd, and USB devices. Then, restart the computer and please do the following:
Boot in Safe Mode on Windows XP, Windows Vista, and Windows 7 system
a) Before Windows begins to load, press F8 on your keyboard.
b) It will display the Advanced Boot Options menu. Select Safe Mode.
Start computer in Safe Mode using Windows 8 and Windows 10
a) Close any running programs on your computer.
b) Get ready to Start Windows. On your keyboard, Press and Hold Shift key and then, click on Restart button.
c) It will prompt you with options, please click on Troubleshoot icon.
d) Under Troubleshoot window, select Advanced Options.
e) On next window, click on Startup Settings icon.
f) Lastly, click on Restart button on subsequent window.
g) When Windows restarts, present startup options with numbers 1 - 9. Select "Enable Safe Mode with Networking" or number 5.
h) Windows will now boot on Safe Mode with Networking. Proceed with virus scan as the next step.
2. Once Windows is running under Safe Mode with Networking, open your antivirus program and download the most recent update. This method ensures that your antivirus program can detect even newer variants of W32.Downadup.E.
Updating your antivirus software is a one-click process. Please refer to your software manual for complete instructions.
3. Once updating is finished, run a full system scan on the affected PC. After the scan, delete all infected items. If unable to clean or delete, better place the threat in quarantine.
Step 2: Run another test with online virus scanner
Another way to remove W32.Downadup.E without the need to install additional antivirus software is to perform a thorough scan with free online virus scanner. It can be found on websites of legitimate antivirus and security provider.
1. Click the button below to proceed to the list of suggested Online Virus Scanner. Choose your desired provider. You can run each scan individually, one at a time, to ensure that all threats will be removed from the computer. This may require plug-ins, add-on or Activex object, please install if you want to proceed with scan.
2. After completing the necessary download, your system is now ready to scan and remove W32.Downadup.E and other kinds of threats.
3. Select an option in which you can thoroughly scan the computer to make sure that it will find and delete entirely all infections not detected on previous scan.
4. Remove or delete all detected items.
5. When scanning is finished, you may now restart the computer in normal mode.
Alternative Removal Procedures for W32.Downadup.E
Option 1 : Use Windows System Restore to return Windows to previous state
During an infection, W32.Downadup.E drops various files and registry entries. The threat intentionally hides system files by setting options in the registry. With these rigid changes, the best solution is to return Windows to previous working state is through System Restore.
To verify if System Restore is active on your computer, please follow the instructions below to access this feature.
Access System Restore on Windows XP, Windows Vista, and Windows 7
a) Go to Start Menu, then under 'Run' or 'Search Program and Files' field, type rstrui.
b) Then, press Enter on the keyboard to open System Restore Settings.
Open System Restore on Windows 8
a) Hover your mouse cursor to the lower left corner of the screen and wait for the Start icon to appear.
b) Right-click on the icon and select Run from the list. This will open a Run dialog box.
c) Type rstrui on the 'Open' field and click on OK to initiate the command.
If previous restore point is saved, you may proceed with Windows System Restore. Click here to see the full procedure.
Ways to Prevent W32.Downadup.E Infection
Take the following steps to protect the computer from threats. Suggested tools and security setup within installed software helps prevent the same attack on your PC.
Install an effective anti-malware program
Your first line of defense would be an effective security program that provides real-time protection. We have a list of anti-malware program that are tried and tested. It does not only scan files but also monitors your Internet traffic and is extremely active on blocking malicious communication. Click on the button below to download our recommended anti-malware program.
Always update your installed software
Software vendors constantly releases updates for programs whenever a flaw is discovered. Getting the updates makes the computer more secured and help prevents Trojan, virus, malware, and W32.Downadup.E similar attacks. If in case your program is not set for instant update, it usually offered from vendor's web site, which you can download anytime.
Maximize the security potential of your Internet browser
Each browser has their own feature where in you can adjust the security settings that fit your browsing habit. We highly encourage you to maximize the setup to tighten the security of your browser.
Apply full caution when using the Internet
Internet is full of fraud, malware, and many forms of computer threats including W32.Downadup.E. Implement full caution with links that you may receive from emails, social networking sites, and instant messaging programs. It might lead you to malicious sites that can cause harm to your computer. Avoid strange web sites that offers free services and software downloads.