You can only stop the "Serious System Error" pop-up by removing the malware that is causing it to appear. Use only valid security program to scan the PC for harmful files and data.
"Serious System Error" is a fake pop-up alert issued when a malicious file from an infected web site is executed. This will trigger a download of rogue security software on the visitor's computer. After silent installation of the program, it will require a reboot of the computer and will pretend as a genuine system error for Windows.
Malware authors are trying to mimic Windows alerts and pop-up messages to let user get involved in the execution of viruses. In this case, the malware requires restarting the system to be fully installed. Without the capability, it will pop-up "Serious System Error" warning to let user do the task manually.
Image below illustrates the fake pop-up warning alert.
Serious system error
The system will reboot in 30 seconds
Windows can not continue operating due to fatal system error.
Windows was forced to restart.
All unsaved data will be lost.
Screenshot Image: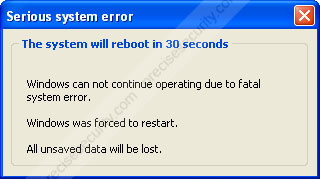 There are no reports of "Serious System Error" for legal programs. However, some similar fault in Windows operating system may report the following:
"System Has Recovered from a Serious Error"
The problem arises after the system writes a bad Minidump file. These Minidump crashes are a result of various code corruption or faulty memory. On some instances, faulty hardware (memory, mother board, video card, power supply unit) also causes this problem.
"serious error"
Computer may automatically restart and you will receive a message "serious error" or "stop error." This symptom may differ based on the failure detected on the operating system. On the other hand, rootkit Trojan attempting to load malicious components may trigger Windows to restart and display the error message after a reboot. There are several anti-malware programs that can detect and eliminate this Trojan.
Associated Threat: System Security Antivirus
Systems Affected: Windows 9x, 2000, XP, Vista, Windows 7
"Serious System Error" Removal Procedures
Systematic procedures to get rid of the threat are presented on this section. Make sure to scan the computer with suggested tools and scanners.
Step 1 : Run Anti-Malware Program to Automatically Remove "Serious System Error"
Running anti-malware scan on the affected computer can instantly remove components installed by "Serious System Error". However, there is no guarantee that this will check and fix existing problems on all Internet browsers.
If you did not get rid of "Serious System Error" using this virus scan, please check the manual removal instructions below. Restoring Windows to previous state prior to the infection may also be the solution.
1 Click the button to start downloading our recommended anti-malware tool. Save it to an accessible location inside your hard drive or clean USB drive if you are downloading from a different PC.
2 Once the download completes, install the tool using the default configuration. You do not need to change any settings while running the installation procedure.
3 Update the program when installation completes. Typically, this is an automated process, so, Internet connection is required in order to download necessary database.
4 Run a complete scan of the affected computer and remove all identified threats.
5 To finalized the removal process, the program prompts to restart Windows.