This page contains removal guide for happili.com redirect virus. You can stop this browser hijacker by following the procedures written on this web site.
Happili.com is the destination of a redirect virus. In a more technical term, it involves a browser hijacking Trojan to perform the Google search browser redirection to Happili.com. There are certain reasons why attackers are employing redirects. It could be due to promotional purposes, marketing scheme, or further infect the computer. Some redirects may point browser to a clean web pages while others may bring harm by rerouting you to a Trojan location.
Typically, Trojan that causes this issue can be found cruel web site, peer-to-peer connection, and fake multimedia pages. When it gets inside your computer, the Trojan will alter system settings registry. It will also drop harmful files that may cause your browser to redirect to random web sites and will soon end-up on Happili.com after several clicks.
While inside the computer, the infection may worsen to a much bigger trouble. Aside from Happili.com redirection, system may also suffer from software and security errors. It can also download other threats that will lead to rootkit infection. Therefore, it is an urgent matter to remove the threat before it could add more harm. Follow the guide on this page to hasten your computer's recovery from Happili.com infection.
Screenshot Image: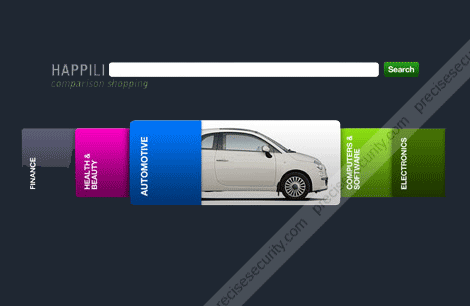 Technical Details and Additional Information:
Damage Level: Medium
Systems Affected: Windows 9x, 2000, XP, Vista, Windows 7
Happili.com Removal Procedures
Systematic procedures to get rid of the threat are presented on this section. Make sure to scan the computer with suggested tools and scanners.
Step 1 : Automatic Removal Guide
Running anti-malware scan on the affected computer can instantly remove components installed by Happili.com. However, there is no guarantee that this will check and fix existing problems on all Internet browsers.
If you did not get rid of Happili.com using this virus scan, please check the manual removal instructions below. Restoring Windows to previous state prior to the infection may also be the solution.
1 Click on the button to start downloading our recommended antivirus tool. Save it to an accessible location inside your hard drive or clean USB drive if you are downloading from a different PC.

2 Once the download completes, install the tool using the default configuration. You do not need to change any settings while running the installation procedure.
3 Update the program when installation completes. Typically, this is an automated process, so, Internet connection is required in order to download necessary database.
4 Run a complete scan of the affected computer and remove all identified threats.
5 To finalized the removal process, the program prompts to restart Windows.
Step 2 : Uninstall Happili.com from Windows Control Panel
6 Open Control Panel using instructions below base on your operating system.
Opening Control Panel - Windows XP, Vista and Windows 7
Click on Start > Control Panel. Window should open where you can adjust your computer settings.
Accessing Control Panel - Windows 8 and Windows 10
a For Windows 8 and Windows 10, the easiest way to locate the Control Panel is through shortcut key. Actually, this also works for earlier versions of Windows.
b Press Windows Key + R on your keyboard to intiate Run dialog box.
c) Type Control Panel in the Open field and click OK.
7 When Control Panel window appears, click on 'Uninstall a program' under Programs area.
8 Your screen now shows a window to uninstall or change a program. Please select the adware from the list.
If name of adware or relevant entry is not present, the next trick is to uninstall newly loaded programs. To do this, arrange listed programs in chronological order. Click on 'Installed On' to see programs recently installed.
Select the Adware from the list and click on Uninstall button. See image below for reference. Removing unfamiliar software may also help solve the issue.
9 On the next prompt, you need to confirm the uninstall process.
10 Click OK to proceed with the removal of Happili.com or any relevant software.
Step 3 : Remove the Happili.com Extensions from your Browser
11This section will guide you to effectively remove Happili.com extensions, add-ons, and unwanted search engine from Internet browsers.
Google Chrome
Procedures to Remove Happili.com from Google Chrome
a Open Google Chrome.
b In the address bar, type the following and press Enter on keyboard: chrome://extensions
c You will now see Google Chrome's Extensions window.
d Usually, Google Chrome has empty Extension, unless you have installed other base on your preferences. Also on this area, you can find the item provided by Happili.com. Click on Remove button to delete it from Google Chrome.
Please close and run Google Chrome again. Most often, this procedure is successful in removing Happili.com from Chrome. If the browser hijacker persists, please manually restore Google Chrome homepage and search settings by following this complete guide.
Internet Explorer
Ways to Remove Happili.com from Internet Explorer
a Open Internet Explorer.
b Navigate to top menu and click on Tools. Next, select Manage add-ons from the list. A window where in you can manage Internet Explorer add-ons will open.
c Click on Toolbars and Extensions on left panel. Delete or Disable any items that are relevant to Happili.com.
If the procedure is not effective in getting rid of the browser hijacker, we recommend executing this comprehensive guide to restore Internet Explorer's Homepage and Search settings.
Mozilla Firefox
Directions to Remove Happili.com from Mozilla Firefox
a Launch Mozilla Firefox
b Type the given command in the address bar and press Enter on keyboard: about:addons
c Click Extensions on left panel. This will show a list of installed extensions.
d Find the Happili.com extension. If it does not exist, find related items such as mentioned above. Click the Remove button to uninstall it.
e Close the Add-ons Manager tab.
Restarting Mozilla Firefox is necessary after performing the procedures. If Happili.com is still active on the browser, the last option is to carry out these instructions to restore Mozilla Firefox's Homepage and Search settings.
Edge
Guide to Remove Happili.com from Microsoft Edge
a Open Microsoft Edge browser.
b Click on More Action button located on top right corner of the browser.
c Click on Extensions from the Menu. It will open a window showing all installed extensions.
d Right-click on Extension that belongs to Happili.com, and then, click on Remove.
Restore Microsoft Edge's Home Page
e Back at the Menu, select Settings from the list.
f Scroll down to 'Open with' section, and select 'A specific page or pages'. Then, select Custom.
g Enter the web address of preferred start page. Next, click on the + sign to add the web address. If Happili.com is listed as one of the start page, click X beside the URL to remove it from the browser. See image above for reference.
Restore Microsoft Edge's Default Search Engine
h Back at Microsoft Edge Settings page.
i Click on View advance settings button.
j Scroll down to 'Search in the address bar with' section. Then, click on Change button.
k It will present list of installed search engine, Bing is the deafault search engine for Edge. You can choose other valid search engine but not Happili.com. To save your pick, click on Set as default button.
l Lastly, remove Happili.com from the list. You may now restart Microsoft Edge browser.
Step 4 : Additional Cleanup Tool
If the previous instructions failed to remove Happili.com, this procedure will help you adware remnants from internet browser applications. The process quickly removes adware and other malicious components from your browser.
12 Download Norton Power Eraser by clicking on the button below.
13 Double-click on downloaded NPE.exe file to run the program.
14 If User Account Control window prompts, click Yes to proceed installing the tool.
15 Once installed, Norton Power Eraser will launch automatically.
16 Next, click on Unwanted Application Scan to start looking for malicious objects linked to Happili.com.
17 After completing the scan, it will display Unwanted Apps Scan Complete. Select items that are closely related to Happili.com or any suspicious objects and click Uninstall to remove it.
18 Follow the on-screen instructions until it completely removed the browser hijacker.
Removing Happili.com from Mac OS
To quickly get rid of Happili.com from Mac systems, please follow the procedures on this section. Tools provided here are known to be very effective in locating and finding malicious items from the browser and system as well.
1 Click on the link below to Start Downloading Malwarebytes Anti-Malware for Mac.
2 To install the tool, simply Drag the downloaded file MBAM-Mac-[version].dmg to Applications folder.
3 Browse the Applications folder and then, right-click on Malwarebytes Anti-Malware. Choose "Open" from the given options to run the tool on your Mac system.
4 Once the program is running, please click the "Scan" button to start checking your Mac computer for presence of Happili.com and other malicious objects.
5 After completing the scan process, it will display the list of identified threats. Select all malicious items from the list.
6 Lastly, click on "Remove Selected Items" button to remove all the threats from your Mac system.
Manually Remove Happili.com from Mac
If you require additional guide to remove Happili.com, we suggest that you execute the comprehensive adware removal procedures. It contains complete methods to remove potentially unwanted program (PUP) or Adware that is causing browser annoyances like hijacking, redirects, and pop-ups.
FAQs
Is Happili.com Dangerous?
Yes, Happili.com can badly affect your computer and slow down its performance and usability.
Can I Remove Happili.com from my Computer?
Yes, Happili.com can be removed by downloading our recommended antivirus software and scanner.
How Easy is it to Remove Happili.com Virus?
Nearly all paid antivirus scanners and removal tools should help remove the Happili.com virus from your computer.
Once I remove Happili.com do I still need antivirus?
Yes, new viruses such as Happili.com are created everyday and the only way to stay 100% protected is to use antivirus on your device.