To remove Full PC Care 2.0 from the computer, please execute the guide as it is outlined on this page. Thoroughly scan the system with legitimate malware and virus removal tools to delete all malicious objects and relevant threats.
Full PC Care 2.0 is deemed as rogue security and system optimizer that discreetly penetrates the computer along with other dubious software package that you may have obtained from questionable internet servers. It is hard to identify the exact software bundle that attackers are utilizing to spread Full PC Care 2.0 because there are just too many of them that are presently deployed all over the web.
Aside from bundling the counterfeit system optimization tool to a number of freeware, user may also get hold of Full PC Care 2.0 if they click on pop-up ads that are pretending to be online system scanners. This is another deceitful technique by Full PC Care 2.0 makers to influence web users into downloading the installer file.
After successful installation on the computer, Full PC Care 2.0 will initiate local scan and abruptly displays a result exhibiting dozens of detected threats and errors. Bear in mind that this is just an act to mislead you into thinking that computer needs fixing.
Rogue developer maintains that Full PC Care 2.0 is a valuable tool to keep Windows system in top performance. According to official website, it is a complete solution, which consists of security and system optimization tool that can speed up the computer by fixing issues and errors. However, this was long been contested by computer analysts who claims that Full PC Care 2.0 or any tools claiming to enhance system performance are misleading computer users. As a matter of fact, system optimizer that modifies Windows registry can cause troubles if vital entries were mistakenly deleted.
While Full PC Care 2.0 is promoted as valuable tool, people who are experts in the computer security field discourage the use of it. For this reason, we made a guide to easily remove this unwanted program from the computer. Please see the procedures below.
Screenshot Image: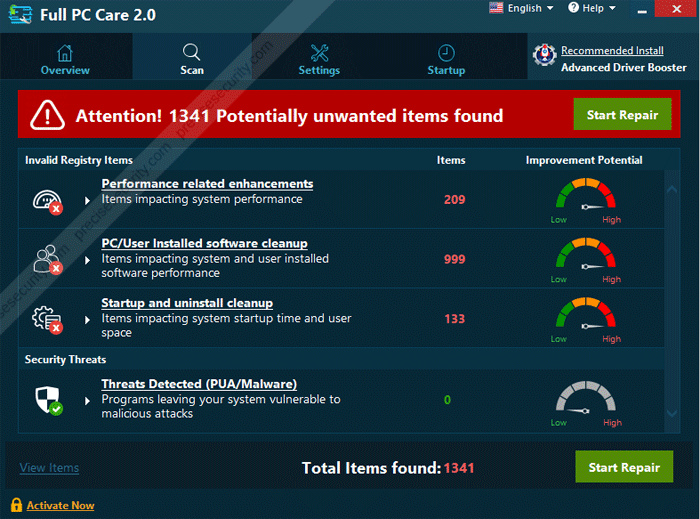 Full PC Care 2.0 Removal Procedures
Systematic procedures to get rid of the threat are presented on this section. Make sure to scan the computer with suggested tools and scanners.
NOTE: It is recommended to PRINT or BOOKMARK this instruction because we need to restart Windows during the virus removal process.
Step 1 : Uninstall Full PC Care 2.0 from Windows
1 On Windows Start menu, type Uninstall on Search field. Select Apps & Features on the list. For lower version of Windows, please choose Program and Features. You can uninstall or modify any installed application using this feature.
2 On next window, look for the item "Full PC Care 2.0" from the list and then, click on Uninstall button.
3 When it prompts for confirmation, please click Uninstall to start deleting Full PC Care 2.0 from Windows operating system.
Step 2 : Remove Full PC Care 2.0 remaining items with this tool
This guide requires a tool called Malwarebytes' Anti-Malware. It is a free tool designed to eradicate various computer infections including Full PC Care 2.0. MBAM scanner and malware removal tool is distributed for free.
4 In order to completely remove Full PC Care 2.0, it is best to download and run the recommended tool. Please click the button below to begin the download process.
5 After downloading, right-click on the file mb3-setup-consumer-[version].exe and select Run as Administrator to install the application.
6 Follow the prompts and install with dafault settings. There are no changes needed during the installation process.
7 Malwarebytes Anti-Malware will launch for the first time. If it prompts for database update, it is necessary proceed with this step.
8 Click on Scan Now button on scanner's console to ensure that it thoroughly check the PC for any presence of Full PC Care 2.0 and other forms of threats.
9 Once the scan has completed, Malwarebytes Anti-Malware will issue a list of identified threats. Mark all threats and remove them from the computer.
10 If it prompts to restart the computer, please reboot Windows normally.
Step 3 : Double-check if Full PC Care 2.0 still exists
11 Click on the button below to download Norton Power Eraser from official web site. File will be save on your Windows Downloads folder.
12 After downloading, navigate its location and double-click on the NPE.exe file to launch the program.
13 Norton Power Eraser will run. If it prompts for End User License Agreement, please click on Accept to proceed.
14 On NPE main window, click on Unwanted Application Scan to quickly check the computer for malicious programs including Full PC Care 2.0.
15 NPE will proceed with the scan. It will search for Trojans, viruses, and malware like Full PC Care 2.0. This may take some time, depending on the number of files currently stored on the computer.
Step 4 : Run Additional Scanner to Ensure that Full PC Care 2.0 is Totally Deleted
Online Virus Scanner:
Another way to remove a virus without the need to install additional anti-virus software is to perform a thorough scan with free Online Virus Scanner. Browse this page to see a list of free services from specific anti-virus and security company.
Alternative Removal Procedures for Full PC Care 2.0
Use Windows System Restore to return Windows to previous state
During an infection, Full PC Care 2.0 drops various files and registry entries. The threat intentionally hides system files by setting options in the registry. With these rigid changes, the best solution is to return Windows to previous working state is through System Restore.
To verify if System Restore is active on your computer, please follow the instructions below.
1 On Windows Start menu, type RSTRUI on search field. Then, click the item or press Enter on keyboard.
2 "Restore system files and settings" window will appear. Click Next button to see the list of active restore points.
3 Select the most recent one prior to having Full PC Care 2.0 infection. Click Next to restore Windows to previous working and clean state.

4 It may take a while to fully restore back-up files. Restart Windows when done.