Windows Firewall is a built-in protection tool that safeguards inbound and outbound traffic on a network. Depending on computer's configuration, Windows Firewall may block or let pass any information. Firewall is very essential to prevent malicious software, Trojans and viruses from gaining access to your system whether the request originates from local network or the Internet. Preventing hacker's attack from stealing sensitive data from your computer is also feasible with the proper implementation of Windows Firewall. It stops the system from sending confidential data and other sensitive information to a remote computer.
Firewall is very much different from antivirus programs. Firewall will guard and screen malicious network traffic and not the files that pass through it. While, antivirus software is the one responsible for preventing harmful files getting in to the system.
This procedure on how to enable or disable Windows Firewall covers operating system with version Windows XP, Windows Vista and Windows 7.
How to Enable or Disable Firewall on Windows Vista and Windows 7
1. Click on Start > Run (Search programs and files).
2. Type firewall.cpl on dialog box and press Enter. Alternatively, you may press [Windows key] + [R] on your keyboard to open a Run command.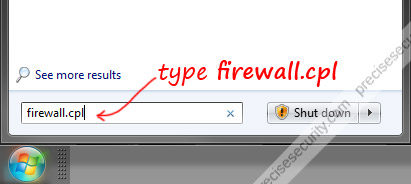 3. This will open Windows Firewall Control Panel. There are two types of networks on this configuration namely Home or Private Network and Public Network.
4. On left sidebar, click on Turn Windows Firewall on or off.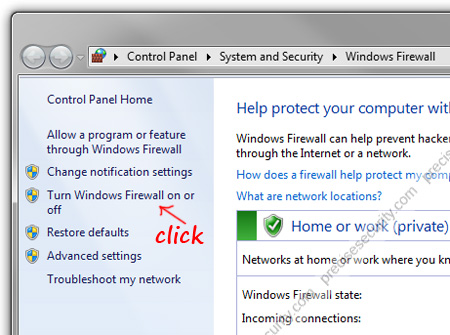 5. A new window on Windows Firewall Customize Settings will open.
6. You may now choose whether to turn off or turn on Windows firewall for Private or Public Network.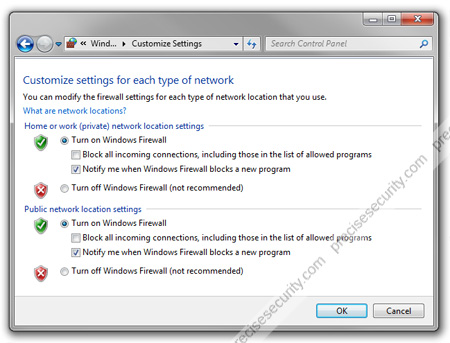 How to Allow or Block Individual Programs to Pass Through Windows Firewall
1. Repeat the same process above from number 1 to 3.
2. Click on "Allow a program or feature through Windows Firewall."
3. A new window will present a list of programs that are allowed to use your Private and Public Network. Allow a program by placing a check mark at the box, beside corresponding name. You can also add another program if it is not yet on list by.