W32.Virut.CF is one threat that uses advanced techniques to infect a computer. It requires systematic removal procedure to get rid of this Trojan.
W32.Virut.CF is a virus that can hide itself from antivirus program detection and invade the scanning process by using Entry Point Obfuscation (EPO). W32.Virut.CF will modify Windows registry to add itself on start-up items. Another functionality of this virus is to look for and infect executable files with extensions such as .exe, .scr. This worm injects i-frame into the body of the web-related files such as .html, .php and .asp. to further harm computer and redirect the homepage to unwanted websites. 
W32.Virut.CF file infector can compromised large networks rapidly through unsecured network shared devices. Of all its variants, W32.Virut.CF is the hardest one to remove. It uses advanced techniques which older versions are incapable of. The virus attempts to infect almost every executable format available on latest Windows systems. This process makes the infection variable results which makes removal more complicated.
Alias: W32/Virut.n, PE_VIRUX.A
Damage Level: Medium
Systems Affected: Windows 9x, 2000, XP
How to Remove W32.Virut.CF
Systematic procedures to get rid of the threat are presented on this section. Make sure to scan the computer with suggested tools and scanners.
NOTE: We suggest that you PRINT or BOOKMARK this guide. There are steps that we may have to restart the computer in order to successfully remove the threat.
Optional : Scan and remove W32.Virut.CF with this special tool
1. Download the tool FixVirut from Symantec web site. Click here to download
2. Save it to a desired location.
3. After download completes, disconnect the computer from Internet.
4. Computers who are running under operating system Windows ME and Windows XP must disable System Restore.
5. Reboot Windows in Safe Mode.
- After turning on the power, press F8 on the keyboard.
- Select Safe Mode from the menu.
6. Go to FixVirut.com download location on your hard drive.
7. Double click FixVirut.com to run the tool.
8. Thoroughly scan the computer and carry out another scan after rebooting Windows in normal mode.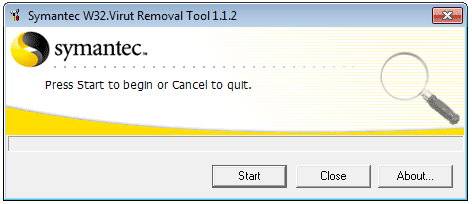 Step 1 : Run a scan with your antivirus program
1. Remove all media such as Memory Card, cd, dvd, and USB devices. Then, restart the computer and please do the following:
Boot in Safe Mode on Windows XP, Windows Vista, and Windows 7 system
a) Before Windows begins to load, press F8 on your keyboard.
b) It will display the Advanced Boot Options menu. Select Safe Mode.
Start computer in Safe Mode using Windows 8 and Windows 10
a) Close any running programs on your computer.
b) Get ready to Start Windows. On your keyboard, Press and Hold Shift key and then, click on Restart button.
c) It will prompt you with options, please click on Troubleshoot icon.
d) Under Troubleshoot window, select Advanced Options.
e) On next window, click on Startup Settings icon.
f) Lastly, click on Restart button on subsequent window.
g) When Windows restarts, present startup options with numbers 1 - 9. Select "Enable Safe Mode with Networking" or number 5.
h) Windows will now boot on Safe Mode with Networking. Proceed with virus scan as the next step.
2. Once Windows is running under Safe Mode with Networking, open your antivirus program and download the most recent update. This method ensures that your antivirus program can detect even newer variants of W32.Virut.CF.
Updating your antivirus software is a one-click process. Please refer to your software manual for complete instructions.
3. Once updating is finished, run a full system scan on the affected PC. After the scan, delete all infected items. If unable to clean or delete, better place the threat in quarantine.
Step 2: Run another test with online virus scanner
Another way to remove W32.Virut.CF without the need to install additional antivirus software is to perform a thorough scan with free online virus scanner. It can be found on websites of legitimate antivirus and security provider.
1. Click the button below to proceed to the list of suggested Online Virus Scanner. Choose your desired provider. You can run each scan individually, one at a time, to ensure that all threats will be removed from the computer. This may require plug-ins, add-on or Activex object, please install if you want to proceed with scan.
2. After completing the necessary download, your system is now ready to scan and remove W32.Virut.CF and other kinds of threats.
3. Select an option in which you can thoroughly scan the computer to make sure that it will find and delete entirely all infections not detected on previous scan.
4. Remove or delete all detected items.
5. When scanning is finished, you may now restart the computer in normal mode.
Alternative Removal Procedures for W32.Virut.CF
Option 1 : Use Windows System Restore to return Windows to previous state
During an infection, W32.Virut.CF drops various files and registry entries. The threat intentionally hides system files by setting options in the registry. With these rigid changes, the best solution is to return Windows to previous working state is through System Restore.
To verify if System Restore is active on your computer, please follow the instructions below to access this feature.
Access System Restore on Windows XP, Windows Vista, and Windows 7
a) Go to Start Menu, then under 'Run' or 'Search Program and Files' field, type rstrui.
b) Then, press Enter on the keyboard to open System Restore Settings.
Open System Restore on Windows 8 and Windows 10
a) Hover your mouse cursor to the lower left corner of the screen and wait for the Start icon to appear.
b) Right-click on the icon and select Run from the list. This will open a Run dialog box.
c) Type rstrui on the 'Open' field and click on OK to initiate the command.
If previous restore point is saved, you may proceed with Windows System Restore. Click here to see the full procedure.