When pop-up stating "Attention – your software may be out of date!" appears while you are surfing the web, it is safer to just ignore and close the current window. It may appear like from valid developer, where in fact, it just tries to mislead you into downloading adware or malicious program. Clicking on a link from this page may redirect your browser to harmful web sites.
Having the "Attention – your software may be out of date!" pop-up redirect does not necessary mean that your computer is compromised. In most instances, this will appear when you pay a visit on malicious sites or compromised web pages. Scripts on these pages intend to open a new tab or redirect the browser to unwanted network of advertisements. If for instance, your browser reveals a message "Attention – your software may be out of date!", never download or update the program as stated. Your click may lead to the download and installation of adware onto your PC.
It is noted "Attention – your software may be out of date!" pop-up is encountered when visiting video, freeware, and file-sharing sites. Whether you are redirected on this site, or you intentionally visit it, clicking on any links or button may put your computer at high risk. It tries to convince you to download a file that masked as valid Flash Player. In reality, there are bad codes hidden on that executable file.
Simply ignore "Attention – your software may be out of date!" and navigate away from the page. Then, run a complete scan using your trusted anti-virus or anti-malware program.
Screenshot Image: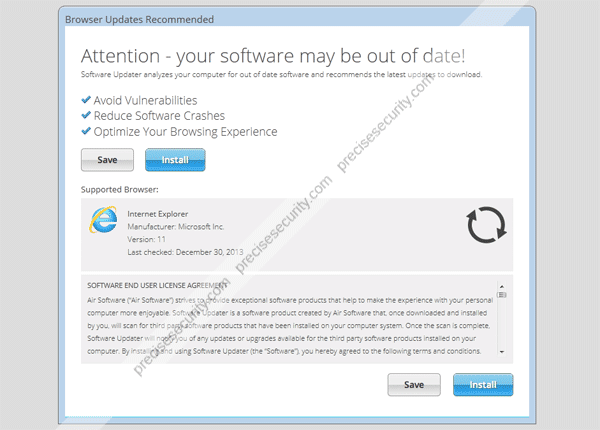 "Attention - your software may be out of date!" Removal Procedures
Systematic procedures to get rid of the threat are presented on this section. Make sure to scan the computer with suggested tools and scanners.
Step 1 : Run Anti-Malware Program to Automatically Remove "Attention - your software may be out of date!"
Running anti-malware scan on the affected computer can instantly remove components installed by "Attention - your software may be out of date!". However, there is no guarantee that this will check and fix existing problems on all Internet browsers.
If you did not get rid of "Attention - your software may be out of date!" using this virus scan, please check the manual removal instructions below. Restoring Windows to previous state prior to the infection may also be the solution.
1. Click on the button to start downloading our recommended anti-malware tool. Save it to an accessible location inside your hard drive or clean USB drive if you are downloading from a different PC.
2. Once the download completes, install the tool using the default configuration. You do not need to change any settings while running the installation procedure.
3. Update the program when installation completes. Typically, this is an automated process, so, Internet connection is required in order to download necessary database.
4. Run a complete scan of the affected computer and remove all identified threats.
5. To finalized the removal process, the program prompts to restart Windows.
Step 2 : Automatic Browser Cleanup
This procedure will help you remove "Attention - your software may be out of date!" from the affected browser automatically. By resetting browser to default configuration, all changes made by the threat will be removed.
NOTE: Please be advice that this tool may mistakenly diagnose some of your preferred add-ons as malicious. Review list of identified suspicious add-ons before cleaning up the browser.
1. Click the button below to download Avast! Browser Cleanup. Save the file to your hard drive.
2. Once downloaded, navigate to location of the file and double-click on avast-browser-cleanup-sfx.exe to initialize.
3. MS Windows might issue a warning about this program. Please proceed with the installation.
4. After successful installation, double-click on Avast Browser Cleanup icon to run the tool.
5. During initialization, Avast! Browser Cleanup will analyze existing plug-ins on all installed internet browser application. If ever it finds suspicious add-on, the tool will then provide the list. Please click "Remove all add-ons listed below and cleanup the browser" button.
6. On left side bar, select browser affected by "Attention - your software may be out of date!". Then, click on Reset Settings button to remove any unwanted changes carried out by the threat.
7. Lastly, this program will prompt for deafult browser search provider. On the list, please select your preffered default search engine and home page. Then, click on Complete Free Cleanup button.
Prevent "Attention - your software may be out of date!" From Ruining Your Computer
Take the following steps to protect the computer from threats. Suggested tools and security setup within installed software helps prevent the same attack on your PC.
Install an effective anti-malware program
Your first line of defense would be an effective security program that provides real-time protection. We have a list of anti-malware program that are tried and tested. It does not only scan files but also monitors your Internet traffic and is extremely active on blocking malicious communication. Click on the button below to download our recommended anti-malware program.
Always update your installed software
Software vendors constantly releases updates for programs whenever a flaw is discovered. Getting the updates makes the computer more secured and help prevents Trojan, virus, malware, and "Attention - your software may be out of date!" similar attacks. If in case your program is not set for instant update, it usually offered from vendor's web site, which you can download anytime.
Maximize the security potential of your Internet browser
Each browser has their own feature where in you can adjust the security settings that fit your browsing habit. We highly encourage you to maximize the setup to tighten the security of your browser.
Apply full caution when using the Internet
Internet is full of fraud, malware, and many forms of computer threats. Implement full caution with links that you may receive from emails, social networking sites, and instant messaging programs. It might lead you to malicious sites that can cause harm to your computer. Avoid strange web sites that offers free services and software downloads.