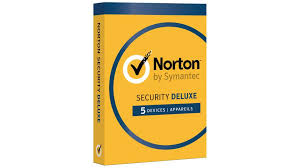 Are you still wondering whether Norton Antivirus is a good-enough protection tool for your computer and mobile devices?
There's no need to be uncertain. Norton is reliable security software that will keep your PC free from malware and virus attacks. As a tested and tried malware protection tool, it is built to detect and remove viruses and any ransomware hidden within the files on your computer.
Norton Antivirus has won the heart of many for its user-friendliness and affordability. It is easy to navigate and gives you the freedom to use its features and capabilities.
If you want to know more about Norton Antivirus such as its features, pros and cons, pricing and much more, then we've got you covered. Read on below to know all about Norton Antivirus.
What is Norton Antivirus?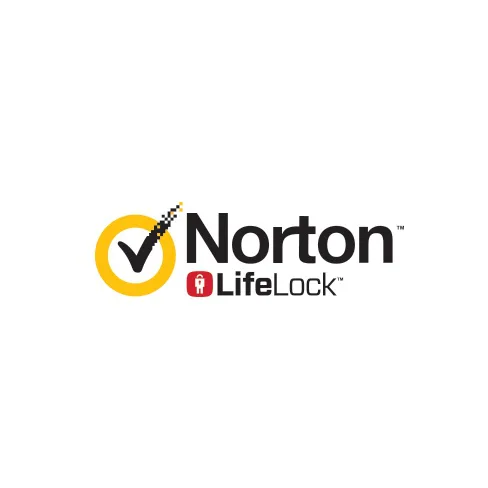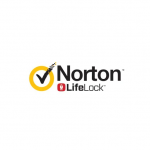 Norton is an antivirus from Symantec Corporation, which is the company behind Norton's development and distribution. It is an anti-malware that utilizes heuristics and signatures to detect and remove viruses. Norton antivirus is legitimate software that has been widely used since 1991.
It is a paid-for software that comes in three packages, namely the Standard, Deluxe and Premium packages. The three packages vary in prices, features and security capabilities.
What are the pros and cons of having Norton Antivirus?
Pros:
Good shield against malware and viruses – Norton is among the few software that promises and delivers. It is capable of detecting and removing harmful viruses from your devices at a 100% success rate.
Reliable firewall – Its software developers have created a secure firewall that protects your devices by using heuristics and signatures to defend them against infection.
Functions as a password manager – In addition to malware protection, Norton Antivirus has handy privacy tools that serve as password managers. It helps you recover lost passwords and remember the complex ones.
Advanced versions have a LifeLock identity protection feature – This feature enhances your security and privacy needs in a more sophisticated way.
Can be used as a back-up software and cloud storage – Norton Antivirus allows you to back up your data to your database. Cloud storage is also provided.
Cons:
Better features only on expensive versions – The software's best protection features like parental control are only found on more advanced packages.
What are the features of Norton Antivirus?
Real-time anti-malware protection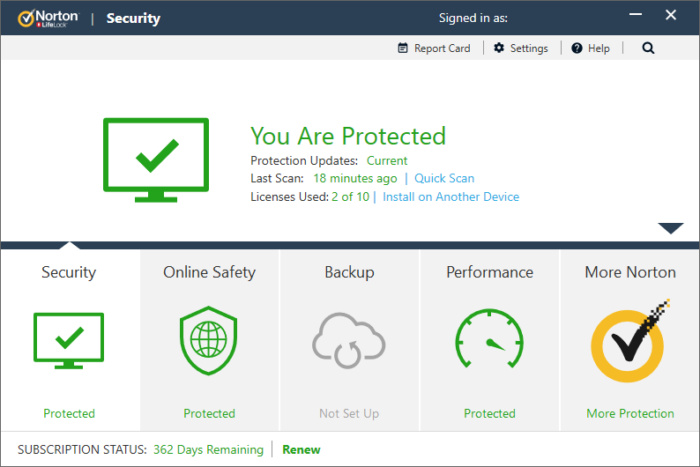 Norton's anti-malware capability is top-notch as it keeps your devices safe from spams, malicious emails, phishing attempts, and other malware. With its smart scan feature, you can identify and remove any of the mentioned cyber threats.
Norton has both quick and full scan capabilities to keep you alert about any identified threats. However, the software lacks an automatic scan for external drives. You can only do a manual scan by clicking on Norton's extension on Fire Explorer. There are also several browser extensions for Edge, Internet Explorer, Firefox, and Chrome which help to stop any online threats.
Multi-device security compatibility
Norton Antivirus is compatible with Windows, Mac OS, Android and iOS. If you have different devices, this is a plus for you especially when you use Security Deluxe or Premium versions. With Norton Security Deluxe version, you can secure up to 5 devices and 10 with the Premium version.
Mobile app download security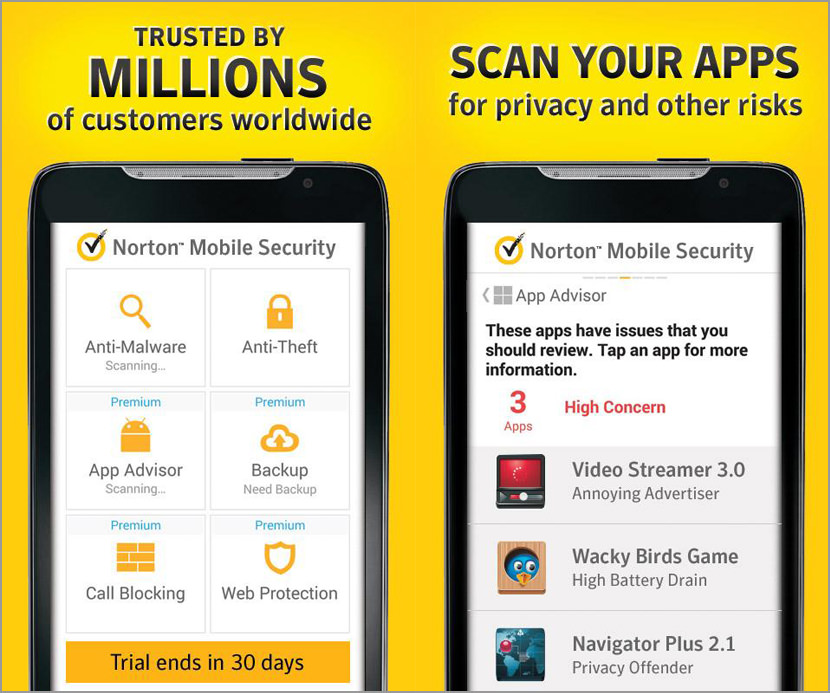 When running Norton on Android devices, the software analyzes the apps before you download them. This protects you from downloading apps that can threaten your phone's features like battery life, performance and private data.
Stable firewall for Mac and PC devices
The software comes with a fortified firewall that protects your Mac and PC devices from cyber threats. The firewall monitors inbound and outbound traffic whenever you are connected to the internet in order to block malicious threats. It also protects your devices when unauthorized networks try to connect to your network. Also, the firewall acts as a barrier to prevent hacking attempts via port scanning.
Secure online transactions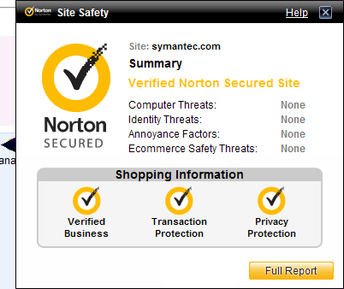 The software is fitted with advanced safety algorithms that protect your financial information from cybercriminals. All your personal and financial info is encrypted by the algorithms before, during and after every online transaction.
Cloud back-up and storage
Norton offers Cloud storage services for Mac and Windows PC for the Norton Plus and Norton 360 packages. It helps you store data safely on the software's online store while preventing any loss due to hardware failure, malware infections or stolen drives.
Password management capability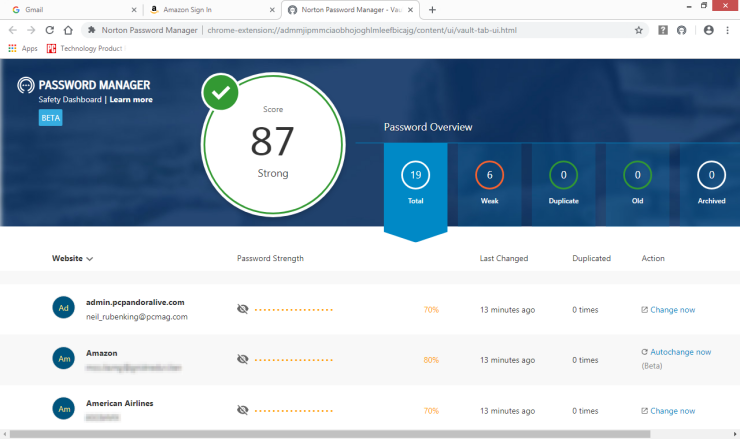 Norton Antivirus plus and Norton 360 products come with password management feature. The password manager helps you come up with strong passwords and create safe logins to all your online platforms.
With this feature, you can also update old or lost passwords through a single click on the tool's dashboard.
The advanced versions, Norton Deluxe and Premium, come with parental control option which will allow you to your children's online activities. The software allows you to set limits of how much your kids can use the internet or gaming on the devices. You can flag out any harmful influences that could negatively impact your kids.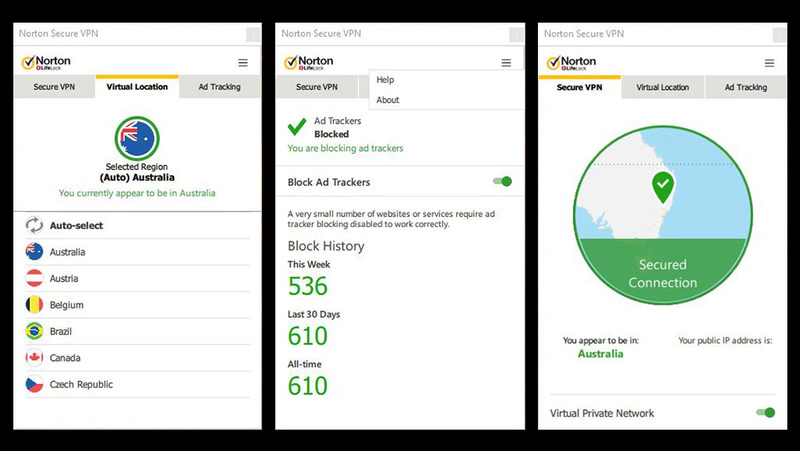 The anti-malware has in-built VPN software in all its packages except the Norton Antivirus Plus. VPN software offers you unlimited data to access various websites, apps and videos that are restricted in other countries.
It gives you access to servers of 29 countries including the United States, United Kingdom, New Zealand, Australia, Canada and Germany.
Does Norton Antivirus offer a free version?
Norton antivirus has no free version. It has three main paid-for packages, namely the Norton Security Standard, Norton Security Deluxe and the Norton Security Premium. The three packages have different but fair prices that vary because of the different features that each of them carries.
To get Norton Antivirus, you need to create a My Norton account on the company's official website, process the payment and get the download on each of the devices you wish to protect.
How much does Norton Antivirus cost?
The three packages offered by Norton come at a relatively low price. Norton Security Standard Version comes at a monthly cost of $8 or an annual cost of $80 for every one of your devices. This package covers a single device at the stated rate. The Deluxe Package comes at $10 per month or an annual price of $100 for at most five devices of your choice. Additional costs come with stand-alone extended services like parental control, which costs $50 annually.
The premium package is a souped-up version that is priced at $100 annually and covers up to 10 of your selected devices. It also comes with up to 75 GB of cloud storage.
What devices does Norton Antivirus work on?
Norton Virus removal software is compatible with Windows 7-10 PCs, Mac 10.12, iOS 10 and Android 6.0 (Marshmallow) and their newer versions.
Conclusion
With 25 years of excellent track record, Norton can already be considered as an established brand. Its products are perfect for basic and personal use.
If you need protection for multiple devices, it's recommended that you get one of its Norton 360 products. They are all reliable and can protect your PC and phones from viruses at all times without affecting their performance.
FAQs
How does Norton Antivirus function?
Norton Antivirus identifies and makes use of patterns of binary codes used by common viruses. On a running a Norton scan on your PC, the software identifies the codes matching those in the database. It then isolates the viruses for temporary scrutiny or deletion.
Can Norton remove all malware?
While Norton does a decent malware removal job, it may not remove all malware. Hackers are always on the move to develop more technical viruses. However, the Norton developers never sleep on the job. They, too, work round the clock to make the software up to the task.
What ransomware does Norton deal with?
Norton deals with all possible malware and ransomware that can threaten your computer. It detects and removes viruses, cyber threats, spams, phishing attempts, theft and any other form of ransomware.
Can Norton Antivirus remove Trojan virus?
Norton is yet to develop a way of detecting and removing stubborn viruses such as Trojan horses.
How many devices can Norton Antivirus protect?
The Norton Antivirus Plus and Norton 360 Standard can both protect 1 device. Norton 360 Deluxe can protect 5 devices while the Norton 360 Premium can protect up to 10 devices.