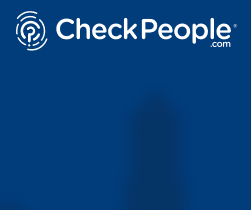 In this digital world, it is essential to have information about people around you. CheckPeople is the tool that keeps you on the know. Using this service, you will acquire all the necessary background information on the people you talk with, your online friends, individuals that interact with your kids, and even information about yourself. You can also find your long lost friends.
CheckPeople is an excellent service that provides vital and reliable background checks. Below is an in-depth review of this service. The review covers the following; what the service is, the pros and cons, features the service can offer, the cost, and what customers think about the service.
Table of Content
What is CheckPeople?
CheckPeople is a Californian online background check service that has been in the market for over two decades. This service is easy to use and can aggregate as well as compile a vast list of public records within a short time. The main goal of CheckPeople is to help people to make informed decisions. This is by providing a wide range of accurate information that is affordable to acquire. CheckPeople service uses an online search engine that provides instant and more customized services.
CheckPeople's vast information ranges from criminal record history to other comprehensive public records. CheckPeople claims to take the lead in providing adequate information to its users. To use this service, you need to enter the name of the person whose information you are searching for. CheckPeople will search all public records relating to your search. It will then generate a comprehensive report for you. After this, CheckPeople will perform verification and provide you a downloadable report.
Once the report is ready, you will be required to pay $1 for the report. This will provide you unlimited access to the service for 5 days.
What are the pros and cons of using CheckPeople?
Pros
Affordable access.
Easy to use
Secure access
Comprehensive background search
Unlimited monthly search
Cons
Difficult cancellation process
The load time is slow
Not all information is accurate
What can CheckPeople offer?
In the realm of background check, CheckPeople has tried its best to stand out among other services. This is by offering various features, which make it easy to get the information you are looking for. Also, the ease of use incorporated in their website has earned its excellent reputation. This has made it a giant in the background search industry. Here are various features offered by CheckPeople.
People lookup

This feature is essential for finding more information about people you want to track. This is can be vital if it is somebody you have just met, a business partner, or even an online date.  People lookup tool traverses billions of public records about an individual. This will reveal the present and past information of a person. These include address information, criminal information, and contact information of a person.
CheckPeople service will help you to track classmates, relatives, or old friends. With people lookup, you can rely on a criminal record search. This will ensure that your potential date or roommate has a clean past. The algorithm used by CheckPeople can help you to verify the identity of online buyers. Also, it allows you to check sellers on e-commerce sites. This will help you to avoid making a costly error with your cash.
Criminal records
CheckPeople generates accurate criminal records of target persons. The criminal records will show when a person was convicted and arrested over the years. At times, getting arrest records can be a hassle as you might require a permit. This is because local, state, and federal law enforcement bodies maintain these records. Using CheckPeople, the arrest records will be at your fingertips. This will help you to know when the person was arrested and the reasons for the arrest, such as traffic violations, business violations, alcohol, and drug charges among others. While searching for arrest records, you can also uncover other information about them. This includes age, current address, and court records of a person.
This information will help you to make a sound decision on the person you are dealing with. With this information, you can keep yourself safe including your loved ones. If you have little kids, you can use CheckPeople to find more about your neighbors and other people they interact with. Responsible people will always want to understand the people they live with.
Social media accounts
Under people's lookup, the primary goal is to keep you safe. Besides, CheckPeople lookup reports will provide information about a person's social media accounts. It may also unveil their contact information. The ability to identify social media accounts of a person is important. It allows you to reconnect with long time friends and family members you have not seen for a while.
By accessing the social media account of a person, it is possible to get an insight into the person's life. This is based on their activities and posts on social media. The social media platforms that CheckPeople can access include Instagram, Twitter, Facebook, among other social media accounts.
If a person's social media account is open, you can see their profiles and get a good understanding of who they are. This feature has made CheckPeople a leader in the search industry.
Deep Web Search
A deep web search is a powerful feature of CheckPeople that has made it stand out in the market. CheckPeople is capable of conducting intensive deep web searches. This is besides the standard information provided by an online background check service.
The deep web search will provide advanced and hidden information. This information is not possible to get using ordinary search engines. With this feature, CheckPeople can reveal any hidden contents of a person. Such contents include websites, images, and social media accounts. This feature offers peace of mind to users who have a comprehensive history of a person.
Reverse phone lookup
Have you experienced constant anonymous calls? When you often receive calls from unknown callers, you are always in a dilemma. You do not know whether to accept the call or hang up. Making such a decision is difficult because you do not know the identity of the caller.
With CheckPeople's reverse phone lookup, you will have the power to deice whether to pick up the phone call or hang up. This feature allows you to search through billions of phone numbers. This will help you to identify who has been making constant unknown calls to you.
This feature will also enable you to uncover other critical information about the caller. Some of the information includes the age, social media profile, location, and email address of the anonymous callers. This information will help you to make decisions on whether to ignore the calls or call back.
Reverse phone lookup works for both cellphones and landlines. It will reveal information for both unlisted and unpublished phone numbers. This service is essential in preventing rogue phone calls. It also helps in preventing possible frauds by anonymous callers.
In a nutshell, CheckPeople allows you to access the following information about a person;
Full names of a person
Sex offender status
Present and past address
Marriage and divorce records
Immediate and distant relatives
Traffic records
Contact information
Criminal records
How much does CheckPeople cost?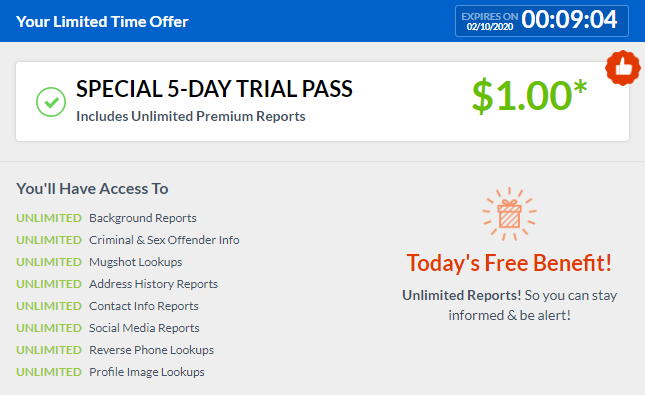 Compared to other background check services, CheckPeople is the cheapest background check service. CheckPeople offers a 5-day trial at the cost of $1. The 5-day trial offers unlimited searches with no hidden charges or upgrades. Canceling your subscription within the 5 days will prevent recurrent billing.
After the 5-day trial, CheckPeople offers a single monthly plan of $44.85. CheckPeople provides a flexible payment option based on what you agree to.
What do CheckPeople's customers say about the service?

CheckPeople have received both positive and negative reviews from its customers. Most of the positive reviews are attributed to the ease of use and user-friendly interface. Negative reviews are tied to inaccurate reports and limited searches.
Some of the customers appreciate the correct and trustworthy information offered. Some customers have searched for their information and those of people they know. Most of them have found the results to be accurate. Despite a few discrepancies, nothing has been significant.
Some customers have also complained of failing to get information about themselves. Some states do not report certain information about people, such as marital status. This has resulted in a limited amount of information.
Different customers have expressed mixed reactions to the pricing of CheckPeople. Some customers find the $1 trail fee to be expensive. Also, there are difficulties in canceling the subscription through regulated contact channels.
However, other customers find the service to be cheap. This is based on comparison to other similar services. Customers appreciate the cost incurred to obtain unlimited searches with no hidden charges.
How good is CheckPeople customer support?
CheckPeople's customer support has significantly fallen below the expectations. Many customers have complained about the apathy portrayed by most of the CheckPeople customer representatives.
Customers can contact CheckPeople's customer support representatives through sopport[@]checkpeople.com. Despite providing an email address, they will offer an automated email. This will contain an attached phone number that you will need to call for further assistance. This renders email support not to be useful.
Alternatively, customers can call CheckPeople customer care using 1-800-267-2122. However, their representatives are not available on a 24/7 basis. They operate only during office hours. This makes it difficult to get access to 24-hour customer support. Not even text-chat support is available for 24 hours.
Finally, many customers have complained about how CheckPeople customer support handles them. Customer support representatives are rude and not willing to offer support. If you ask for a refund, they will refuse to give you and may rudely ask you to read the terms and conditions. Sometimes they may hang up on you.
Conclusion
After reviewing CheckPeople, one of the most selling points for this service is the easy-t-use interface. The service has the benefit of compiling different data forms into a single document. This makes it simple and user-friendly.
The service is much preferred by people who wish to conduct a single search. This is because of the 5-day trial period. This is different from other services that demand a one-time subscription. It is also possible to cancel the subscription before the end of the 5- day trial.
CheckPeople offers quality search services that can outline important information about a person. The information collected includes criminal records and address information. Also, social media data and reverse phone lookup are provided by this service. Finally, deep web searches and people lookup are also provided among others.
Despite offering quality services, CheckPeople have a shortcoming in its customer support. CheckPeople must focus on solving customer support issues. By doing this, it will be the most preferred background check service in the market.
FAQs
Is CheckPeople an international service?
No. Check service is an American based service. It is only beneficial to users within the USA. It is also helpful when searching for information about people who reside in the USA.
Is CheckPeople a free service?
No. Check service is a premium service. A 5-day trial costs $1 while the monthly subscription retails at $44.85.
How can I contact CheckPeople customer support?
You can contact customer support via email. You will use [email protected], or you can call them using 1-800-267-2122.
What is the process of canceling a subscription?
You have the liberty to cancel the subscription within the 5-day trial period. To cancel the subscription, you must contact the customer support representatives. This must be within the office working hours.