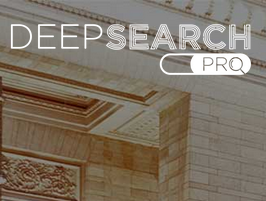 Do you want to find more about the person you just met or just a quick background check? All you need is a background check service such as DeepSearchPro. Information is the driving force in today's generation. Having the right information can help you make informed decisions. DeepSearchPro is a reliable service that provides you with accurate background information about people. You may also want to check the information about yourself using this service. DeepSearchPro employs the latest technology to collect information.
The information is collected from various sources including public records. The information will provide you with an insight of the people you interact with and it is also useful for safety purposes. In this review, we will look deeply into various features offered by DeepSearchPro. We will also look at the pros and cons, its pricing plans, customer support and what the customers feel about the service.
Table of Content
What is DeepSearchPro?
DeepSearchPro is an online background check and report service. It allows customers to gain access to one of the largest databases of public records in the United States. All the searches offered by this service are anonymous and confidential. This means the people you look up will not know you conducted a background check on them.
DeepSearchPro offers you a curated unlimited search and consolidates the records in a single report. The search services ranges from reverse phone lookup report to a full background check complete with criminal and public records. The reports offered by this service will include the current address and phone numbers, court orders and arrests, civil records like divorce and bankruptcies, and information of relatives.
Note: Background information offered by DeepSearchPro cannot be used for tenancy, credit or payment purposes. However, this service is more appropriate for people who want to use this service to find more about friends, relatives and neighbors. If you need peace of mind by having a comprehensive history of people around you, DeepSearchPro Pro is the solution.
What are the pros and cons of using DeepSearchPro?
Pros
Various records including property and bankruptcy records.
Unlimited searches
Risk-free trial
Cons
The pricing structure can be confusing
What can DeepSearchPro offer?
DeepSearchPro has several impressive features that allow you to get all the information that you need. DeepSearchPro offers a user-friendly interface, which is easy to use and allows you to quickly get all the information you need. To start looking for information, all you need to do is use the search functionality. This functionality allows to enter the names of the person and the state or city. DeepSearchPro will then search over billions of public records and provide a comprehensive report about the person.
Some of the key services offered by DeepSearchPro pro include background checks, public records reports, detailed people search, and reverse phone lookup. Here are the details.
Reverse Phone Lookup
Have you experienced regular unknown calls? Have you ever thought of uncovering anonymous callers? DeepSearchPro is the answer to your problem. Reverse Phone lookup is a phenomenal feature of DeepSearchPro. This feature allows you to uncover hidden numbers who keep ringing your phone. This feature allows you to search through billions of phone records to unveil anonymous callers.
When you know who has been calling you, it is easier for you to make decisions on how to handle such calls. This feature helps you to avoid scam calls from unknown persons. This will keep you safe and those of your loved ones. Also, this feature allows you to find people's phone numbers or determine from which numbers someone is calling you.
This impressive feature work on both cellphones and landlines. Reverse phone lookup will also provide additional information about a person. It will provide the name, age, and address of the caller. This makes it easy for you to have a clear insight of the caller. DeepSearchPro employs a technology called proprietary matching algorithms. This technology will provide caller history for up to 40 years. This algorithm makes a connection between phone numbers, places, and people.
People search

People search is a very important feature of DeepSearchPro. This feature gives you the power to search people and get detailed information about them. This allows you to have detailed information of people around you. In this digital generation, it is vital to know more about the people you interact with. Be it on social media platforms of dating sites, This feature will provide the required information. If it is a potential date, you might get extra information on whether they are married or divorced and even their location address.
With this feature, you can additionally search your friends, relatives, and neighbors to get a good insight into them. You can search your neighbors to identify any criminal records about them. This will help you to know how to live with such people for safety purposes. Parents can also use this service to search the people who communicate with their kids. This plays a critical role in keeping your children safe. You can locate your old friends and relatives by simply keying in their names. DeepSearchPro will provide you with a comprehensive report about them. This will include their present address, contact information, and their criminal records.
Public records report
Public records are pieces of information that are not considered to be confidential. Government agencies and other governing bodies majorly keep these records. To consolidate this information into a meaningful report can be a hassle. But not for DeepSearchPro. This service aggregates this information and presents them in a manner that makes sense. Information compiled from public records incudes a person's marital status, criminal records, various charges such as traffic violation, sex offense, alcohol and drug charges among others.
This consolidated information will allow you to understand better your potential dates and neighbors. You can make an informed decision by viewing their arrest and conviction records. The information will also enable you to know when a person was arrested and why they were arrested. This will effectively determine your level of interaction with that person and also how to deal with them.
Deep search also provides birth records of the target person. This will help you to determine the actual age of a person. It will also let you know where the person was born and other information related to birth. As compared to other background search services, DeepSearchPro provides adequate public records about an individual. Such records are important to you in various ways. It will help you to have a comprehensive historical background of a person.
You can also search for yourself using DeepSearchPro. This will give you all the public records about you. This will help you to know what information people can get about you.
How much does DeepSearchPro cost?
DeepSearchPro has different payment plans. The pricing structure for this service is quite confusing. You need to be careful when making subscriptions on the different services offered by DeepSearchPro. However, the pricing setup gives you the flexibility to make a short term subscription.
DeepSearchPro allows you to sign up for a 3-day trial, pay for a single report, or join a monthly membership plan for unlimited searches. The 3-day trial is split into two. You can pay $0.95 for a public record and people search. Alternatively, you can pay $3.95 for a 3-day full background check. This will help new customers to try out the service without paying much upfront.
DeepSearchPro offers one-month membership. The basic plan costs $4.95 per month for a 6-month membership. People search package costs $24.94 for a one-month membership while public record report costs $29.95 per month. Finally, the reverse phone lookup package costs $24.95 for a one-month membership. Alternatively, customers can also perform a single search by paying a one-time fee. You should be careful to make the right subscription because the packages can be confusing especially to new users.
What do DeepSearchPro's customers say about the service?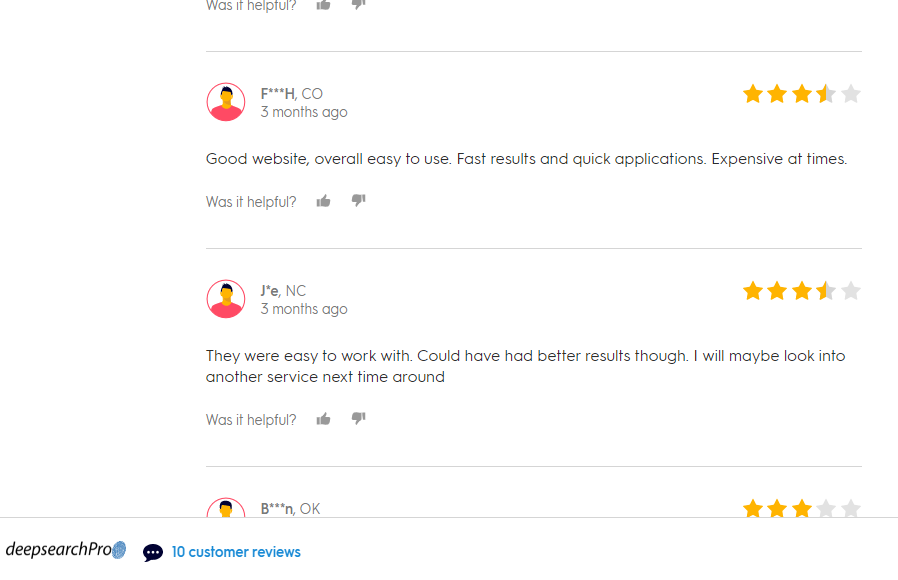 DeepSearchPro customers have mixed reactions about the service. Based on customer reviews, most of the customers express satisfaction with the service. Only a few customers feel embarrassed about the service. Also, the service allows customers to provide personal reviews of their services through their website. This has helped DeepSearchPro to reduce the instances of misleading automated reviews. Customers appreciate the large amount of information provided by DeepSearchPro.
Some customers feel that the information they get is worth the value incurred. This is because DeepSearchPro offers a thorough and fast response. Customers find it easy and convenient to use the service because of the good information they get. The quality of information offered by DeepSearchPro is reliable and accurate.
However, some customers have raised complaints for failing to get some information. This has left them with a negative impression of DeepSearchPro. Also, customers have complained about the confusing prices for this service.
How good is DeepSearchPro customer support?
DeepSearchPro pro customer service is not that good but they try as much as possible to be in touch with the clients. The customer support is only available during normal office hours. It is also available for a limited amount of time during the weekends. You can reach the DeepSearchPro customer support through their toll-free number from 7 am to 6 pm Pacific Standard Time during the weekdays. On weekends, you can call them from 7 am to 3:30 pm.
You may also contact DeepSearchPro through a contact form on their website. Here you will select a subject for your query and write your message to them. You must ensure to write your name and email address in the form. Support will make prompt responses using the email address you provide.
Besides the customer service, DeepSearchPro operates an extensive blog. Here, you can read articles regarding their services and possible solution to common issues. Most customers are however frustrated by the lack of 24-hour customer support. DeepSearchPro ought to extend its customer support services to a 24/7 basis to meet the different needs of different customers.
Conclusion
You probably know by now that there is more information available online about any of us than ever before. DeepSearchPro makes things easier by consolidating these public records into a platform where all you have to do is enter the name of the person you want to look for and the site does the rest. You can also use it as you see fit, for a single background report, a monthly or multi-monthly subscription, or just a short, 3-day trial where you can give it a test run. Bottom line, the site makes it easy to find the information you're looking for.
FAQ
What is DeepSearchPro?
It is a service the offers background information about people.
Is DeepSearchPro a free service?
No. DeepSearch is a premium service. It offers various pricing plans including a priced 3-day trial.
Can target persons know I'm searching for them using DeepSearchPro?
No. This service keeps your searches anonymous. The people you search will not know that you were looking for their information.
What is the maximum number of searches on DeepSearchPro?
DeepSearchPro offers unlimited number of searches through their one-time search package and monthly subscription plans.