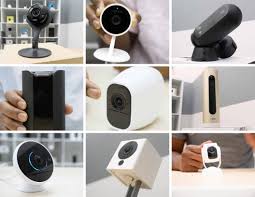 Whether you are concerned about burglary or you simply want to check in on something else, home security cameras can provide you with peace of mind since you'll know that your family and your home are secure. Your belongings and documents will be safe. Cameras can also be placed near them. Additionally, your smartphone can easily be used to remotely monitor your house as well as your kids.
Most home security cameras have features such as two-way communication, wireless connection, night vision, facial recognition, wide lenses, cloud storage, resistance to harsh weather conditions and HD video for prime video quality.
With thousands of choices for security cameras, choosing a high-quality and budget-friendly one is essential. Read our guide below to know the best home security cameras you can choose from as well as the advantages and disadvantages of each one.
Table of Content
What are the Pros and Cons of Having Home Security Cameras?
Pros:
Cameras can deter crime – Security cameras serve two primary roles in home defense: deter the intruders and show video evidence. Putting home security cameras 12 feet above ground level gives a heads up to any intruders that he/she is under surveillance. A single security camera displayed in a good position can be an effective deterrent.
Monitor activities – Cameras are extremely effective as they enable you to monitor the activities of people in your home. This is a great way to detect distrustful people or follow their activities.
Gather evidence – It is very important to have security cameras in strategic places in case you need to monitor the activities and conversations of people. Modern security cameras have both premium quality video and audio capabilities. The high quality images and sound make the cameras efficient at recording the deeds and misdeeds of people.
It will be very significant in case of any legal situation.
Feature-rich – Modern cameras have lots of features. Most of the security cameras produced in the recent years have high quality sound and video recording characteristics. They can also easily detect motions and sound. And in case of emergency or any unusual situation, they can send signal to your smartphone. Some advanced cameras have superior features such as two-way talking opportunity, built-in sirens, etc.
Affordable – Home security cameras with basic features are considered very affordable. The premium cameras are also budget-friendly.
Cons:
Cameras can make people uncomfortable – The feeling of being watched is not pleasant, even when the camera can actually be turned off.
Cannot provide 100% security – It is actually not possible for the smartphone to be available regularly. There are cases when the smartphone cannot respond to the emergency notifications, especially when you are abroad, on a plane, driving, asleep and have no Wi-Fi connection. Your smartphone can also sometimes have no battery left.
Data vulnerability – To protect the videos stored in the cloud storage service, you need to make the Wi-Fi secure. Also, you have to change the passwords periodically or else it will be very easy for hackers to have an access to your information.
The Best Home Security Cameras
1. Swann Bullet Home security camera – Equipped with heat and motion sensors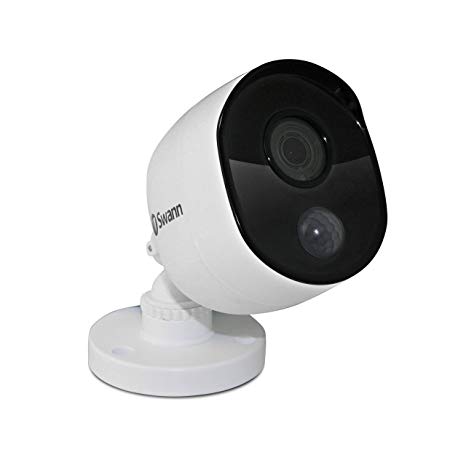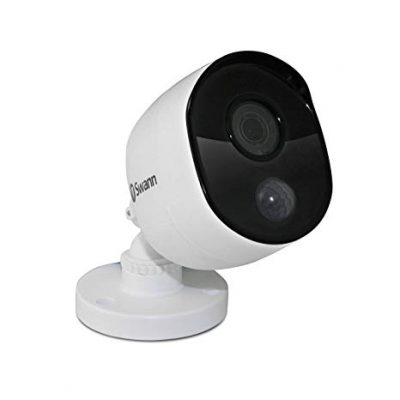 Cost: Around $70
Swann Bullet Camera is built with an HD footage capability to give a clear live stream of the indoor and outdoor activities. It has a 90 degrees viewing angle and a night vision enhancement that can view up to 130ft in ambient light and 100ft in pitch darkness. The 24/7 footage ensures you are covered throughout all weathers: winter snow, rain or scorching heat from the sun.
The HD security camera fitted in the Swann Bullet device is compatible with most DVR series. With this feature, it is possible to identify the faces or vehicle number plates in bright 1080 HD footage. The camera is a DIY enabled security device suitable to install at your home, in the office or a stall for reliable 24/7 protection.
With the heat and motion sensors from the renowned True Detect company, any moving object at night and heat-emitting objects are all detected by the camera. The DVR compatibility is a plus as you will get push notification alerts so that you act immediately in case of a security breach. The quick response saves you time and unnecessary stress.
For all your indoor and outdoor security needs, Swann Bullet home cameras got your back. The package comes with a sturdy coax cable, a mouse, stickers and other accessories.
Pros:
A weatherproof security camera
HD image and video footage
Relatively affordable
IR night vision capability
Cons:
No two-way audio capability
There is no continuous video recording
No cloud storage
2. Zmodo Home Security Camera System – Best outdoor security camera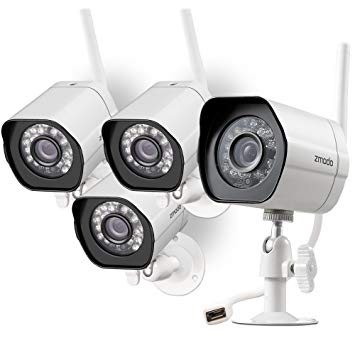 Cost: Around $300
Zmodo outdoor security camera works with Amazon's Alexa and Echo Show for voice control and monitoring. It is worth noting, however, that the two devices are sold separately. The Zmodo camera is IP65 weatherproof and is suitable for both indoor and outdoor security use. It can withstand temperature variations between -10 degrees to extremes of 50 degrees. With a low power consumption rate of 2-5W, you save on energy big time.
One of the most notable features of the Zmodo security camera is the smartphone app capability for both Android and iOS. The app helps you to remotely access live video footage to keep tabs with the security situation at home while you are away. The app also lets you receive notifications and security alerts of detected motions at home, as well as playback videos showing detected movements.
The hi-tech camera is equipped with IR lights that can automatically switch between black and white night vision for both pitch and ambient light. The view for both daytime and night time is crystal clear due to the HD capability.
Also, the cloud storage feature allows users to access one-month free storage for the 7-day cloud recording. This feature allows you to organize the videos, review them or share the footage at any time.  It also has cloud intelligence that can detect and eliminate false alerts. Zmodo home security camera, is reliable for ensuring the safety of your home.
Pros:
An all-weather camera that can withstand weather extremes
Smartphone app connectivity for remote monitoring
Cloud storage capability
Compatible with smart home devices like Alexa
Cons:
A bit expensive
The remote control works only with Wi-Fi connectivity
3. Arlo Pro 3 Home security camera – Best DIY camera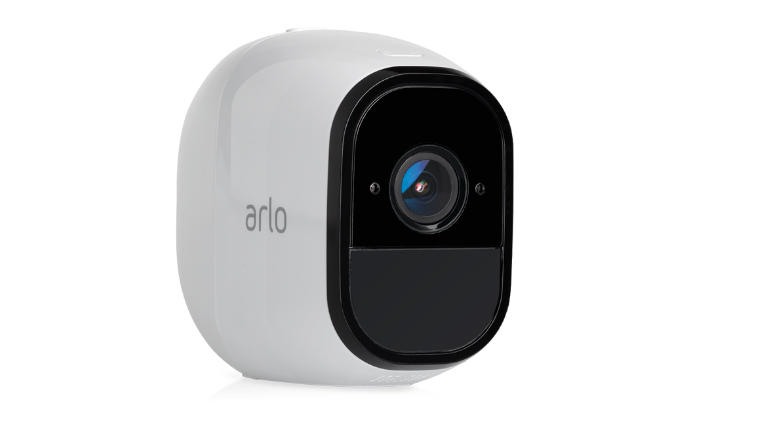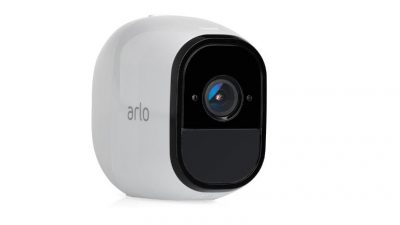 Cost: Around $500
The Arlo Pro 3 home security camera has a lot of features that make it prominent from other cameras. It's also easy to install and operate. It needs CR123a batteries, which are not cheap. If your camera records an average of 4 minutes of videos per day, the battery life will expire in about 3 to 6 months. If you want to use it more extensively, like to watch over a sleeping infant or to make sure your kids got home from school each day, your batteries will get used up a lot faster.
Aside from the basic features like integrated spotlight, 2560×1440 maximum video resolution, 4 megapixels image sensor, auto track and zoom, H.264 and H.265 encoding, spotlight 6500K, 42Lux @1M 2K HDR, 160° viewing angle, motion detection, alerts, night vision and two-way audio, it has a lot of add-on features. Add-on features include built-in signal, arm and disarm modes and many more.
Additionally, it offers advanced alerts such detection of individuals, cars and other things. Two packs of Arlo Pro 3 cameras and base station will cost around $500.
Pros:
Includes a two-camera pack and a hub
Weatherproof
Wire-free cameras
Runs with Alexa and Google Assistant
Simple to install and operate
Further upgrading services for the existing owners of Arlo cameras
Cons:
High cost
Short battery life
The camera doesn't detect when the motion or sound has gone away.
 Comes only in white which is not good if you want the camera to be invisible
4. Nest Home security camera – Has built-in magnet for easy installation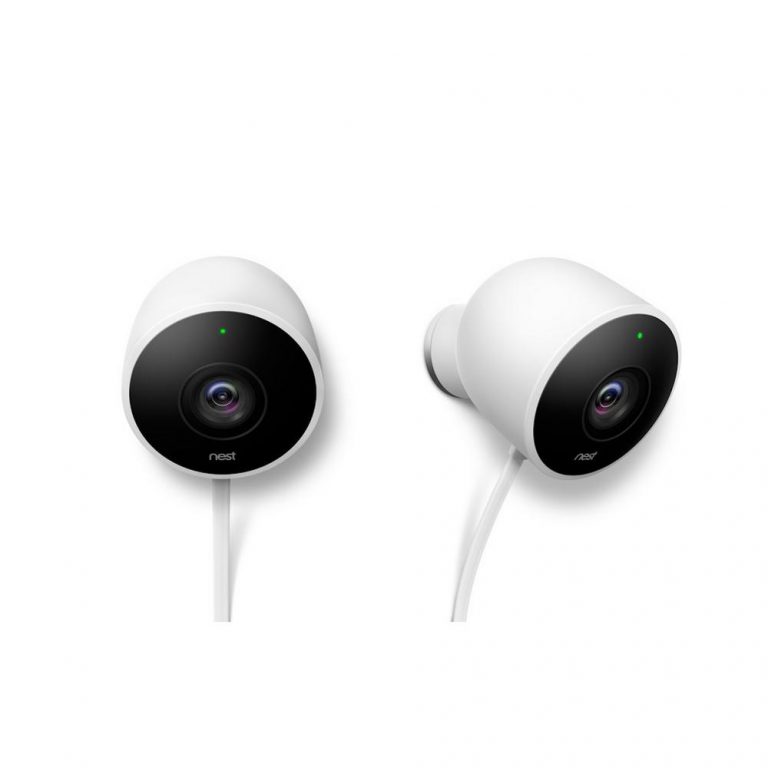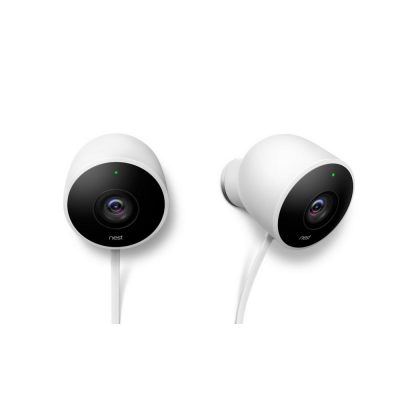 Cost: Around $200
Nest home security cameras are one of the most well-known cameras in the industry. They are attractive and very easy to operate. It has a very high-quality of video recording. The security camera has a built-in speaker and microphone, so you can easily be informed of what is happening at home.
Moreover, Nest camera has a built­-in magnet which can be easily attached to something metallic. You can also attach the camera to a wall using removable wall plate. Nest has a prompt and simple setup. No hub required.
You can get activity alerts to know if anything happens while you are away. Also, you can see who is there and talk back. Other features include regular live video, 130 degree, 1080P HD and high-quality night vision. You can purchase Nest home camera for around $200.
Pros:
Simple setup
Flexible camera angles
Responsive motion sensors
Clear and continuous video recording
High-quality night vision
Two-way audio
Wide angle lens
Cons:
The hardware costs much
High cost of the cloud service
SD card cannot be installed
Operates only with Wi-Fi connection
High capacity usage
5. Ring Home security camera – Offers superior image quality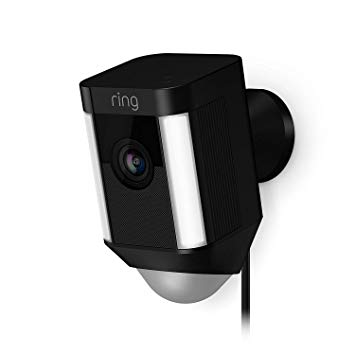 Cost: Around $200
Ring offers home security camera with easy installation, high image quality and various features such motion alarm, two-way audio, weather-resistant, 1080p HD, live view, night vision, 270 degree, 30-foot custom motion zones, a 140 degrees horizontal.
Ring also works with Alexa. The average price of the Ring home security camera is around $200.
Pros:
Easy installation
Wireless
Motion alarm notification
Two-way communication
HD video
Cons:
It may require some subscriptions
Pre-buffering is not available
6. Lorex Home security camera – Best in offering first-class security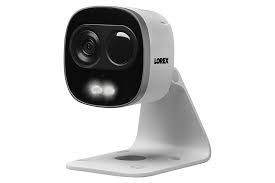 Cost: Around $150
When you invest in a Lorex security camera system, you'll get super fine, professional grade protection. Its home security systems are versatile.
You can easily install the Lorex cameras yourself with a few necessary tools. The system includes HD image quality up to 4K, motion sensors, remote viewing, two-way communication, intuitive technology and night vision.
With a built-in speaker and microphone, the camera allows you to directly communicate to anyone at home using the Lorex Home app. The price of the Lorex home security cameras starts from around $150.
Pros:
HD video  (about 4K)
Remote and color night vision
Easy installation
Many  alternatives for any budget
Cons:
The cost of the camera is higher compared to other advanced home devices
7. Blink Home security camera – Offers simple and affordable home security camera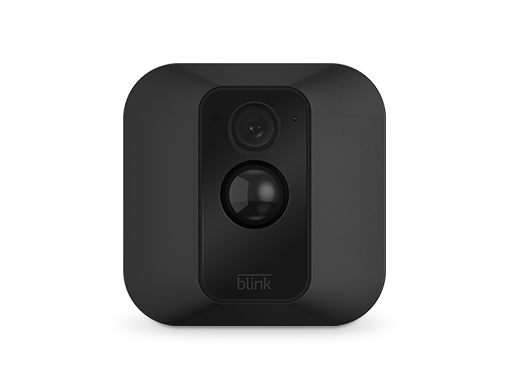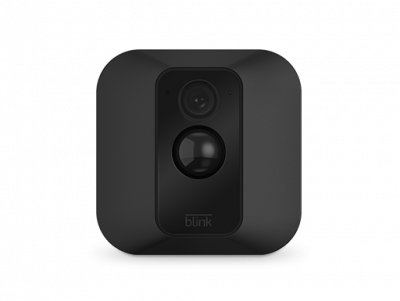 Cost: Around $80
The cameras detect motion and signaling with high resolution video and audio. The field of view is 110 degrees, with full color, auto white balance, auto exposure, 20-feet adjustable detection and 1080P full HD camera.
Blink Home security camera also has an excellent infrared night vision. The camera supports two-way communication. It is small, portable and also weatherproof. The camera can be easily installed. You may install it anywhere due to magnetic bracket screw and two-sided adhesive.
Moreover, Blink camera works with Alexa-operating devices. The price of the Blink home security cameras starts from around $80.
Pros:
Up to 20-feet infrared night vision
The cloud storage is free of charge
Excellent video quality
Easy to install
Not expensive
Weatherproof
Operated with Alexa-related devices
Cons:
Limited time for recording after the detection of the motion (maximum 60 seconds)
No option to buy additional cloud storage
No option to watch clips from the web browser
What are the Best Home Security Camera Features That You Should Look for?
High definition video footage quality
For quality images and video recordings, an HD-enabled camera with a 1080+ resolution is the most recommended. However, to enjoy this feature, the camera you choose must be compatible with a DVR for clear and sharp footage.
IR night vision
The best way to guarantee outdoor security is by a night vision-enabled security camera. To enjoy quality images and video footage, consider a security camera with infrared technology. Infrared LEDs fitted in the camera will determine the extent of the night-vision footage of the camera. The best security cams should have a night vision coverage of at least 100ft.
Remote monitoring via a mobile app
Nowadays, almost all security camera providers have integrated their devices with a mobile app for control and remote monitoring. The app feeds you with live-stream footage of the happenings at home whenever you are away. The feature comes with push notification alerts, remote access, and cloud features via the mobile app. Some companies, though, require you to pay a monthly fee so s to enjoy some of these features. Also, remember to check that the camera you choose is compatible with your phone.
Pan, tilt and zoom-in features
For extensive area coverage, the ideal camera would be one that has remote-controlled features lie pan, tilting, and zoom-in capabilities. Such features allow you to have a broad angle-view of the activities in your compound.
When Can You Get the Best Home Security Camera Deals?
Special discounts and promotions
Most security camera vendors and retailers always come up with days when they cut down the prices of their commodities for their customers. Gift cards, discount vouchers and such promotions are the most common. It is advisable to look out for such offers whenever you want to buy a security camera system.
Deal days
Most security companies announce deal days like the famous Black Fridays and Cyber Mondays, where prices of their devices come at slashed down prices. For some of the vendors, public holidays are the ideal deal days, while other companies come up with a select number of days per month to offer discounted prices for their customers. If you are lucky to buy a security camera on either of these deal days, you could enjoy sumptuous incentives, gift cards or discounts for the item you want to purchase. Deal days are best when you want to save money.
Conclusion
Home security cameras are an essential investment in protecting your house. It is the best choice to watch over the people you care or the things you value. The home security camera can also record some memorable, funny, exciting moments or even serious situations that happen in your home.
Before making the decision of installing home security cameras, it is better to get comprehensive and complete information about them. It will enable you to make the right decision and help you choose a camera that meets your needs and expectations.
FAQs
Why do I need a home security camera?
The major reason why you should have a home security camera is to protect your family members and property/possession.
What is the most important feature I need to be focused on when I purchase a home security camera?
You should pay great attention to the quality of the image and video of the camera. If you cannot clearly see the face or the actions of the person entering your home then there is no logic to install a security camera. The security camera shall have an excellent recording quality. The minimum resolution shall make up 1280 x 720 pixels.
What are the extra things I need to consider when installing a security camera?
You need to have the following: any gadget for watching the video (computer, smartphone, tablet, etc.), internet connection( The minimum speed of the internet connection shall be 2.5mbps per 1 camera.), Wi-Fi (If you have Wi-Fi with no internet connection you will not be able to have remote access), cloud storage (not obligatory) and Micro SDcard.
Where is the right place to install my home security cameras?
The right place for installing the home security cameras is at the entrance hall or corridor, front, back and side doors as well as the first floor windows. When your cameras are properly positioned, they will make an accurate verification of the intruder's face.
What will happen to the security camera when the power supply is switched off?
Some home security camera providers have battery back-up systems. It allows the system to be online in case of the absence of power supply.