Are you tried of wired home security systems? A wireless home security system is one that sends security signals to a monitoring center through a cellular (wireless) system. It makes use of sensors that are connected to a control panel wirelessly through radio frequencies.
These sensors are the inputs to the security system that can be connected to your door, your window and other parts of your house. Sometimes, it could be a home automation device or a video camera that connects to the home security system through a wireless connection. Every entry point to your house is equipped by these inputs (sensors, video cameras or automation devices).
As technology advances, the wireless home security systems are becoming more popular. It's not even surprising that many people will use them rather than the wired. Aside from that, there are many more reasons people will use wireless than wired. At the end of this article, you will have an understanding of the pros and cons of a wireless home security system and the top 5 best from which you can choose from.
Table of Content
What are the Pros and Cons of Having Wireless Home Security Systems?
Pros:
Quick installation – With a wireless home security system, installation is very easy and fast. You do not need to drill or have tricky wiring done. In most cases, the best wireless home security system gives you the DIY option. This eliminates installation costs and any other fees attached.
Wireless – Unlike wired home security systems that burglars know where to go to cut off the lines, the wireless camera offers extra protection. There is no wire for them to easily access, so you can be sure of the maximum security of the home security system itself.
Easy removal – When moving from one apartment to the other, or maybe when you have to migrate to another community, you do not need a professional to help you uninstall the system. A wireless home security system is very easy to remove, such that there will be no damage whatsoever when you change your apartment.
Mobile access – The way a wireless home security system works is that you can connect its control panel to a phone from which you can do some basic operations. You do not have to go to the board all the time to trigger some functions. The system communicates wirelessly via cellular technology.
Easily upgradable – A wireless home security system is one that can be easily modified and upgraded because it is not hardwired. You can increase the number of sensors that can be accommodated on your current wireless system. It makes it flexible to use for anyone that craves additional features.
Home Automation – There is an easy synchronization with other home automation features when you use wireless home security systems. Tech lovers desire to have this kind of flexibility because upgrades are easy to install and could also include smart lights, smart thermostats and smart locks.
Cons:
Interference – Though not common, there is a possibility that your wireless security system randomly disconnects just like your cell phone does with Wi-Fi. Several things can cause a wireless security system to fail. It could be electromagnetic or structural through metal filing cabinets or walls.
Limited distance – Some of the wireless home security systems have sensor limitations that make them best for small or medium-sized homes.
Battery operated – Many of the input (like sensors, cameras, and automation devices) and output devices like speakers run on batteries. So, you must periodically check their batteries.
Risk of being hacked – Burglars can hack into your system, so there is a need to ensure the security of any wireless home security system that you want to get. The hackers do this by jamming your signals so that the alarm would not set off. You must get a wireless system that encrypts its signals so that you will not fall be a victim.
The Best Wireless Home Security Systems
1. ADT Wireless Security- Overall best wireless home security system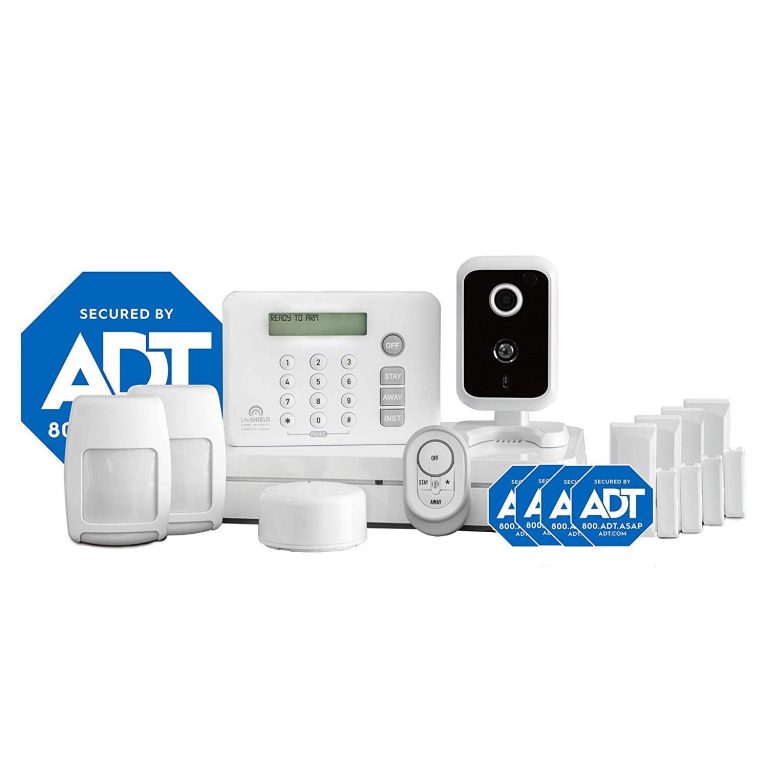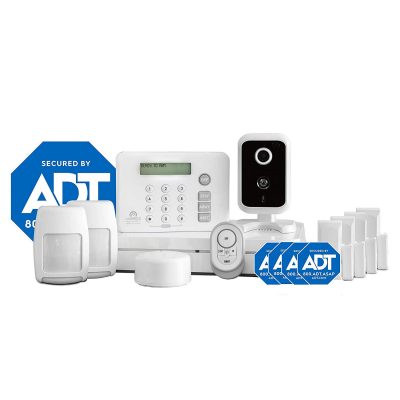 Upfront equipment cost: Starting at $125 plus installation fee that ranges from $99 to $199
Monitoring cost: $28.99 (traditional package), $36.99 (control package) or $52.99 (video package)
ADT wireless security is one of the best wireless home security systems that you can find on the globe. You have the option of leasing a system or subscribe to monitoring for an existing system.  It monitors equipment made by some of the leading brands.
It offers services such as video monitoring, medical alerts and sensors to prevent environmental disasters, home automation, intrusion protection, emergency response, pro installation and so on. It has a panic button that is mobile and wearable and can allow for immediate access to dispatchers.
ADT offers both hardwired and wireless security that will be installed by their technicians for free. The professional installation provides you with proper set up according to ADT standards. This giant of wireless security systems has been around for more than a century.
This makes them have top-notch services and customers get to enjoy award-winning monitoring.  Many Americans trust the security of their homes to ADT rather than to any other provider. This is because of the standard it has set for the industry.
Pros:
6-month refund period
Option for environmental disaster prevention
Choice of landline or cellular
100% wireless
Free professional installation
Competitive monthly rates
Cons:
No DIY
3-year contract
Independent dealers vary
2. SimpliSafe- Best DIY home security system overall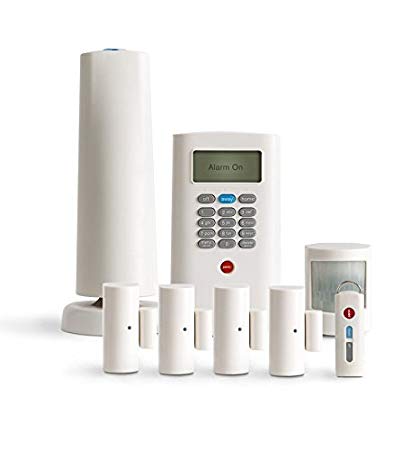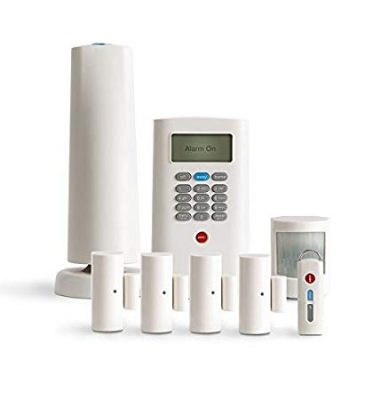 Upfront equipment cost: 4-piece kit costs $229.96, 14-piece kit costs $509.86
Monitoring cost: $14.99 or $24.99 per month
SimpliSafe is also a top-ranking wireless home security system in the market today. Though it has no long term contracts, it offers quality and high-tech security systems. It does not mark up prices or review your monitoring fee. It also does not charge for installation, activation or setup.
All it does is offer you an easy to install a system that is of high quality and also easy to maintain. You have the opportunity to do it yourself, therefore having the freedom to place cameras and sensors where you want in the house.
SimpliSafe security system has a setup time of about 15 minutes. It comes with the app that helps you control and access devices connected to the system. There is a newer line of equipment that is smaller to the original but faster and stronger when compared to it.
The newer system has very tiny sensors that are almost invisible but are 5 times faster with alarms that are 50% louder. The equipment gets automatic updates so you can be assured that you will always have the best output from the system at all times.
Pros:
DIY installation
100% wireless
No contracts
Auto updates
Free returns and shipping
Low monthly fees
No monitoring of alarms
Cons:
Upfront equipment cost
No option for home automation
3. Brinks Home Security- Best Google compatibility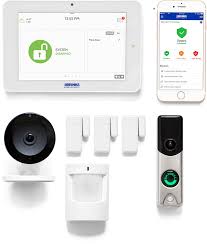 Cost: $399 (Home Complete package), $499 (Home Complete + video package)
Monitoring cost: $29/month for a Home complete package or $39/month for Home complete + video package
Brinks Home security is well-known for always providing the best security systems. It offers a wireless home security system that is of great quality and highly desirable. It is a system that is 100% wireless and hard to notice.
Wireless sensors can be placed on doors throughout the home. It also comes with a motion sensor that is wireless and reliable. It is easy to install and the system links up to Google Home or Amazon's Alexa.
Though there is a central management hub, it can easily be managed via an application on your phone to allow for connectivity anywhere. It offers real-time communication on your mobile such that when the alarm goes off, you can get help with no delay.
Brinks Home security system is the best option when looking for a smart integrated home system. It is a top-notch wireless system that has two package options. These are the home complete package and home complete model + video package. The latter has cloud video storage and live video streaming.
Pros:
No upfront equipment cost
Easy to manage and setup
Live video assist
Risk-free trial available
Option for home automation solutions
Cons:
Hard installation but reliable
High price with key benefits
4. Frontpoint Home Security- Easy to setup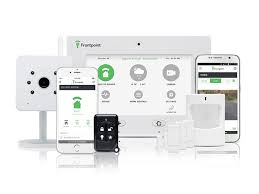 Upfront equipment cost: From $430.95 (Starter) to $1332.84 (Elite plan)
Monitoring cost: $34.99/month (protective plan), $44.99/month (interactive plan) and $49.99/month (ultimate plan)
Frontpoint home security has the best technical or customer support service that you can wish for. Its 24/7 helpline has trained professionals who are quick, friendly and ready to help. It protects against environmental damage and home intrusions.
Each system can be installed by you (DIY) in about 30 minutes and is made to suit your needs. Frontpoint prioritizes its customers and employees so you can be sure you will be attended to anytime you need help. Customer service representatives can communicate both English and Spanish.
Frontpoint is used by most renters and homeowners because it is easy to move, use and easily expanded upon. Since its launch in 200, Frontpoint has maintained an A+ rating from the Better Business Bureau.
There are various packages available and you can upgrade to create an option for controlling your home's locks, thermostats, lights and other devices that can be connected. Its customer service, security option, quality equipment and affordability make it one of the best wireless home security systems you can get today.
Cons:
No landline option
Credit check determine prices
Minimum 1-year contract
5. Vivint SmartHome – Best automation features for home security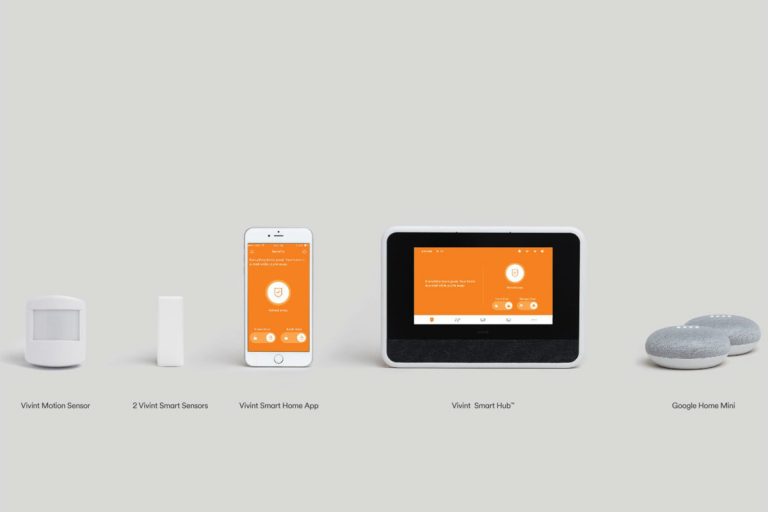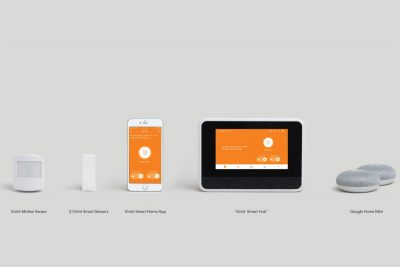 Upfront equipment cost: Starting at $599.99 (SkyControl Starter Kit) to $709.98 (Flex Pay total cost) with $100 credit for additional sensors
Monitoring cost: $29.99/month (Security Service) and $39.99/month (Home service)
Vivint SmartHome specializes in affordable and simple home automation. It is a high-end company that serves more than one million customers in the US and Canada. Services include energy management, high-speed internet, local cloud storage, home security and many more.
Packages are towards customers with large and medium budgets. The basic package offers a monitoring cost of $29.99 per month. Vivint offers high-quality equipment that can transform your simple home to a smart home.
Moreover, it offers 24/7 recording and there are environmental sensors for flood, smoke and carbon monoxide. Home automation essentials like smart locks, ping cameras, Amazon echo, remote garage door, programmable thermostats and doorbell camera are available.
Vivint offers seamless integration between all its equipment so your idea of having a smart home will not be distorted. You can always have your home easily managed from your control panel via voice control or through your application.
Pros:
Lifetime warranty
100% wireless
Choice of landline or cellular
Remote access and control
The option of doorbell camera
Continuous video recording
Cons:
Requires professional installation
Minimum 4-year contract
High monthly cost
Above is the list of the best wireless home security systems you can get today. You have to consider the resources you are willing to spare, the key features you need and the services you plan to get for you to successfully choose the one that best suits your needs.
FAQs
How does a wireless home security system work?
It uses radio frequency to send signals to the sensors and control panel, then the control panel communicates through cellular or landline.
How does a wireless home security system work with a video camera?
It works the same way the normal wireless security system works. The only difference is that this has a video camera that records and sends it to a receiver connected to your cloud or local storage.
Can I store my videos with wireless home security systems?
Not all security systems offer such an option but some do.
Can I install wireless home security systems even if I'm just renting an apartment?
Yes, you can, but not on your own. You must talk to your landlord before installing one.
Will my pet trip the alarm of my home security system?
Some systems are equipped with infrared sensors. Such sensors can ignore your pets if they are under 40 pounds.