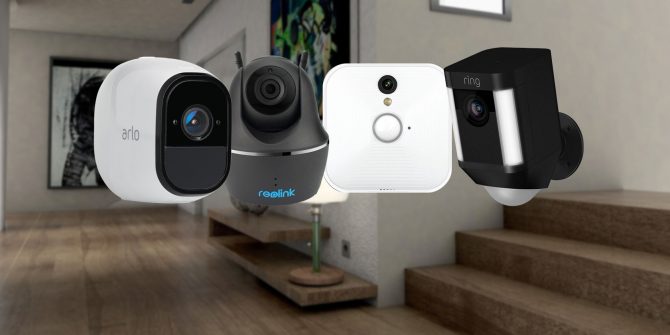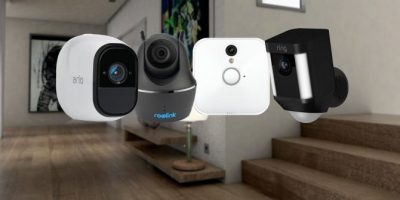 Security is a serious concern for everyone. That's why everyone takes measures to improve the safety of their families and properties. Employers who maintain a workplace also put in place measures to enhance the security of their employees and clients.
There are several options to improve the security of your home or workplace. Hiring a security company that can provide guards is considered the best option. However, this is expensive and not many people can afford them.
Wireless security cameras are a more affordable option. They are easy to purchase and install. They work by transmitting videos through a radio transmitter. The camera has a receiver with built-in storage or is connected to cloud storage where the videos are sent to. One can access the recordings through the monitor or receiver. As the name suggests, there are no cables need for wireless security cameras.
Table of Content
What are the Pros and Cons of Having Wireless Security Cameras?
Pros:
Easy to install – Wireless cameras are easy to install compared to wired systems. They do not need cables running from the recorder to the cameras. The only thing one might need to worry about is its access to power, and this might be the single cable one needs when installing a wireless camera.
Flexible – They are flexible in the sense that they can be put in a variety of locations.
Portable – Wireless cameras are more portable. This means that they can easily be set up, taken down and moved. This makes them ideal for people who do not have a temporary residence like business owners and renters.
Can be solar-powered – Battery or solar-powered wireless security cameras have no wires at all making them the most portable and easiest to install.
Cons:
Risk of interference – Wireless security cameras run the risk of interference which can negatively affect their reliability. With wireless signals and broadcasts in the vicinity, they may end up overlapping with your router's signal, especially if there are other routers within the same bandwidth as is the case in an apartment block with many apartments.
Connection problems – Wireless cameras are dependent on a wireless signal, and several factors can affect their efficiency. These include the router, interference and the signal's route. These cameras need to be located within the Wi-Fi network's range, and obstructions between your camera and router may cause connection problems. Moreover, these wireless cameras can also be affected by power outages if they are not battery-powered.
The Best Wireless Security Cameras
1. Wyze Cam Pan – Most versatile security camera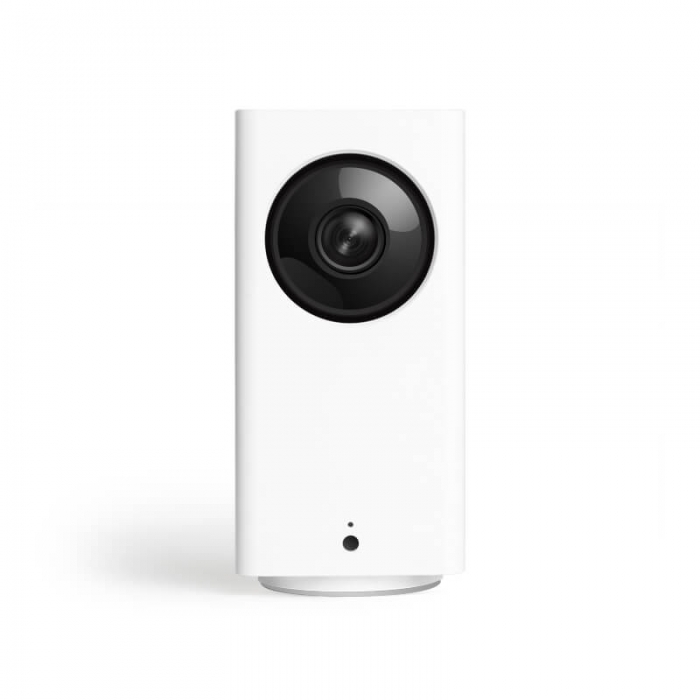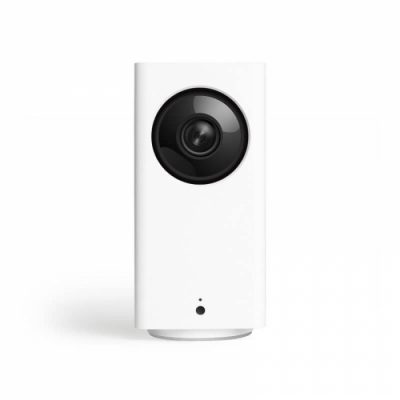 Cost:  $29.99
The Wyze Cam Pan is a versatile camera that performs well. One of the striking features of the Wyze Cam Pan is that it can pan vertically as well as horizontally. It can also scan an entire room in roughly three seconds.
It has a compact size and a minimalist design that does not announce its presence. There is also a reliable customer support service for any queries you might have.
The features of the Wyze Cam Pan include excellent quality image resolution at 1080p, a 120° diagonal wide-angle lens, 110° horizontal and 53° vertical field of view, night vision up to 30 feet, motion detection and tracking even the slightest of movements, sound detection, two-way audio communication and push notifications for alerts.
The camera also has a 14-day cloud storage option for video recordings as well as mobile app support through the Wyze Mobile App. The camera is compatible with Alexa for smart home options and comes with a 1-year warranty.
Pros:
Has flexible panning capability which means it can record vertically and horizontally.
Easy to set up
Has a good quality sound which makes two-way communication pleasant
Has excellent night vision recording so you will not get a grainy picture
Cons:
Has limited cloud storing options
2. Arlo Pro by Netgear- Good for indoor and outdoor use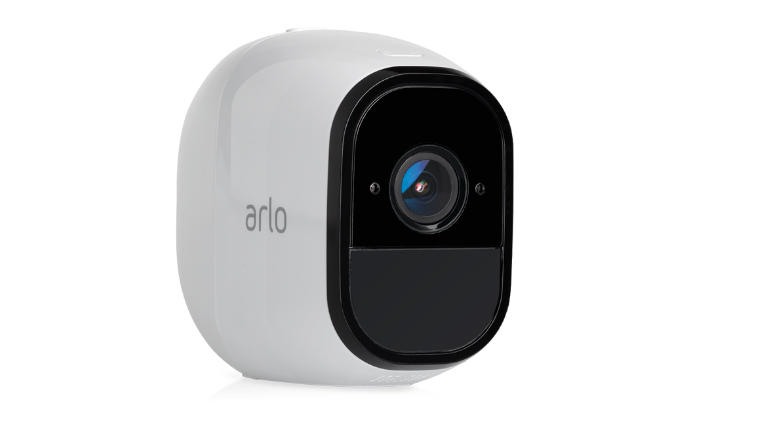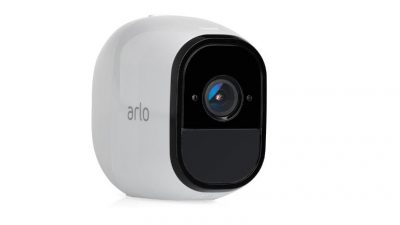 Cost: $250
Arlo Pro by Netgear is a wireless security camera with no cables for power or transmission for it uses a rechargeable battery. A unique feature of this camera is that it comes with a base station that comes with an Ethernet cable, a window sticker and a power adapter.
It also has an edge over its competitors because it is designed for both outdoor and indoor use. In the box, you get the camera, a rechargeable battery, a power adapter, a power cable, a magnetic wall mount, wall mount screw set, a window decal and a quick start guide.
The features of the Arlo Pro include an image resolution of 1280p x 720p, a camera size of 3.1 x 1.9 x 2.8″, a 130° field of view for full viewing, two-way communication, motion detection, multi-user capabilities, night vision, a IP65 certification making it snow, rain and heat resistant, mobile app support, cloud storage, phone and email alerts as well as a 1-year warranty.
Pros:
The camera has a broad range of view
A good quality built-in microphone for effective two-way communication
Has good night vision functionality
Quite sensitive and can capture even the slightest of movements
Cons:
Though advertised as 8x zoom it only manages up to 3x
The individual components are expensive which can bring up the entire price of the camera system.
The motion detection may be overly sensitive, which can cause unnecessary alerts
The alert settings do not allow one to minimize the number of alerts
3. Ring Spotlight Cam – Has LED spotlights and a siren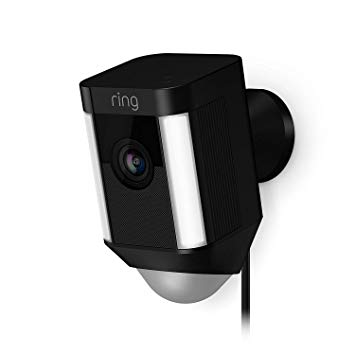 Cost: $200
This basic wireless camera is relatively affordable with optional packages for different users. Ring Spotlight Cam is a battery-powered security camera with LED spotlights and a siren. A single camera goes for $200, and if you add a solar panel, the price goes up by $30.
The features of the Spotlight camera include 1080HD video, a wide-angle camera lens (140° horizontal, 78° vertical), a remote-activated 110-decibel alarm, a built-in microphone and speakers, customizable motion detection, adjustable motion zones and scheduling and infrared for night vision. It is compatible with major mobile operating systems (Android, iOS and Windows) and provides mobile app support. One can also access live view on-demand from the app.
Pros:
Allows for two-way communication so that you can speak remotely with someone at the door
It has a rechargeable battery. There is even a solar option that would mean you do not need to charge it.
Cons:
The reliance on Wi-Fi may cause connection issues
4. Blink XT Home Security Camera System – Powered by AA lithium batteries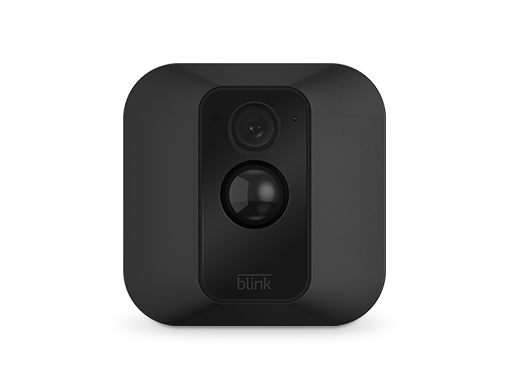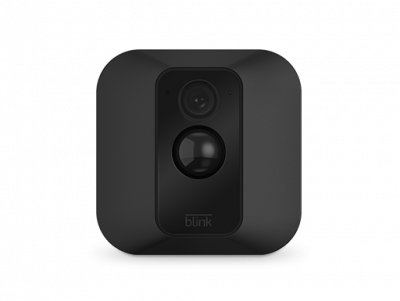 Cost: $90
The Blink XT Home Security Camera System is easy to set up and can provide high-quality video.
The camera does not require a power outlet or any wires. All you need is do is mount it, turn it on, sync it to your iOS or Android device and you are good to go. The camera retails at an average of $90 and can even be mounted outdoors. It is lightweight, built to withstand rain, snow and a wide range of temperatures, comes with mobile app support and powered by AA lithium batteries which are very convenient.
Lastly, it is waterproof and has Amazon Alexa integration for smart home options.
Pros:
Completely wireless
Lightweight and can be placed anywhere
Comes with free cloud storage which is better than paying for subscription plans
Cons:
The image quality may be subpar in comparison with other cameras in the same price range.
It is unable to pan, tilt or zoom remotely via the app. This must be done manually from the camera.
5. D-Link HD Wi-Fi Security Camera – Stores videos on SD cards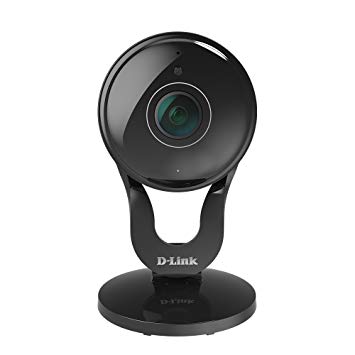 Cost: $55 to $70
For those who prefer the tangible assurance of a memory card, the D-Link DCS-2530L is the best option for them. This camera does not offer cloud storage solutions so everything it records stays on the micro SD card.
The camera's resolution is good. It offers HD videos and allows for live viewing on a smartphone or computer. There are motion and sound sensors that can be programmed to send notifications whenever they are triggered. You can be assured of night time recording for the camera has infrared night vision and can record up to 16 feet in the dark.
Its features include high quality 1080p through a Full HD CMOS sensor for excellent image quality, wide-angle lens, built-in infrared LEDs to capture video in low light, motion detection with configurable detection windows, sound detection and push notifications via email.
Pros:
Lightweight
Offers SD card support for those who are averse to cloud storage
Supports mobile streaming through the mobile app
Cheap
Cons:
Can only be used for indoor surveillance
Not battery-powered hence must be near a power outlet
6. Canary All-In-One Indoor Security Camera – Has air quality monitor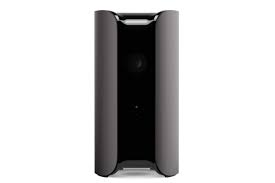 Cost: $200
The Canary All-In-One Indoor Security Camera is sleek and offers a wholesome home security experience.
It packs a myriad of features such as HD video, real-time footage and push notifications. Other features include a two-year warranty, air quality monitor to alert you about changes in humidity, incident support, real-time footage, a ninety-decibel siren to ward off intruders, iOS and Android app support, night vision and motion detection.
Pros:
Fairly priced
Camera has a user-friendly interface
Has a sleek design
Camera can be made adaptable to routines
Cons:
Unsuitable for outdoor use
No alarms or police notifications
Not ideal for larger homes
Camera lacks two-way audio for communication with people outside
7. Netatmo Welcome – Has facial recognition feature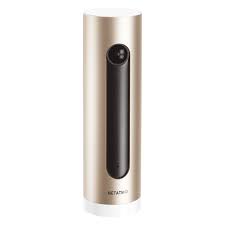 Cost: $200
Although retailing at $200, the Netatmo Welcome security camera is worth the price.
The stand-alone camera has a unique feature that is not available on many of its competitors. It has a facial recognition feature. It learns to recognize the faces and names of those who are constantly at your home and creates user profiles to monitor their movements. It also offers microSD support to store recorded video. One can also opt for the FTP server or your Dropbox account for extra storage.
The features of the Netatmo Welcome camera include an extensive 130° field of view, full HD 1080p video, night vision, and a unique, aesthetically pleasing design.
Pros:
Supports facial recognition and alerts when unrecognized people get into the house
Easy to install
The pet detection technology prevents false alerts that can be a nuisance
Cons:
Has an expensive purchase price
Not ideal for the outdoors
8. Nest Cam IQ Indoor – Can be connected to your Google Assistant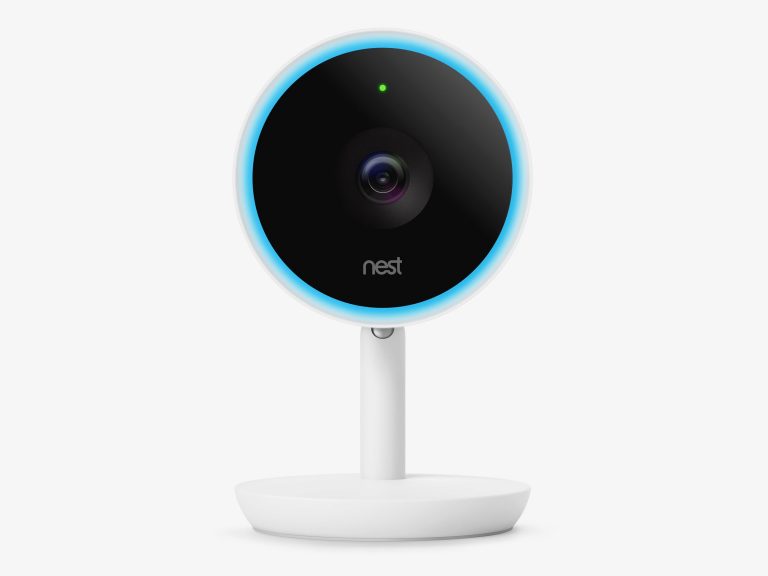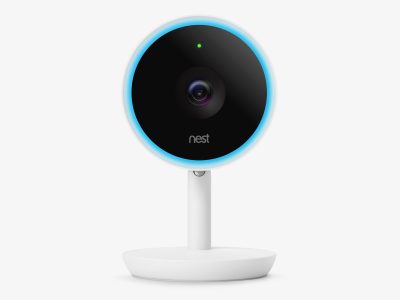 Cost: $300
The Nest Cam IQ Indoor camera's best feature is that it can easily be connected to your Google Assistant. It also has night vision and 1080p HD video quality.
Its features include a 130-degree field of view, a focal length of 3.6mm, viewing of real-time and recorded footage via a mobile device and can connect to additional smart home and security equipment. It also has Nest App support that can be used to playback up to three hours of footage.
Pros:
Video recording is of high quality
One can view activity history through the mobile app
Has instant alerts and snapshots
Has a 2-year warranty
There are several options available for those wishing to purchase wireless security cameras. It all depends on what one wants, and the amount of money one wishes to spend. Compatibility and app support are also among the considerations one should take into account when looking for a wireless camera.
Because of the variety of cameras available, it is essential to research first before you buy a wireless security camera for your home or workplace.
FAQs
How do wireless security cameras work?
Wireless security cameras connect to Wi-Fi instead of being hard-wired. Data is sent through the network instead of the traditional cables. Wireless security cameras can be battery-powered, solar-powered or plugged into a wall socket.
Are wireless security cameras reliable?
Generally, they are. Installation areas and the security of your Wi-Fi network may affect the security of the camera. Ensure the installation procedure is followed correctly and that your home network is protected for the cameras to function effectively.
Can wireless security cameras be hacked?
They can be hacked but this is rare. Protecting your wireless network will minimize the chances of you being hacked. In some instances, top security camera brands also add advanced security features which include SSL encryption and WPA2-AES encryption to protect wireless CCTV cameras from being hacked.
How long do wireless security cameras last?
Just like any other electronic device, the camera has a lifespan. This depends on the conditions it is exposed to. Outdoor cameras may tend to have a shorter lifespan when compared to indoor cameras.
How long do batteries last in a wireless security camera?
This is dependent on the camera brand, settings and environmental conditions the camera is exposed to. Some wire-free security cameras can only be used for about 1 or 2 months. Other advanced security camera companies use the power-saving technology, which makes the wireless battery operated security camera battery life last for about six months.