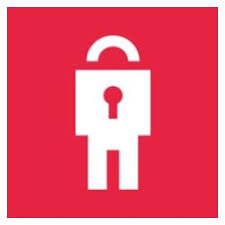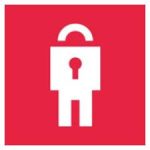 LifeLock is one of the most preferred identity protection services in the industry. One of LifeLock's major selling points includes its Norton security add-on package that can secure your internet-connected devices. LifeLock's best plan also gives excellent identity and credit monitoring, as well as hassle-free insurance coverage. Sadly, however, this plan is also a bit pricier than the industry standard.
Nonetheless, this giant identity protection solution has over a 5-million user-base. This is why I've been trying their service to see if it's worth the cost. Below is a detailed review of this identity protection service.
Table of Content
What is LifeLock?
LifeLock is a leading identity theft protection solution that offers a wide range of subscription packages. Established in 2005, LifeLock is currently owned by NortonLifeLock, one of the largest software companies in the US. Currently, LifeLock offers four paid plans, and each one of them includes proactive credit monitoring identity and social security number protection. Besides, every plan also comes with a varied generous insurance package that is quite sufficient to cover you in case of unforeseen identity theft.
In case of an unfortunate identity theft situation, LifeLock also assigns you its US-based agents to help you with the reimbursement process. Moreover, if you subscribe to one of their highest tier packages, you'll enjoy comprehensive cybersecurity protection, otherwise not available on the lower tiers.
Ideally, LifeLock is a thorough identity theft protection service that can aid you in restoring your identity after a major data breach, while also preventing future occurrences. Thanks to this, I can firmly suggest LifeLock to users who are looking for an inclusive online protection service.
Pros and Cons of LifeLock
Pros
Credit Bureau Monitoring
Includes a LifeLock Mobile App
Offers US-based Restoration experts
Provides Identity theft Compensation
Up to $1 million Insurance cover
Includes Norton Security
Reimburses stolen funds
Takes care of Lawyer and Expert costs
24/7 member support to top-tier plans
60-day money-back guarantee
Dark web monitoring
Cons
Seems to favor top-tier members only
Somewhat pricy plans
Doesn't offer a good business bureau credit
Features and capabilities
Credit Bureau Monitoring
All the four paid plans of LifeLock give you at least a single bureau credit monitoring service. The first three, Standards, Select, and Advantage plans offer one-bureau monitoring, while the top-tier Ultimate Plus package provides three-bureau monitoring.
However, to qualify for the credit monitoring, Equifax must verify your identity, and be able to find your credit file. LifeLock also adds that bureau credit monitoring is only a single constituent of the extensive identity theft protection capabilities. LifeLock says there's more than just credit monitoring.
Real-time Alerts/Notifications
LifeLock has somehow managed to send its users instant alerts whenever their identities are at risk of being compromised, and share tips for possible damage control. Thanks to this, you can always stay ahead of the data breach incidences, and always devise ways to avoid falling victim.
Every feature/capability of LifeLock has to send you an alert when your identity is under threat. You can also choose to get alerts via email or pings on your mobile app.
LifeLock's Advantage and Ultimate Plus packages can monitor your credit, and watch every activity on your bank account. Once a potential offense is done on your account, you'll also receive immediate notification.
Dark Web Monitoring
LifeLock also scours the dark web and watches out for personally identifiable information (PII) attributed to you. And since it's challenging for an average user to access the dark web, you can rely on LifeLock to keep an eye out for you.
Change of Address Monitoring
LifeLock also warns you when someone tries to alter the address or other information about your identity online. Someone, even a co-worker, might want to change your home postal address to intercept parcels sent meant for you. Other cases involve criminals using your address to purchase illegal goods, and without a special tool like LifeLock, you can find yourself in serious trouble with the authorities. With LifeLock, you'll at least present proof of these allegations in the legal offices.
Insurance cover
Having sufficient insurance cover every time you decide to purchase an identity theft protection, is not only essential but very necessary. LifeLock knows this, and as such, it gives you a range of packages to choose from depending on the level of insurance cover you want.
With LifeLock, you can get insurance reimbursing that ranges from $25,000 on the Standard plan, high up to $1 million on the Ultimate Plus package. You also qualify for the reimbursing, if your funds are stolen as well. It's also worth mentioning that every plan provides a whopping $1 million to cater for lawyers and experts that'll help solve your case.
Family Plans
LifeLock gives you the option to protect your kids from identity theft as well. Now with their LifeLock Junior category, you can easily protect your kids from cyberbullying and other forms of identity theft.
Bear in mind that LifeLock Junior is only available as an addon on every paid plan, and it costs $5.99 per month. Adding the extra subscription to your package is somehow worth the money since you'll be protecting your family from harm.
Banking Alerts
LifeLock gives you a way to go about your life, knowing nothing will bad to your bank account without being alerted. With LifeLock, you cannot miss an alert every time cybercriminals try to access funds or an attempt to alter your account details. I these instances, LifeLock advises that you take quick measures to stop attackers from stealing from you.
Furthermore, if you purchase either of LifeLock's Advantage of Ultimate Plus plans, you'll get notified of any suspicious activity on your credit, checking, and savings account. With these prompt alerts, you can easily account for every charge against your bank account. And if you notice any unauthorized transaction, LifeLock will assign US-based restoration experts to help with fixing the mess.
Additional Features
For every package you purchase, LifeLock gives you an addition of exciting features, but these features vary according to the tier purchased. For instance, LifeLock offers an unbeatable 24/7 customer support for members using Select, Advantage, and Ultimate Plus plans – doesn't include Standard. Considering cyber attackers are always working around the clock, it's crucial to have LifeLock's experts on live contact every hour of day and night.
LifeLock also promises advanced cybersecurity for its users, thanks to its counterpart Norton Security – an AV software leader in the industry. Norton blocks over 142 million threats every single day. Thanks to this, every time you purchase LifeLock's paid plans, you'll enjoy exclusive features like anonymous browsing and Ad-blocking
Pricing and Insurance Cover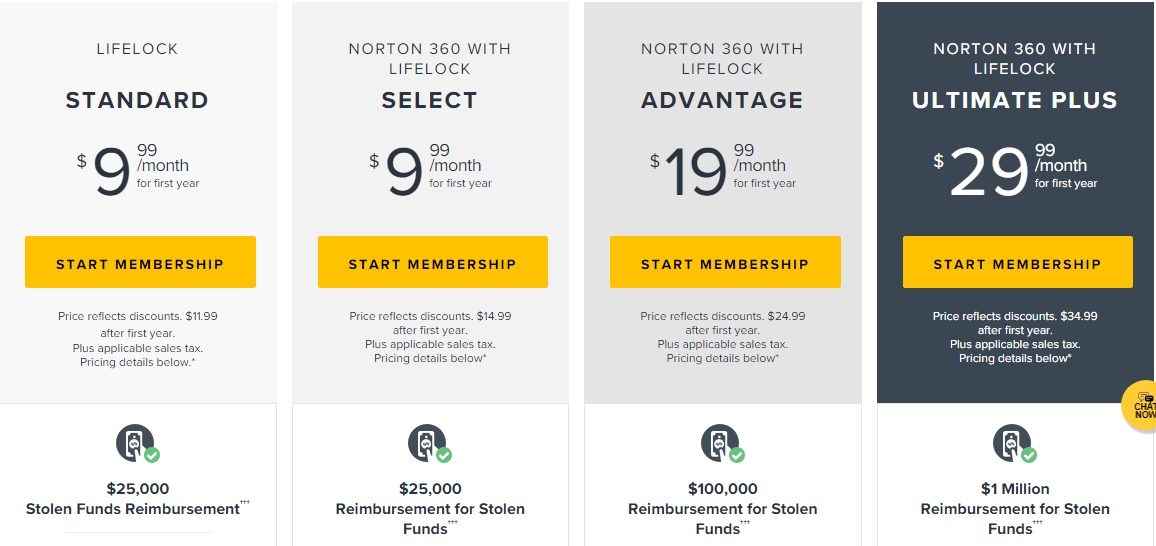 LifeLock sells up to four premium plans at the time of this review. While the packages share some standard features, advanced capabilities and features are only available in its top-tiers. Worth mentioning is that LifeLock also gives several insurance covers to choose from as per your plan of subscription.
Here's how they compare:
Standard plan – goes for $9.99 per month on the first year; billed at $119.88 after 12 months. After the first year onwards, it'll cost $11.99 per month, billed at $143.88 annually. You'll also qualify for a $25,000 insurance cover.
Select plan – goes for $9.99 per month the first year, and is billed at 119.88 after 12 months. Afterward, it'll sell at $14.99 per month, billed $179.88 annually. You'll get an insurance cover of $25,000.
Advantage plan – costs $19.99 a month, billed at 239.88 the first year. Afterward, it'll go for $24.99 per month, billed $299.88 each year. An insurance cover of $100,000 is also included.
Ultimate Plus – goes for $29.99 per month, billed $359.88 the first year. Afterward, you'll pay $34.99 a month billed $419.88 every 12 months. You'll also get a whopping $1 million insurance cover.
Note: If you purchase the Ultimate Plus package, you'll also get a premium Norton VPN service for extra security.
Every LifeLock premium plan has a no-questions-asked 60-day money-back guarantee on the annual subscription. This is sufficient to try LifeLock and cancel anytime within the first 60 days of subscription – hassle-free.
LifeLock Compatability
Besides being compatible with Windows and Mac OS, LifeLock also offers dedicated mobile apps for both Android and iOS operating systems.
Setup and Ease of use
Ease of Use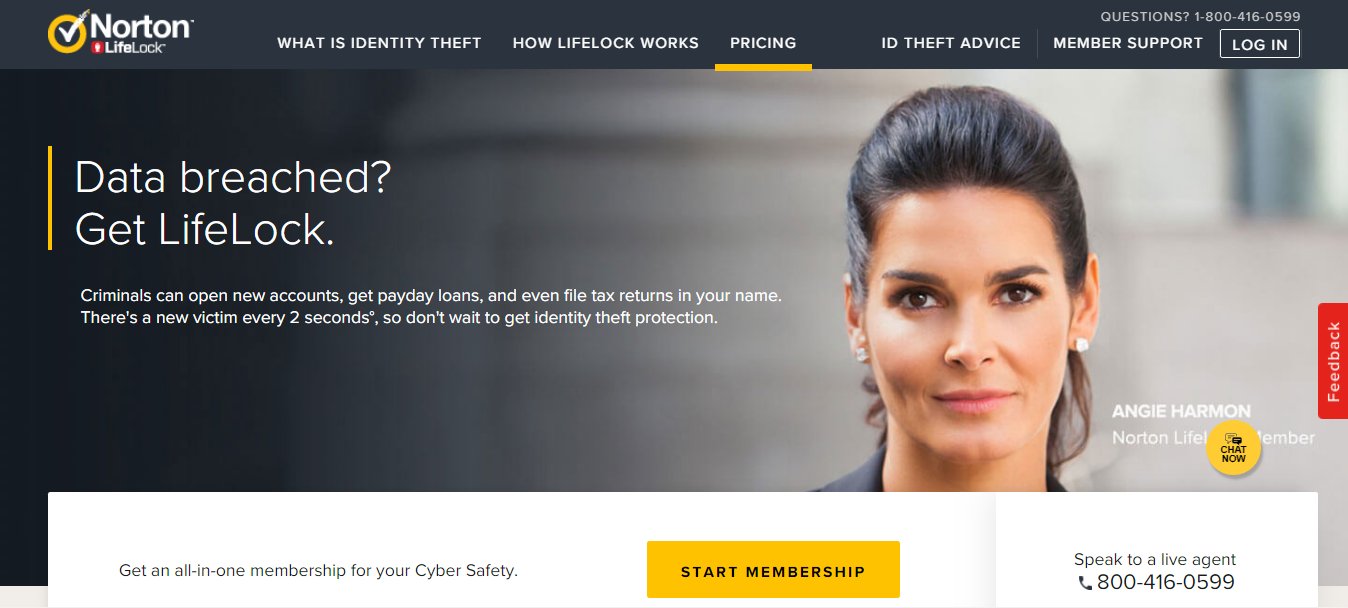 LifeLock sports an impressive website layout that's quite informative. Its header has well-explained sections that have hold useful information about LifeLock. Using the website, you can quickly gain knowledge about LifeLock from how it operates, its pricing, as well as its various policies. You can also easily reach their support agents by either calling them directly or through the live chat tool found bouncing on the website.
To get started, click on the "Start Membership" button to register. On the downside, LifeLock seems to be dominated by Norton – its parent company – considering the website theme is entirely yellow. LifeLock is known to have a red and white theme – evident on its logo – but that's not the case on the website.
Getting started with LifeLock
Registering your account on LifeLock is pretty easy, and it'll take you less than 10 minutes. Bear in mind that LifeLock will ask you to create an account with Norton for faster billing and other registration processes. You must also be over 18 years to qualify for a LifeLock account. Optionally, US residents can easily register their kids under their accounts.
LifeLock/Norton will ask you to enter personal details, such as:
Your names
Email address
Home address
Date of Birth
Social Security Number (will be checked for confirmation)
Phone number
Driver's license
Credit card information
You'll then enter your username and password to finish the sign-up process.
My first-time experience on LifeLock's user dashboard, I realized it has somewhat superior capabilities than those of its competitors. There's an immediate alert that informs you about recent security breaches that you should be knowing.
If you check the "Monitored Information" tab on the mobile app, you'll find a list of your information that LifeLock monitors. You can also add or remove the list of things you want LifeLock to monitor.
Worth mentioning that you can also include several financial accounts on LifeLock for easy monitoring. You're also free to set the transaction limit that should cause an alarm that will trigger your attention.
Final Verdict
LifeLock is generous enough to warn you that "no one can totally prevent identity theft." And while this might not show on their marketing side, LifeLock tries its best to stay transparent, all the while helping you stay clear of any form of identity theft.
LifeLock is also an excellent identity protection choice if you want a service that can give you various insurance coverage options. And in terms of security, I think LifeLock has the best rating since Norton Security owns it. The best thing about LifeLock is of course insurance when your identity and funds are compromised. The company assigns you US-based experts who will work with you to get your identity and funds back. And here's the best thing, you don't pay them a penny.
Unfortunately, I didn't like their pricing plans – which I felt were too expensive. I'm also somewhat skeptical about their idea of asking for too much information. While it's essential to have as much data for maximum protection, it's also a major downside, should LifeLock be breach – who says they can't?
LifeLock FAQs
What is LifeLock?
LifeLock is a leading solution for proactive identity theft protection for consumers. The company also offers risk management services to businesses.
Is my data secure with LifeLock?
LifeLock does well to observe strict standard-based data security policy that promises extreme levels of protection of member information.
Can a LifeLock membership cover spouses?
No. Every LifeLock account belongs to a single individual and cannot be shared with a spouse or a loved one. However, you can register your kids under your account, but you'll have to input their data as well for maximum monitoring.
Can I register a deceased member of my family?
No, you can't include a deceased member of your family. According to LifeLock's policy, if a loved one dies, their membership is also terminated automatically. For compensation, I recommend you produce a copy of the death certificate to the three-bureau credit.
Will I be taxed?
Every state/ country has its tax regulations and policies. In some states, LifeLock has to pay tax. Therefore, you'll be automatically charged, but that's not the case in other regions.