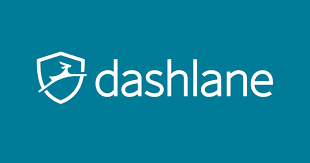 Are you wondering how you can save all your login credentials?
Dashlane Password Manager can help you save all your passwords, and you`ll not have to worry about memorizing all complex details for you to log in to your accounts. In a world where you probably have dozens of online accounts, Dashlane Password Manager can be a lifesaver.
Dashlane distances itself from the competition by offering one of the most well-rounded feature packages for security. It provides comprehensive password management tools coupled with unique perks like identity theft protection, strong password generation and VPN access. We`ve analyzed its features, price as well as pros and cons to help you decide if it's the right password manager for you. Read on a for a detailed Dashlane review.
Table of Content
What is Dashlane Password Manager?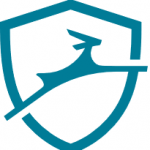 Dashlane is one of the most versatile and reliable password managers on the market. It is a great app to securely save your passwords instead of keeping them in your head or listing down your passwords on Windows MS Word file.
It is also an excellent tool for generally protecting your online identity with strong passwords and a built-in VPN. It will also give you an analysis of currently stored passwords and identify weak ones that need to be changed.
What are the pros and cons of having Dashlane Password Manager?
Pros:
Password sharing – Dashlane offers you a great way to share passwords between groups and team members in a super-secure way, and you can remain completely in control.
Ease of use – Dashlane boasts Editor`s choice awards for the app on both Google Play and the Apple App Store. There is a reason for this – the password manager is straightforward to use.
Emergency Lockout Protection – Lockout protection is a big deal, and not all password manager apps address it. What happens if you lose your master password? Dashlane allows users to set up `Emergency Contacts' that can get access to the Dashlane vault.
Cons:
Very expensive – Dashlane tends to be more expensive when compared to competitors such as LastPass and 1Password.
What are the features of Dashlane Password Manager?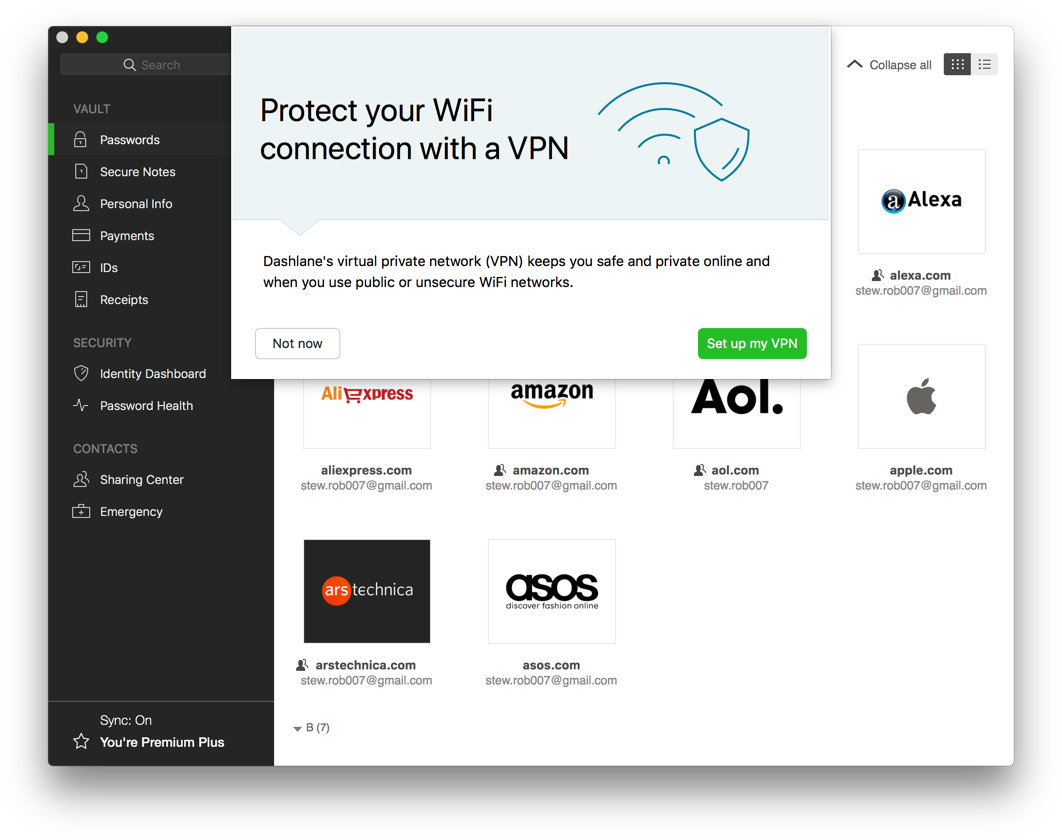 Top of the list of Dashlane features is its built-in virtual private network (VPN), which creates a secure tunnel between a user and the internet. If you`re logging in on an unsecured network like a public Wi-Fi, your data could be exposed, especially if you connect to a site without HTTPS. Dashlane`s VPN extends its protection beyond the boundaries with its robust VPN.
Dashlane`s VPN does not offer the option to choose a VPN server, but it automatically selects the one that`s nearby. You can enjoy unlimited VPN bandwidth on the Premium and Premium Plus versions. The VPN feature is not available on the free version. Unlike most services, Dashlane doesn't place any limitations on connected devices, allowing you to secure as many systems as you wish.
The password changer feature is incredibly handy, doing precisely as its name says. It streamlines the tedious process of having to re-secure your accounts with more strong passwords by logging into websites with the provided credentials and changing things for you. It allows you to change multiple passwords instantly. Password Changer also brings up a list of each password you have stored in your current device and provides you with safety levels for each.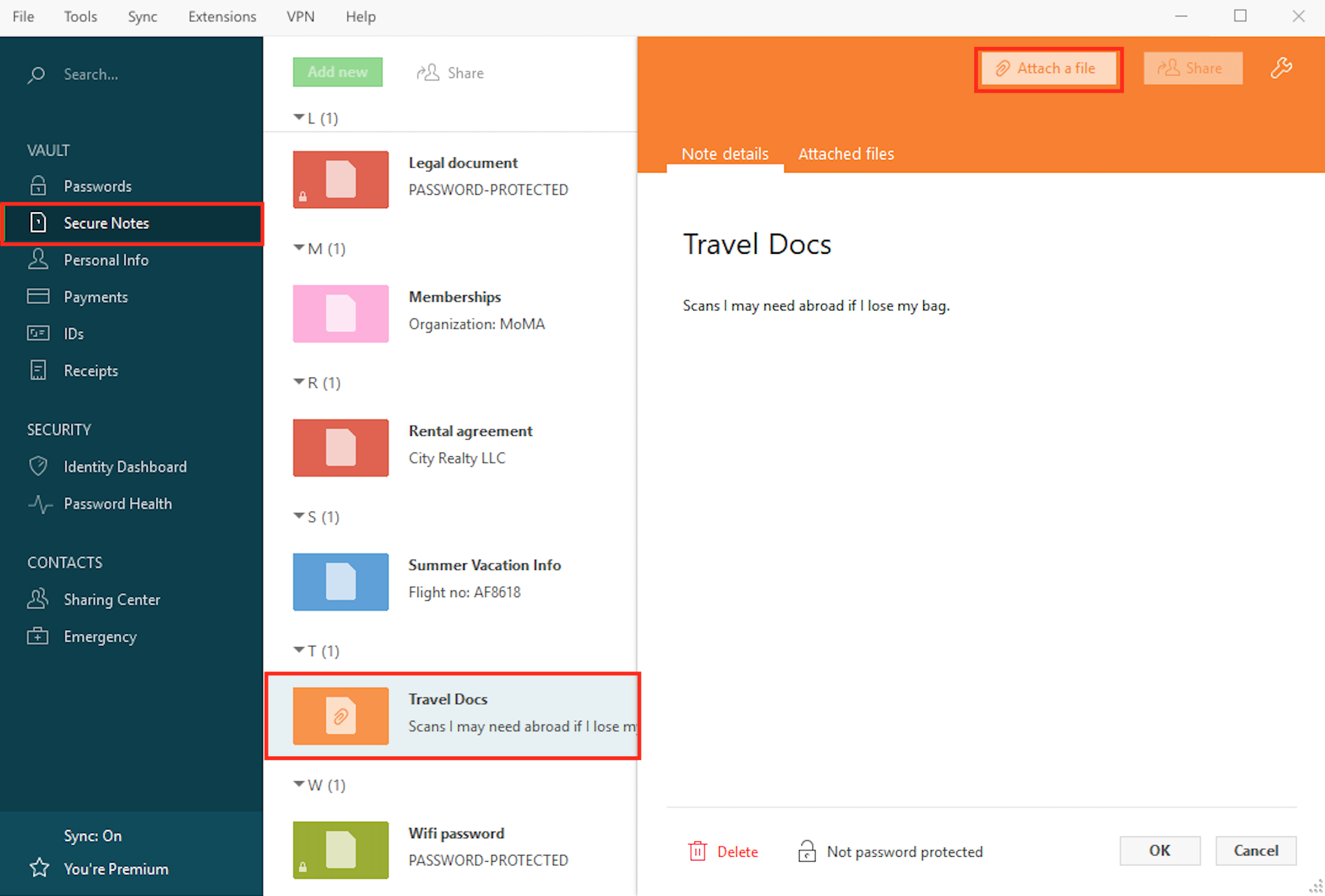 Previous versions of Dashlane Password Manager did not allow users to store files as attachments. The latest version, Dashlane 6, changes that. Now, users can add file attachments to Dashlane`s Secure Notes section. Although this feature doesn't rise to the standard of password managers like LastPass, which allows you to add attachments to passwords and note entries.
With this new feature, you get to store up to 1GB worth of file attachments. It is not much, but it's a decent amount of storage if you`re storing a few images or text containing crucial information.
Just like other password managers, Dashlane offers a Secure Notes feature for generic data you want to keep safe. There are also preset templates for items like Wi-Fi passwords, software and membership details.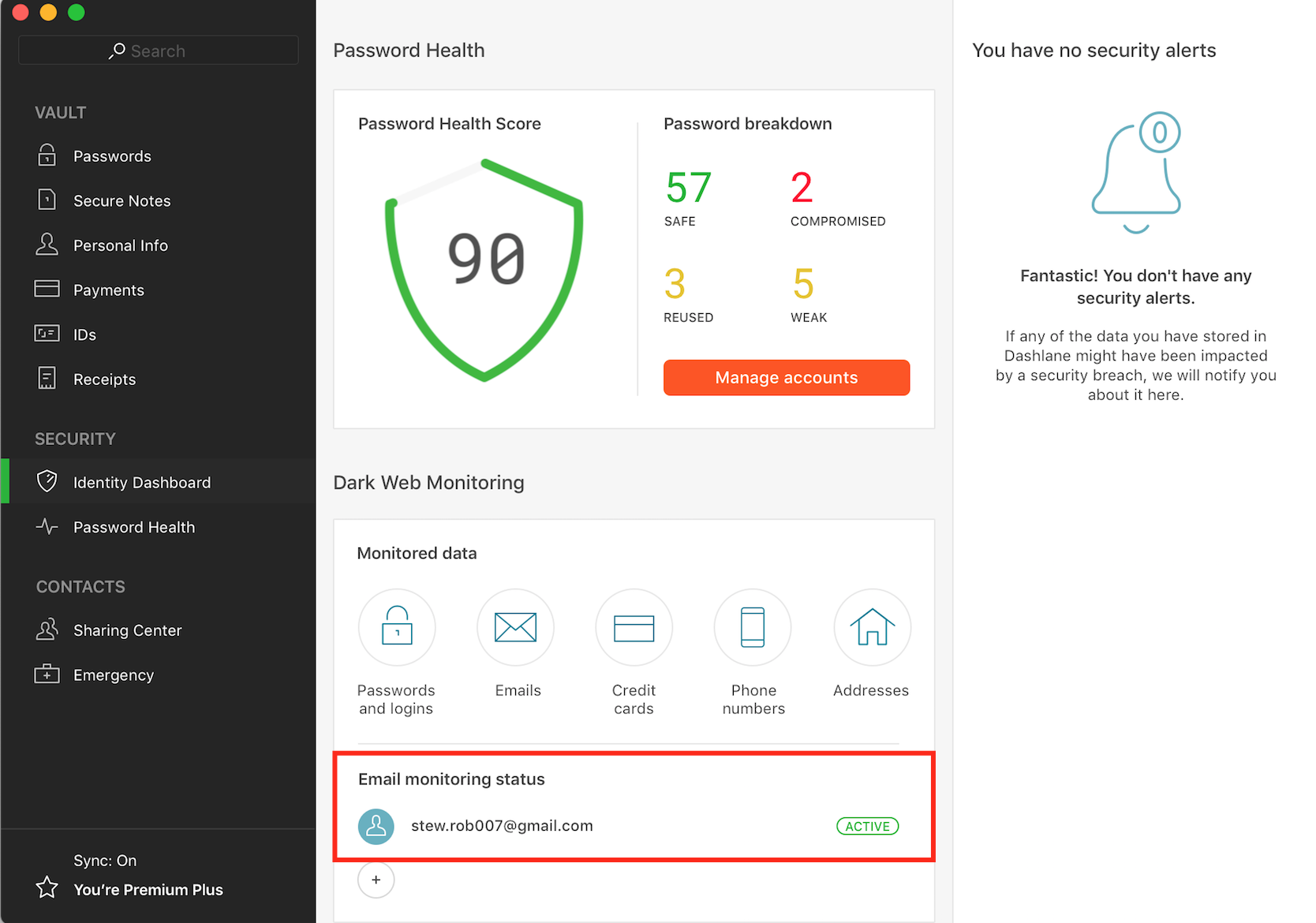 Data breaches are a common occurrence nowadays, and they can expose everything from your credit card data, home addresses and login credentials. At its premium plans, Dashlane offers a bit of identity theft protection. With this feature, Dashlane scours the web for any stolen or leaked personal data and sends you an alert if it finds anything suspicious. The app tracks this critical information by scanning third-party databases. Dashlane doesn't perform web monitoring unless you activate this feature and tell it which types of data you want to monitor.
This feature can be found on the Dashlane Premium Plus version. It offers basic credit monitoring so you can keep an eye on your credit history and credit score. It will also notify you of any events that may impact your credit score, such as when a fraud alert is placed or when a new injury is made on your credit report.
Dashlane provides users with identity theft insurance via America International Group. It offers identity restoration as well as up to $1 million in identity theft in identity theft insurance if you incur losses directly related to the theft of your identity, such as lost wages or legal fees.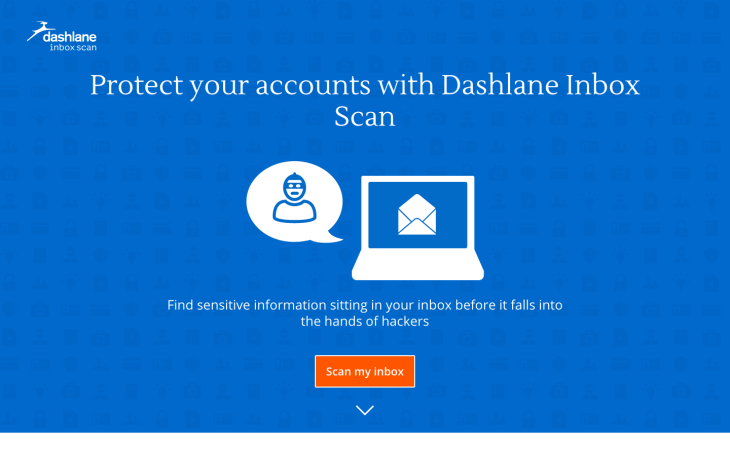 If cybercriminals gain access to your email, you may be in trouble, especially if you`ve shared password or username information with any of your contacts. This is where the Inbox Scan feature comes in handy. It checks your email`s inbox for such kind of information. Inbox Scan also checks for accounts with weak or old passwords, probably from the days of using `123456789' as your password. Once the inbox scan is complete, Dashlane provides you with an inbox score and tells you how to enhance your online security.
Dashlane also comes with an emergency contact features that lets users give nominated family members access to their password database within 48 hours upon request. This 48-hour waiting period gives you time to approve or reject the request should it not be a legit emergency. You can also choose to lower the waiting period to none at all or make it 24 hours or even raise it to up to 60 days. If you don't wish your emergency contacts to get access to the entire vault, you can give them access to specific notes and logins.
Interestingly, Dashlane includes another section entirely for receipts. Instead of storing them in the catch-all Secure Notes section, they are kept in their own section. This feature utilizes Dashlane`s automated detection. When you purchase items online, Dashlane will automatically stash the receipt. From the interface, you can see your list of receipts, view the associated screenshot and dig in for details.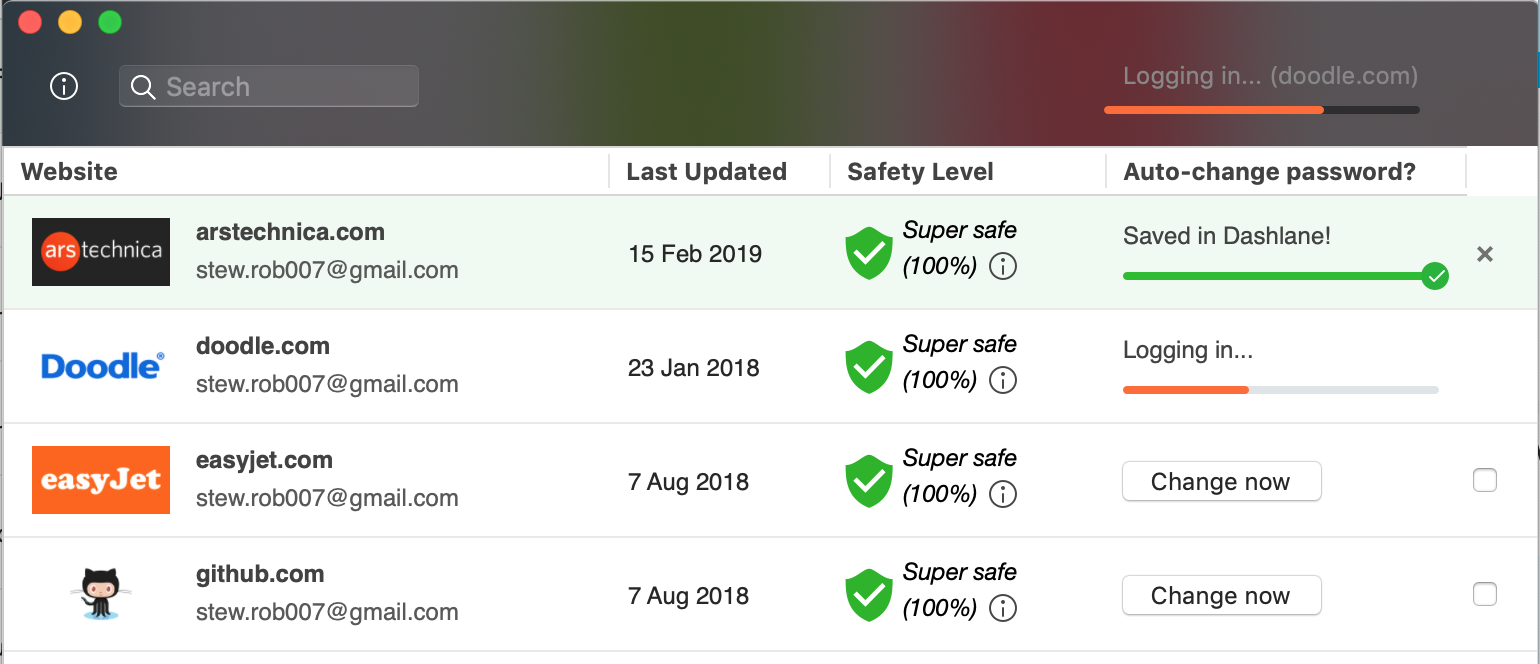 Each time you click in a password field to change an old password or create a new account, Dashlane pops up and offers to generate a secure password for you. It defaults to a 12-character password using four character sets, symbols, uppercase letters and lowercase letters.
Dashlane takes every precaution and has implemented a range of automatic lick within the password manager. By default, you have five minutes to edit sensitive settings before having to unlock your device with your master password. This feature is designed to ensure that only authorized users are making the changes.
Does Dashlane Password Manager offer a free version?
Dashlane Password Manager offers a free version but with few features. With the free plan, the password database is limited to only 50 items, and it won't be stored in the cloud but on a single device.
How much does cost Dashlane Password Manager?
Dashlane ensures things are straightforward with three versions namely, the free version, the Premium version and the Premium Plus version. The Premium version costs $60 per year, and the Premium Plus version costs $10 per month. Moreover, it offers a 30-day money-back guarantee on the Premium plan and a $20 coupon reward for the refer-a-friend promotion.
Dashlane has a business edition, known as Dashlane Business, which goes for $4 per month per user and offers such extras as unlimited password sharing and an admin console.
What devices does Dashlane Password Manager work on?
Dashlane Password Manager works on Android, macOS and Windows.
Conclusion
Dashlane is undeniably one of the feature-rich password managers in the market. It is a good password manager if you need the best peace of mind knowing your information is secure. If you`re worried about identity theft, Dashlane will help step up your password security for good.
FAQs
Can I use Dashlane on multiple devices?
Yes. While its free version is limited to one device, the premium version unlocks the ability to use multiple devices.
Where are Dashlane passwords stored?
An encrypted version of the passwords is stored in the cloud.
What happens if I lose my device?
Your encrypted Dashlane vault remains secure unless you have a reason to believe that the master password has been compromised.
What would happen if I die?
Dashlane vaults are encrypted with a master password so the company cannot grant access to anyone unless you use the Emergency Contacts feature.
Can Dashlane be hacked?
Any software can be hacked. However, nobody can access the vaults without the master password.