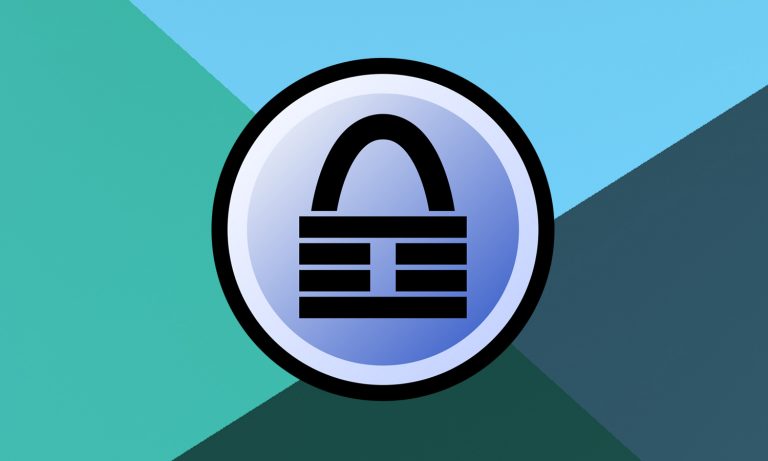 Are you worried about how to save all your login credentials?
Worry no more! KeePass Password Manager can help you save your passwords and you will not have to worry about using the same password for every website or keep complex details in your head.
KeePass Password Manager has proven to be reliable in this regard as it is trusted by many users and customers. It is not hard to use so you will be able to familiarize yourself with it in no time.
Read on to know more about the features of KeePass Password Manager, cost, pros and cons and why you should choose it.
Table of Content
What is KeePass Password Manager?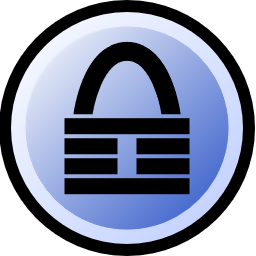 KeePass is an open-source and free password manager primarily designed for the Windows Operating System (OS). This does not mean that it does not support other OS. With the use of Mono, it officially supports Linux OS and Mac OS.
Its a password manager for Android, iOS and Blackberry devices. Its primary function is to store passwords, usernames, saved notes and other details that you use to access your account on any website.
It does this by encrypting all those details. KeePass database is the local file system of the device that you are using, unlike some password managers that use cloud storage. This gives it added security.
KeePass was developed by Dominik Reichl and its initial release was on November 16, 2003, after which a stable release was launched on September 10, 2019. It was developed using the C++ programming language. It is now available in two editions (1.x and 2.x versions), both are fundamentally different and works with Windows OS. The 2.x edition runs on Mono too.
What are the pros and cons of having KeePass Password Manager?
Pros:
Open source – Unlike other password managers, KeePass uses 100% open-source code. It provides the best guarantee that there is a program doing what it was designed to do. In 2016, KeePass was said to have a very high level of security.
Encryption – The encryption of KeePass when storing information can be done by users. You can encrypt your files in .kbdx containers that can only be accessed by someone with the master password or encryption password. No hacker can ever access information from it online.
Two-step verification – KeePass uses a two-step verification process to secure the information stored on it through a key file. Just in case your master password was accessed by someone you don't know or you gave it out yourself, that person will still need to undergo the two-step verification process.
Free – KeePass is free to use. You do not have to pay to get its services, and all you just need to have is the internet to access the application from your internet-enabled device.
Integration – You can use KeePass on popular browsers like Chrome, Firefox, Internet Explorer, Safari, Edge and many more. It does this by the use of plugins and browser add-ons. So when you are using any of these browsers, be sure to know that KeePass will give you options of saving your details in it.
Cross-platform support – After encrypting your files in the .kbdx form, you can save it anywhere even in insecure locations like Dropbox and Google Drive. This is because the file remains encrypted and to open it, your encryption password will still be needed.
Cons:
A bit ugly– The interface of the KeePass is not very colorful like many other commercial password managers. This makes some people lose interest in using it, though it does not fail in functionality.
Not easy to use – Since the interface is a bit ugly, it makes it uneasy to navigate between screens.
What are the features of KeePass Password Manager?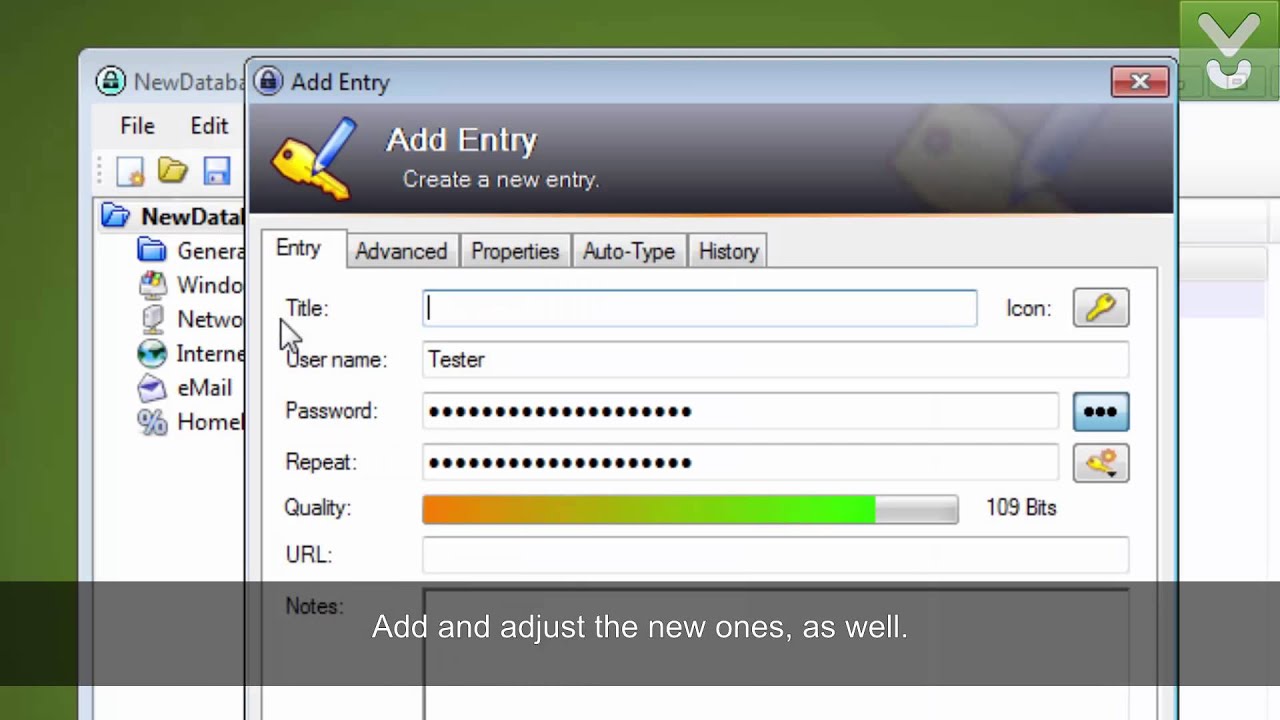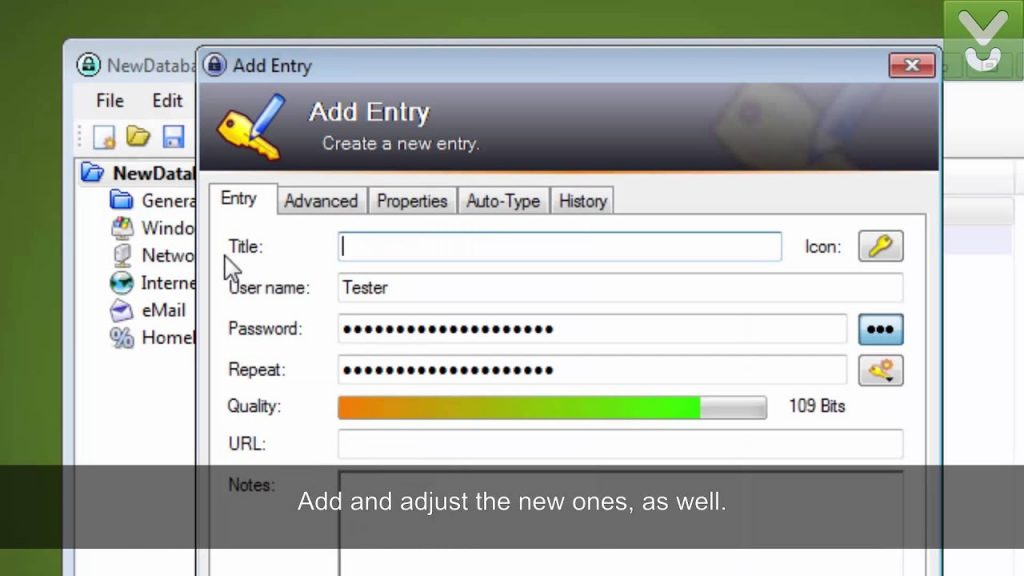 The password database of KeePass is encrypted using the Twofish algorithm and Advanced Encryption Standard (AES). These two ciphers are very secure. For example, AES is approved by NSA-National Security Agency and became a standard in the U.S Federal government.
The whole database of KeePass is encrypted, not just the data fields or the passwords saved in it.  Its master key component is hashed using SHA-256. You can be sure to get protection against guessing and dictionary attacks because the system is secured.
Its encryption is wholesome, such that when your OS dumps its process to the disk, the passwords are still encrypted. KeePass features unique password edit controls, such that none of the available password spies work against it.
Export to HTML, XML, TXT and CSV files
Its password list can be exported to the various files listed above. Its HTML output uses CSS to format the table so its layout can be easily changed. Its XML output can be used in many other applications.
The CSV output works with most commercial password keepers that are closed source. It can be imported to OpenOffice's Calc, Microsoft Excel and other spreadsheet applications. Many other file types are supported by KeePass through plugins.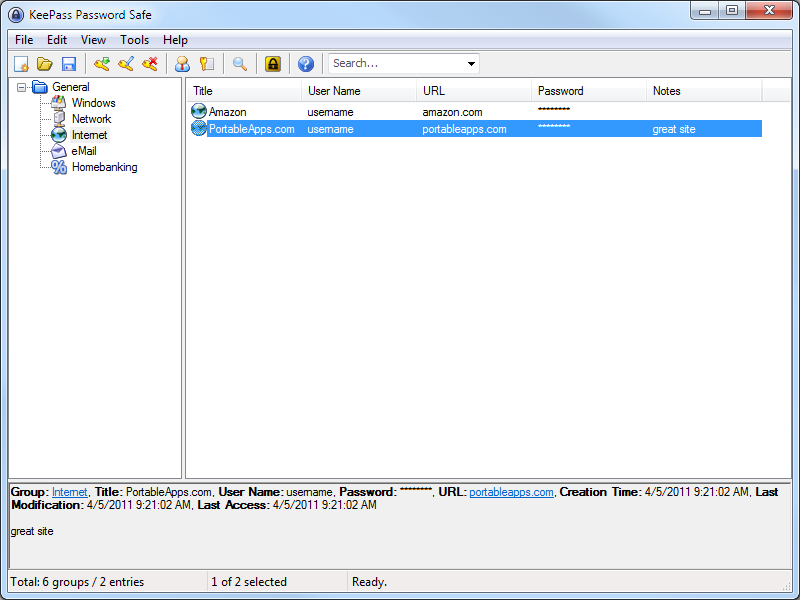 KeePass is very portable such that it can run on your Windows OS without being installed in it. There are installer packages too, just in case you want to have a shortcut to access the application. KeePass does not store any information on your system.
It does not create any new keys on your registry neither does it create initialization files (INI) in your directory. Deleting its directory (for binary ZIP package) or its uninstaller (installer package) leaves your system with no trace of KeePass.
KeePass can minimize itself while information of the selected entry is being typed into web forms, dialogs and so on. Its typing sequence is 100% customized. It features a global auto-type key that executes the auto-type sequence by filling the current entry automatically.
This happens when you press the hotkey while the application is running in the background. You can drag and drop all fields, usernames, passwords, URLs and notes into other windows as you work on other things.
Strong password generator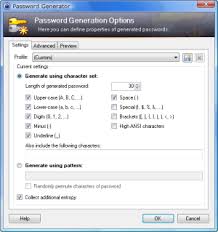 Strong passwords are often a combination of letters, numbers, digits and some symbols. KeePass can help you generate such strong passwords. You also have the option of defining the outputs of the characters that you want.
KeePass offers you the ability to create password groups. You can have groups that have sub-groups. These subgroups can further have sub-groups. The groups are arranged in the form of a tree.
Entry attachments and time fields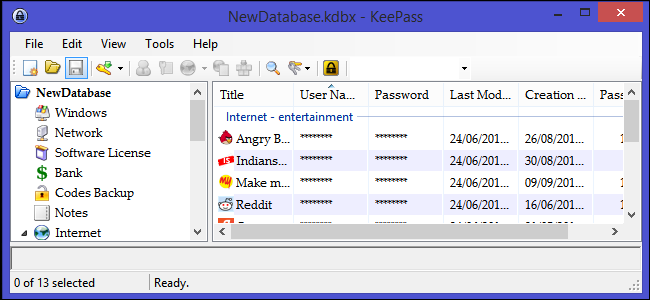 KeePass supports the creation of various time fields like modification time, creation time, expiry time and last access time. You can have files attached to password entries. KeePass also has an internal viewer or editor that is powerful.
This can be used for text files, documents and images, there is no need to export files attached to edit or view them. You can edit them directly in KeePass through its powerful editor.
Does KeePass Password Manager offer a free version?
Yes. KeePass is completely free for all. There is no paid version.
How much does KeePass Password Manager cost?
KeePass is completely free to use and this makes it one of the best free password managers available in the market today. Unlike other password managers, KeePass does not need a monthly subscription or hefty price for the license. Being free to use is a strong point for KeePass.
What devices does KeePass Password Manager work on?
Through the use of Mono, KeePass can support Linux and macOS operating systems. Moreover, you can find unofficial ports for Windows, iOS, Android and BlackBerry devices.
Conclusion
There is no other password manager that beats the KeePass, coupled with the fact that it is completely free, secure and has a huge range of plugins. You will be making a good choice if you choose KeePass as your password manager.
FAQs
Where can I find additional KeePass icons for my Windows shortcuts?
You can find them in the KeePass executable. You can also access them by using the Ext/Icons directory of its source code package.
How can I get more client icons for KeePass?
For the 1.x edition, the icons are built-in so you cannot add or import your own but for the 2.x edition, you can import your icon through the 'Add…' button into its database. The formats supported are GIF, BMP, JPEG, PNG, ICO, WMF and TIFF.
Can I use the mini mode on KeePass?
For the 1.x edition, yes, you can use it. But for the 2.x edition, the mini mode is not supported yet.
Is there direct support for working with formatted text?
There is no support for storing or working with large texts for the 1.x edition. For 2.x edition, there is a built-in editor that can allow you to conveniently work with a large number of texts.
What's wrong when I get my old options even after changing them?
You do not have access to write on your global configuration file. KeePass supports two major locations for such information to be saved: the local user-dependent file and the global configuration file. The local one is in your private configuration folder.