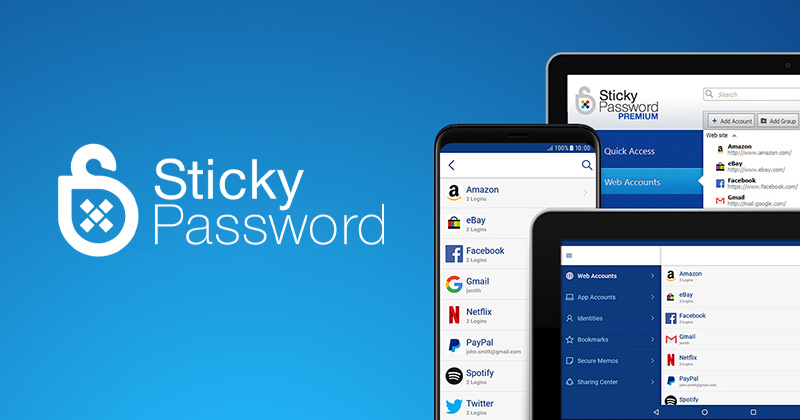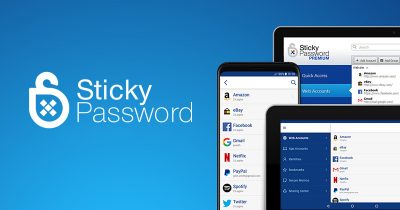 Do you still don't know what to get to easily create robust passwords for your online accounts?
Have you heard about Sticky Password but don't know yet if you should get it?
Sticky Password secures all your passwords, usernames and other information in an encrypted database so that only you can access your information. You only need to remember the master password to access your password manager account.  Moreover, its auto-fill feature will help you quickly login to your favorite sites and notify you in case one of your accounts got hacked or have experienced failed hacking attempts.
Read on if you want to know more about its features, price, device compatibility as well as pros and cons.
What is Sticky Password?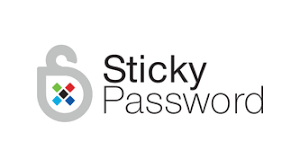 Sticky Password is a pocket-friendly password manager for Windows, Macs and smartphones that has high-end features fit for the tech enthusiasts. The feature-dense software is famous for pulling together an aggressive approach in synchronizing multiple devices and guaranteeing total security. It is a user-friendly option that will keep your account passwords safe for reference and away from hackers and account crackers.
Though it has a not-so-welcoming interface, users consider it to be a reliable tool to manage their passwords. With its intuitive functionalities, Sticky Password allows you to create and store strong and unique passwords for all your accounts under one secure roof.
Password storage with Sticky Password is done by encrypting them in the software's database where you can access them with your Sticky Password account login. With it, you'll have no worries trying to recall all the complicated passwords for all your platforms.
What are the pros and cons of having Sticky Password?
Pros:
An intuitive and straightforward user interface – Sticky Password's interface comes with the old fashioned style, which makes it easy to navigate. There are no exaggerations as it is direct and appealing to use.
Allows Wi-Fi Sync option – When you are on the internet, the software will automatically sync and update in case you created new passwords on offline platforms. The Sync option doesn't require you to log in to the Sticky Password.
Get a lifetime license with a single payment option – Unlike other password managers that have monthly subscription fees, Sticky Password allows for a one-time payment to get your operation license.
Easy to change password – When you forget a password to any site, there is no need to freak out. Sticky Password helps you get a new one and safely store it for you in its database.
USB Portability – Sticky Password allows you to carry it in a USB flash disk so that you can use it in another PC. This comes as an alternative to installing it on your desktop. However, the PCs you use your USB version must be trustable.
Up-to-date security dashboard – Sticky Password has a panel that analyzes your password database to sift out weak and repeated passwords. Also, if you need to change some passwords, the password manager allows you to do so with ease.
Cons:
Lacks a browser user interface – Unlike other password managers where you have a browsing option, this feature is absent in Sticky Password.
No secure password-sharing option – Sometimes, you sign up in platforms where you share a password with a group of users. With Sticky Password, there are no security options for such passwords.
What are the features of Sticky Password?
Like other password managers, Sticky Password also comes with unique features that make it a distinct password manager. Other than the common multi-device sync, auto-fill, software support and storage features, other exciting features are also discussed in detail. Let's get to it!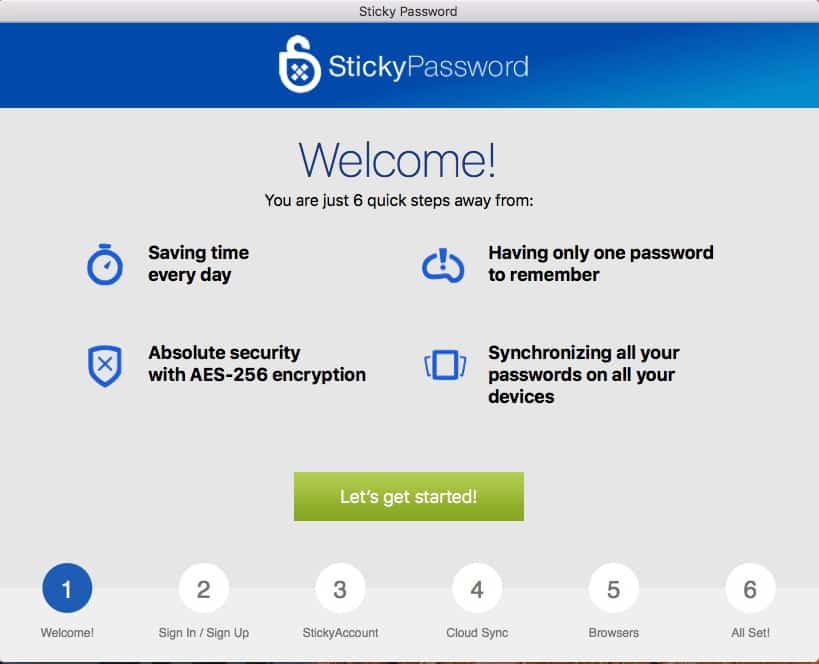 Sticky Password can be installed from the company's official website, and download is a 45MB file. If you have a stable connection, you can download the executable file within a minute or less. Installing it will also be easy.
Once you install the software, you will be walked through a simple tutorial to get you started and familiarize yourself with the software. After installation, you will be prompted to either create a new account or log in to an existing one. Once you are logged in, it is easy to navigate and explore the various features of the software.
With most password managers, passwords are stored in a cloud database. From there, access to your platforms and devices are synced even while offline. The same applies with Sticky Password but with an added alternative of using Wi-Fi sync. This option allows you to send password info to your connected devices on the network. It also protects the shared data from interception by hackers.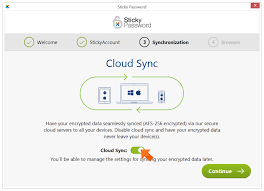 The cloud sync option allows you to back up your data in the software's cloud server. However, this is an optional feature that you have to enable once you install Sticky Password. If you are paranoid about this option, there's still an option of storing your data on devices where the Sticky Password is connected.
After Sticky Password is installed and it is up and running, browser synchronization is prompted, and password protection kicks off on the selected browsers.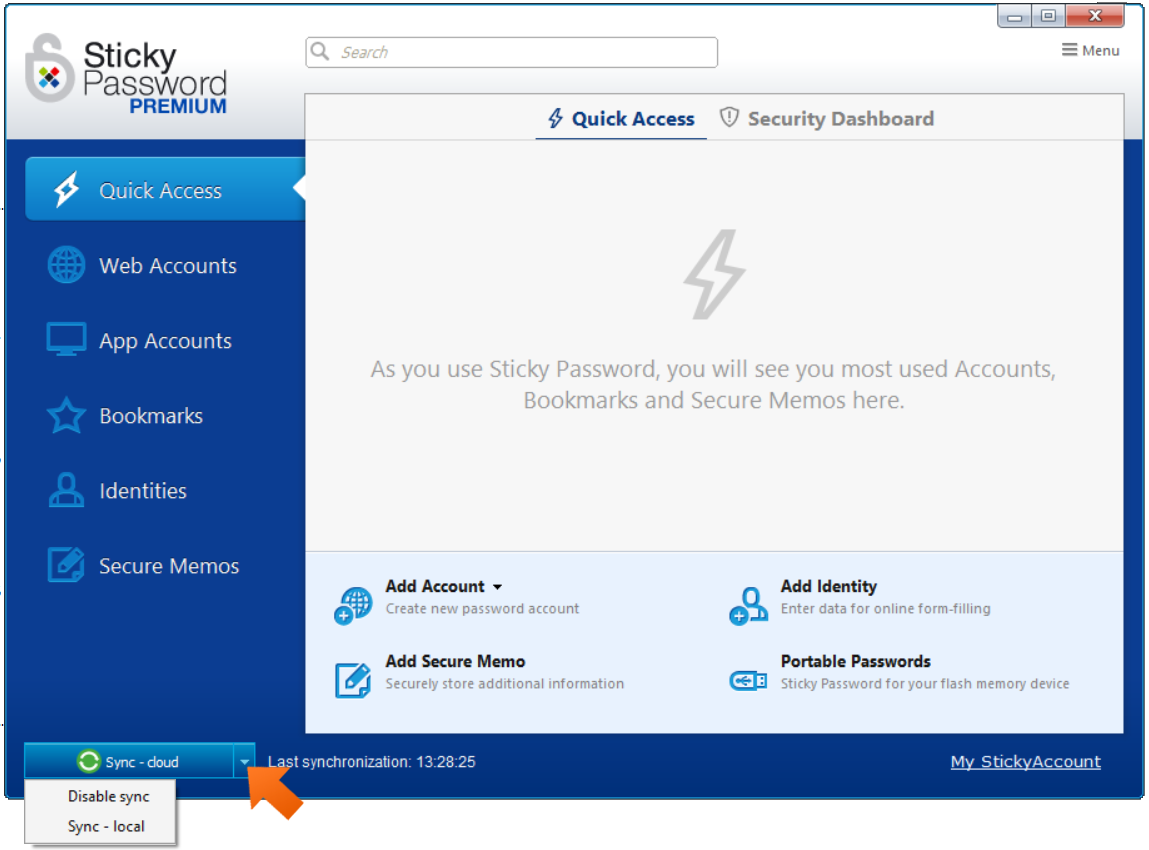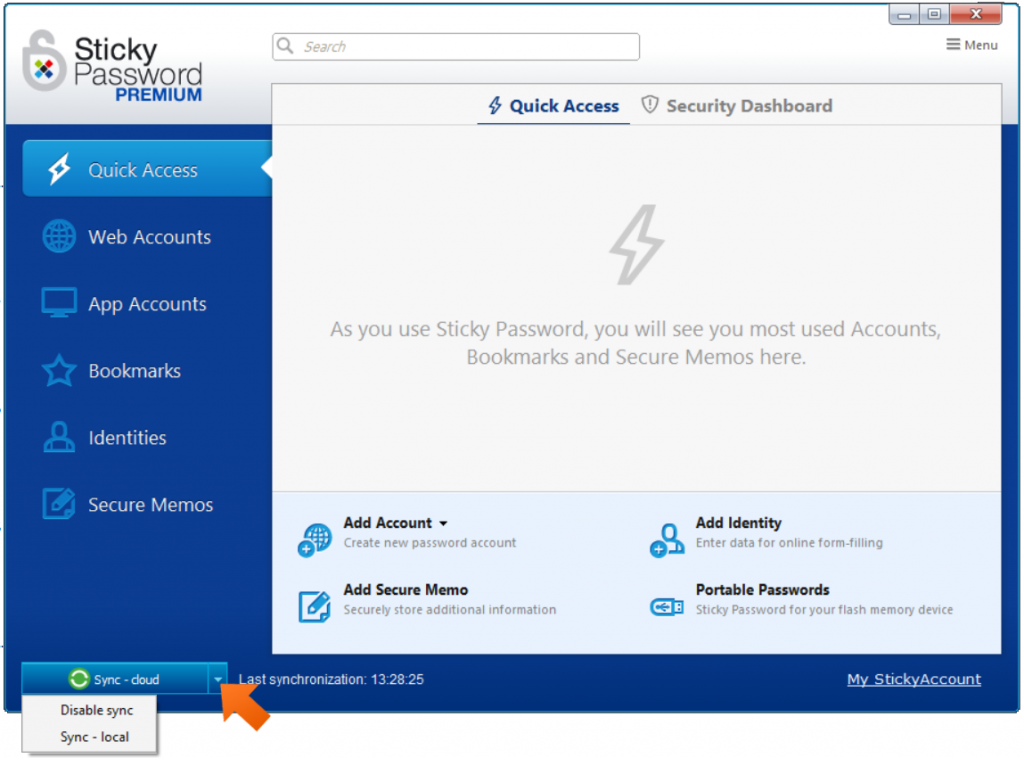 The first you get after logging in to the software is a basic and easy to navigate user interface. It is so simple that even a non-techy person would easily maneuver through it.
It is easy to enter your login details and password like you would in any other sign-in platform. Once you are logged in, you will be prompted to save the password with Sticky Password. Click 'Yes' and let the software will remember your password in all future logins.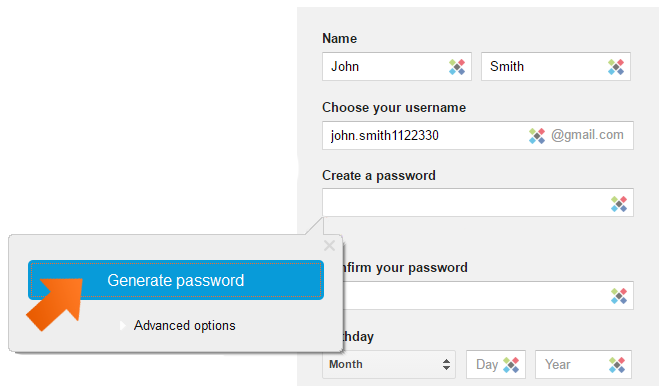 With Sticky Password, it is possible to create robust passwords as well as recover or update a new password in case you lose one. Also, all personal details you save with Sticky Password are made available in the auto-fill option.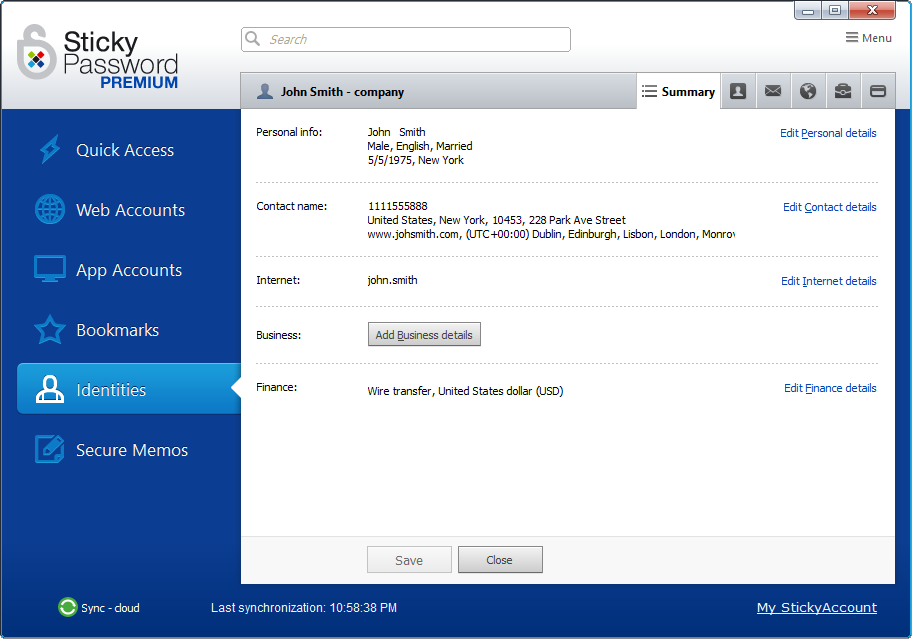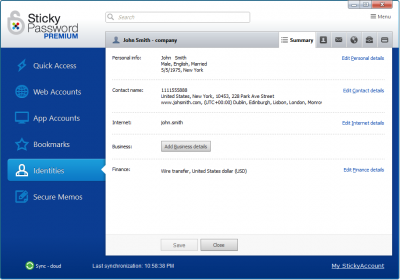 While conventional password managers do the basic storing of passwords in encrypted databases, Sticky Password Premium has more security features to offer.
First of all, the software helps you to determine which browsers to trust or ignore. Also, you can back up your password securely in the software's database. Sticky Password will also remove passwords you had earlier copied to the clipboard after a preset time. Other cool security features include simple closing and opening the program from your desktop.
When the screensaver is active on your PC, Sticky Password also allows you to lock it and use a virtual keyboard to operate it automatically. This sabotages any keyloggers' activity in case you have one on your PC. When this happens, you can use other login activities like password use.
 Excellent customer support
The company's official website is simple to navigate and has numerous resources that give a wide range of info, including installation guides and handy tips on how to use their password manager. Through the website, it is possible to set up synchronization, activate auto-lock and a few other features.
The website also has a blog section. You can get updates and announcements about upgrades or new features here. There's also a PDF guide to help new members get started with the software. When you are on the free package, you miss out on the live chat support that premium users enjoy.
Does Sticky Password offer a free version?
Yes, Sticky Password has a free version you can use anytime. However, the paid version has more advanced features you might want to have.
How much does Sticky Password cost? 
Sticky Password is available in two plans, a free package and a premium one. While the free mode is good-enough and has excellent features, the premium model has more advanced features to make a better experience. In terms of payment, the premium version goes at $29.99 for a single year and $149 for a lifetime license.
Starting with the free version is an excellent place to start, but you can upgrade to a premium plan and get more advanced tech-features. As a plus, Sticky Password offers you a 30-days free premium trial to let you have a taste of the premium features.
What devices does Sticky Password work on?
You can install the password manager on Android devices, iPhones, Windows computers and Macs.
Conclusion
Though Sticky Password is not an open-source software, it has features that make it a viable password manager. It is easy to maneuver through and is designed to keep your password info safe and secure. Its effortless synchronization capabilities make it have an edge over its competitors.
The app's dual authentication feature also gives it a competitive edge over its competitors. Sticky Password is simply a top-notch, reliable password manager you should not miss.
FAQs
Why is it essential to use a password manager?
Password managers are the surest way of restraining hackers and malicious persons from accessing your personal information. It is for this reason that a unique and robust password should be used on any platform in the first place.
Is Sticky Password entirely free?
The free version has enough features to secure your passwords, but the premium version has more advanced security features that are worth your dollars.
Is it possible to change my Sticky Password master password?
It is possible. When you log in to your account on the official website using your master password, click the Change option to put a new login email. Once you put a new one, click Save.
Can I transfer Sticky Password Premium to a new PC?
Yes, the transfer is possible. However, you need to install the latest version of the premium software from the official website. While installing the new pack, you will be asked to connect to an already exiting online Sticky Password account. After this is done, all your data will be imported to the cloud, and you can connect your new device to the Sticky Password premium account.
Is Sticky Password compatible with all browsers on my device?
Yes. During the initial installation, the software prompts you to select the browser extensions you'd like to use and then install them. Sticky Password works with all browsers.