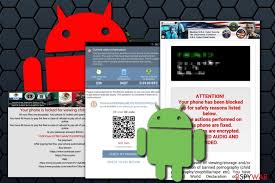 Concerned that your Android has a virus? Although the Android operation system comes with built-in security features that is being continuously improved to safeguard your device, data and apps, reports of an increase in cyberattacks are all over the internet. And you may be wondering if your Android phone has been infected by malware…
In this guide, we're going to explain to use quick steps to remove a virus from your Android phone, and other tips to keep yourself free from Android viruses in the future.
Also, don't forget to check out our guide on the best Android antivirus apps here.
Best Android Virus Removal Software 2020:
Best Virus Removal Software 2020
Table of Content
What is Malware?
Malware, short for malicious software, is a program designed to secretly control a device to extract private information or extort money from the Android device's owner through blackmail, sextortion and many other illicit ways. If you notice some odd behaviors on your Android phone and you are unable to figure out why this is so, it is likely that your android phone has been infected with malware.  It generally seeks to interfere with normal functioning. Although malware cannot destroy the physical device, it sneaks around the system to change functions, render the device unusable and spy on your activities without you being aware.
What Types of Android Malware Exists?
There are different types of malware, mutating according to the evil intentions of the hacker and his ingenuity in seeking to always be one step ahead of detection. The following are just a few examples:
Adware – Designed to confuse the user with frequent ads and pop-ups, sometimes redirecting the Android phone user to unknown web pages or applications
Banker Malware – Poaches users' bank data to access the account owner's money
Ransomware – As the name implies, this malware demands money from you in exchange for the files or the functionality of the devices being 'held hostage'
Rooting – This malware gains root access to the Android operating system code, unlocks the phone and obtains unhindered access to its functions.
SMS Malware – Surreptitiously manipulates devices to send and intercept text messages resulting in illicit SMS charges
Spyware – Designed to hover around you, monitor your every movement and record activities on your device without your knowledge or permission
Trojan Malware – Hides itself within a piece of seemingly innocent software
From the above, it is obvious that no matter how it is described, malware is a malicious stalker, waiting in the shadows to prey on you.
How do you Know if Your Android Phone has Malware?
Below are some signs that will let you know if your mobile phone has been compromised by malware.
Reduced performance– A slower performance than usual may indicate a malware infection.
Increased popup and adverts– Too many adverts and popups are signs that you may have adware on your phone. Adware infects your device with these distractions.
New unexplained applications– If new apps appear on your device, they may have been downloaded on purpose. Time to watch out for malware!
Increased unexpected phone bills – If you notice undue increases in phone or data charges, it is likely to be a symptom of active malware. Malicious applications can put you in the red by using your phone to send premium text messages or phone calls.
Contacts receiving strange messages– Spam messages may be initiated by malware, a deliberate tactic to get your contacts' devices also infected.
Abnormal data consumption– Because malicious applications also need to be in contact with their creators by sending and receiving information creators via the internet, there tends to be an abnormally high consumption of data. Since your phone is equipped to let you see how much data your apps are consuming, be on the lookout for malware when consumption is higher than usual.
Noticeable reduction in battery life– Sudden reduction of battery life is also a tell-tale sign that your phone may have been infected.
Things You Should Not Do to Avoid Android Phone Malware
Downloading Free Apps from App Stores
Malware fraudsters disguise their ware in the form of harmless mobile apps on app stores and websites. While trying to download the latest free versions of your favorite apps, you end up inadvertently installing malware. Things may appear to work for a while until their malicious functions start to manifest. Paid apps cost money for a reason. The cheap, modified copy can easily have malware added to it. On Android, app safety is commendable and Google vets its Playstore.
Allowing Download from Unknown Sources
Android users can allow third-party software installations simply by checking off a button in the settings menu. They have a good reason for allowing that feature. When you install apps from unknown sources, you open up your device to potential malware invasion. Ask any security expert and the first thing he'll tell you is that switching on "unknown sources" on your Android phone is one thing you should never do if you want to secure your device.
Some Android apps require unknown source installation to be enabled even when they are downloaded from reputable stores. For example, Amazon Underground, an app store, requires the "unknown sources" toggle to be switched when trying to install apps from their site. That's about the only way to get the apps on Android devices from those stores. When you come across such compulsory requirements, you are advised to search for the app from another source that does not require unknown source access.
Downloading an APK file from various locations
APK means Android Package Kit. Sometimes an Android app you want to install is not available in the Google Play Store. This can happen because of one of the following reasons: it may not be accessible from your location, it could contain pornography or violence or the developer might have removed it for any other reason. But even when an app is not available through the usual channels, you can still download it from a copy of the APK file.
APK is the file format that Android uses for its apps, much like Windows EXE files. Even though several sites specialize in offering APK files for download, some are safer than others.
How to Remove Malware from your Android Phone
The detailed instructions below will you provide clear and easy-to-follow steps to remove malware.
Solution 1: Remove Malicious Apps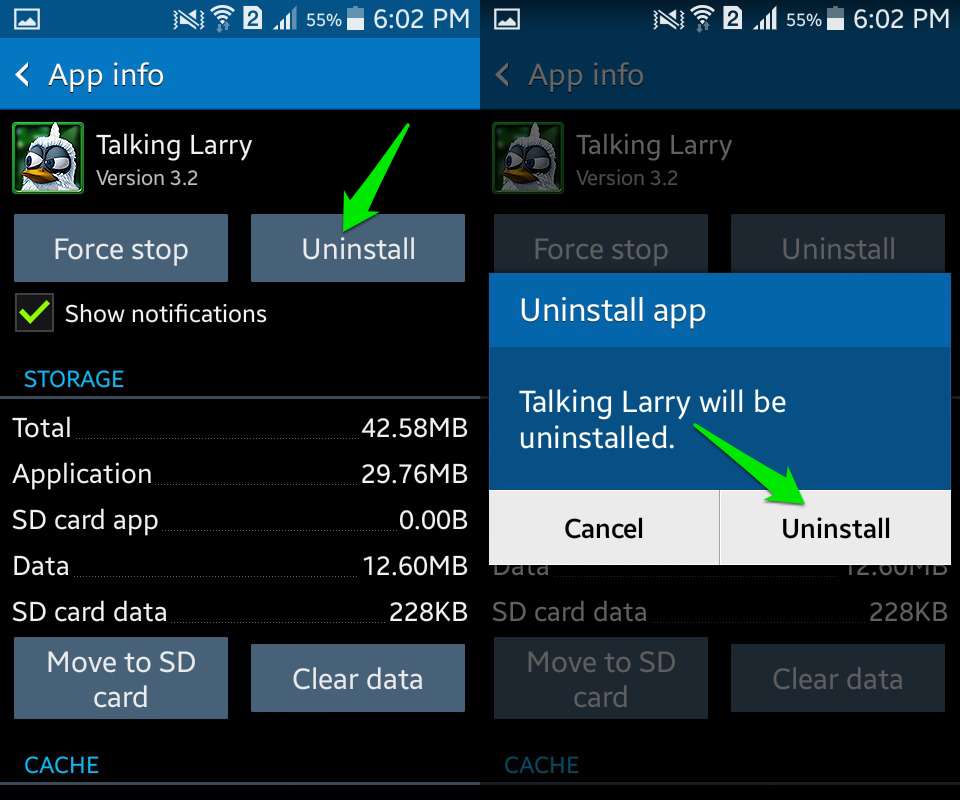 Open your device's "Settings". Click on "Apps" or Application Manager.
Find the malicious app and proceed to uninstall it as follows:
The "Apps" screen will be displayed with a list of all the apps installed on your device. Scroll through the list until you find the malicious app.
Other apps that are not malicious but are unwanted should be uninstalled. Look out for any suspicious apps that you don't remember downloading or that doesn't sound like a genuine Android service. Click the app's name to open its dedicated App Info page.
If you cannot find the malicious app, uninstall all the recently installed applications.
Tap on the app you'd like to uninstall. If the app is currently running press the "Force stop" Next, clear the cache and data and the unwanted app will be uninstalled. It's a simple 3-step procedure. First, tap on the Clear Cache button to remove the cache. Next, tap on the Clear Data button to remove the app data from your Android phone. And finally, tap on the Uninstall button to remove the malicious app.
Solution 2: Use Malwarebytes to Remove Malicious Apps and Viruses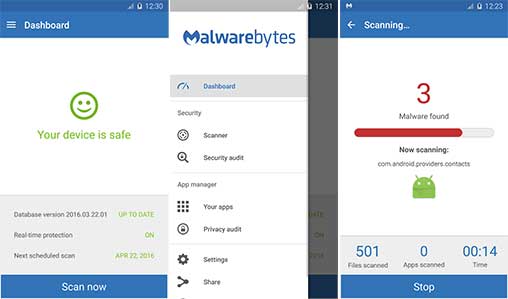 Malwarebytes is one of the most popular and most used anti-malware apps. It is a reliable tool for cleaning up an infected device. It comes free and is highly recommended as a potent tool in the fight against malware.
This app comes with a free 30-day trial period for the premium edition. It includes preventive tools like real-time scanning and anti-theft features. When the trial period ends, it reverts automatically to the basic free version that only detects and cleans up malware. Proceed as follows to install Malwarebytes on your device:
Download Malwarebytes from Play Store.
Go to Google Play Store, tap "Install" to install the anti-malware on your device. Next, click "Open" to begin using the app.
Follow the on-screen prompts to complete the setup process: When the Malwarebytes opens, the setup wizard will guide you through a series of permissions and other setup options.
Click "Got it" to use the free version of the product to access its features for the first 30 days.
Tap on "Give permission" to allow the app to scan your device and remove existing malware from your Android phone.
"Update database".
Run a full scan. This process can take a few minutes and you will periodically have to check on the status of the scan to see when it is completed.
When the scan is complete the number of Malware found will be displayed. Click "Remove Selected" to remove the threats from your phone.
Restart your device.
Solution 3: Remove Chrome Browser Notifications Pop-ups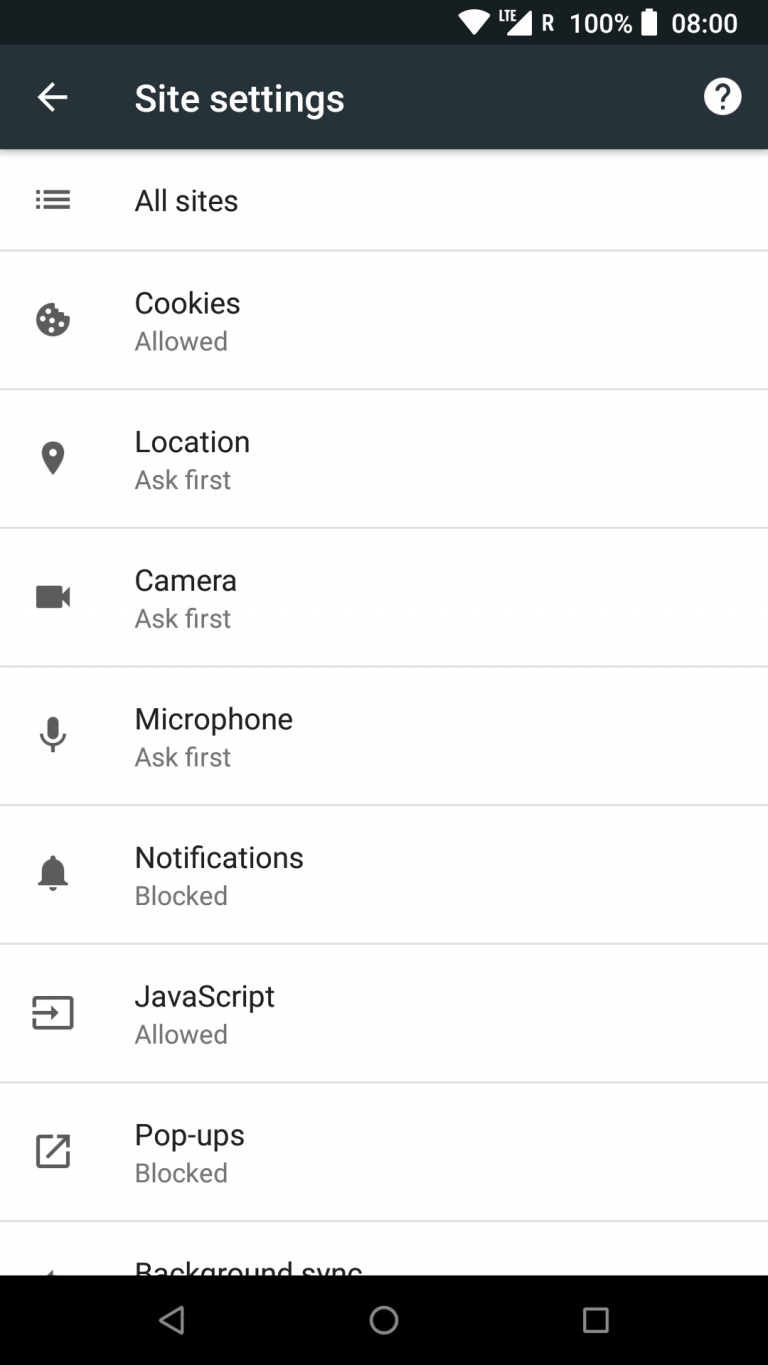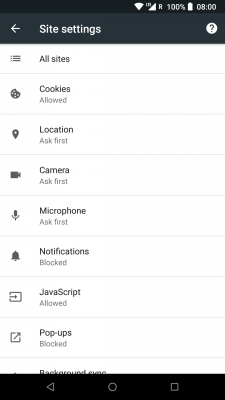 The notification feature in Chrome is quite useful. However, malware lures you into subscribing to various push notifications on different sites which will open up your device to invasive advertisements. Your device can be secured against these malicious displays and this is what to do:
Open the Chrome app on your Android device.
Go to "Settings" by clicking the main menu displayed as three vertical dots. In the drop-down menu, tap on the option labeled "Settings". Chrome's "Settings" menu should now be displayed.
Scroll down to the "Advanced" section and tap on "Site Settings".
Tap "Notifications".
Locate the malware site and click "Clean & Reset". You will be asked to confirm. Confirm the selection to continue the reset process.
To prevent a recurrence, all you have to do is switch "Notifications" to "Blocked" in the toggle from the current "Ask before allowing Chrome to send notifications".
How to Protect Your Android Device from Malware
With a little bit of awareness and a good antivirus on your phone, you can keep malware and other mobile threats at bay. It is simple to minimize the risk of encountering malware and we have easy-to-follow mobile security tips for you right here.
Download a mobile security app/antivirus to catch malware. Be careful about the apps you download and their sources. The antivirus will scan your phone for any existing malware and scan every new app you download to ensure it is safe.
Download apps from sites you trust. Check the ratings and read reviews to make sure they have a good reputation.
Watch out for things that look too good to be true like getting expensive copyrighted content for free.
Another way to protect your phone is to improve your Google account security. We have selected some of the most ignored precautions that make android phones vulnerable to malware invasion.
In addition to keep your Android phone safe from viruses:
Use unique passwords for every account: Using the same password to log in to multiple accounts like your Google Account, social media profiles and retail websites increases your security risk. It is like using the same key to lock your home, car and office – if someone gains access to one, all of them would be compromised. Creating a unique password for each account eliminates this risk and secures your accounts better.
Activate Google's "2-Step Verification" function. This helps keep out anyone who shouldn't have access to your account by requiring you to use a secondary factor on top of your username and password to log in to your account. With Google, for example, this can be a six-digit code or a prompt in your Google app to accept the login from a trusted device.
Keep apps up to date: To protect yourself from security vulnerabilities, always use up-to-date software across your web browser, operating system and document editors. Update your software as soon as you are notified. Review the apps you use regularly to make sure you have the latest version available. Some services will automatically update themselves.
Browse from a secure network. Be careful about using public or free Wi-Fi, even those requiring a password. These networks may not be encrypted and anyone in the vicinity may be able to monitor your internet activity when you connect to a public network. Even at home, protect the privacy and security of your browsing activity by encrypting your Wi-Fi network and by setting a strong password.
Avoid phishing attempts: Always validate suspicious URLs or links. Make sure the site's URL begins with "https" before submitting any information online.
Malware is a virus that is indeed quite potent in pursuing its malevolent objectives. From individuals to institutions, this virus has been deployed as a very aggressive weapon, which in some instances, especially at the institutional level, can only be compared to similar destructive devices like chemical and biological warfare weaponry. But thanks to Google's Android operating system, you are now able to preempt, engage and disengage the infiltration of this notorious virus into your Android device. You can maintain the privacy of your communications and secure your hard-earned money by taking the simple measures outlined above.