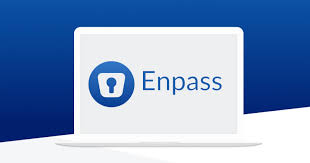 Are you thinking of using Enpass Password Manager for your devices?
Enpass Password Manager is known as one of the top password managers you can rely on to protect your devices. With it, you can quickly get unique and strong passwords for all of your accounts. It also offers additional tools to help keep your information safe.
To help you determine if it's the right password manager for you, check out below our comprehensive review of Enpass Password Manager. We have taken a look at its pros and cons as well as features and price so it will be easy for you to decide.
Table of Content
What is Enpass Password Manager?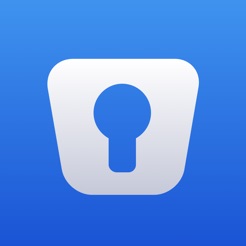 Enpass is a safe password manager that allows users to protect multiple accounts across various devices with robust, unique passwords. It is a cross-platform password manager which works on Android, Blackberry, iOS, Macs, Windows and Linux. Enpass Password Manager aims to make your login information available to you no matter where you are or what device you're using.
The password manager allows users to safeguard multiple accounts and services with strong passwords that are stored locally on an encrypted database. It enables users to access passwords with just one single master key. Users can use Enpass Password Manager for free on all desktops. It is also available as an extension for Chrome, Safari, Edge, Firefox, Opera, and Vivaldi.
What are the pros and cons of using Enpass Password Manager?
Pros:
No need to remember all the passwords – Enpass Password Manager remembers all the passwords for you, and you can access them anytime you need. It has an auto-login feature that allows you to access your account without submitting passcodes or usernames. You can also create complex passwords without any worry since the password manager will remember them for you.
Fast access – Enpass Password Manager helps you type a single password and then have each access automatically filled with a username and password. You spend little time when logging in to your accounts as you`ll not have to fill the details yourself.
Manage shared accounts – This password manager will allow you to store the password to a shared account, and then share it with other users
Easy to maintain – Once you have the app, you can create the accounts, set up the passwords, and input your information. After you are done, all you do is access the details without any worry of recovery or retrieving of data.
Cons:
It may not support all your devices and browsers – You might need to install Enpass Password Manager on many devices. However, the app may not work on all of them. The password manager may also work on only a few selected browsers.
Unexplainable crashes – The password manager may also fail to work. You could easily restart it after a while, but still, there could be bugs to be worked out. Sometimes the password manager programs get corrupted, thus crashing.
What are the features of Enpass Password Manager?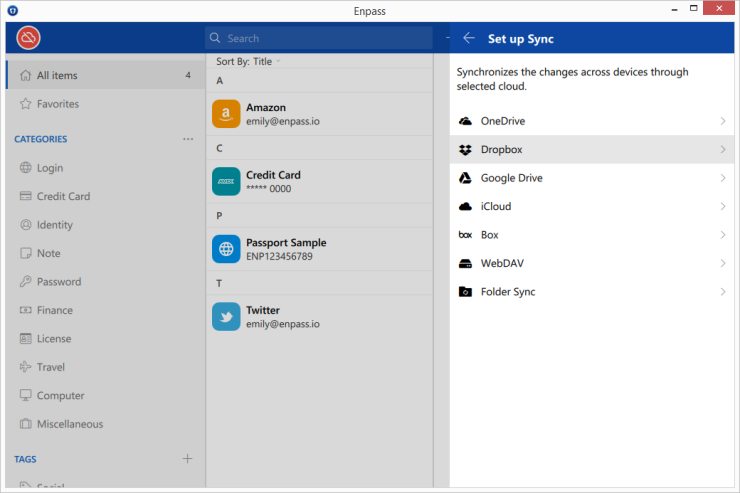 Being an offline password manager, Enpass Password Manager gives you the freedom to sync your data using any cloud account of your choice. It can either be iCloud, OneDrive, Google Drive, Dropbox, or a folder in your device. Sync aids in keeping your data safe in case of loss or theft of your device. It is worth noting that, if you decide on using iCloud to sync the passwords, you should make sure that the App is downloaded from the Mac app store.
Enpass Password Manager comes with a feature that lets you store information in vaults for different working environments. It can be family, micro-teams or work. You can also manage your data among many tags and categories.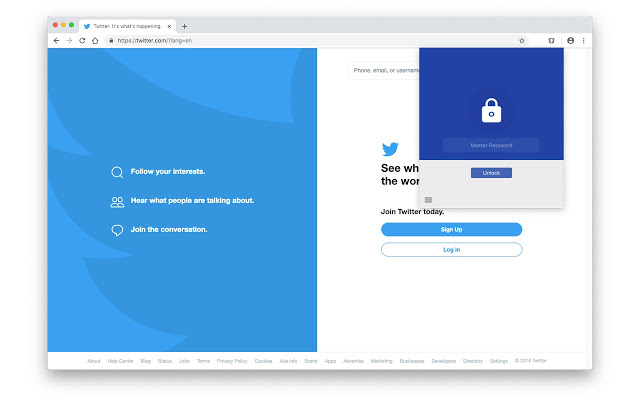 The Enpass desktop application can store and sync your login credential as well as your personal information. Enpass Password Manager browser extension supports Chrome, Safari, Firefox, and Opera. You can access the extensions without the master password because you`ll only be required to authenticate them on the main app.
Getting your passwords into a password manager saves you a lot of valuable time. Luckily, Enpass can import data from other password managers like Sticky Password, RoboForm Everywhere and LastPass. It can also import from the Chrome browser and other forms of Enpass of the password manager.
Strong Password Generator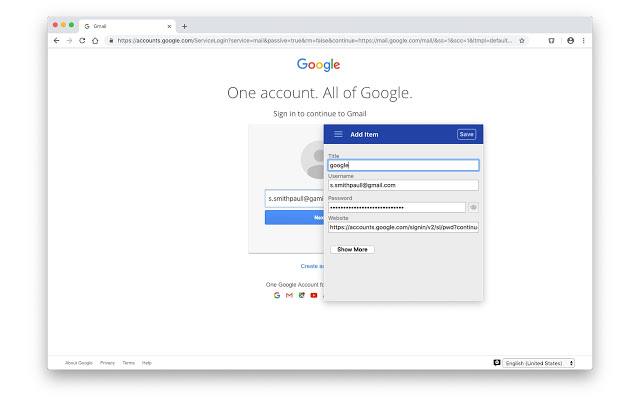 It creates strong, random and unique passwords by using a cryptographically random generator. Using the password manager, you will save the robust and complex passwords without the need to memorize them. You can also include predefined complexities to make it stronger.
You can use Enpass Password Manager to store a wide array of personal information and sync it into all your devices. Options range from contact data and general address to credit cards and other licenses. The password manager allows you to store various types of data with a unique template. They can include vehicle info, ID numbers for multiple regions, eyeglasses prescriptions and clothing sizes. However, before you enter your data, bear in mind, data is static. You cannot use it to fill the web forms as compared to other password managers. Also, there can be an option to attach images and files along with the saved items.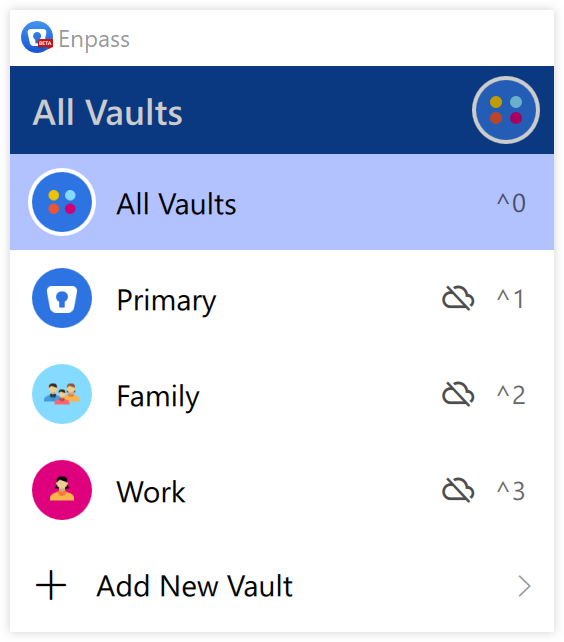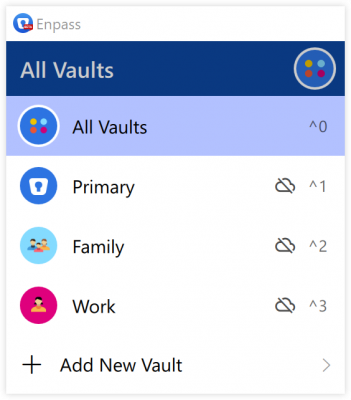 Sharing of Enpass Password Manager with another user is simple and straightforward, but you should be wary of your security. When you share data through the password manager, the program warns that the items shared aren`t encrypted, unless there is a defined pre-shared key in the advanced settings. If you want to share information with a college or family member, you should set a password and specify the user or group to receive it. Enpass allows you to limit shared fields, password, toggling of email and website. To complete the share process, you can choose to send the share through email or copy to the clipboard and share via other provided methods.  The app includes a username, a password and the website in plain text in the share that is followed by a block that you can use in another instance of Enpass.
Enpass is the perfect password manager for users who want to have all their passwords stored locally. Thus, there is no need for trusting Enpass to store your passwords on its servers. Downloading Enpass Password Manager is pretty straightforward and so is getting it to work with your browser. You must choose a unique master password that you will not forget since the program doesn't store your master password. Failure to remember the master password means you will not have access to your password vault.  If you're the password has already been used on another account, Enpass will notify you and give you the option to update the password or autogenerate a more secure password.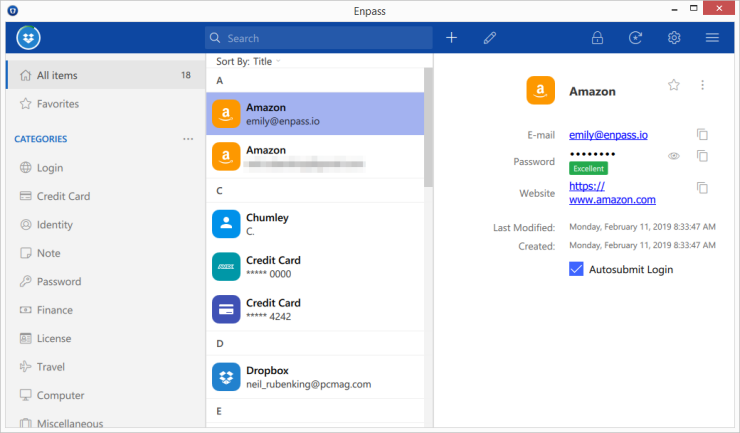 When using Enpass, you do not need to subscribe to the password management service by providing an email or any of your data. The software works entirely on the client-side without Enpass having to store or process any data. Passwords are stored locally, and never are they uploaded on program`s servers.
You should note that Enpass utilizes Google Analytics to carry out some onsite tracking. Enpass gives you the option to download the vault key, which is generated by their master password. The vault key acts as the secondary form of authentication. Like the master password, you can't recover the vault key from Enpass.
Enpass also includes an auto-lock feature. It ensures that the master password is needed each time the password manager is used. This helps ensure that if you are away from your device, you do not leave the program open.
Does Enpass Password Manager offer a free version?
Yes, Enpass has a free version you can use anytime.
How much does Enpass Password Manager cost?
If you want to access Enpass on your device, you can opt for a free or a premium plan, which goes for $1.49 per month and $11.99 per year. The premium plan is a one-time fee. The free version of Enpass gives you only 20 data entries only to store on your mobile app.
What devices does Enpass Password Manager work on?
You can install it on Android devices, iPhones, Windows computers and Macs.
Conclusion
Being denied access to an important site because you can`t remember your password can be disappointing. But with the help of a reliable password manager like Enpass, you can store all your passwords in one secure vault and save yourself the trouble of having to memorize them. This comprehensive Enpass Password Manager review provides information on its useful features and why it is a must-have for your device.
FAQs
Will Enpass work on my browser?
Enpass supports some of the well-known browsers, such as Firefox, Opera, Chrome and Safari.
Can Enpass subscription be cancelled?
Just like any other password manager subscriptions, Enpass allows you to cancel your subscription anytime you want
Will Enpass slow down my device?
Enpass does not use many system resources, so the performance of your device will not be affected.
Can I import passwords with Enpass?
Yes. Enpass allows you to import information from Chrome and other password managers like LastPass and Sticky Password.
Is Enpass convenient for every user?
Enpass will favor users who want an offline password manager and those that quickly want to monitor how secure their passwords are.