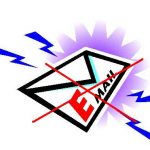 Wondering how you can hack someone`s email account?
If you are a parent, you might want to check who your children are interacting with over email. You might want also want to check your partner`s email.
However, the tricky part is actually how to hack into these email accounts. It seems like a very complex process but it's actually pretty simple. All you need are the right spying apps or software for the task.
In this article, you`ll know the different strategies you can use to hack someone`s email account easily and effortlessly. Sit tight and continue reading.
Table of Content
What are the Pros and Cons of Hacking an Email account?
Pros:
Benefits for parents – Over the years, emails have become one of the largest communications sources and youngsters still use them for many different purposes. Emails have become a platform for sharing private photos or videos among teens to their loved ones. Hacking into an email account can help parents monitor what their kids share with other people.
Benefits for employers – As an employer, you can hack into emails to seek information concerning all the information your employees send or receive. Hacking their emails can help you know the type of emails your employees send or receive with complete time stamps. This will help you protect your company`s intellectual property from disgruntled employees as well as protect your devices from online attacks.
Benefits for individuals – What would happen if you lose your email login credentials? Well, you can hack into your email account and retrieve them as well as read your emails. When you hack into your email, you can retrieve your lost password or choose to create a new one.
Cons:
Morale – Though we, humans, perform better under surveillance, it's a fact that being hacked or monitored can make us feel stressed. If this happens to employees, it can affect their productivity. Knowing that someone has hacked into their emails and is spying on them or that each of their activities is being monitored can make them feel insecure.
Privacy invasion – Hacking your kid`s or employee`s email account opens the door to serious privacy invasion issues that can be degrading as well as unlawful. Someone might feel uncomfortable knowing that their private conversation and messages are being read without their consent.
How to Hack an Email Account Using Software?
1. mSpy Email Tracker
mSpy is one of the top email hacking apps in the market. The app can help you hack into someone`s email account and monitor their conversations to ensure your kids or employees don't share personal information with strangers or predators.
With mSpy email hacking, it's simple and easy for you to preview all the information collected from email monitoring from inside your mSpy online control panel. Aside from email monitoring, the app comes loaded with useful features. Even if some emails were deleted, mSpy allows you to retrieve them for your perusal. You can also view any multimedia that was shared in the conversations, like audios, images and videos. It also allows you to record keystrokes. You can use this feature to know what information your target has been sending to others. The keystroke feature provides you with details like passwords and other login details.
Another significant feature of mSpy is website monitoring and blocking. The internet is a dangerous place, especially for kids. With this feature, parents can monitor the websites that their kid's visit. They can choose to restrict access to certain websites that are dangerous and unwholesome for their kids. You can also monitor their calls with the 'View Call Log' feature. You can tap into their phone calls and also get details of the caller, how long the call lasted and the timestamp of the call among other details.
If you`re a concerned parent and want to know more than what is contained in the email, you can opt for the GPS tracking feature. Since children are often inseparable from their mobile devices, using mSpy is one way to know your kid`s exact location. The app does several things in this regard. It records the GPS location and displays it for you on a map then it sends periodic updates after a few minutes.
Steps to Hack Email using mSpy
a. Buy and install the mSpy application.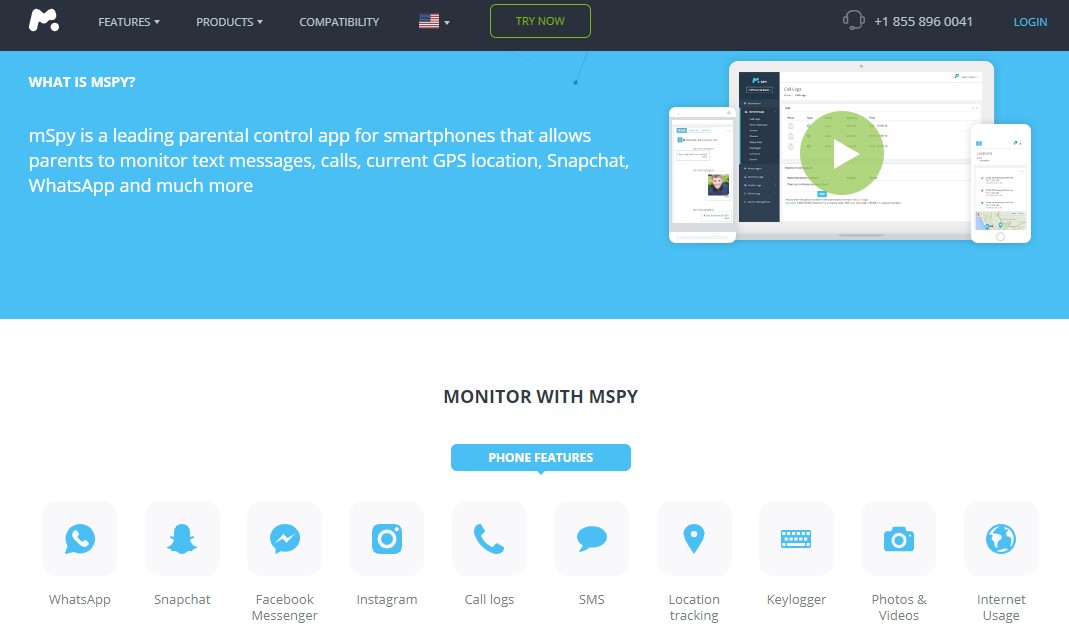 b. Enter the activation key you receive at installation.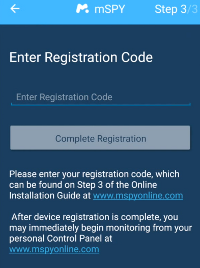 c. Log in to your online portal and activate email spying on the dashboard.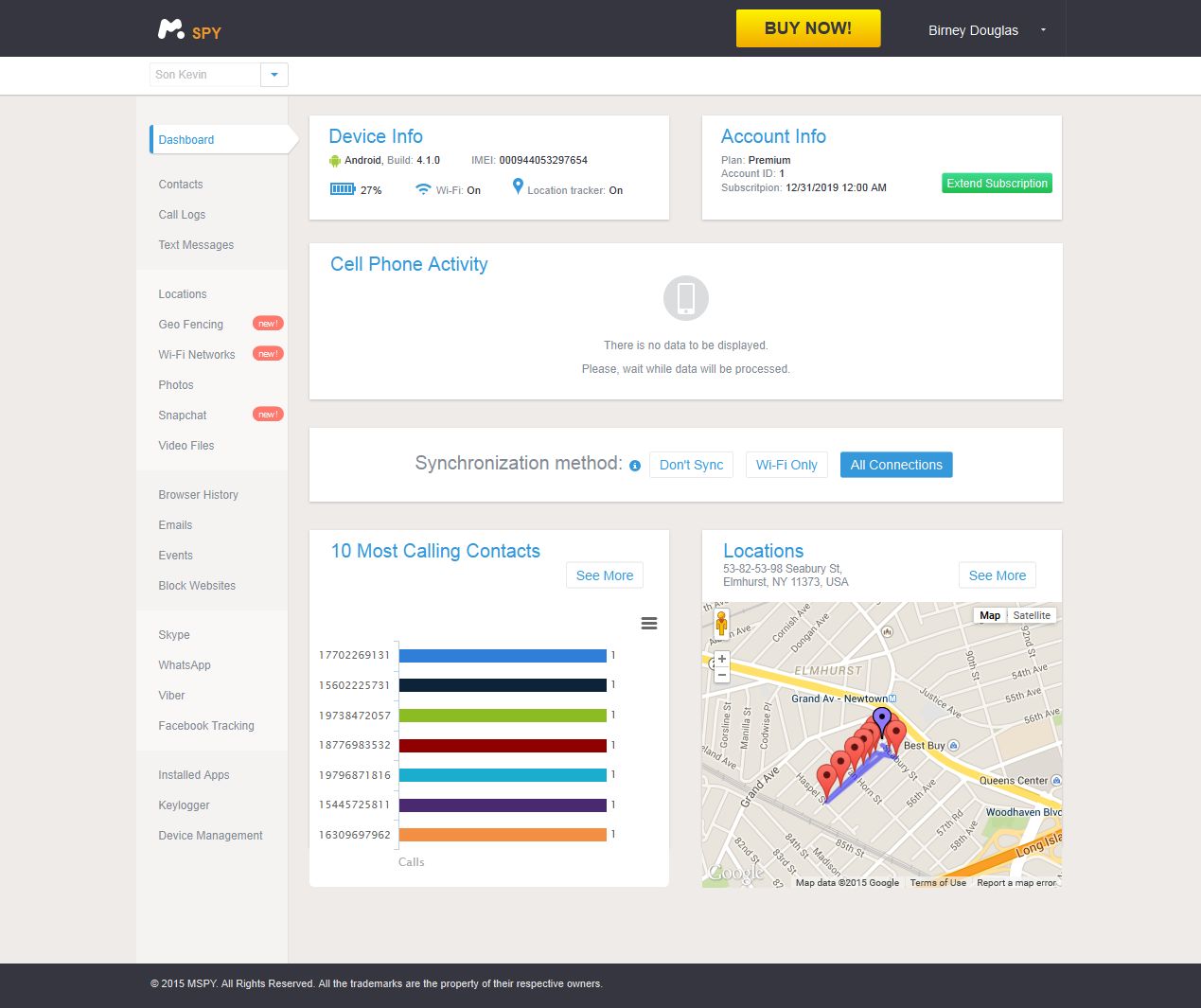 d. Click on email on the menu to download captured emails.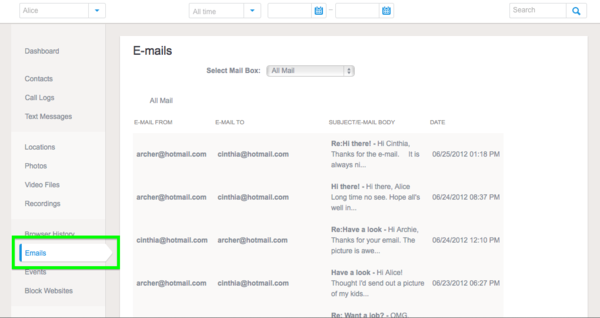 2. Spyzie Email Tracker
Spyzie is a great phone tracking solution that can be used to target smartphone emails. This parental control app is mainly developed for parents and business owners to help them track their kids' and employees' emails over the internet. Spyzie is a powerful tool you can use to hack emails on any device running on the Android OS.
It allows you to see all conversations your target has had via email and it provides you with all necessary details, including the timestamps. It also allows you to download any multimedia shared in the conversations from videos and images to audio files. Apart from email hacking, Spyzie also comes with additional features you can use to monitor a loved one. It allows you to view the call history on a target device. The call logs are arranged according to time and date and include contact names, time, phone number and duration. This actually offers interesting insights about whom and how often your target calls.
Apart from viewing information sent via email, you can also check SMSs, sent and received, and any information behind them. You can view the chat list history, the number of messages and names. The good news is that you can read the iMessage chat history if you hack an iPhone. If the messages contained multimedia files, you can view them as well or better still download them. The web browsing feature might be insightful as well. You can check which sites were visited and also bookmarked. Monitoring installed apps, viewing WhatsApp chatting, viewing pictures as well as viewing the calendars and planned events plus their location are some of the other things you can do with Spyzie. Finally, the app can help you track the location of an iOS or Android device remotely.
Steps to Hack Email using Spyzie 
a. Create a Spyzie account on the website or within the Spyzie app.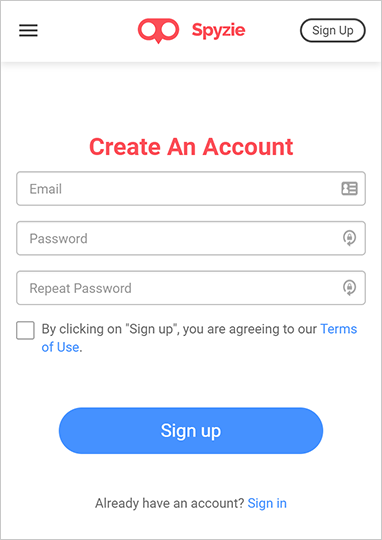 b. Fill the target device information after logging into the account.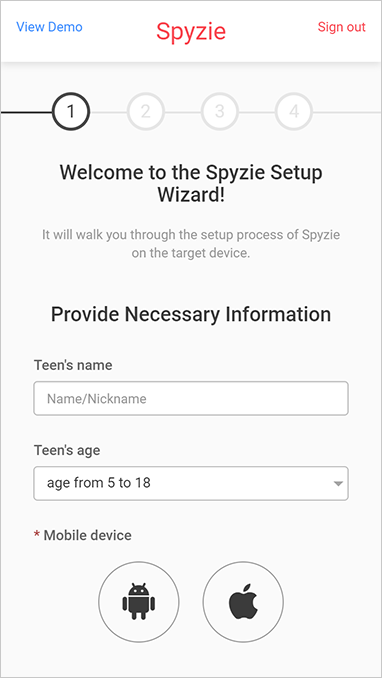 c. Once the setup process is done, click the email option on your dashboard.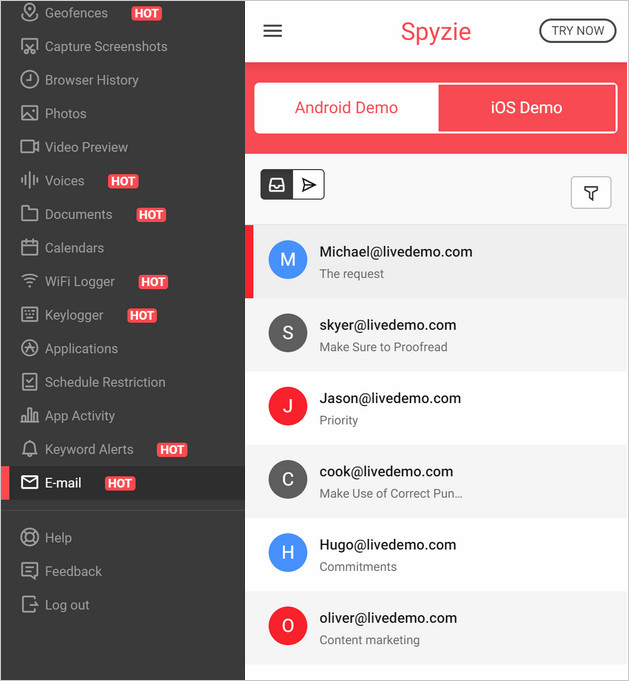 d. You can now view all contact details of the senders and recipients.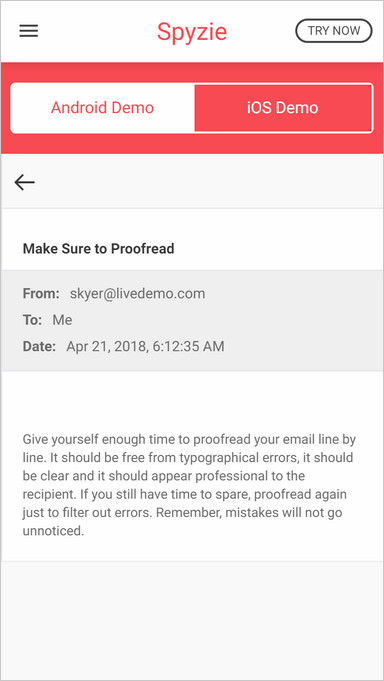 3. Spyic Email Tracker
Spyic is an excellent monitoring tool that can help you in accessing the email of anyone on any phone remotely. The application works on Android and iOS devices. With Spyic, you will not only hack an email account but also view the target`s social media app, chats, call logs, chats and much more.
Besides being a great email spy, the Spyic app can offer you so much more without having to jailbreak the target iPhone or target Android device. The app works in stealth mode so the target will never detect that you hacked their email or you're monitoring their device. This is because no app installation is required for iOS devices – just the iCloud credentials of the device and you`re good to go. For Android, however, app installation is required on the target phone. Spyic does not need you to download any application on your computer or phone in order to hack the target phone`s email. Instead, it provides a web-based interface so you can run it through your favorite browsers.
Part of the reason why hacking email with Spyic is a child`s play is its keylogger feature. This module keeps a log of all the keystrokes that are made by the target. With the help of this feature, you can see the username and password that the user fills on their browser or their email app. You can use these details later to log in to their email account later. Even if the user has two-factor authentication enabled, Spyic has a message monitor included on the dashboard. You can use it to check for the OTP sent to their phone and log in.
Other monitoring tasks you can do with Spyic include social media monitoring, message spying and GPS location tracking. The app lets you spy on Instagram, WhatsApp, Snapchat and Facebook messages. Even deleted media files will be included. You can check all incoming and outgoing messages including their timestamps. The app uses Wi-Fi and GPS data to track the location of your target in real-time. You can check where the target was at a particular time and at what time since the location was time-stamped.
Steps to Hack Email using Spyic
a. Sign up for Spyic and choose a subscription plan.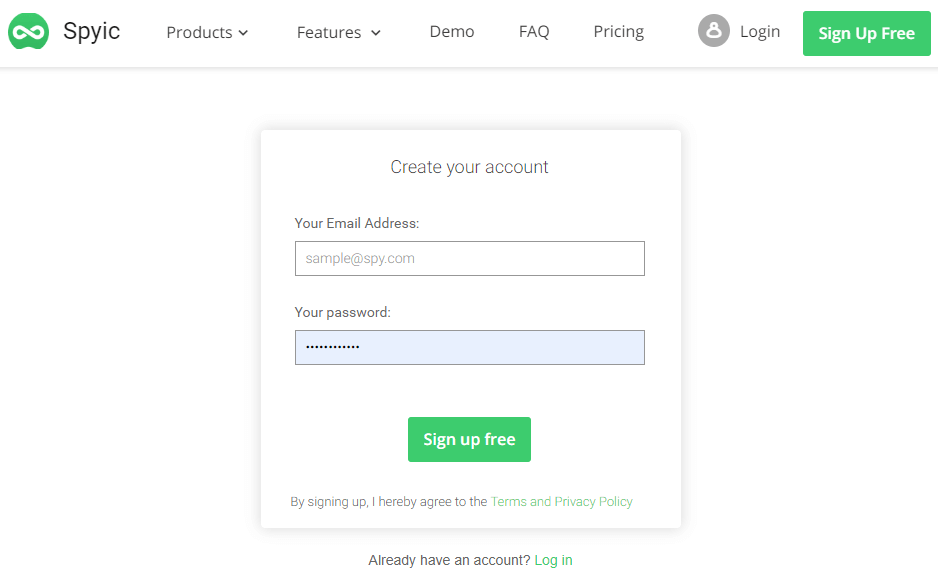 b. Follow an on-screen setup wizard which will guide you through the setup process.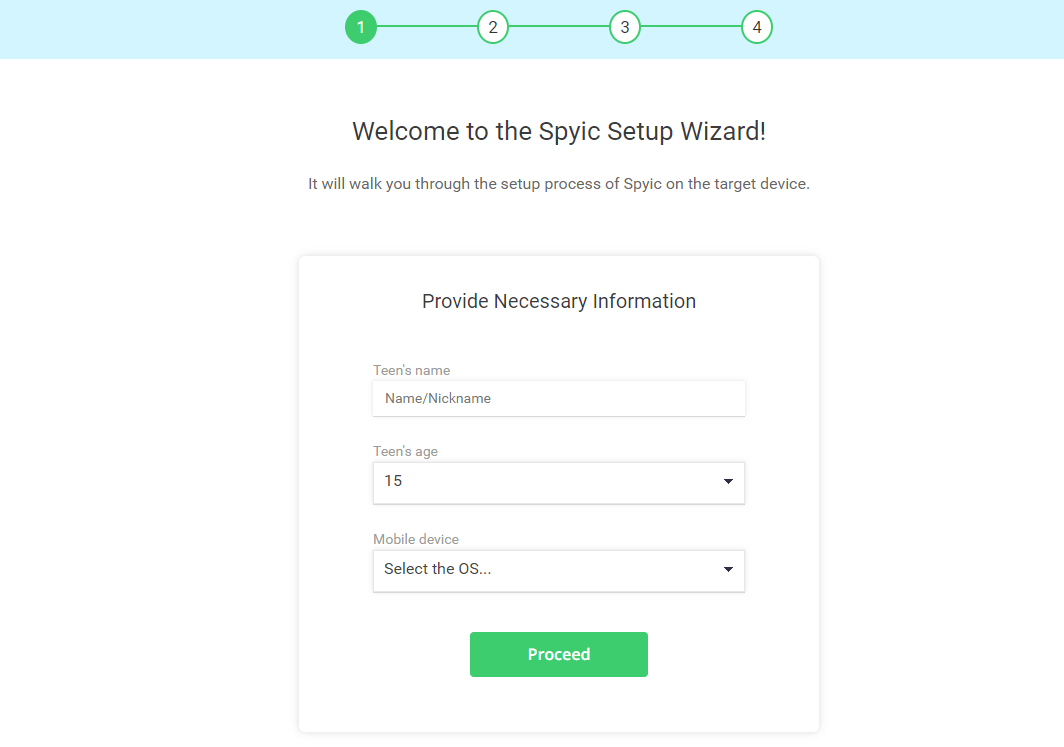 c. Fill in the iCloud credential of the device if you want to hack an iOS device.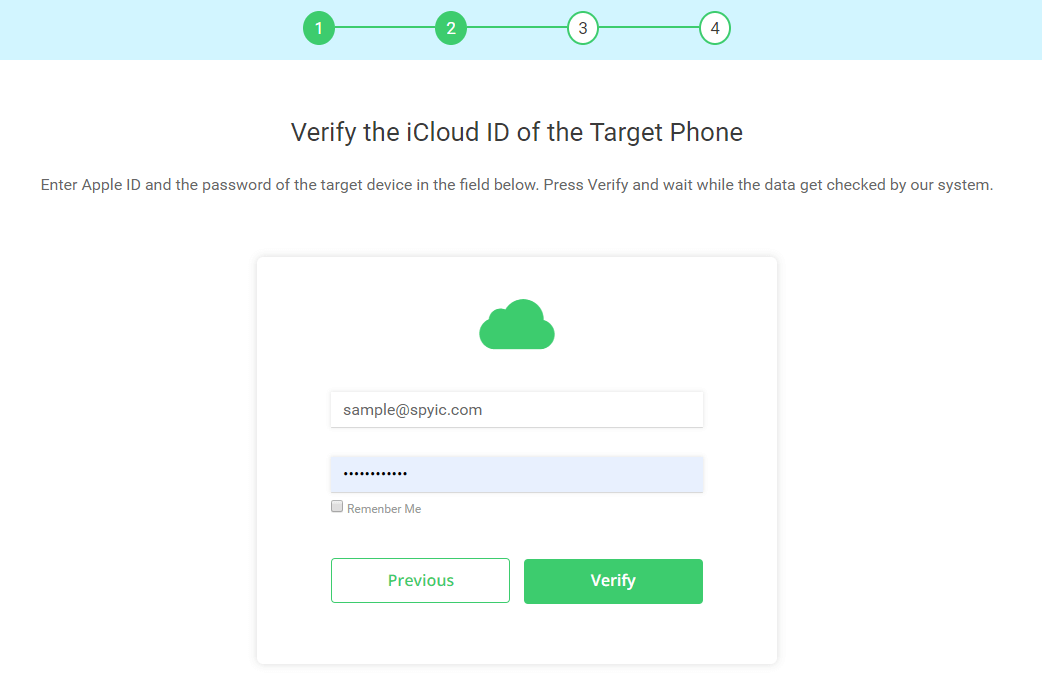 d. Allow the system to sync the data for a few minutes then click 'Start.' You`ll  then be taken to your dashboard.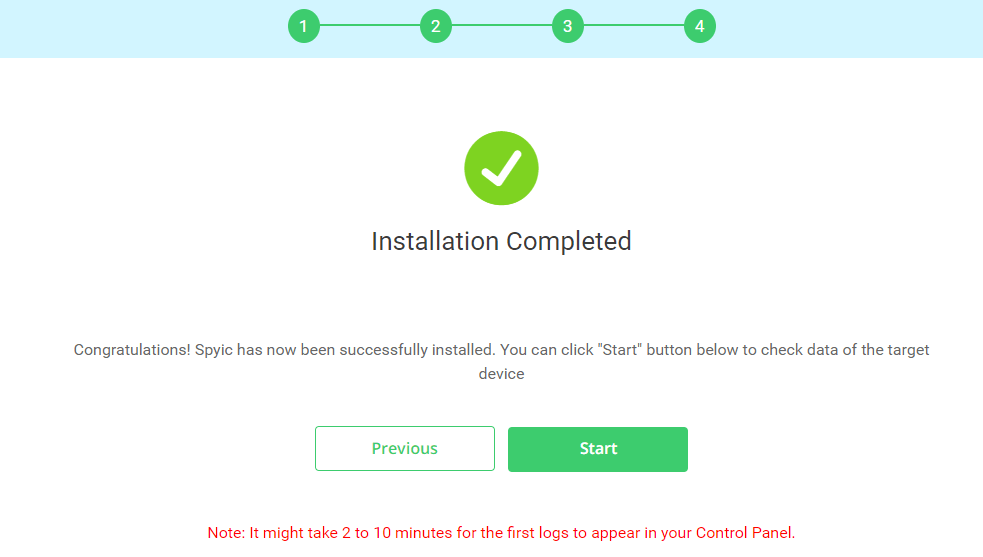 What are the Best Online Strategies to Hack an Email Account?
1. Browser Extension Email Hacker
In this method, you don't steal the owner`s password but rather access and control their device indirectly.
An individual can install various add-ons by request. You'll need to create a fake add-on and wait for your target to install it, which will give you access to their email easily. If the target is not tech-savvy, they won't suspect that the add-on is fake.
2. Phishing
Phishing is another common email hacking strategy. This strategy involves the use of a fake email login page, whose feel and look is almost identical to that of a legitimate email website.
Fake login pages are created to appear exactly as those of the leading email service providers. But once the target enters their login details on the fake page, you`ll actually be able to access them on your side. However, this technique needs some level of HTML knowledge, CSS and scripting language. It is worth noting that phishing is regarded as a serious cybercrime and a risky job to attempt.
3. Social engineering
This is a pretty straightforward strategy that does not need any special skills to hack someone`s email.
Your main goal with this technique is to find the right answer to the target`s security question that offers you the recovery option for the forgotten secret word. A majority of the people choose rather simple straightforward questions like `What is your car model?' or `What was the name of your first pet?' You may easily recognize the target pet's name or car they drive and use it to log in to their account. Social engineering also involves guessing a secret word.
Conclusion
As you`ve seen, cracking an email account can be made possible by using the apps and strategies listed above so you won't have to sweat it out.
All you should do is choose one that suits your needs and follow instructions and with no time you`ll be checking on your employee`s or kid`s email account. You`ll be much better off if you use the safe, reliable and proven strategies discussed above.
FAQs
What email service providers can I hack?
With these apps, you can hack all the leading email providers, including Gmail and Yahoo.
Can I hack an email account on an iPhone?
Yes, that is possible. There is spyware specifically designed to monitor an iPhone. Once you install such an app on an iPhone, you can monitor many activities, including spying on the email account.
Can someone know when I hack their email account?
Most email hacking apps work in stealth mode and can be run remotely. As such, the owner of the device will not notice that a certain app has been installed on their phone as it will remain undetectable.
Do I have to root a phone to hack an email?
This does not apply in all cases. It will depend on the app you use for hacking. Some apps will require you to root the target device.
Can I see any media shared via email?
These email hacking apps allow you to view any media that was sent via email, including images, videos and audio.