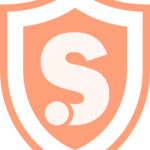 Do you want to monitor your employees or know what your children are up to? If yes, then you need SpyHuman monitoring service for Android.
With the advent of Android smartphones, everything has become convenient. Unfortunately, as we are all aware, any advancement in technology tends towards being a double-edged sword. Smartphones too have their shortcomings, posing some dangers to the users. Kids for example, easily fall victim to online abusers and cyberbullies. Companies' or any organization's sensitive information can also be transferred through employees' phones to the wrong hands, such as competitors.
With a reliable monitoring app such as SpyHuman, you can easily protect your child as well as your company from such risks.
Table of Content
What is SpyHuman?
SpyHuman is an Android monitoring service that is designed to monitor/spy target individual's phones. SpyHuman does this by collecting all the data of the target device including, GPS, social media conversations, SMS, call logs, among other information discreetly. The target person has no idea that their Android smartphones are spying on them. In a nutshell, SpyHuman allows employers and parents to monitor their employees' and children's activities respectively. The employers know the information that their employees are transferring through their devices. Parents, on the other hand, can protect their children from possible online threats such as cyberbullying.
What are the pros and cons of using SpyHuman?
Pros
User-friendly service
Relatively cheap
Easy installation process
No rooting required
Cons
Only for Android
Lacks in-depth features
What can SpyHuman offer?
SpyHuman offers a ton of service. Others are available for free, while others require a premium account. Prominent features include;
Call logs and Text messages monitoring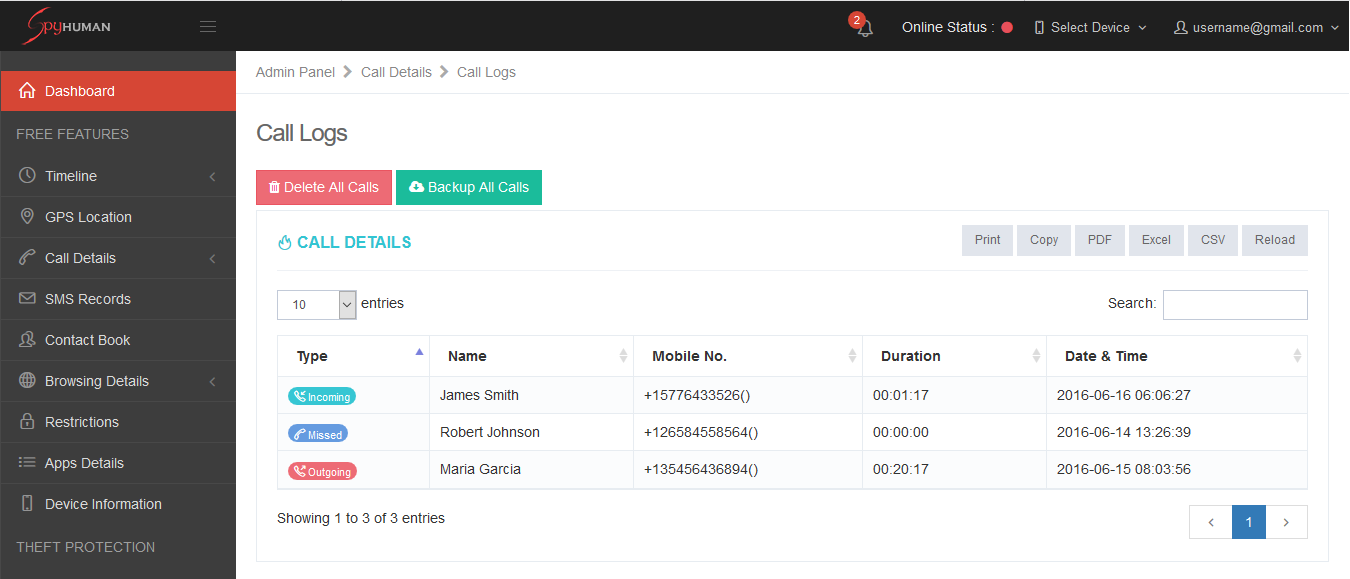 SpyHuman can assist in monitoring SMSs and call logs. In call logs, the service views all the calls including incoming, missed and outgoing calls. At the same time, you can get all the SMSs of the target device on your dashboard as the app monitors and sends this data to you. The app, therefore, allows you to know who is communicating with your kid or employee and the information they are communicating. Thus in case, they are talking to suspicious people, you can remotely block those contacts. The functionalities include:
Record calls
View time and date of calls
View call duration
Access contact information
Restrict outgoing calls and incoming calls by setting triggered contacts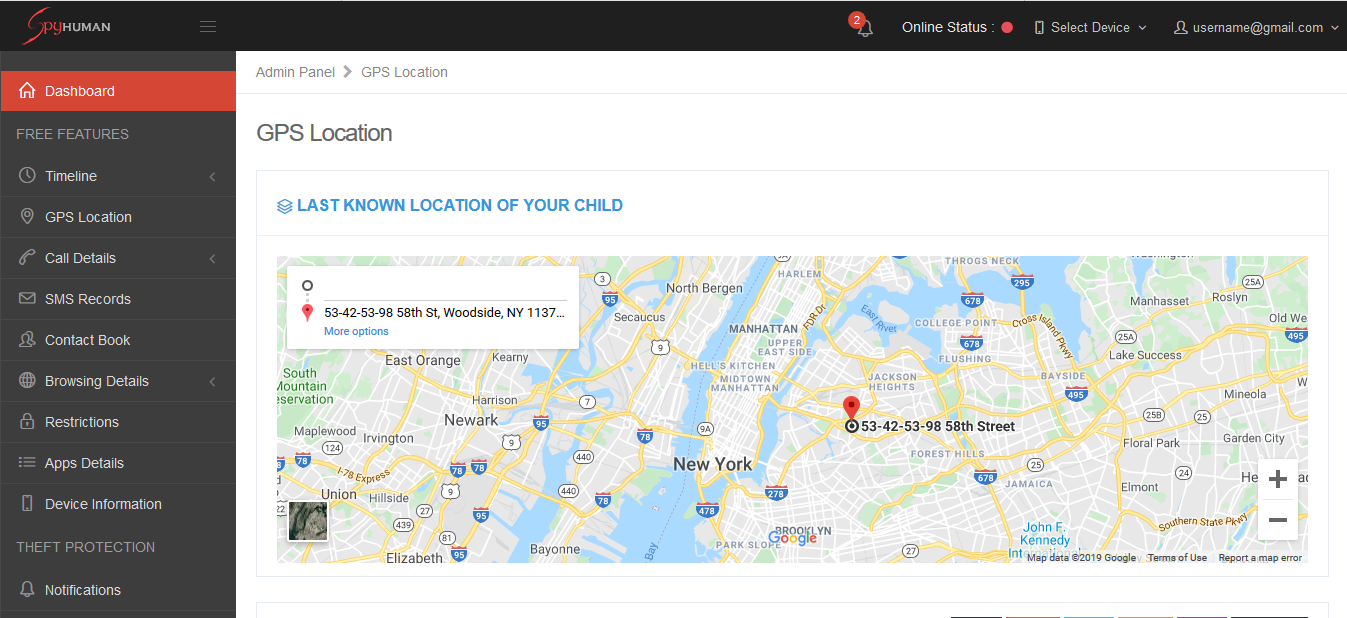 Using this feature, you can track the location of the target device when it is connected to any network. As an employer, you can quickly locate where an employee is. If for example, you manage fleet services, you will always know the driver's live location at any particular time. The same applies to parents because they can quickly locate their children and know whether they are lying or not. Therefore, SpyHuman can:
Show the latitude and longitudes of a specific location
Show the details and addresses of a location on a map
Track existing location
Record a location at a particular time together with its date and time
When installed on the target device, the app monitors the contact information and their details on the contact book. When contacts are deleted, you can still view them. A parent can quickly know the people his/her kid is communicating with. An employer can also see the people their employees are conversing with.
SpyHuman can also be used as an app tracker. How? When you install it on the target device, the app gets the list of all the installed applications on that device. On your dashboard, you can configure the app to block some applications or restrict access of specific applications. And since the internet has got a vast collection of inappropriate applications for kid's use, a parent will find SpyHuman very vital. This feature does the following:
Lists the apps that have been installed
Customizes Android application
Shows the date and time stamps an application was installed
Displays the time an app has been used daily
Installs android application
When the gallery of the target experiences any changes, the app notifies you immediately. For example, if the target receives an image on Facebook, WhatsApp or elsewhere, the service notifies you and you can monitor them.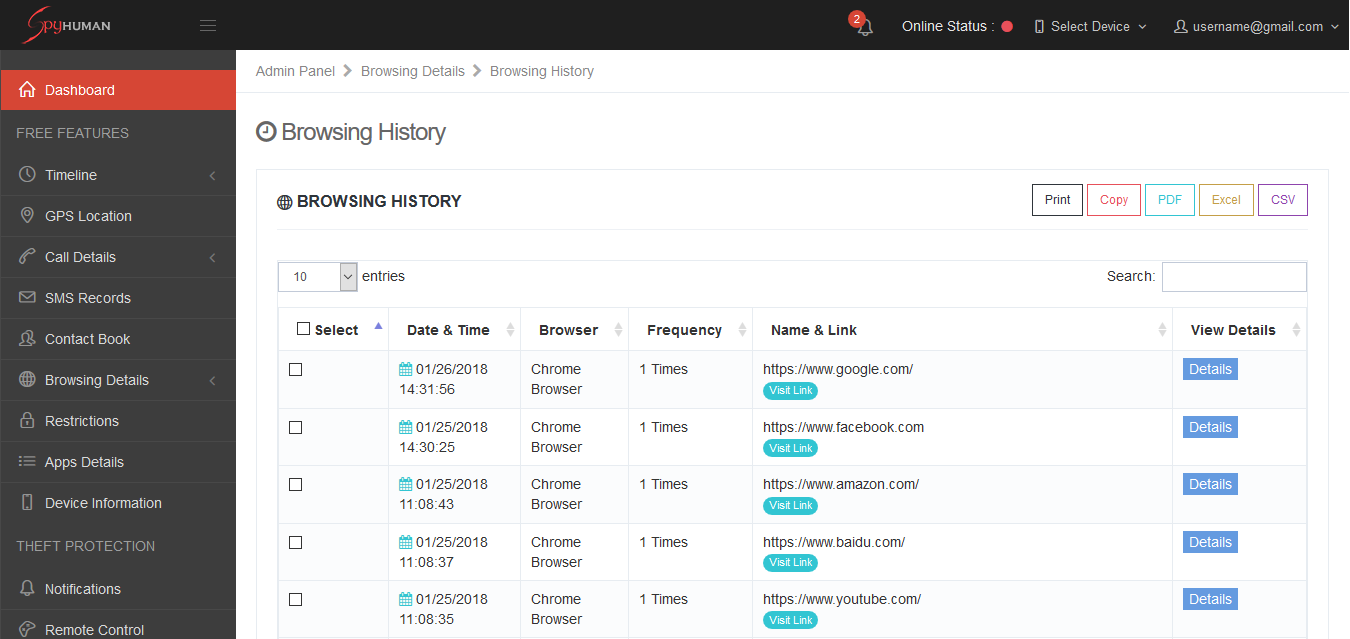 SpyHuman fetches saved bookmarks and web browsing history from the objective gadget. The feature is essential because you can spy on what your kids are searching on the web. As an employer, you can also know when and what the employees are doing with their phones during working hours. This feature:
Browses history logs
Shows the URLs of sites that the target visits
Shows the frequency of each site visit
Restricts access to specific sites
Lists the frequently visited sites
Date and time stamps for the surfing logs
Restricts access to the frequently visited sites
The service can remotely explore the files of the target device. The parent can remotely spy on their kid's files without the knowledge of the kids. An employer can also view if the employee has the data of the company on their phone. File exploration features include:
Remote file download
Show saved media files
Display saved Facebook files
Show saved WhatsApp files
Views the file manager
As we can see, SpyHuman has numerous features. This time around, the service has an anti-theft feature. This feature works by simply, detecting when a SIM card is removed or changed at any particular time. A parent always has an update of his/her kid's location at any given time. In case the kid wants to evade supervision by changing the line, the parent is notified. The employers also will know when their employees switch their SIM cards. Anti-theft feature;
Notifies when a SIM card is changes
The time and date the SIM is changed
Furthermore, SpyHuman can also record the background noises remotely. The employer is can therefore monitor what the employees are talking about. Further, parents can know what their kids talk about when alone.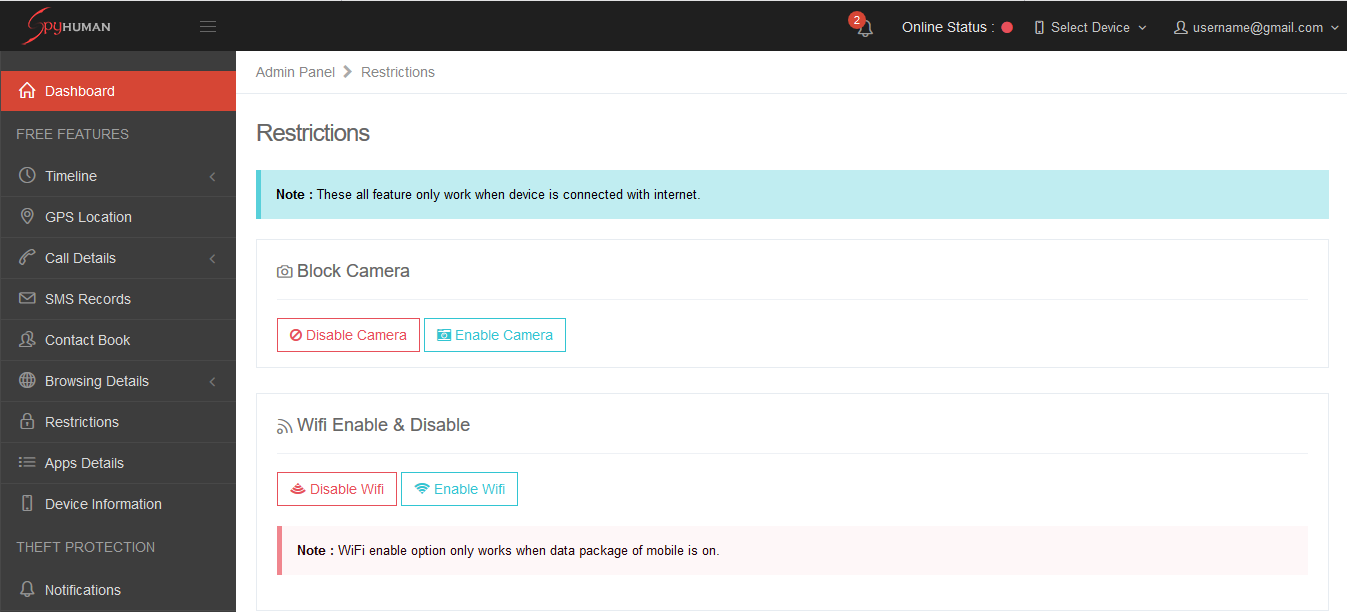 Additionally, with SpyHuman, you can restrict and control the usage of the target device. Among the things you can do include:
Block websites access
Block applications
Enable/disable Wi-Fi remotely
Block cameras access remotely.
Parents and employers can therefore restrict their kids and employees from misusing their smartphones as they can sensor the activities they are involved in at a no cost.
How to get SpyHuman
To get started with SpyHuman, you need to register for a SpyHuman account. Proceed as follows:
Create an account on SpyHuman website with a valid email address.
Follow the steps and download the app on the target phone.
Enable unknown sources on the phone's settings – this allows the installation of the downloaded app.
Install and configure the app
According to the Operating System requirements, provide the necessary permissions.
Once completed, go to the SpyHuman admin panel on the website and start monitoring.
Using SpyHuman service is an easy task. On the website account, the features are on the left side panel. If you want to access any functionality, click on it and view the available information.
For instance, if you want to monitor the browsing history of your target, click on the browsing history data icon. Immediately, the list of sites frequently visited, access frequency, time and date stamps are displayed.
There is a red or green dot that indicates whether the Mobile data is off or on.
This app has made it possible for parents and employers to monitor their kids and employees, respectively. Parents can censor the activities their kids might be doing using their phones while the employers control the information that the employees might me be giving out.
How much does SpyHuman cost?
The SpyHuman App has two pricing plans:
Trial plan – This is the free version of SpyHuman. It gives you up to seven days of trying the service. This plan comes with ads and gives you limited storage of up to seven days. Also, only one device can be monitored.
Premium Plan – This is the paid version of SpyHuman. This version is available for $9.99/month per device.
Various payment options, such as all major credit cards and even wire transfer are allowed. Similar to other monitoring applications, SpyHuman has a tricky refund policy. Users are also eligible for a full refund within 48 hours following the time of purchase.
Compatibility
SpyHuman is an Android app and is therefore compatible with android devices only. Nevertheless, it is only compatible with Android devices operating on Android version 3.0 and higher. You might need to root your phone to be able to access some of the advanced features of this app. But for the basic features – call logs, call recordings, live locations, etc. – you don't have to root your device.
What do SpyHuman customers say about the services?
With numerous 5-star reviews by different clients online, it suggests that SpyHuman is doing a commendable job in spying on employees and kids. It shows that customers are really happy and proud of the services offered to them by SpyHuman.
As a record, an app that can help you in keeping your kids and employees on track, SpyHuman is not a scam. Its customer support further guarantees you will get an outstanding experience.
Furthermore, SpyHuman has a section on its website where clients can leave direct reviews. Therefore, chances of false reviews that extort businesses and people are minimal.
How good is SpyHuman's customer support?
The customer service of SpyHuman is excellent. On their website, they have an automated response system, and they provide 24/7 Live Customer Support. Also, you can get your queries solved by their up to date FAQs. You can also find them through their helpline contacts, and they are always available. You can therefore contact them anytime that you might need them. On dropping your problem via mail queries, you only have to wait for a few hours and you get your response.
Conclusion
As a result of its powerful and outstanding features, SpyHuman is one of the best monitoring apps. But when compared to other apps, its premium plan is cheaper, making it more economical. Apparently, if you would want more complex monitoring features such as monitoring cameras and screens remotely, or if you're going to target a device such as an iPhone, then you should consider an alternative Spy app.
FAQs
Does SpyHuman work worldwide?
SpyHuman app works across all networks/service providers regardless of the geographical location. The only requirement is an internet connection so that data can transfer from the target device to your dashboard.
Where can I check data from a monitored device?
On installing SpyHuman on the target gadget, ensure that the server connection is successful. The data is automatically sent to your dashboard on your control panel. The data is displayed, and you can easily access it remotely at your convenience from any browser.
Are SpyHuman reviews genuine?
SpyHuman added a section on their website where you can leave your reviews. They did away with the review website where false reports that extorted business and people were being posted. Currently, there has been a minimal number of false reviews.
How can I detect SpyHuman is on my phone?
To tell whether SpyHuman installation was successful, on your admin panel, check for a secret code. Using this code, you can easily find out whether your device has SpyHuman installed on it or not.
How can I remove SpyHuman remotely?
Unfortunately, you cannot remove/uninstall SpyHuman remotely. But to do so, you must physically access the target device. Then on the admin panel, you will find a unique code that you dial on the device. After dialling the code, follow the on-screen instructions.