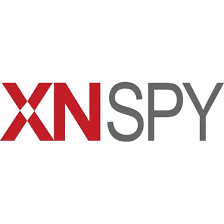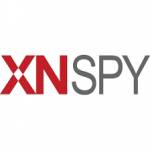 In this digital world, parents need to keep their children safe by monitoring the people they interact with. Also, employers in various organizations need to prevent employees from conducting malicious activities within the organization. In order to do this, one requires software with comprehensive monitoring capabilities such as XNSPY.
XNSPY provides room to set limits on what to monitor. Using a watchlist, XNSPY allows you to keep tabs on important things only. If XNSPY detects any activity within the watchlist, it provides instant alerts to allow you to execute appropriate actions.
Do you want to know more about XNSPY? Here's a quick review of this monitoring software and the services it offers.
Table of Content
What is XNSPY?
XNSPY is a digital mobile-based application that employs the latest technology to help parents and employers to supervise and monitor their children and employees respectively. The application runs on both Android and iOS operating systems of mobile devices and provides the precise location of the target phone. This is done by geofencing and GPS location tracking technologies. With the two technologies, you can instantly identify when the target phone user enters or leaves a given place. Hence, XNSPY provides a convenient surveillance system. XNSPY also allows the monitoring of online and offline activities within a target phone and provides a prompt alert of these activities.
What are the pros and cons of using XNSPY?
Pros:
Compatibility – XNSPY has the benefit of being compatible with both Android and iOS mobile platforms. This allows the application to run on these platforms seamlessly allowing you to monitor different targets based on different platforms. Running on different platforms, this application will gather a wide range of data and provide results in a detailed report to allow you to act precisely.
Links to social media – With the emergence of social media as a great tool in the current generation, many people use different social media platforms. For instance, Twitter, Facebook, and Instagram among are used to convey audio, video and text messages. XNSPY has the benefit of linking you to social media accounts of target phones that allow you to monitor their activities within the social media platforms. Organizations can identify if employees are misusing the organization's resources on unofficial communication of communicating with rival organizations via social media. The app also allows organizations to identify user-profiles and their latest content to evaluate their impact on the organization. On the other hand, parents will monitor their children to understand whom they communicate with on social media platforms and enable them to take necessary actions to prevent their children from malicious relationships that might compromise their safety.
Remote control – XNSPY allows you to have full control of a device despite the distance of the device. The app allows you to effectively and conveniently supervise target devices regardless of their location. This will enable organizations to remotely erase sensitive data stored in the monitored device to avoid possible leakage. As a parent, XNSPY enables you to monitor your children away from home by blocking harmful applications and monitoring messages. The app can also recording calls to enable parents to protect their children from contacting ill-intentioned individuals.
Access to music, gallery, calendar, and videos – XNSPY does not only allow surveillance of calls and texts but also provides for the surveillance of applications. For instance, calendar planner, photos, videos, and music playlist. This feature allows the monitoring of any video or image that has been added to the internal or external storage of the target device. Parents and employers can effectively supervise the to-do list of their target devices via the calendar planner to effectively act against malicious plans.
Live evidence – XNSPY allows you to capture live screenshots from the target device to act as evidence in case of issues and infractions. It allows you to monitor what is happening on the target device on a real-time basis. This enables you to collect live evidence and prompt actions against malicious activities.
Real-time recording – Providing live recording of sound within the surrounding of a target device is one of the benefits of this application.  Recording ambient sounds within the vicinity of the target device makes it convenient for parents and organizations to maintain the safety of their children and employees respectively.
Stealth mode – This application offers the benefit of being undetectable on the target device. The target phone can be physically accessed to install the application and keep the application hidden in the target phone. This stealth mode makes this application one of the best spy applications of all time.
Cons:
Poor support – Having dedicated technical support is a basic requirement for a spy application. The technical support ought to provide prompt responses to questions. However, XNSPY does not provide a prompt response that may be crucial at a given time. This frustrates the growing number of clients interested in making critical inquiries and those seeking clarifications on different issues.
Lack of homepage button – XNSPY lacks a homepage button making it tedious to move back to the homepage after visiting several pages. This is time-consuming and makes it boring to move back to the homepage.
What can XNSPY offer?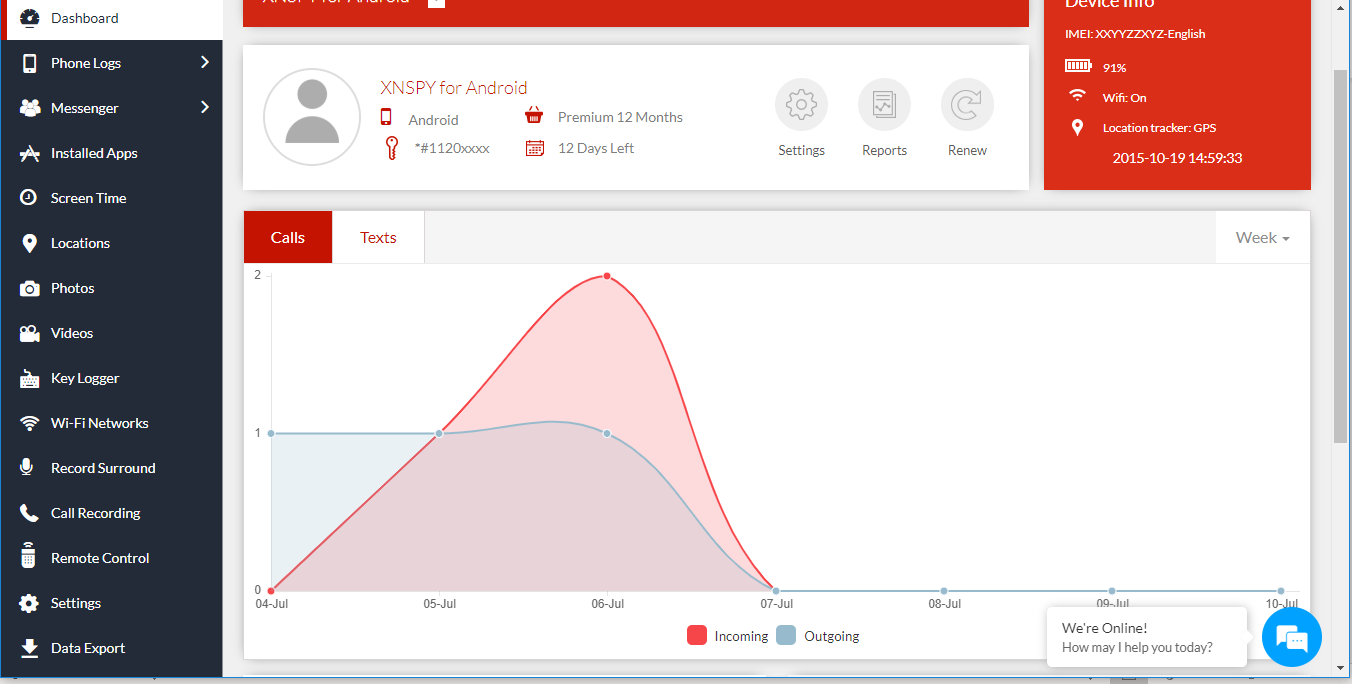 XNSPY offers a simple platform for users making it more friendly. The application's dashboard makes it easy to access the different features of the app. It is simple to identify the GPS location of the target phone, tracking phone contacts and calls, ease of recording phone calls, and monitoring SMS using different messaging platforms such as Viber, WhatsApp, and Skype. The platforms also make it easy to view, audio, photos, and video files. Additionally, the platform allows a user to send instant alerts to the target devices.
Accurate Phone call history
The application provides accurate call logs including caller's name, time and call duration. There are also options to identify caller location and prompts to record calls.
XNSPY offers users the ability to access text message logs on target devices to identify the content of the text message including the sender, date, time and an option to delete the text message.
XNSPY allows you to track emails sent and received by target devices. You can also access the contents of the email and make an informed judgment in regards to the emails. This will help in curbing malicious actions over the email.
Watchlist contacts and present contacts
This application enables you to select some contacts on the target phone to be monitored. This will provide information on these contacts if they are contacted or make contact with the target device. The application also provides a list of the current contacts list within the monitored device.
Internet History and bookmarks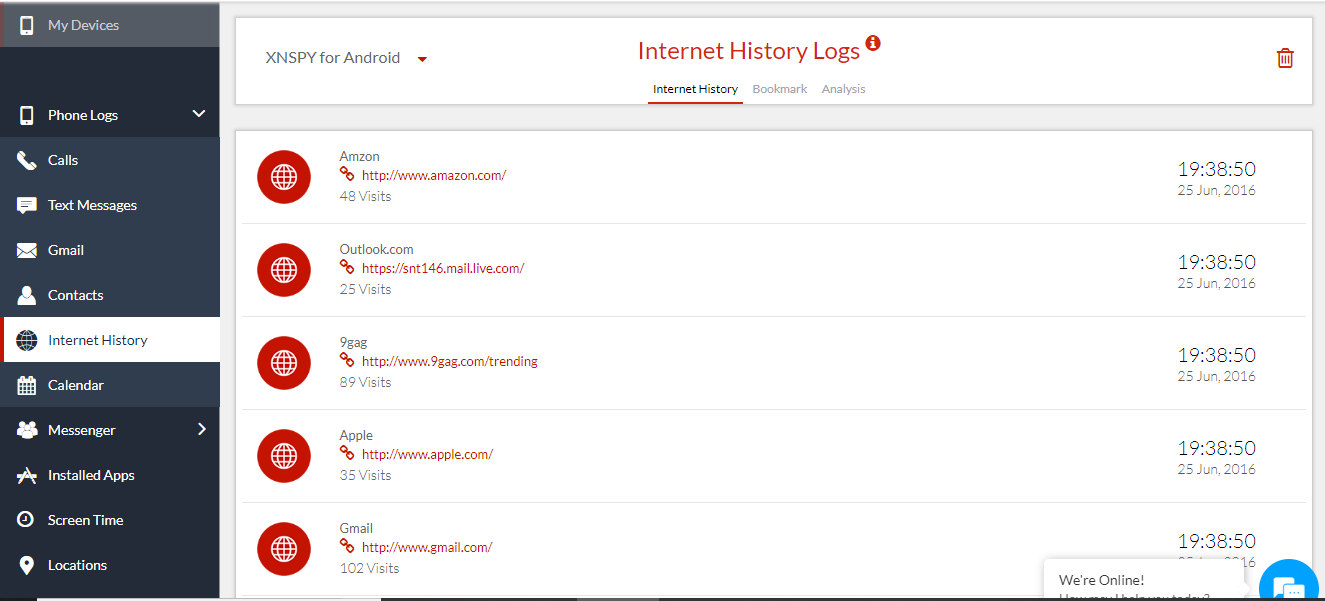 XNSPY provides a detailed list of websites accessed by the target device. This includes a list of bookmarks and an analysis of internet history. The analysis indicates the number of times the given websites have been accessed by the monitored device.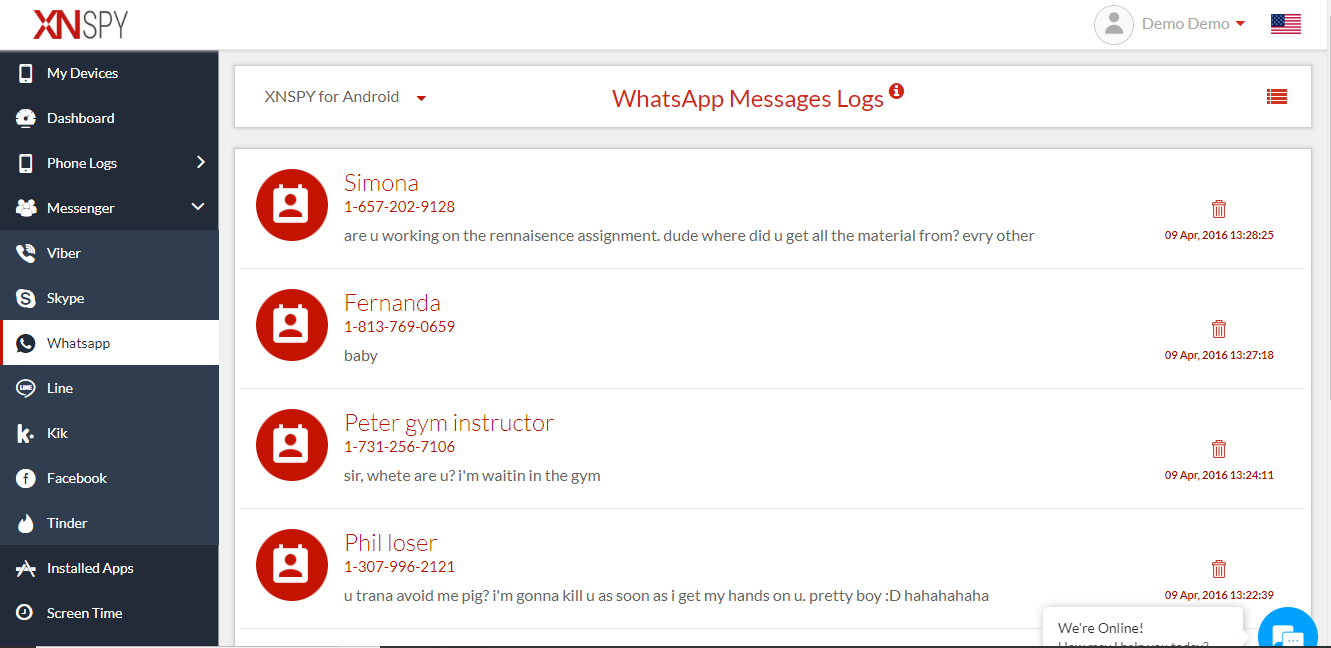 XNSPY allows you to monitor messenger applications mainly social media applications such as WhatsApp, Line, Kik, Tinder, and Facebook. This feature provides you with message contents from different social media platforms on supervised devices. You can use the content to uncover activities within the messenger applications.
List of installed applications.
XNSPY allows you to view the current applications on the target phone. This presents an opportunity to block harmful applications and unblock appropriate applications. Hence, you get better control of the target phone and prevent rogue activities using applications that might result in substantive damage. A great tool for organizations and parents monitoring employers and children respectively.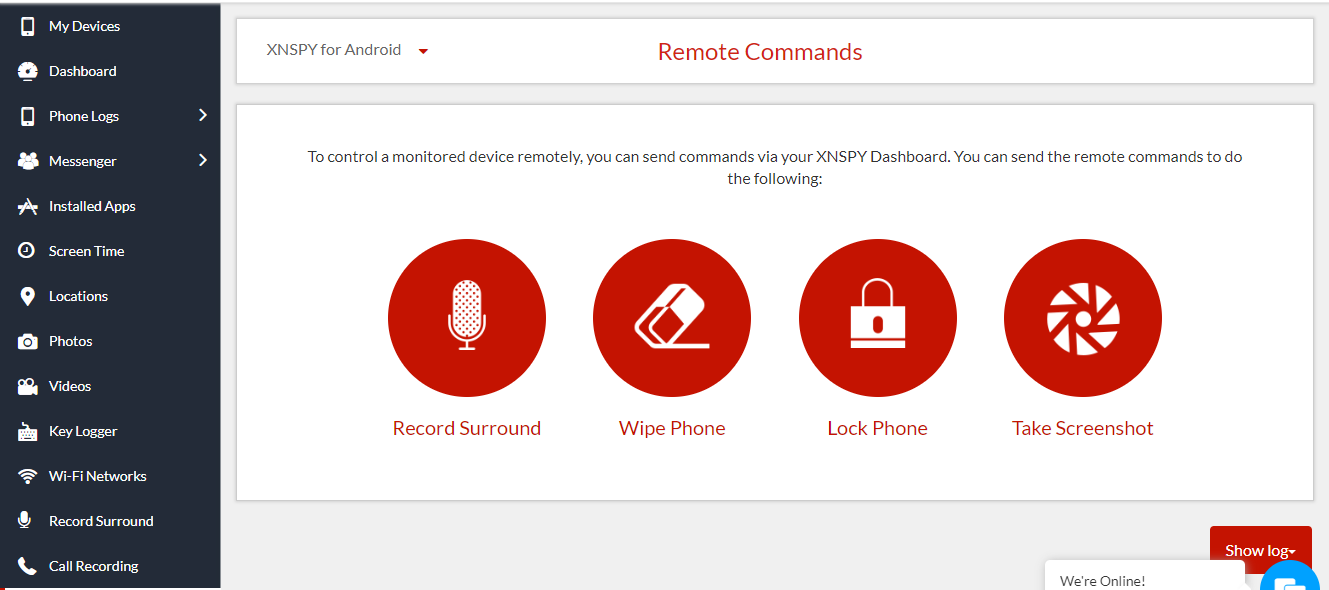 XNSPY has remote commands that enable you to remotely access the target phone to record sounds within the surrounding of the target device, enables you to format the device to prevent leakage of sensitive data, Locking a target phone when necessary and taking remote screenshots on the target phone's screen and surrounding.
XNSPY provides summarized reports of activities within the target phone such as phone calls and text messages. This is done by are automatically generating graphs on recorded activities on a weekly, monthly basis. This indicates the frequency of supervised activities within the target phone. The report enables you to make proper analysis and evaluation of such activities for the most appropriate action to be taken.
How much does XNSPY cost?
XNSPY is available under two major editions. These plans include the XNSPY basic edition and the XNSPY premium edition. Each of these editions is provided under a three plan suitable to users. The XNSPY subscription tires include; a monthly, quarterly, and yearly plan.
The XNSPY Basic Edition has limited features. It goes for $29.99 every month, $13.99 per month every quarter, and $4.99 per month every year. This makes it cheaper to acquire this application on an annual basis as opposed to both a monthly and quarterly basis.
On the other hand, the XNSPY Premium Edition has more features. It goes for $35.99 per month, $19.99 per month quarterly, and $7.49 per month on an annual basis. Currently, there's a 40% discount for the 2019 Christmas sales.
What do XNSPY customers say about its services?
Based on 184 reviews from customers, the application has 70 5 star reviews. It appears that XNSPY is fairly doing a good job of providing surveillance services to parents and organizations. Most of the customers using this application have a positive view of the product compared to other spy apps. Despite the limited number of customer complains, the application is gaining popularity around the world among parents and small and medium enterprises. The application has a high potential for growth soon based on the quality of service offered. XNSPY provides room for direct reviews from customers to ensure that the product review is legitimate.
How good is XNSPY's customer support?
XNSPY's technical support team for customers is making improvements despite previous complains by customers on delayed feedback to pressing issues. The support team is currently working hard to address customer complaints and other issues more instantly than before. Having a reliable customer support team for XNSPY will improve the efficiency of the application and increase customer satisfaction.
Conclusion
XNSPY is among the best monitoring software compared to other similar applications. This because of the technology used in developing it and the excellent features it has. The application provides organizations and parents with an effective monitoring tool. When comparing it to other related applications, XNSPY is relatively expensive. This is because the service focuses on the quality of the application for better monitoring of employees and children.
FAQs
What is XNSPY?
XNSPY is currently the most trusted, and advanced phone spy program. It discretely records all the data from the target device, and uploads it a secure online account.
How does XNSPY work?
Getting started with XNSPY is quite simple. Install the spy app on the target phone, and then you can remotely monitor what your kids or employees are up to.
Is XNSPY Software invisible?
YES – XNPSY is 100% invisible. The spy app stays hidden on the target device that it's installed in. This implies that it'll not display in the installed apps.
What devices are compatible with XNSPY?
XNSPY is very compatible on both iPhones, iPads and Android phones and tablets. You can also check the complete list of supported platforms and devices here.
Do I need to jailbreak/root the target device?
XNSPY comes in both jailbreak/root version for supported devices, and the ones that aren't as well. This means that devices that are not jail-broken rooted don't require much. For instance iPhones without jailbreak only require you to have an iCloud account.