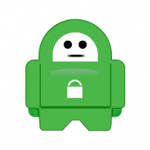 Private Internet Access (PIA) is a big name in the VPN industry. New owners – Kape Technologies recently acquired PIA. But how does this affect their legal jurisdiction? The VPN is still operating from Orlando, United States, where it's registered. Undoubtedly, despite their base of operation, PIA retains an incredible reputation in terms of privacy and runs over two million premium users. Overly, PIA is a feature-packed VPN that also gives its users the option to customize their features and connection protocols. In particular, this VPN is renowned for its fast speeds, and its military-grade security standards.
Table of Content
Quick Stats
| | |
| --- | --- |
| Money-back guarantee | 7 days |
| Allowed concurrent connections | 10 devices |
| Supported streaming services | Few services |
| No logs policy | No |
| Security protocols | OpenVPN, PPTP, IPSec/L2TP, SOCKS5 (Proxy) |
| Encryption | AES 256-bit, AES128-bit |
| Special features | Kill switch, DNS &IPv6 leak protection, Perfect Forward Secrecy, SOCKS5 Proxy, MACE Ad-blocker |
| Customer support | Ticketing, Emailing |
| Server locations | 29+ countries |
| Number of servers | 3266+ servers |
| Server Switches | Unlimited |
| Supported devices & platforms | Windows, Linux, Mac, iOS, Android, Routers, Android TVs |
| VPN legal jurisdiction | United States |
Pros and Cons of PIA VPN
Pros
No-logs policy
Fairly priced
MACE Ad-blocker
Kill Switch
Unlimited server switching
10 concurrent connections
7-day money-back guarantee
Cons
Doesn't work with Netflix, iPlayer, and more
Lacks live chat support
We have been testing with PIA for weeks now, and in this review, we promise to detail our factual findings of their service. Bear in mind that PIA promises a "peace of mind" whenever you're using their service, and their plan prices are very fair. Please stick with us to learn more about Private Internet Access.
Pricing and Payment methods

For a long time, PIA has been one of the cheapest VPNs, but they recently reviewed their plans. Currently, they give three paid plans that offer the same service features but differ in the billing cycles.
Besides, PIA allows you to secure up to 10 devices simultaneously under a single account. This is quite generous to enable you to secure all your home devices. Consequently, PIA also offers you unlimited server switches, as well as bandwidth usage for all plans.
We looked into three plans, in detail:
The Monthly Plan goes for $9.95 every month.
The 6-Month Plan: costs $5.99 per month, which translates to $35.95 billed every 6 months, includes a 40% discount.
The Annual Plan: costs $3.33 a month; billed $39.95 every 12 months. PIA values this plan as their best package, and it's the most recommendable – thanks to its 67% save the value.
Payment Methods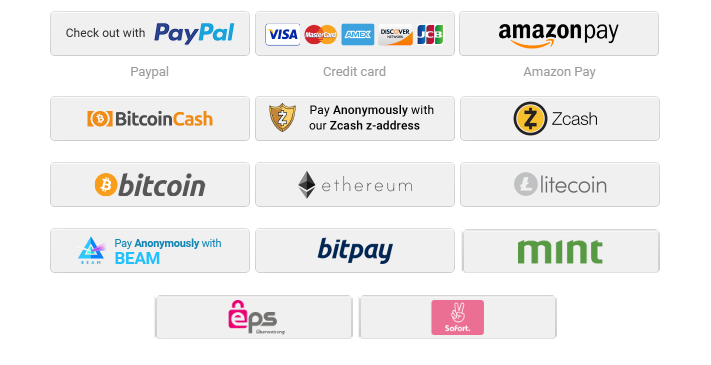 Private Internet Access (PIA) accepts a wide array of payment options, including all major credit cards, PayPal, AmazonPay, Z-Cash, Mint, MOBIAMO, BitcoinCash, and Bitcoin as well. We were delighted to see that PIA provides several options that will allow you to pay anonymously – thereby keeping your privacy stable.
7-Day Money-Back Guarantee
Every plan you purchase, PIA covers you with a 7-day money-back guarantee, hassle-free. This means that there are no tricky clauses involved that can compromise you. Although, most users would find the 7 days refund policy to be limiting, considering other top VPNs offer up to 30 days in their money-back guarantee. Nonetheless, 7 days is quite sufficient to allow you to try their service.
Servers

PIA boasts an extensive server network of over 3266 servers in 29+ countries around the world. This is quite impressive if you're to compare PIA to other top VPNs – but they came short in their server distribution. This can be attributed to its servers in 'just' 29 countries – a clear indication that they're limiting the server concentration to major VPN locations. For instance, PIA has allocated up to 1530 servers in 14 different locations in the US. There are also 188 servers in 3 different locations, followed closely by Canada, which has 216 servers in 3 locations, and Australia 142+ servers in 3 locations as well. The rest of the world, which includes 27 countries, has a limited server distribution of a single location in each of the 27 countries, except for Germany – which offers 2 server locations.
Therefore, we'd love to see PIA offer a well-distributed system of server locations to avoid congestions in most regions. Besides, during our PIA review, we discovered that different servers have varied bandwidths. While you can run a test to check the speeds, we can guarantee that the bandwidth is quite sufficient to perform all your needs.
Features
MACE Ad Blocker & Firewall
PIA offers a unique feature called MACE. This is a tool designed to help protect your privacy and security by returning IP addresses of unwanted domain names as an address, which is non-routable on the public WiFi. MACE also blocks ads and stops trackers from tracking your online activity. MACE does this by running their DNS requests against PIA's database of blacklisted DNS.
There's also a Firewall that runs alongside MACE, and it operates on the server level. This means that you won't have the trouble of setting it up, connect to any server, and you'll be protected. We were pleased to learn that this firewall has filtering and protection abilities derived from the Netfilter project. It can block any unverified incoming traffic, keeping your identity anonymous.
Private DNS Server
PIA offers private DNS servers to protect your internet traffic against cybercriminals who might spoof on your DNS cache. This is because the private DNS servers will block any DNS data from leaking, making it hard to intercept your traffic and send it to third-party sites that collect your information. Since hackers can no longer intercept DNS requests from your online activity, your traffic will be safe.
Kill Switch
A kill switch is an essential feature that blocks both the incoming and outgoing internet traffic whenever your VPN connection drops. Since PIA is offering an automatic kill switch feature, means you can access sensitive content such as torrent sites without having to look over your shoulder. The feature also allows you to leave your machine unattended and still not risk getting exposed.
SOCKS5 Proxy
PIA also offers a technology called SOCKS5 proxy, which redirects your internet packets securely through a proxy server. SOCKS5 proxy can secure the path that the VPN uses when connecting you to their servers, thanks to a Secure Socket Layer (SSL).
IPv6 and DNS Leak Protection
Most sites usually have IPv6 implants that give away visitors' IPv6 data. PIA equips its consumers with leak protection features against such embeds.
The VPN also provides you with DNS leak protection, which prevents your machine from remitting your DNS information back to the ISP, and instead sends your PIA DNS. This is necessary because, if your actual DNS data goes back to the ISP, then your online activity will be exposed.
Privacy and Security
Privacy
PIA has legal jurisdiction in the US, where it is registered – the worst base of operation for a service provider fighting for cybersecurity and online privacy of its consumers. The US pays homage to some of the world's known intelligence agencies – such as NSA, FBI, CIA, and many more – that always invade the privacy and online freedom of its citizens, among other cyber-crimes. The US authorities also have to dictate laws that make it hard for various ISPs and other service providers to honor user privacy. In many instances, we've seen multiple VPNs receive gagging orders to share user information attributed to state investigations.
However, we're delighted to learn that PIA has somehow found ways to overcome these obligatory data retention laws, despite being located in Orlando. Thankfully, this means that the VPN doesn't store user information nor keep their activity logs – a complete zero logs policy. This is mainly an excellent policy because even if an intelligence agency were to demand information about subscribers, PIA can't give any incriminating data about them.
This type of instance has already happened in the past. A report published by the FBI claimed that PIA couldn't provide the required information of a user who was under investigation. This is enough proof that you can trust PIA to observe a strict no-logs policy at any time.
PIA states in their privacy policy:
PIA doesn't keep any logs, of any kind, period. While this does make things harder in some cases, specifically dealing with outbound mail, advanced techniques to handle abuse issues, and things of that nature, this provides a high level of security and privacy to all of our users. Logs are never written to the hard-drives of any of our machines and are specifically written to the null device, which acts if the data never existed.
The email address and other payment details are the minimum information that PIA can request from you. This means that whatever you do online while connected to PIA, can't precisely be linked back to you. However, if you're more cautious about your privacy, you can opt to use Bitcoin as your payment option, and no one will be able to trace your payment information. Confidentiality is one of the selling points for PIA.
Security
PIA also holds your security in high regard. The VPN uses best-in-class AES-256 cipher encryption that's coupled with HMAC SHA-256 data authentication, as well as HMAC SHA-356 control authentication key. PIA has also gone miles to offer the trendy handshake technology; RSA-4096 bit key. They also implement Perfect Forward Secrecy using the Diffie-Hellman Key Exchange (DHE).
According to our expert review, we consider this to be military-grade security. This means that you can trust PIA to give you the best security protection while using their service. Moreover, PIA also allows you to customize your encryption levels through the client apps – depending on the task you want to achieve.
Unfortunately, PIA doesn't give you the option of selecting a particular protocol. Their client apps use OpenVPN by default. However, you can also opt for L2TP/IPSec using a manual configuration.
Performance
PIA offers a reliable VPN, and we didn't experience any connection problems while testing their service. Notably, their automatic kill switch feature worked excellently as well, compared to some of its VPN competitors. The function immediately disconnects you from the internet whenever your VPN connection drops.
Speed Test
To find out the strength of their speeds, we carried out several speed tests while connected to various VPN servers around the world.
The first speed test is a benchmark result:


This is the baseline result we go after we tested our internet speeds without a VPN connection.
Second speed test after connecting to a nearby server location:

Finally, we collected after we connected to a PIA server far away from us:

As you can see, the speed test result confirms that PIA offers decent connection speeds, despite the significant drop with distant server locations. Although we conducted our speed tests while using AES-256 bit encryption, you can opt for AES-126 bit to experience better results.
Ease of Use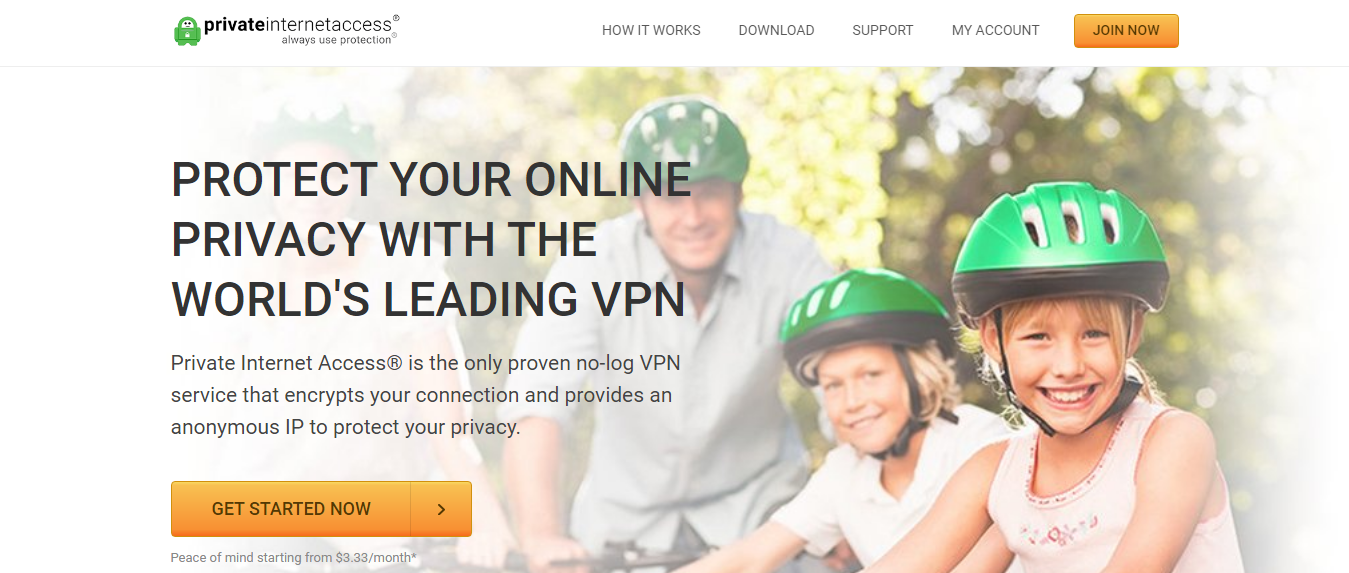 The PIA website is pretty impressive. The site is quite organized, and information about their service can easily be found. This is even though PIA doesn't issue explanations to all features on their website. If you're a first-time PIA user, you can click How It Works to find out more details about the VPN's workability.
If you scroll down to the footer of the site, you'll find useful links that offer users extra information about various features and tools PIA offers.
Getting Started with PIA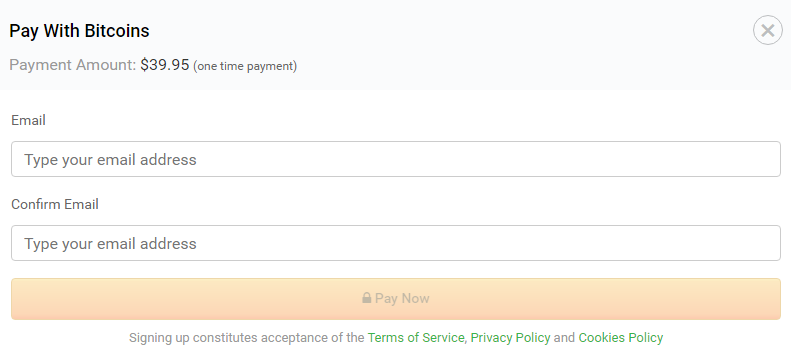 To sign up with PIA, click the Join Now button found on the top menu of the website. This button link will redirect you to the subscription window where you can select your preferred PIA plan.
PIA Client Apps
PIA offers a wide range of dedicated client apps on various platforms, including Windows, macOS, iOS, Android, Linux, Windows Phone, and on the chrome browser. We were impressed with the fact that you can now choose the background theme of all PIA apps – either dark or white background themes.
Desktop Client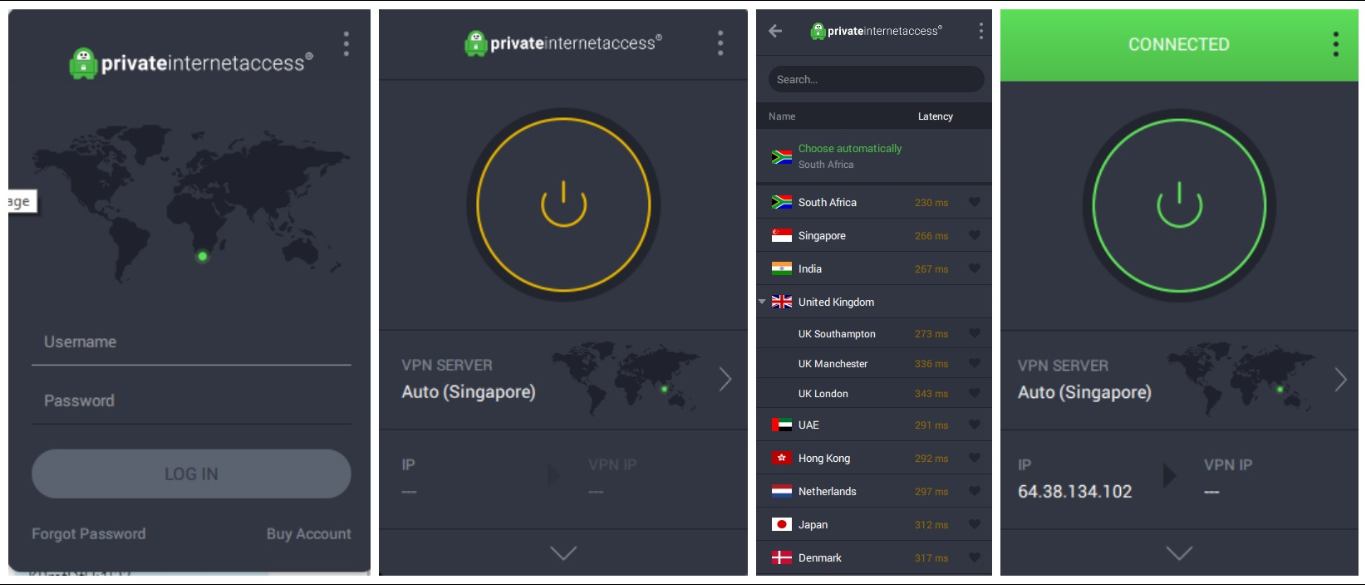 Looking back, the old PIA desktop clients were not the most stylish apps you'd come across. However, developers have been working on significant updates, and the recent overhaul of all PIA apps means that the new desktop app has a quite impressive makeover.
When you open the desktop app, you're met with a login window, and after that, a connection page. The app allows you to connect automatically to the best available server near you. However, you have the option to select a server location of your liking; by clicking on the server, location displayed.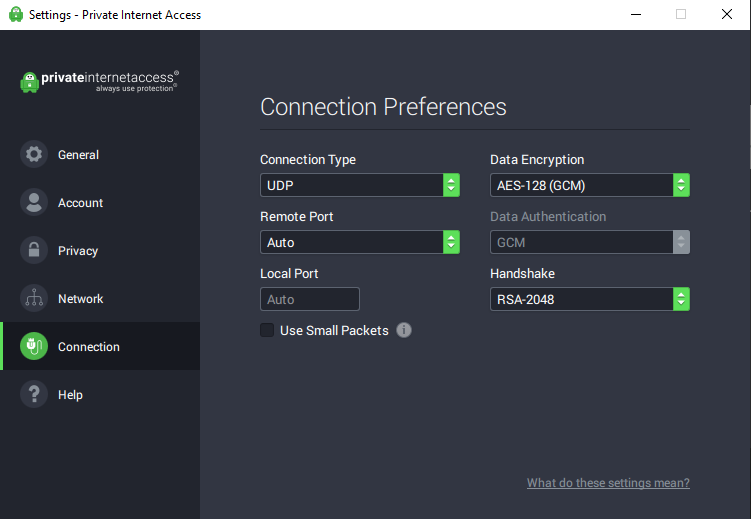 To access the Settings page, click on the 3-dot icon to the top-left side. Thankfully, the desktop client is feature-packed with some fantastic tools and functionalities, including a kill switch, MACE, encryption techniques, and connection protocols as well. In particular, we were thrilled with the network management tool that allows you to request for the Perfect Forward Secrecy functionality. However, we also noticed that not all PIA server ports were supported. This is another assurance that PIA takes your online privacy seriously.
Mobile App

Just like its desktop counterparts, the mobile app has also undergone tremendous improvements to become one of the most powerful apps in the VPN industry. Moreover, you can choose between the white and dark background theme, unlike its predecessors. Overly, the mobile app has a minimalistic design with an impressive premium feel.
When you open the PIA mobile app, you're met with a login window where you can enter your correct account details. If it's your first time using the service, your device will prompt you to install the PIA VPN credentials – usually done automatically. Consequently, the app automatically replaces the ad-blockers on your browser with MACE.
The app connects automatically to the best available VPN server, usually the one closest to your location. Nevertheless, you can manually select your preferred server location by clicking on the server name displayed.
The app also gives you a variety of features that you can tweak. To access the Settings page, tap on the Settings icon to the top-left side. If you're an advanced user, you can customize your encryption techniques, choose your preferred connection protocol, and socket. Moreover, we noticed that the default encryption settings were standard, and they offered enhanced speeds. There are also extra privacy features such as a kill switch, MACE, secure DNS, and IPv6 leak protection functionality, and many more.
Compatibility
Compatibility with apps and platforms
PIA is compatible with an extended range of apps and platforms. For instance, PIA works with Windows, macOS, Android, iOS, Linux, and the Chrome browser extension. The app also supports devices such as DD-WRT routers and Android TVs.
Compatibility with Netflix
Unfortunately, PIA doesn't work with Netflix. We tried various servers, including the UK, Canada, as well as the US, but none of them could enable us to stream the Netflix content.
Compatibility with BBC iPlayer
To test whether PIA works with BBC iPlayer, we connected to a server in the UK – Manchester, then Southampton. Sadly, we were not able to stream any show on iPlayer since PIA doesn't work with the streaming service.
Compatibility in China
We were disappointed to find that PIA doesn't work in densely censored countries such as China, due to the lack of obfuscation technology.
Customer Support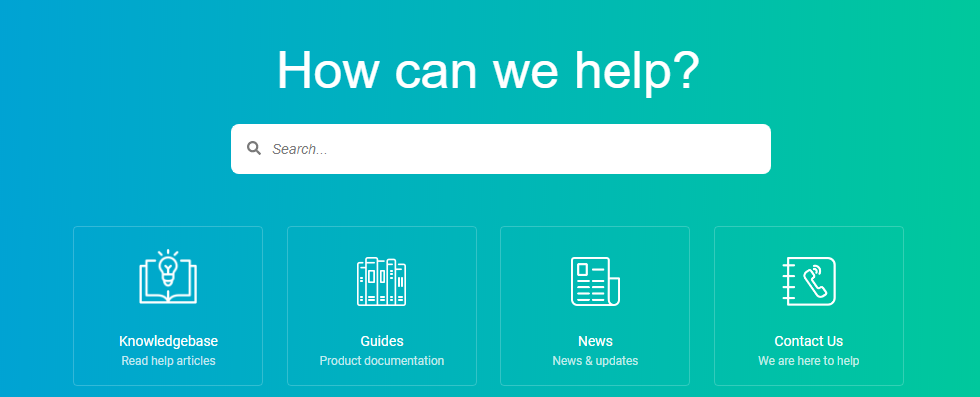 Customer service is one of the most critical areas we look at when rating a VPN, and PIA failed us in this section. To begin with, PIA doesn't have a live chat service, unlike its competitors.
This means that you can only reach their support agents by either submitting a ticket or through the emailing system. Besides, we tested their ticketing system, which can be accessed via the support page. There's a form you will be required to fill to create a ticket. As soon as you submit your form, an automated email is sent to your inbox, claiming that one of their support agents is looking into your issue.
However, sadly, we learned that they have a habit of delaying their responses, and landing a solution can take you up to a day. For instance, our ticket received the first actual response after 5 hours, which is not convenient enough. Luckily, the agent was reliable and was able to offer us a plausible solution to our technical problem.
On the plus side, we noticed a new feature in the support section. PIA now embeds its essential announcements on the support page. Some of the announcements include the latest updates of the various client apps. They also use the platform to relay transparent developments on their infrastructures, like server additions and removals.
Optionally, you can also utilize their vast knowledge base system that has solutions to almost all the common problems that an average user can face.
Conclusion
Private Internet Access is a reliable and convenient VPN. However, this might not be the case if you're looking for a VPN that can unblock streaming services like Netflix, BBC iPlayer, Amazon Prime, and more. Their customer service is also nowhere near convenient. Therefore, if you're not an experienced VPN user, you might want to look elsewhere, considering you'll need to contact their customer support for help regularly.
Nevertheless, PIA is the most stable VPN that also gives you the various customizable option in their client apps. The VPN also supports several devices and platforms. And if that's not enough, PIA also provides the best security standards coupled with ultra-fast speeds.
Resources: