Malwarebytes is a California-based company that offers anti-malware solutions for more than a decade now. It's recent update, Malwarebytes 4.0, is considered to be smarter, and offers advanced features, including anomaly detection, application hardening and behavior matching. Malwarebytes also claims that the latest version is much faster and more light. A true claim.
Malwarebytes is also an excellent choice if you're a Windows user, thanks to its new online security that rolled out in the latest update. The company also boasts million-plus users around the world.
Table of Content
What is Malwarebytes?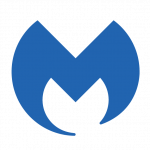 Malwarebytes was first introduced into the cybersecurity industry as a free antivirus software. Their primary aim was to identify and delete stubborn malware that traditional antivirus couldn't handle. However, this changed in 2016, when Malwarebytes started providing a paid-plan – Malwarebytes Premium – that can serve as your primary anti-malware program. According to them, you can rely on Malwarebytes as an extra-protection layer, which can catch and eliminate security threats that other AV apps might miss.
Malwarebytes Endpoint Protection is an anti-malware program and solution that has can precisely detect block threats. In the end, it offers end-to-end protection and blocks unwarranted programs with the help of a footprint agent.
About Malwarebytes' Anti-Malware
Author: Malwarebytes
License: Freeware / Licensed with Real-Time Protection
Operating System: Windows 2000/XP/Vista/Windows 7/Windows 8/Windows 10
Available in Languages: English, Arabic, Belarusian, Bosnian, Bulgarian, Catalan, Chinese Simplified, Chinese Traditional, Croatian, Czech, Danish, Dutch, Estonian, Finnish, French, German, Greek, Hebrew, Hungarian, Italian, Korean, Latvian, Lithuanian, Macedonian, Norwegian, Polish, Portuguese, Romanian, Russian, Serbian, Slovak, Slovenian, Spanish, Swedish, Turkish.
Get Scanner with Full Computer Protection
Having this full version gives your computer a real-time protection, scheduled scanning and updating. For one time fee of $39.99, you'll get instant defense against malware, malicious web sites and intruders.
Buy Full Version of Malwarebytes Anti-Malware
Get Scanner Only
This version of MalwareBytes Anti-Malware is Free. Start scanning your computer for malware, Trojans and viruses. Free edition will not guard your computer from threats and attacks.
Download Link for MalwareBytes Anti-Malware Scanner
How to Use MalwareBytes Anti-Malware
1. Download Malwarebytes' Anti-Malware (mbam-setup-[version].exe) and save it on your Desktop.
2. After downloading, double-click on mbam-setup-[version].exe to install the application.
3. Follow the prompts and install as "default" only.
4. Click "Finish" at the end of the install process. Program will run automatically and you will be prompt to update the program before doing a scan. Please update.
5. On the main console, click on Scan tab and select Threat Scan (Recommended).
6. Click Start Scan to check your computer thoroughly for any presence of viruses or malware.
7. When scanning is finished click on the "Show Results."
8. Make sure that all detected threats are marked, click on Remove Selected.
9. Restart your computer.
Pros and Cons of Malwarebytes
Pros
Precise threat detection
Proactive threat elimination
Excellent end-to-end protection
Faster, and more lightweight
Offers free version
Cons
The 1-device paid plan is expensive
The free version lacks real-time protection
Only works best alongside traditional AV programs
Features of Malwarebytes
Detection history
This feature opens a window that displays the identified and Quarantined programs and files.
Scanner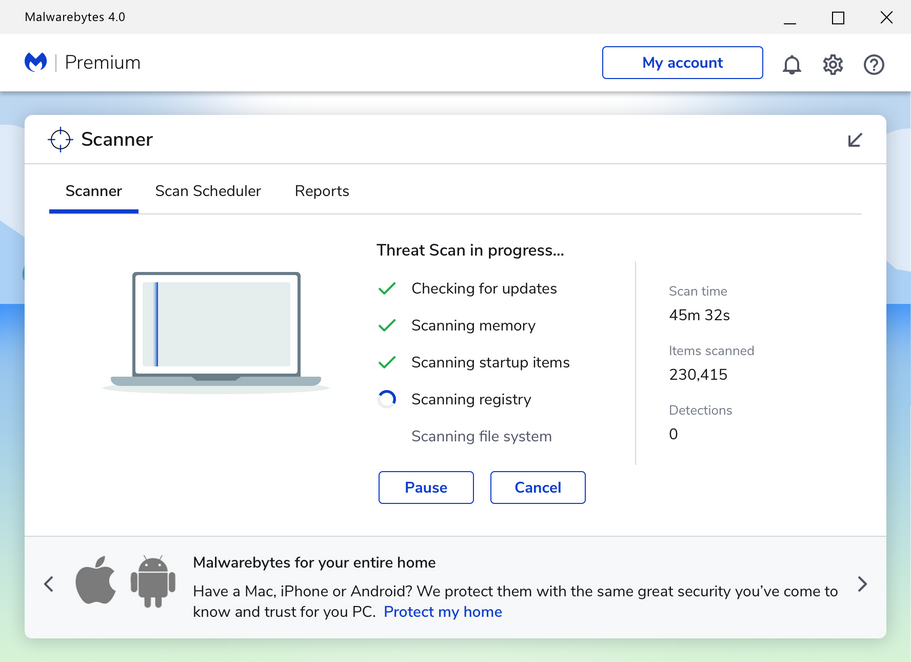 You can trigger scanning by tapping on the "Scan" button. The scan process includes several filters throughout your system. Once the scan is complete, the Malwarebytes app will display the scan report. If the app identifies any potential threats, it'll alert you to take action. You can choose to quarantine, or simply delete the suspicious programs and files. Moreover, premium users can schedule scans to say every 24 hours – something I think will ensure your device is always malware-free.
You can also tap on the "view report" button to see a more detailed report of the system scan. And if you prefer keeping tabs on the scan history of your systems, Malwarebytes also lets export the scan result in .txt format. Furthermore, thanks to the scan reports tab, you can easily view the scan results by date and time.
Real-time protection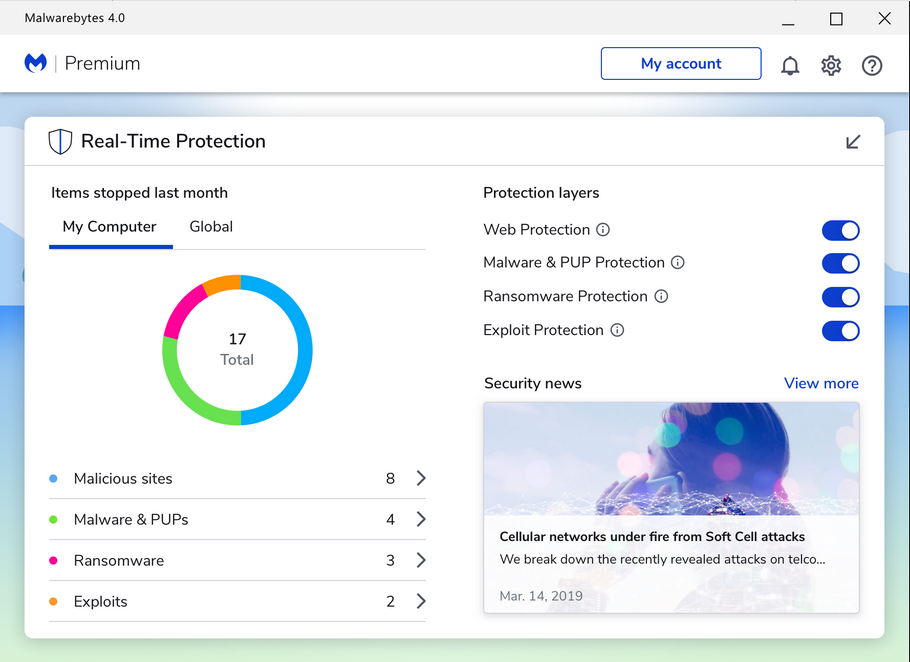 This feature is only available for paid users only. You can choose to toggle it on or off the following options:
Malware protection
Web protection
Ransomware protection
Exploit protection
Exclusion
This option allows you to leave out a specific program file on your device from being monitored by Malwarebytes. You can effect this rule from the Settings page. This feature is especially useful for users who often use apps that appear to be malware by Malwarebytes – such as torrent clients. I this case, you can exclude these apps from the radar of Malwarebytes for seamless usage.
System Isolation
System Isolation is considered to be a safety kill switch for your system. It works by detecting when Malwarebytes is not running well, and disconnects you from the internet or eve temporarily inactivates certain apps until the issue is solved.
Firewall
The feature protects your end-point system from several cyber-attacks and malware issues.
Endpoint Intelligence
The feature performs a system analysis of threat intelligence information of your endpoint device.
Katana Engine
This is a new feature that comes with the latest update [Malwarebytes 4.0]. It uses advanced behavior monitoring techniques to proactively block advanced threats that are otherwise difficult to detect by traditional AV programs.
Pricing and mode of payment
There are two types of Malwarebytes, including Malware for personal use, and Malware for business use. Notably, Malware for personal use sales straightforward and preset rates and package details. However, for the business side, it's totally customizable, and you'll receive the services as per your requirements. Here's how they compare: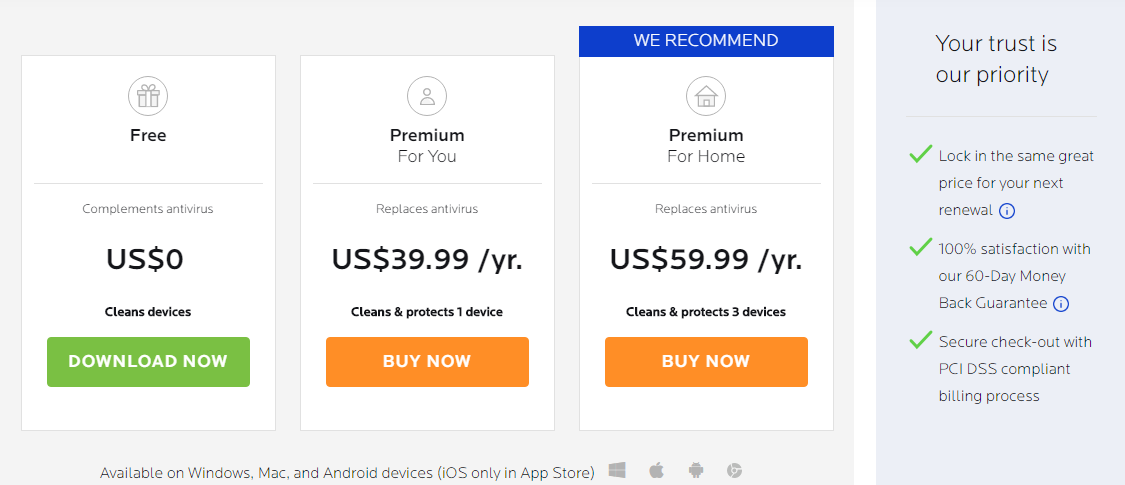 Personal
Malwarebytes offers up to three plans for the Personal side at the time of this review. There is a free version and two other premium plans. According to Malwarebytes, their free version only complements traditional antivirus, but its paid plans offer much more. Both paid plans provide the same features, but only vary in terms of the number of devices you can concurrently protect, and the annual price rates.
Here's how the paid plans compare:
Premium For You – goes for $39.99 per year, billed every 12 months. You can opt for this package if you want to protect a single device.
Premium For Home – goes for $59.99 per year, billed every 12 months. According to Malwarebytes, this is the most recommended package, considering you can clean ad protect up to three devices simultaneously.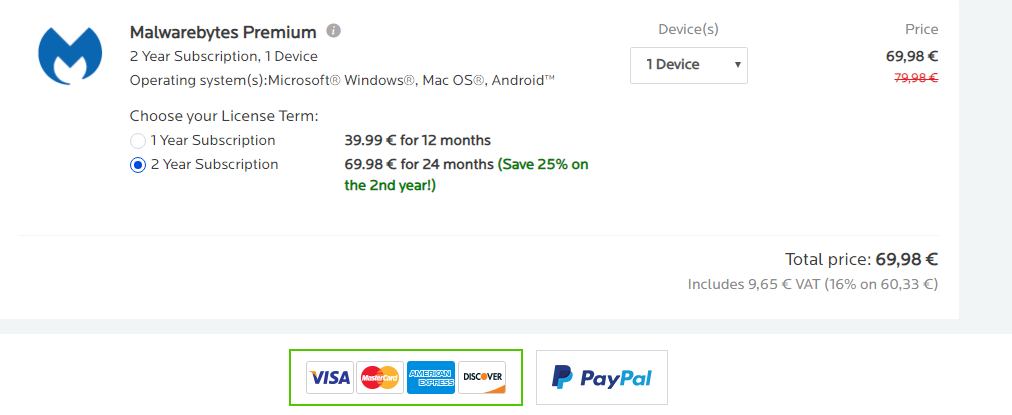 I also noticed that if you opt to pay for the 2-year subscription, you'll enjoy a specific discount – in this case, the 1-device subscription gave me a 25% cut on the total.
Malwarebytes also accepts all major credit/debit cards and PayPal as well. Unfortunately, Malwarebytes doesn't support any form of cryptocurrency – which is widely preferred for anonymity.
For every subscription you purchase, Malwarebytes also gives you a risk-free 60-day money-back guarantee. I think 60 days is quite a sufficient period to try their service.
Business

Malware for Business is not exactly straightforward, but is much more customizable, depending on what you require. Whether, protect servers, remotely manage and protect endpoints of your systems, or protect several devices at once, you'll have to contact their support.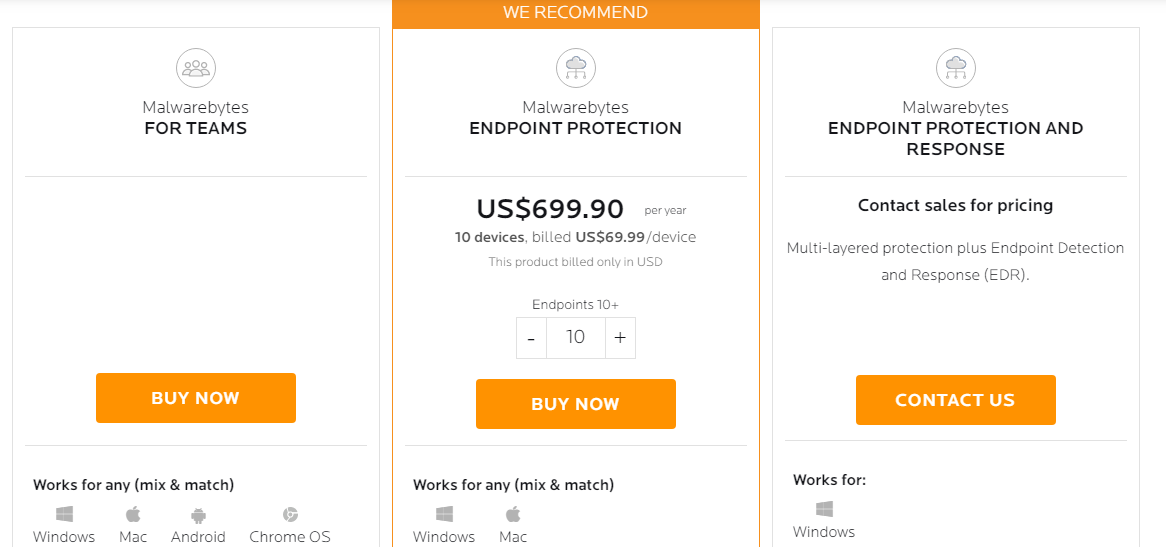 Nonetheless, here's an overview of the customizable plans:
Malwarebytes For Teams – works for any customizable size of your business – mix and match. Its primary rate for a single device goes for $55.22 per year, billed every 12 months. But you can still extend your subscription limit to three years, depending on your budget. You can also protect up to 99 devices at once but at a customizable price. The plan is available for Windows, macOS, Android and Chrome OS users
Malwarebytes Endpoint Protection – goes for a baseline rate of $699.90 per year for every 10 devices. The plan is also customizable and can request to protect up to 100 devices, in which case you'll have to contact their sales support for further assistance. The plan is only available for Windows and macOS users.
Malwarebytes Endpoint Protection and Response – Offers multilayered protection, as well as endpoint detection and response (EDR). However, to access the service, you'll have to contact the sales agents. This package is only accessible by Windows users.
While I can't confirm the details about their refund policy, Malware for Business can also be paid by either debit/credit cards or via PayPal only.
Compatibility requirements
Malwarebytes supports and offers dedicated apps for Windows, macOS, Chrome OS, Android, and iOS platforms. The services can run on Windows XP SP3 or later versions for the Windows platform. As for the macOS, Malwarebytes can run on OS X 10.10 or higher. The Android OS is also supported from as low as version 4.4 going up. Malwarebytes also supports iOS 11 or later on iPhones, iPads, and iPods as well. Finally, Malwarebytes is available for ay Chrome device that supports Google Play Store.
Setup and Ease of Use
Ease of Use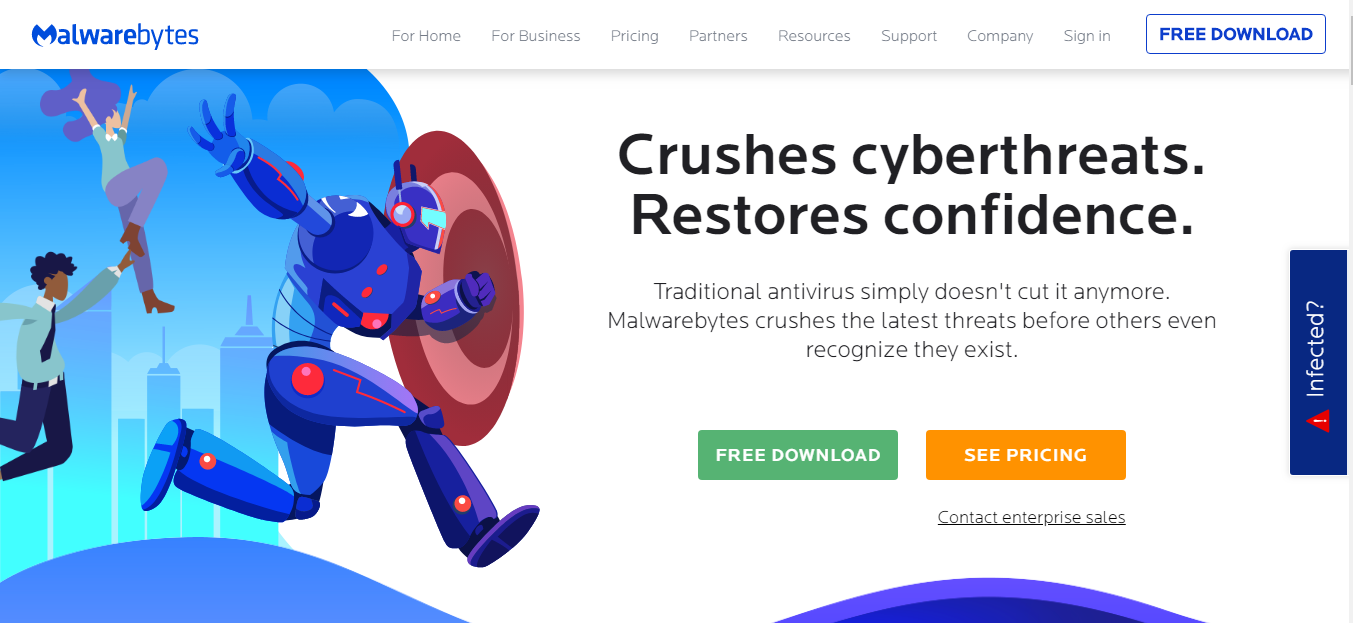 Malwarebytes sports one of the best website designs I've seen in the security industry. The website landing page is pretty self-explanatory and very informative as well. The header section displays all the sections of the website and includes a free download button if its client. The entire landing page displays graphics and catch-phrases that'll give you confidence about their service. The footer section also sports several useful links that you can benefit from.
Getting started with Malwarebytes (Setup)
Getting started with Malwarebytes is hassle-free. You're only required to provide an email address, which you don't have to confirm in the email inbox.
The installation file consists of around 210MB files – very lightweight. This is a significant selling point for Malwarebytes, considering other antivirus tools can consist of four times the space. It also uses 50% fewer CPU resources than before.
When you run the app on your device, you'll hardly notice system lag – something that was often seen in the previous version release. The previous update also had a security vulnerability, since it was discovered that an attacker could easily disable the self-protection feature remotely. Thus, the new update comes which much-needed improvements. It's more defended, and there haven't been any reported breaches on the recent update.
If you're a regular user who's not keen on customizing security features, then you'll enjoy the new update. Ideally, there's not much you can do after installation, it's pretty hands-off. Moreover, if you fancy a run-on-demand scan, double-tap on the "system" icon and hit the "scan" button to check for malware.
Final Verdict
Malwarebytes Premium is an excellent anti-malware solution that you can rely on. While its free version is readily available, its features and capabilities are somewhat limited. Therefore, I highly recommend trying their premium packages. You're free to cancel anytime you don't like their service, thanks to its hassle-free 60-day money-back guarantee.
Malwarebytes FAQs
What are the new features in Malwarebytes 4.0?
Malwarebytes 4.0 ships with major features and capabilities. For instance, in Windows, Malwarebytes 4.0 can register as a primary cybersecurity software in the Windows Defender Security Center. There's also a new feature called Katana engine that offers advanced malware detection for unforeseen threats and improves performance – allowing for faster scan processes. The app user-interface of the new release comes with a major design overhaul and gives a simple and intuitive experience. The installer software is so lightweight it can allow you to set up the client in minutes.
Is there a difference between Malware 4.0 Premium and Free?
Yes, there are several privileges available for premium users, but lacking in the free version. Nevertheless, Malwarebytes 4.0 Free offers the same features and capabilities of its predecessor. The new Free version will also allow you to run on-demand scans. But if you want to schedule scans, and ensure your device is always protected, then you should consider going for the premium plans.
Malwarebytes 4.0 compatibility?
Malwarebytes 4.0 only supports Windows 7 SP1 or later. However, Malwarebytes will continue to support the legacy XP and Vista with its legacy version.
Can I upgrade to Malwarebytes 4.0 with my current subscription?
Yes, you can. According to Malwarebytes, existing subscribers can upgrade at zero cost. The existing license key will automatically work on Malwarebytes 4.0.
Is Malwarebytes 4.0 Premium an ideal antivirus replacement?
Yes, and it goes beyond traditional antivirus solutions – adding multiple protection and detection capabilities. These features, alongside other anti-exploit capabilities, combine to offer a holistic defense service against any cyber-attacks. This means that Malwarebytes 4.0 is quite effective against ever-evolving threats. The new update is also backed by the powerful linking tech, which is widely known for its ability to detect and delete any trace of malware.
Do I have to run other repair tools?
No, with Malware 4.0, you don't have to have to run further troubleshooting tools, like the Malwarebytes Cleanup utility. This can be seen in its powerful features and capabilities explained above.