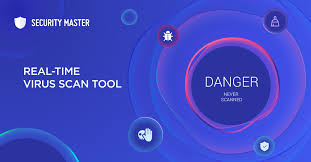 Looking for the best antivirus software for your phones and laptops?
Security Master Antivirus is among the top antivirus applications you can trust. It comes with excellent security tools to ensure your device remains safe. Its best feature is its app and filesystem scanning tool that can quickly look for viruses and malware. In fact, it can scan your device within five to six seconds.
To help you determine if it's the antivirus software you're looking for, check out our comprehensive Security Master Antivirus review below. Its features, price, device compatibility as well as pros and cons have been discussed in great detail.
Table of Content
What is Security Master Antivirus?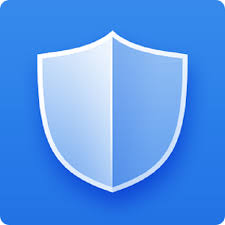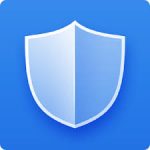 Security Master Antivirus is Cheetah Mobile`s most popular app on the Google Play Store. The application is free and has a user base of around 500 million. It also boasts over one billion global downloads. The antivirus performs well in independent tests with a threat-detection rate of 100% in AV-tests. It has a clean and modern home screen, an extensive suite of features and several add-on modules to deliver added functionality.
What are the pros and cons of having Security Master Antivirus?
Pros:
Real-time antivirus protection – Security Master secures your device from virus infection once you enable real-time protection. Whether you are downloading files from the intent or receiving them from someone via apps like Xender, the antivirus scans them before they harm your device. Security Master regularly updates its virus database, so threats are effectively detected and eliminated.
Performance boosting – Security Master has a functionality that enables it to close background apps and free more RAM on your device. This allows your phone to run faster.
Privacy protection – Security Master allows you to block people who know your lock pattern or password from accessing your notifications and messages.
Secure browsing – The application has a browser that helps secure your data. Upon exit, all cookies and history are killed. It also has a web protection tool that blocks phishing sites that contain malicious code.
Cons:
Annoying ads – Exploring Security Master`s functionality may take a while because it continuously displays plenty of advertisements of different types.
Features of Security Master Antivirus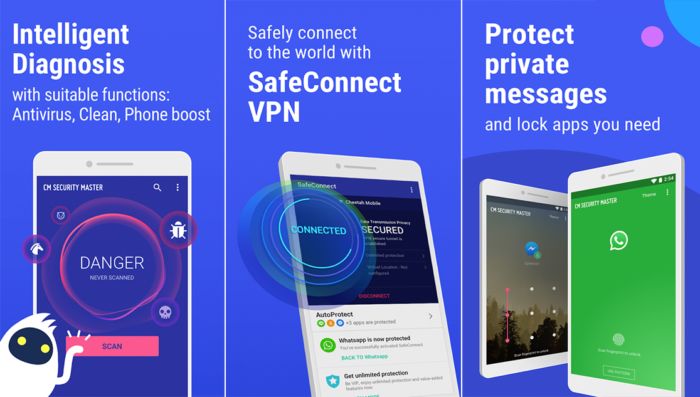 The lasts version of Security Master Antivirus comes with a free VPN to hide your identity online by changing your IP address. When you enable Safe Connect, Security Master encrypts your outgoing network traffic. Though all users have access to this feature, the free version is limited to 200 MB of data per day. This might not be much, but it's adequate if you just need to check your banking information or some other lightweight tasks. If you need to do more, you can opt for the VIP version, which unlocks both unlimited VPN usage and the ability to choose from several server locations.
The VPN feature is well structured and easy to use. Connecting usually takes less than five seconds are you are good to go. With this feature, you can bypass firewalls and watch videos not available in your region and freely access sensitive website anonymously without being tracked.
The Network Analyzer feature of Security Master allows you to check your internet connection speed and also scans a Wi-Fi connection and marks it either `safe' or `unsafe.' The app monitors your internet connection to determine the average upload, download, and Wi-Fi speed. It will also display the Encryption protocol the hotspot or router is utilizing. This feature is useful because it helps save data by removing apps using internet bandwidth when a user is not using unlimited data connection.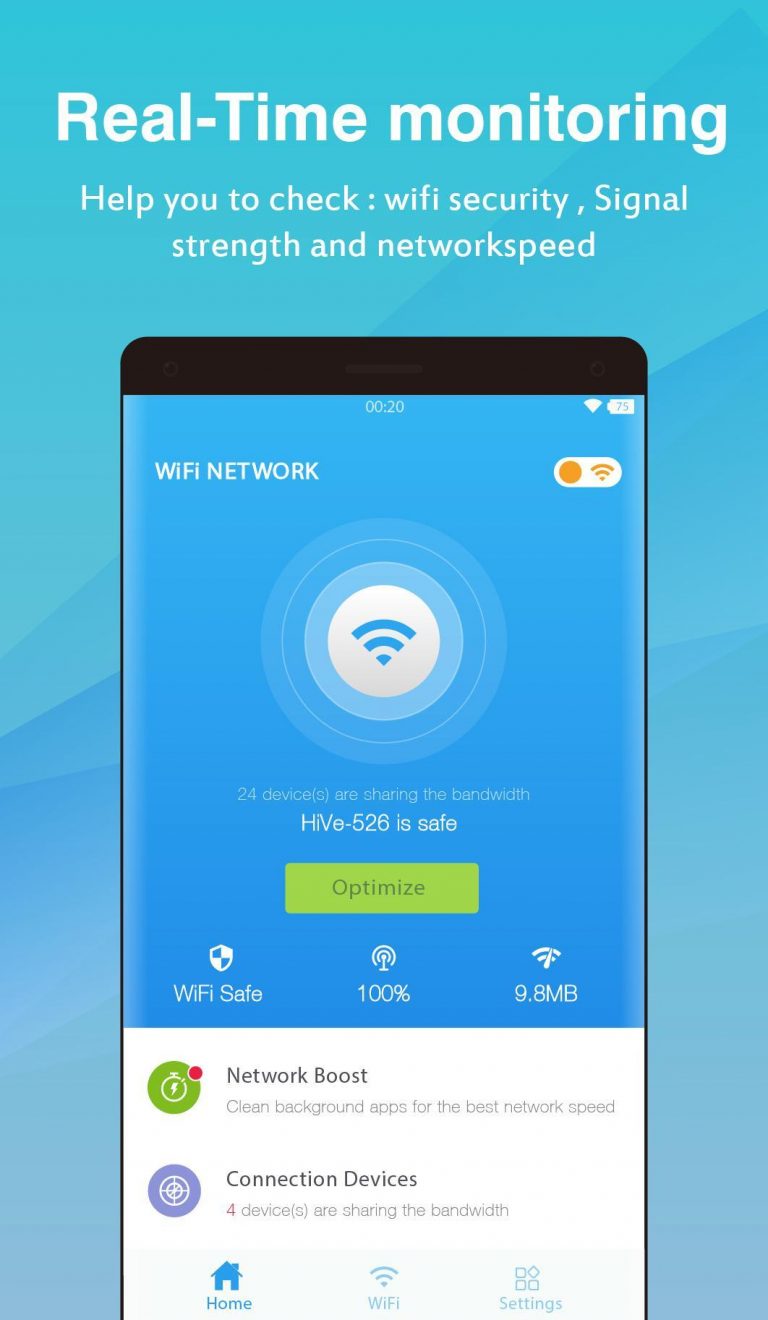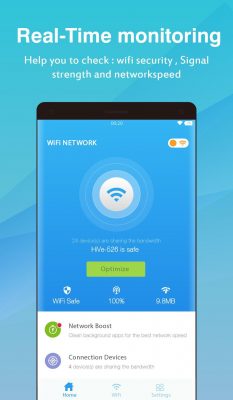 There is also a Wi-Fi Security tool that can be downloaded as part of a stand-alone app. Wi-Fi Security carries out several diagnostics on available Wi-Fi connections, performs a speed test, and checks for malicious activity, to determine if the network is worth joining.
If a network is flagged as being insecure, it is cleared from your device to prevent you from joining in the future. Additionally, if you need to save battery life, Security Master can shut down Wi-Fi when you`re not in range of your preferred networks.
Security Master Antivirus is very reliable when it comes to malware detection. The app produced a perfect score in a German independent AV-test evaluation carried out in 2018. The app has gone ahead to score an average of 98 percent in all other subsequent tests.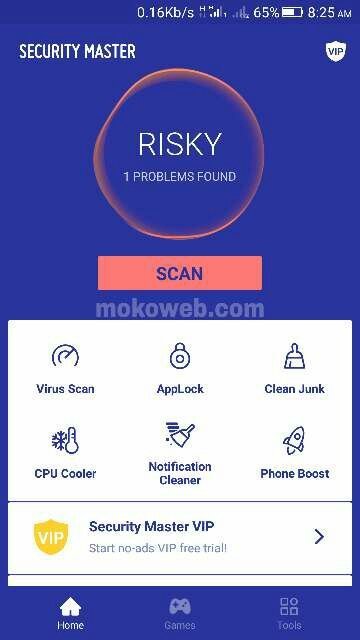 Applock locks any of your apps behind a PIN, pattern lock, or fingerprint. Just like major app-lock features, it makes recommendations for which applications you may consider to lock. That is particularly helpful for users who have numerous apps installed. However, the recommendations are mostly focused on social media, messaging, and photos. You can set an app to lock whenever you exit the app, after three minutes of the screen being idle, or whenever the screen is off.
If someone keys in the wrong PIN or enters the wrong fingerprint or pattern into the Applock screen many times without success, you can opt to have your phone take an `intruder selfie,' that will be auto-saved to the device. The image comes with a timestamp and an explanation of the action that triggered the selfie.
Locking apps, especially those that entail messaging will not be beneficial if notifications still appear on your notification bar when your mobile phone is locked. This feature hides notifications preview timely to protect your privacy. Message Security gathers all chat notifications into one and makes them simple to read and manage.
Security Master Antivirus can extract more from your device with its capability to clear junk notifications on your phone. The app can also locate and remove unwanted files from your phone's storage memory.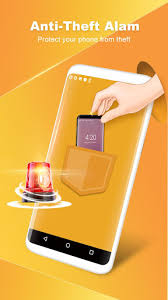 Security Master comes with a set of great anti-theft features that will give you peace of mind even if you lose your device. This feature allows you to locate, wipe, or remotely trigger a siren on your phone using a web portal. But first, you must have an account registered on the portal using your Facebook, email, or Google account.
The Security Master app allows you to block calls from scammers, telemarketers, among others. It also provides you with the location and name of an unnamed caller. This feature displays all your calls in a sortable list and also adds information from the internet to identify unknown businesses and telemarketers, which is useful if you are a target of unsolicited calls.
It gives you the option to block individual calls for a specified duration of time, or block specific classes of numbers, such as international numbers, private numbers, and numbers not in your contact list. You can also import numbers you intend block from your SMS logs, contacts, and call logs.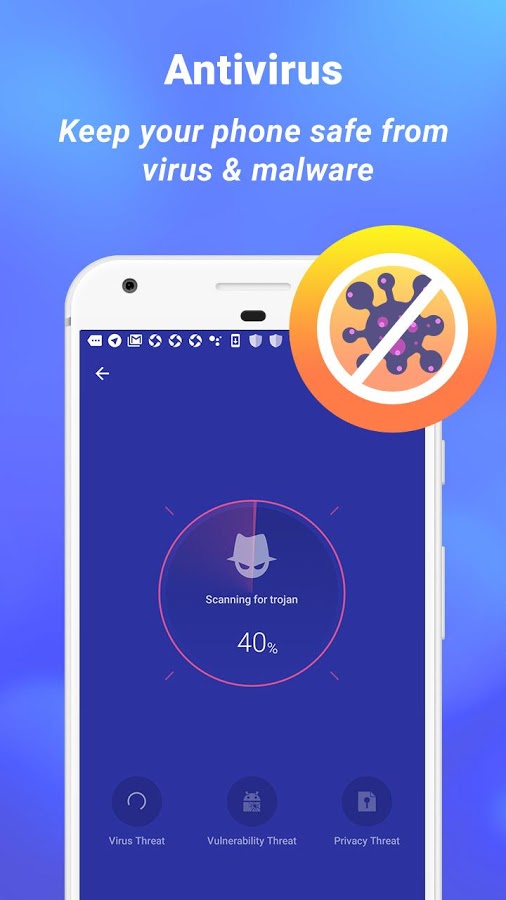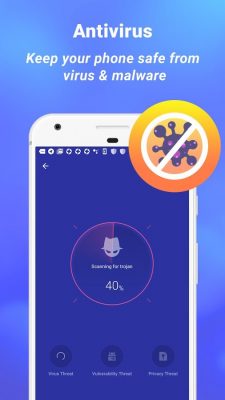 Security Master Password Antivirus offers an option to update the virus definitions. Having an up-to-date virus database will help the app in identifying the latest threats to mobile devices.
Security Master comes with an inbuilt web browser to keep you safe from online threats. You can configure the app to erase the cookies, browsing history, and sessions when you close the browser. The browser has an option to change text size, disable images, and enable night mode. Users can also enjoy private browsing and a video/photo vault where you can save the downloaded images, videos, etc.
The processor in your phone gets too busy when you run too many apps at a time, and might become hot. Security Master has a cooler utility that will cool the processor down.
Does Security Master Antivirus
offer a free version?
Yes, Security Master Antivirus has a free version.
How much does Security Master Antivirus cost?
Security Master Antivirus utilizes a freemium model, but the app offers plenty of value in the basic plan. Upgrading to VIP plan only provides users with an unlimited VPN connection. The VIP membership can be purchased on a one-month, three-month and one-year subscription plan at $11.99, $20.99, and $35.99, respectively.
What devices does Security Master Antivirus
work on?
You can install it on Android devices, iPhones, Windows computers and Macs.
Conclusion
Security Master Antivirus is one app that performs excellently when it comes to protecting your phone. The app is free to download from Google Play Store, and you can enjoy majority of the features without paying a dime. To enjoy unlimited VPN daily usage and remove ads will need you to pay subscription fees, but it's worth the money. This all-in-one antivirus suite is a must-have for any Android phone.
FAQs
How much system impact does Security Master cause?
Security Master is a small app that does not use much of your storage memory or RAM. So the app will have minimal impact on your system.
Does Security Master Antivirus provide real-time protection?
Yes. You can enable real-time protection on the dashboard, and it will scan all downloaded and incoming files.
Will Security Master Antivirus affect my battery?
Some apps are aggressive battery drainers. Security Mater has a battery saver feature that lets you hibernate apps causing excessive battery drainage.
Is Security Master Antivirus good for malware protection?
Yes. The application has a 100% virus and malware detection rate when it comes to real-time malware detection.
What benefits does the SafeConnect VPN offer?
It offers unlimited protection from leak of browsing history, private messages, and banking information.