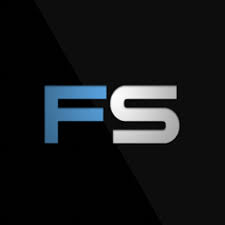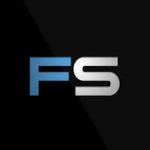 In this digital age, you must keep tabs your children, a family member, other individuals you are responsible for, and even employees. The best way to do this and get the needed information is by monitoring and also spying what goes on in their digital devices such as smartphones. The best software to enable you undertake this endeavor is the FlexiSPY app.
In this article, we are going to do an in-depth review of what FlexiSPY is, its pros and cons, what it can do, and look at what customers have to say about this app.
Table of Content
What is FlexiSPY?
This is one of the oldest monitoring software that supports a wide array of platforms such as computers, smartphones and tablets. Although it has faced some fierce competition from various competitors like mSpy, FlexiSPY continues to offer robust services. FlexiSPY offers advanced monitoring and reporting while providing additional functionalities. Just like any other monitoring system, FlexiSPY gives you the ability to read messages, record phone calls, know what's going on in an individual's social media, see their gallery and even the ability to track their whereabouts via GPS.
What are the pros and cons of using FlexiSPY?
Pros
Advanced and robust phone monitoring and spy software
Impeccable features such as call monitoring, interception, and remote cam/vid
Remote installation
Great customer support
Reliable service
Cons
Some features require rooting/jailbreaking your device
Quite pricey
Features require internet to work
What can FlexiSPY offer?
FlexiSPY offers a myriad of features and functionalities that make it stand out in this realm. Depending on the subscription tier, FlexiSPY offers different functionalities and features. The most expensive tier offers all the features. The features can be classified into basic/essential, premium, extreme and other value-added features categories. Also, besides these categories, the platform onto which FlexiSPY will be used determines the categories of the functionalities. In this case, we will look at the functionalities according to the widely used platforms; Android and iPhone. Other platforms such as iPads and computers offer premium features or a combination of both. For some features and functionalities to work, one may require one to jailbreak/root their devices
Essential features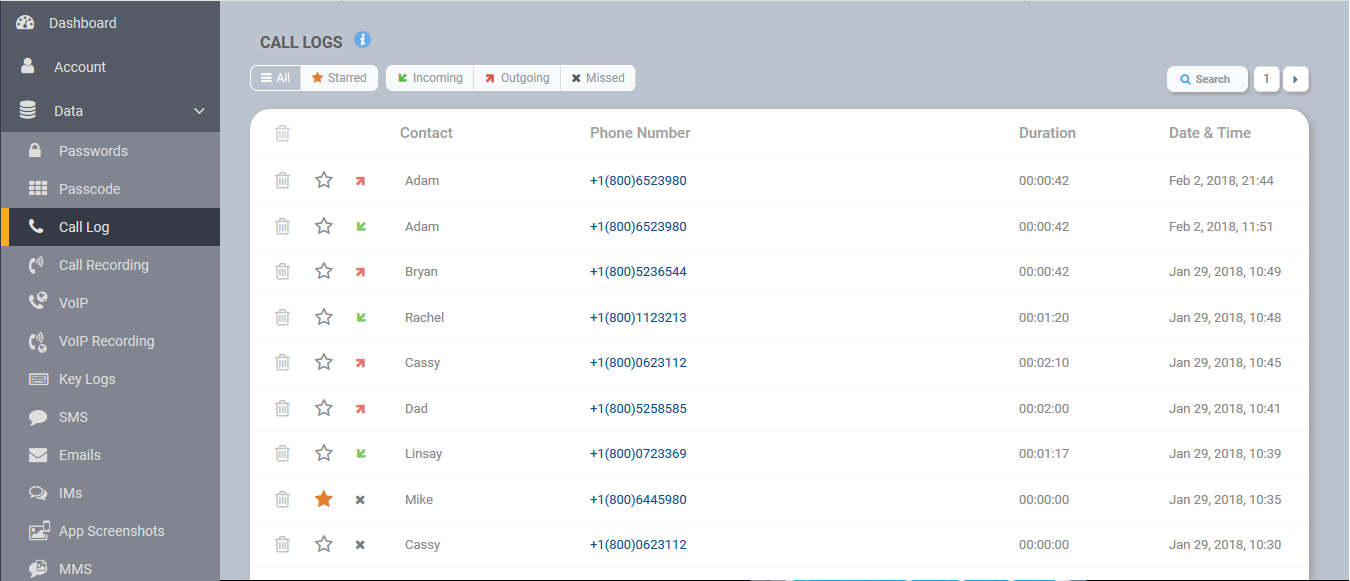 These are features offered across all the FlexiSPY packages. They include;
Access to call logs, SMS, MMS, and address book – FlexiSPY gives you access to call logs of the person you are monitoring. You can also see the duration, name and who made the call at what time. Also, you can get contact information directly from the address book of the person you are monitoring. Additionally, you can see sent and received SMS and MMS. Even if the SMS is deleted, you can retrieve it from the portal – where you access the monitored device.
Location tracking and geofencing – FlexiSPY allows you to know the location of the individual you are monitoring at any given time.
Browsing activities – on your dashboard, you can get access to all websites the target device visited and even access to bookmarked sites. This is a convenient feature if you want to gain insight into what the individual you are monitoring is doing on the internet.
Access to multimedia files – with this monitoring software, you can view all multimedia such as images, videos, and audio files sent, received, saved and deleted on the target device.
Premium features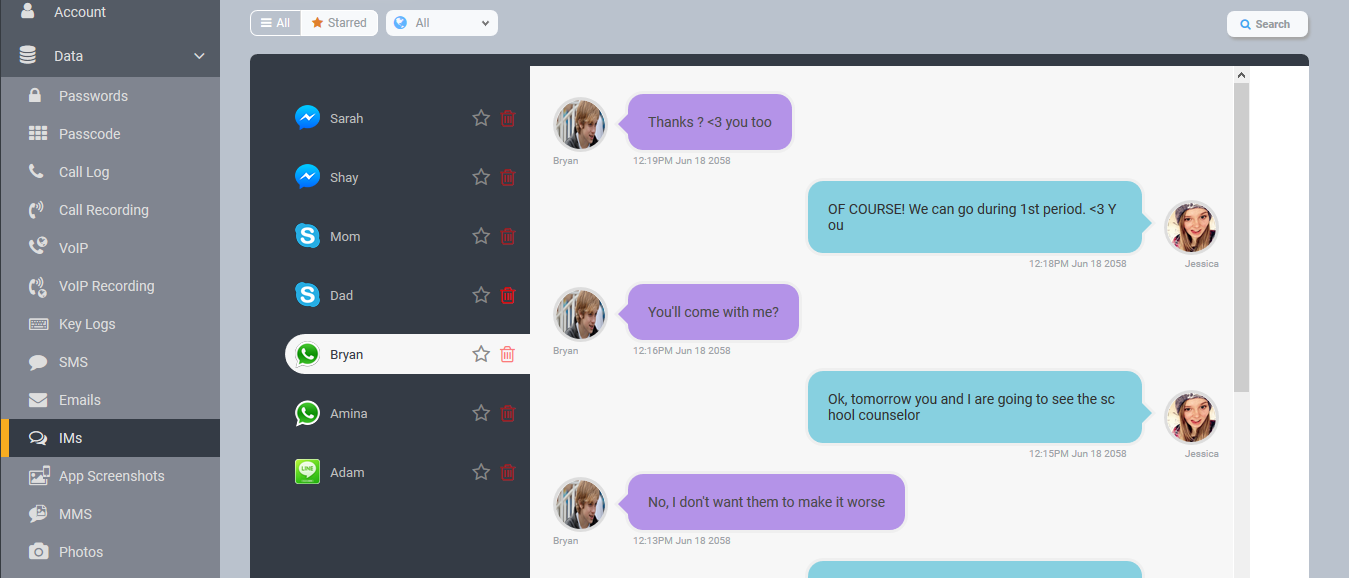 These are features offered in the premium and extreme packages. They are an addition to the essential feature. They are mostly about monitoring social media activities.
Social media/chat monitoring – FlexiSPY is among the few apps that can monitor and spy on social media activities from different social media platforms and other messengers. To be specific, FlexiSPY can monitor calls and chats from up to 13 social media platforms. They include; Facebook, Hangout, Hike, Instagram, Line, Kik, QQ, Skype, Telegram, Tinder, Viber, WeChat, and WhatsApp. You also get access to emails. For some of these platforms, you only get messages, while in others, you get the call logs.
Application screenshots and SIM change notification – on apps that cannot be monitored, FlexiSPY gives you the ability to take screenshots whenever the app is in use. This is very useful if you want to know what the app is used for, and it also gives you undeniable proof in case you're dealing with employees on company phones. Besides, FlexiSPY provides an alert when the target user has changed the Sim in the target device.
Extreme features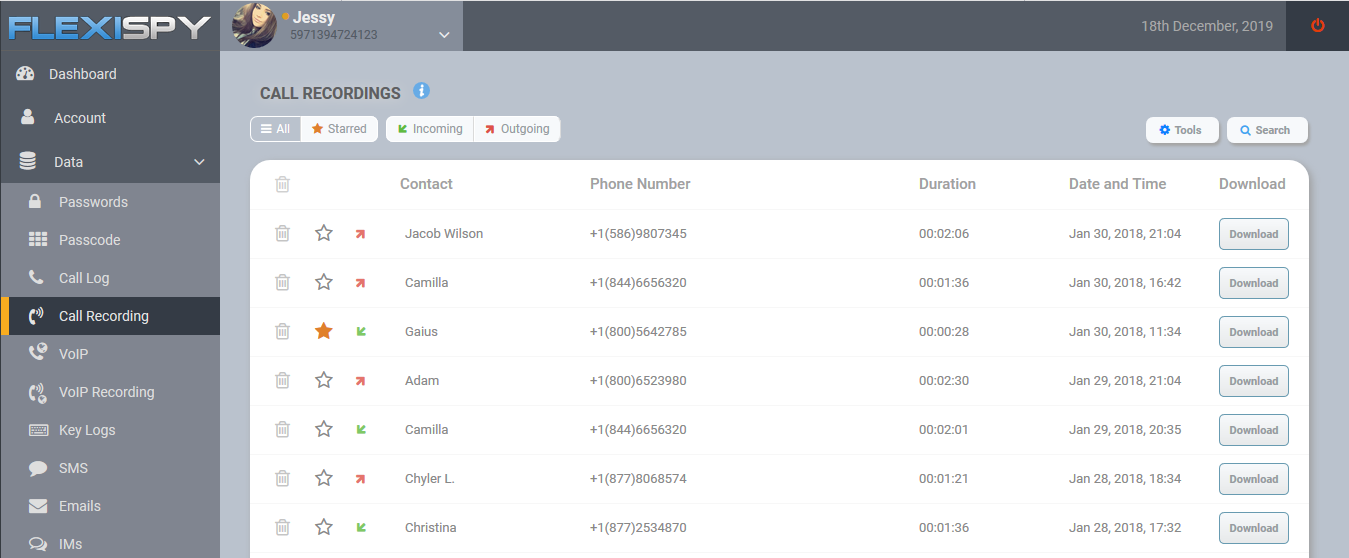 These are the high-end features of FlexiSPY and are offered in the extreme package alongside the other features above. Extreme features and functionalities record calls made in the target device. They include;
Call/ VOIP recording and interception – call recording enables you to record calls from target devices and listen to them from your dashboard. You can record all incoming and outgoing calls, or you can choose to record calls from only specific contacts. You can also record calls from social media platforms. Call interception is a unique FlexiSPY functionality that allows you to listen in live on a call. It is like a three-way call. When using this feature, ensure your microphone is turned off or else the target individual and the other party will hear what is going on in your background, keep your cover. In conjunction with call interception, FlexiSPY will notify you via an SMS notification whenever a call is made on the target device.
Environment/Ambient Recording – this fantastic feature allows you to listen to what is going on/ background conversation of the target individual by using the target's phone mic. FlexiSPY enables you to set on-demand listening or at specific times. The ambient recording has many benefits such as monitoring your kid's background in case of a kidnapping, know what employees discuss and never miss details of important meetings.
Spy camera and video – with FlexiSPY, you can remotely take a picture using the front and rear camera. Additionally, you can take a video of the surroundings using the target device; discreetly and remotely. Coupling this with ambient listening, you will have a second pair of eyes on what your target is doing.
Delete/send fake SMS – you can also control what SMS appears on the target device. That is, you can set SMS containing specific keywords to be deleted before the recipient sees them. Additionally you can also send fake SMS to a contact in the target device. This fake SMS will be invisible to the owner of the target device. This can be helpful when you want to gain insight into some issues.
Additional features
These are extra features that make monitoring and spying with FlexiSPY a great experience. They include;
Key logger – FlexiSPY can record keystrokes of what the target user types in the target device. You also get to view on what application the keystrokes were logged, and the time and date the keystrokes were taken. You can also set alerts of specific keywords.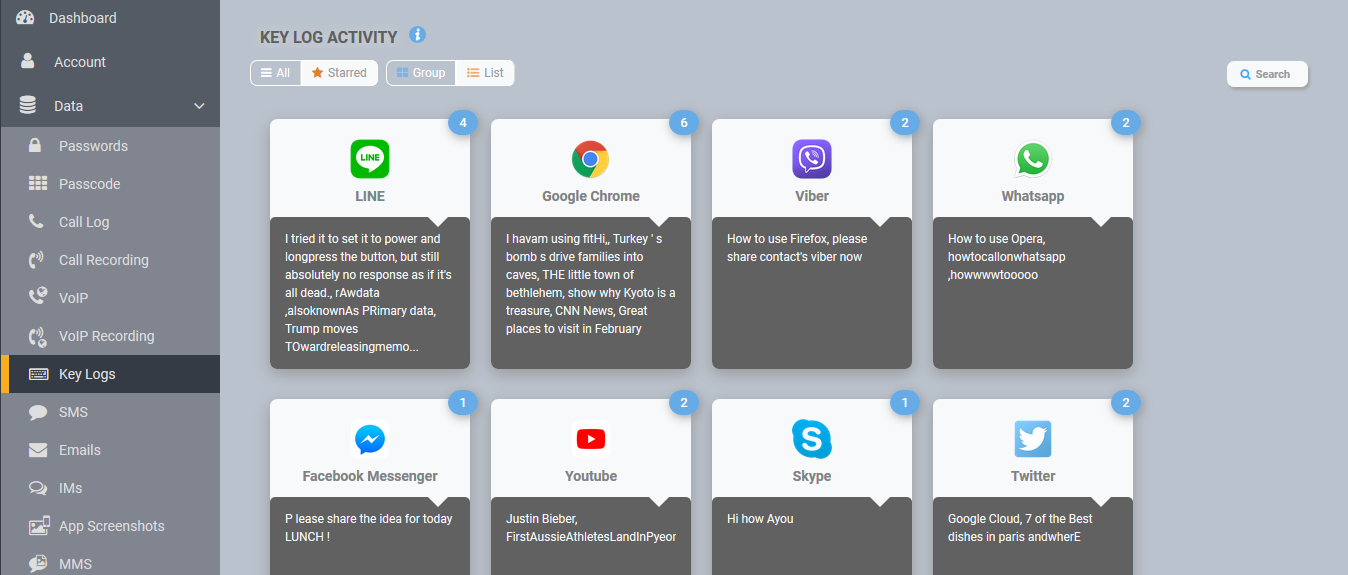 Dashboard alerts ­– this is one of the essential features that ensure you never miss a thing; FlexiSPY categorizes alerts according to keywords, caller id and location.
Monitor/control applications – you can use FlexiSPY to send remote commands that control certain aspects of the target device. E.g., you can restart the phone remotely, check the battery level, and turn certain features on and off.
How much does FlexiSPY cost?
On Android and iPhone devices, FlexiSPY offers three subscription tiers, namely, Lite, premium, and extreme. On the iPads and computers, FlexiSPY offers the premium subscription only. The dashboard and mobile viewer are free. You can subscribe via various payment options such as all major credit cards, PayPal, bitcoin and even wire transfers.
Lite subscription – this is a budget package that offers essential features and other additional features. The pricing for this subscription is $29.95 per month.
Premium subscription – this package offers additional features in addition to essential features. The pricing for this subscription is $68 per month, $99 for three months, and $149 for 12 months.
Extreme subscription – this is the most priced package. It contains all features of the other subscription and gives you the ability to monitor and listen to calls. The pricing for this subscription is $199 for 3 months and $349 for 12 months.
FlexiSPY has a tricky refund policy before you place your order, take time and read the refund policy.
What do FlexiSPY customers say about its services?
Most reviews from sources such as the FlexiSPY review site and other review sites point that the service is excellent. Other users stated that FlexiSPY was the best service they have come across after trying other monitoring and spy software. Although there are other users who complained and gave bad reviews at the service due to functionalities not working. According to the replies, the functionalities needed rooting/jailbreaking the device. In some extreme instances, bad reviews were because of compatibility issues. Also, some users were at fault for not knowing the working limitations of FlexiSPY.
Before subscribing to the service, talk to customer support, and know whether your devices are compatible and how to go on with the installation.
How good is FlexiSPY's customer support?
FlexiSPY offers customer support via a 24/7 phone service, a knowledge base system, video tutorial a ticket system and a live chat. I tried the live chat in which the agent responded within seconds and solved my issue relevantly. Also, the portal has various links to the knowledge base where you get to know more about a specific functionality or feature. Generally, FlexiSPY customer support is excellent and getting assistance is an easy task.
Conclusion
FlexiSPY is a robust monitoring and spy app with features that make it stand out. Its unique in-depth functionalities and ability to deliver what they advertise makes it a great spy, monitoring software and parental control app. Features such as call recording, interception, and ambient recording make FlexiSPY worth your money. Although installation and usage require some tech-know how their tech team is available to assist you every step of the way. You can even leave the installation task to them.
FAQs
Is FlexiSPY legal?
Depending on your country and what you do with FlexiSPY, there might be a thin line between what is legal and illegal. For instance, it is legal to monitor what you own, e.g., employers can monitor and what employees do on company devices. It is also permissible to monitor your children's activities. Also, it is legal to monitor an individual if you have consent.
Does FlexiSPY require jailbreak/rooting?
For perfect monitoring and satisfaction results, rooting/jailbreaking is required for some functionalities to work. Some features may work without rooting/jailbreaking but you will not be getting enough value for your money. Note that rooting/jailbreaking voids the warranty of your device, and you may not receive updates or updates may brick your device. Proceed with caution. It is recommendable to root/jailbreak a phone that you can replace.
What else is needed before installing FlexiSPY?
For a successful FlexiSPY install, you need to physically have the device and know how to unlock it. The next step is to root/jailbreak the device – make sure you have backed up the device to avoid unpleasant situations that may come after the rooting/jailbreaking process. Login into your account and start the installation process. Also, you can buy a FlexiSPY pre-installed device or use FlexiSPY worry-free remote installation service.
Can I use my FlexiSPY on another phone?
When you subscribe to the FlexiSPY service, you get one license per purchase. To use FlexiSPY on another phone, you must first deactivate the service from the previous phone for FlexiSPY to work on a new phone; you cannot use a single license on more than one device.
Is FlexiSPY detectable?
Yes and no. This depends on the tech know-how of the target person. FlexiSPY can be installed in hidden mode and works in the background. Unsuspicious individuals will never know if they are being monitored. Cyber aware people can, however, detect when they are being monitored, although it may take some time.