With the current state of the world, you need to know who is around you at all times, and BeenVerified is the best tool to keep you in the loop. When you are going out on a date with a guy/lady you've been flirting with on an online dating app or when you want to leave your kids at home and run errands – you can't be too careful.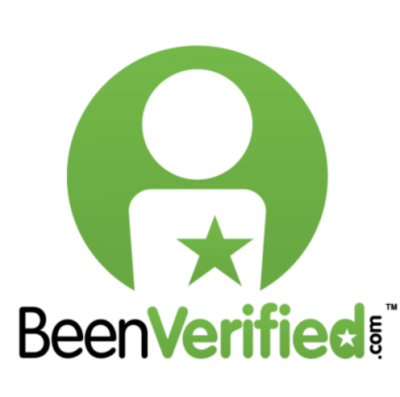 But why not use Google to look them up? It's free and convenient. If this question is lingering in your mind, you should read this piece to the end. Google is a powerful search engine and all, but there are things it can't do. It can't search public records, which is what you are after when you perform a background check using BeenVerified. The two platforms use similar search technology but tap into different data sources of which makes all the difference.
And with that out of the way, you've probably heard many people calling background check companies a scam. And to be honest, some are. But is Been Verified part of those that give the industry a bad name?
To clarify this, we have put together a quick review of the platform featuring everything it has to offer, the pricing, customer support, and list of features available. Read to the end and thank us later.
Table of Content
What is BeenVerified?
BeenVerified is a background check company based in New York. It was founded in 2007, and it is one of the fasted growing companies in the industry. Its founders are two young entrepreneurs who in a little over a decade, have grown the company to have over 50 employees, over 100,000 subscribers, and boasts of a whopping 10 million visits to their site every month. If you have a blog or a social media platform, you know how difficult it is to get 1000 likes, let alone followers. So this in itself shows that it is a reputable company and people trust it as an authority in the industry.
What are the pros and cons of using BeenVerified?
Pros:
It as a mobile app including one that's compatible with Apple Watch
The website has answers to lots of questions new persons to the site might have
You can access a lot of information in a single place
It supports multiple payment options
Cons:
There are restrictions on the use of the information retrieved
At times the information available is inaccurate – but in their defense, this depends on the accuracy of the public records it sources data from
Some of the information you pay for is available from other sources for free
What can BeenVerified Offer?
As a background check company, BeenVerified has tried its best to stand out from the sea of background check companies. They have included several features to their services to make it easier for you to find the information you need. As you'll see, they've also invested in convenience and ease of use of their website which is a huge plus for most users.
People Search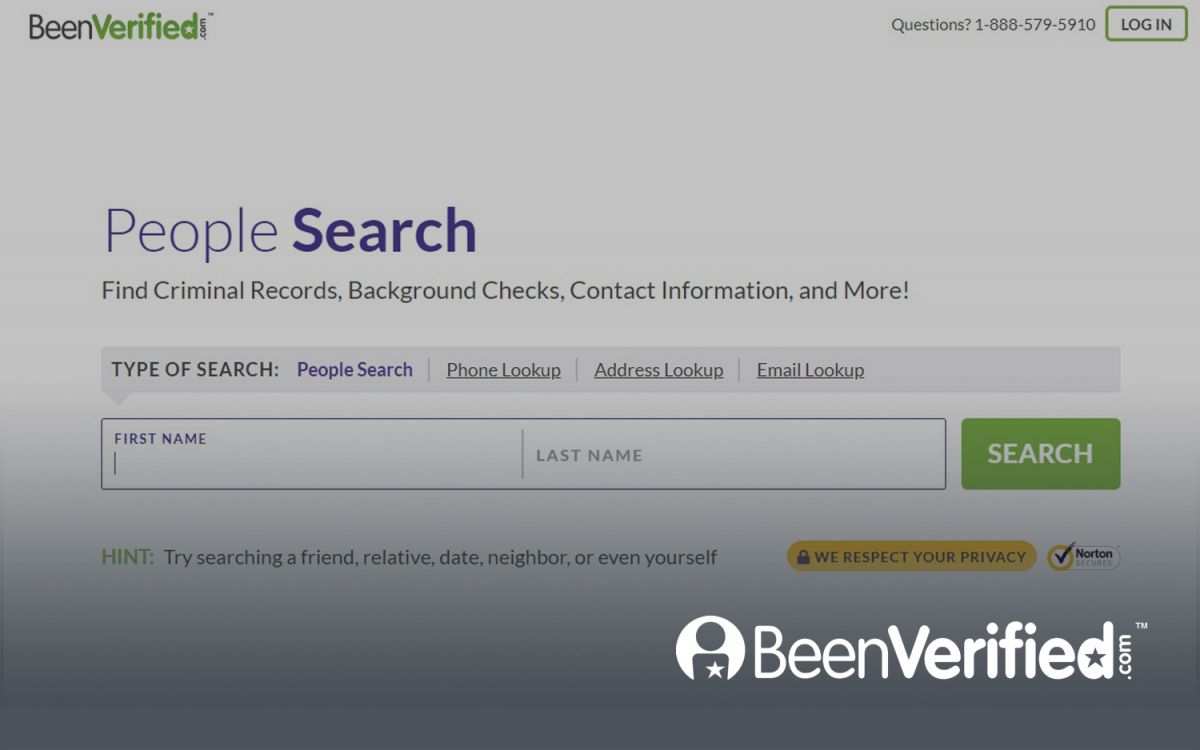 Since the advent of the internet and social media in the 21st century, online interactions have grown exponentially. And while this is a great thing, it is difficult to know who you are dealing with.
People Search is a powerful BeenVerified tool that allows you to have a complete picture of the person on the other end of the keyboard or screen. If you have their name, you can uncover useful information that will guide you through making essential safety decisions.
The People Search tool goes through billions of public records. A report that includes current and past addresses, employment history, contact information, criminal records, and more, pops up. Why would you ever want to a chance when you can be safe with BeenVerified's People Search?
You can use the People Search tool to:
Search information of an individual you've just met online and would like to meet for coffee. The People Search tool will provide their details and you can look for any red flags.
Connect with persons you have lost touch with. Yes, you can find your high school crush, best friend, teacher, former neighbor, or even ex using the service. However, you need to be sure it's okay to contact them through the information you'll acquire or the conversation will be awkward.
Check and manage your online reputation. We live in a time where our online profiles are everything. People say the internet never forgets – and it's true. The stupid things you did in your teens are still floating around the web. Some of these things could potentially ruin your future. Look yourself up before attending that big meeting and eyeball your profile.
Take the necessary steps to avoid getting scammed. Before you do business with an online buyer or seller, you should do a background check of the individual. Online business is all about trust and you need to verify everything before you can put your hard-earned money on the table.
What does the People Search report include?
An overview of the basic information
All the possible associates including close family and roommates
Civil and criminal records pooled from different jurisdictions
Information about education, business associations, and employers bankruptcies
Social media accounts
Criminal Records Search
Before we get into what the search entails and offers, here's a summary of what criminal records are. Also known are rap sheets; they are more of criminal histories. They include convictions as well as charges that did not lead to convictions and arrests that didn't lead to charges. It basically entails offenses charged when the individual was an adult. Usually, juvenile criminal records are sealed.
To perform a criminal record search, you enter the first and last name of the individual along with their city and state of residence.
Now, criminal histories are part of public records. But it's usually difficult to find a complete history online. The NCIC (National Crime Information Center) database has all this information. The reason why it's difficult to find this information by yourself is that the NCIC database is private and second, the information is not usually in one place.
Criminal records vary depending on the state and jurisdiction. Luckily for you, BeenVerified goes through all these records available in different states and presents you with a comprehensive report. But to ensure that you receive the complete criminal report, you should know if the person lived in different states.
Public arrest records search
Arrest records are public records filed by law enforcement bodies after someone has been arrested. An arrest is when someone is taken into law enforcement custody. It is the responsibility of the federal, state, and local law enforcement to maintain these records. The agency that makes the arrest is responsible for filing the paperwork. And though the law enforcement agencies are responsible for making the arrests and filing the report, the arrest reports are also available from federal and state courts.
Arrest records contain information including:
When one was first arrested
Why they were arrested
When you search for arrest records on BeenVerified, you may also uncover other details including a person's age, court records, and their current address.
Reverse phone lookup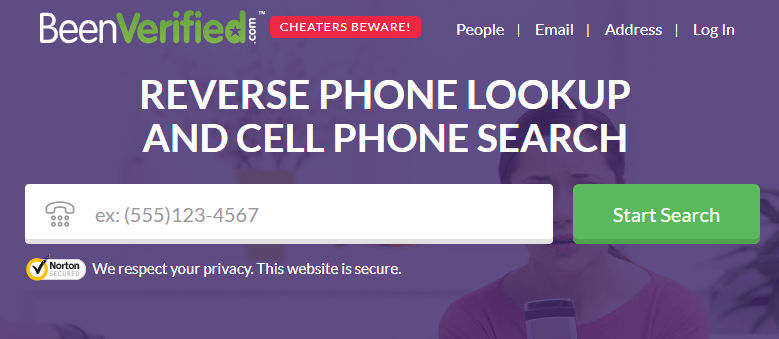 It's rare for a call from an unknown number to turn out to be a pleasant surprise. Every time you get such calls, you always battle with yourself – should I let it go to voicemail or should I answer it? And since you can't tell who it is, making the decision is difficult.
BeenVerified's reverse phone lookup puts the power back in your hands. You can search through billions of phone numbers to know who has been blowing up your phone anonymously. In the process, you might even uncover useful information about the caller, including their ages, email address, location and social media profile. This information will help you decide whether to call back or to let it go.
The reverse phone lookup works for both landlines and cellphones even if the numbers are currently unlisted or are unpublished.
There are many reasons why BeenVerified's reverse phone lookup is essential. But at the top of the list is the fact that they are continually updating their robocall and telemarketing data. Why should you care?
Well, because a report by the Congressional Research Service showed that robocalls (many of which are illegal) hit a 4.1 billion in 2018, which was an all-time high at the time. With a quick search on BeenVerified, you can determine if you are dealing with a scammer and even proceed to flag the number. This will prevent them from scamming other people.
Come popular robocall scams to be watchful of include:
Free travel award
Problems with credit cards
Forgiving your student loan
0% interest rate credit cards and loans
Problems with the IRS tax refund or return
Preapproved loans
Reverse address lookup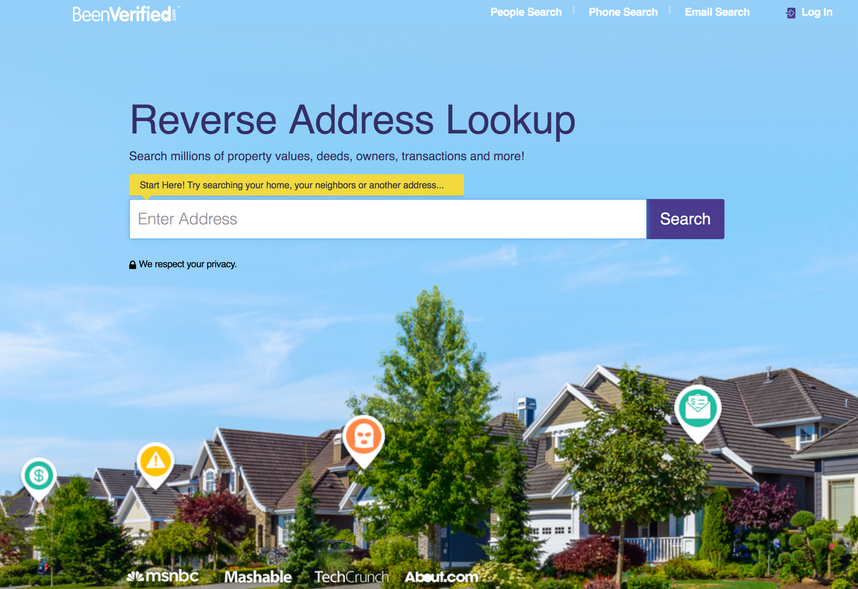 Believe it or not, with just a home address, you could learn about the wealth of the previous or current property owner of a property you are interested in, the sale history and value of a home, and the safety of a community.
You can use the reverse address search report to:
Make better decisions regarding the purchase of a home
Reconnect with your old neighbors
Now your new neighbors better
Learn more about your community
Why is this feature trusted to produce accurate results? There are more than 159 million addresses in the United States. This figure doesn't include the post office box and the general delivery addresses. Many residences follow a standard format which includes the house number, the street name, city, state and the zip code.
But in the rural areas, the mailing addresses are only based on the mailing route instead of the physical street address. In these areas, if you only have a physical address, the mail will not get to the recipient. In this case, using the BeenVerified reverse address lookup can reveal the actual mailing address for efficient delivery.
And picture this, in 2017, the U.S post office receives more than 37 million address changes. This means that more than 11% of the population moved to new comes and residences. With such high numbers, it's expected that people will lose touch with their friends and families.
Email search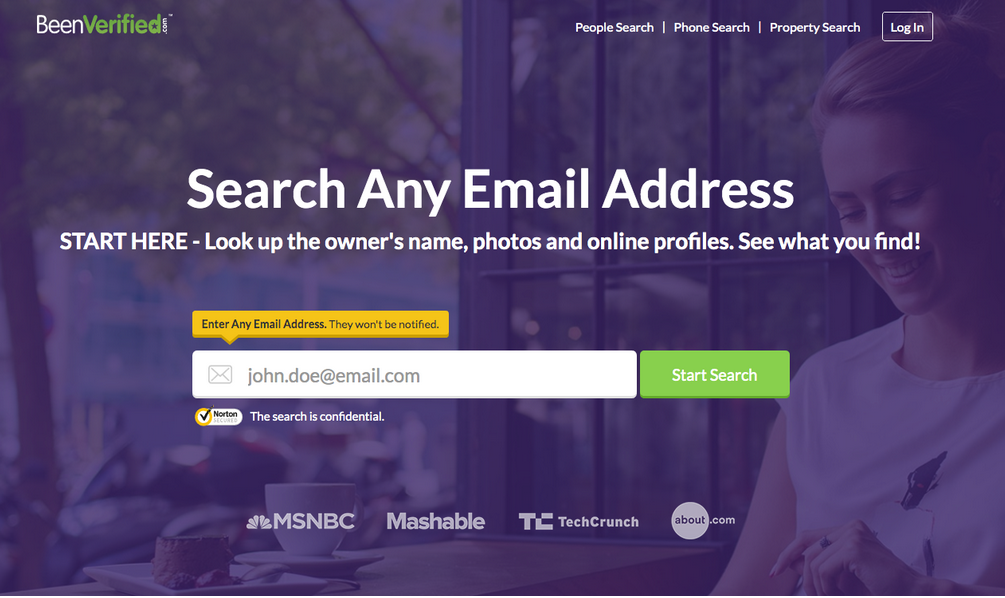 3.9 billion Email users spend their day performing other tasks and obligations aside from sending emails. You use email addresses to sign up to websites, shops and social media accounts. You also use yours to join forums and discussion boards. In the digital world, they are a form of identification. And with over 200 million emails sent each day, how in the world do you know the email landing in your inbox is legit? BeenVerified email reverse lookup can help you uncover the truth.
How does it work?
If you've ever Googled any email address, even yours, you probably didn't find anything useful. This is because search engines like Google and Bing can only identify an email address if it popped up on public forums including Twitter and Facebook. But even this isn't a guarantee of revealing the true identity of the owner.
You see, email addresses don't have yellow or white pages like phone numbers do. When creating one, nothing is stopping you from using false details. And since they don't use area codes with email addresses, it is difficult to pinpoint someone's location.
But this is where BeenVerified's reverse email lookup comes in. It goes beyond superficial searches and reads through billions of public records that help you to get an idea of who might have sent that email. The email search can also come with a bunch of other information.
Court runner
Though digitization of public information has seen a massive change in the past decades, not all of it is. To access those that are still analog, you will need to appear physically in a court and request for them. But this is a lot of hassle for you. So instead, BeenVerified has a court runner service. These runners will retrieve relevant documentation and files. The runners are familiar with the court system and can work fast to get the information you need.
Mobile app
BeenVerified has an app for both iOS and Android platforms. The application has all features available on the desktop platform. What's better, the interface is simple and easy to use. You do not have to keep navigating from one tab to the next.
For iOS users, the application is compatible with Apple Watches. You can use the watch to perform reverse phone lookups on your recent calls.
How much does BeenVerified cost?
In all honesty, if you need a single basic search and report from BeenVerified, you'll find it quite expensive. Therefore, we recommend subscribing to their membership plans and enjoying unlimited searches.
If you are a moderate user and would prefer a month to month billing, you'll spend $19.62 every month
The three-month plan is a bargain, and one pays a sum of $44.62.
If you intend to perform lots of searches and prefer a longer subscription, the six-month plan is ideal. You part with $59.62 every six months.
If you are a business, you'll enjoy the BV business plan.
Whichever option you choose, you should know BeenVerified automatically renews the plan after expiry.
If you would like an extra report, it will cost you $9.95. And for court runner services, you'll pay an additional $20. This cost includes any costs incurred along the way
What do BeenVerified customers say about the services?
The positive reviews are focused on the ease of operation and processing information. But we also found a couple of negative reviews citing the inaccuracies of the reports. Though such instances are frustrating, you should note that the accuracy of BeenVerified and any other background check platform relies heavily on the accuracy of the public records. So, it's usually not an issue with the company but the inconsistencies with the public records from where it's sourcing its data.
How good is BeenVerified customer support?
Unfortunately, BeenVerified doesn't offer 24/7 customer support. But on the other hand, the support staff is efficient in offering solutions to problems. You can reach out to them through email, and they'll get back to you within a day.
The support team is available between 8 am and 10 pm during the weekdays and between 10 am and 8 pm during the weekends.
Conclusion
Though flexibility with the pricing structures might drive potential clients away, it offers value for money. BeenVerified breaks down its service to the fundamental background check services and leaves no stone unturned in its wake.
And though it's packed with features, the designers managed to keep the design sleek and straightforward. This gives customer confidence when using the platform.
FAQ
How do I cancel BeenVerified?
Cancellation is simple. The process involves calling customer support via 1-888-579-5910 or through their email: [email protected].
What information is on the background check?
Background checks include information that is in the public record database. BeenVerified gathers information from mortgage deeds, court records, magazines, public documents and utility bills. However, it doesn't offer sensitive details including financial account numbers, credit card numbers and social security numbers.
When should you use consumer reporting agencies instead of BeenVerified?
In some situations, consumer reporting agencies are ideal instead of background check companies. This all breaks down to set rules and regulations. Because of the laws governing the industry, you cannot use the platform to screen someone for a promotion or employment, hire household workers like landscapers and nannies, screen tenants and determine an individual's eligibility for credit or insurance.