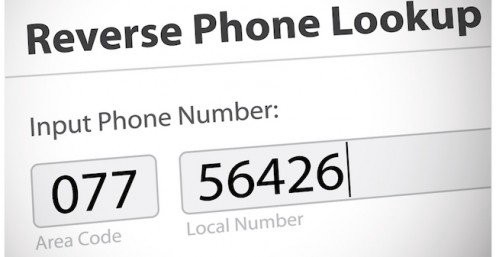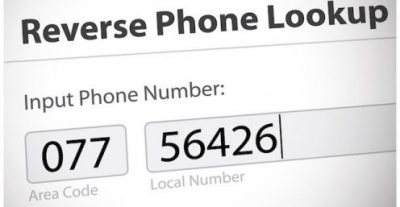 Do you want to know who keeps calling you from an unknown number?
If you have seen a mysterious number appear on your caller ID and want to know who made that call, then the reverse phone number lookup is for you. There are several reasons why you may want to investigate a phone number. Most people do it when they receive a call from a phone number they do not recognize. Reverse phone number lookups help identify the name and address behind unknown phone number calls. There are tools that can help you find out who the number belongs to.
Read on if you want to know the different platforms you can check out and some effective strategies you can use to do a reverse phone number lookup.
Free Reverse Phone Number Lookup Services:
Reverse Phone Lookup
Sites
Bonus
Features
Registration Page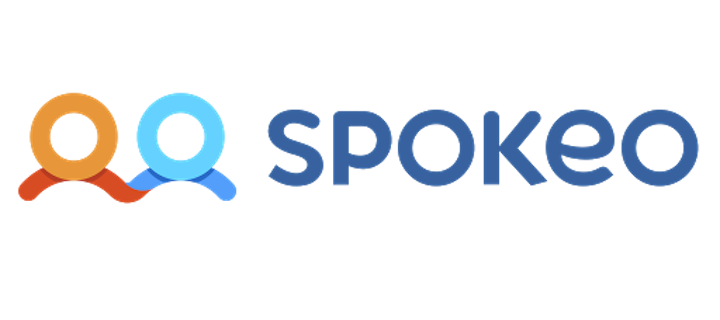 Offers a 5-day Trial For Only $1
Information About People Outside The U.S.
Can Do Reverse Phone Lookup
Table of Content
What is Reverse Phone Number Lookup?
Reverse phone lookup, which is also known as reverse phone number search, refers to a process that lets you use only a phone number to find someone's names and address to try and identify who the telephone number belongs to. Once you know the name of the unknown caller, you can use a background check service provider to know more about that person.
What are the Pros and Cons of Doing a Reverse Phone Number Lookup?
Pros:
Addressing harassment – Phone harassers usually hide behind mysterious and seemingly mysterious untraceable phone numbers. Unusual phone calls may be bothering you during the day or night and any attempt to return the call may lead to a fax number or a message saying the number has been disconnected. Uncovering the mystery behind the number can be quite overwhelming. Fortunately, running the number through a reverse phone number lookup could lead to discovering who owns the number.
Sending correspondence – A phone number can be used as a method of looking for alternate means of getting in touch with someone. Sometimes, someone from your past may want to get in contact with you. With a reverse phone number lookup, another channel of contacting you can be uncovered. Carrying out a search with your phone number could reveal a mailing or email address they can use to contact you.
Easy to use – App developers have come out and made things much easier for smartphone users. Pulling up a website and typing a phone number will not be necessary when you can download and install a useful app on your phone. Phone number lookup apps make running the number a process that needs minor taps on the screen.
Blocking unwanted calls – Most reverse phone lookup apps come with an option for blocking unwanted calls, such as illegal and spoofed robocalls. This feature is great if you want to stay away from unruly customers or telemarketers. It also prevents you from falling for scammers. Having a reverse phone number lookup app with this feature can solve this problem.
Cons:
Lack of privacy – The most significant disadvantage of reverse phone number lookup is that anyone with your phone number can easily dig up your personal details.
Not so effective – While a reverse number lookup can provide useful information, it can fail to offer the information you need at times or even none at all. The information gathered can also be inaccurate.
What Platforms to Use to Do a Reverse Phone Number Lookup?
1. Spokeo
Spokeo is one of the most reliable public records search services you can use for your reverse phone number lookup. It allows you to access reports that include a person`s background information, including their past addresses and civil judgments.
Spokeo has a Standard Search feature that seems to work exactly as advertised. It uses a simple search format that is flexible enough. Once you enter the phone number you want to look up, it returns a manageable list of possible matches. Once you choose the most likely candidate, Spokeo provides an extensive location history and list of relatives that can help you quickly confirm if you`ve got the right person.
It is one of the easiest search services you can use. It allows you to choose the type of search you want to perform from the very beginning. You can choose a social search, name search, reverse address search or reverse phone search.
Spokeo searches through hundreds of different social media sites including dating, music, shopping and blogging sites. While it doesn't make any comment upon what public government resources it uses, Spokeo does affirm that it uses phone book listings, marketing surveys, real estate listings and court records to perform reverse phone number lookups.
Moreover, it offers a detailed report with its subscription plans. A reverse phone number lookup will provide you with the first and last name of the number`s owner, age of the owner, address that the phone number is registered to, phone carrier and age of the owner.
The Spokeo app is only available for Android users but the brand states that they are working on the iOS version.
To use Spokeo's reverse phone lookup feature, follow the steps below.
a. Visit the Spokeo homepage.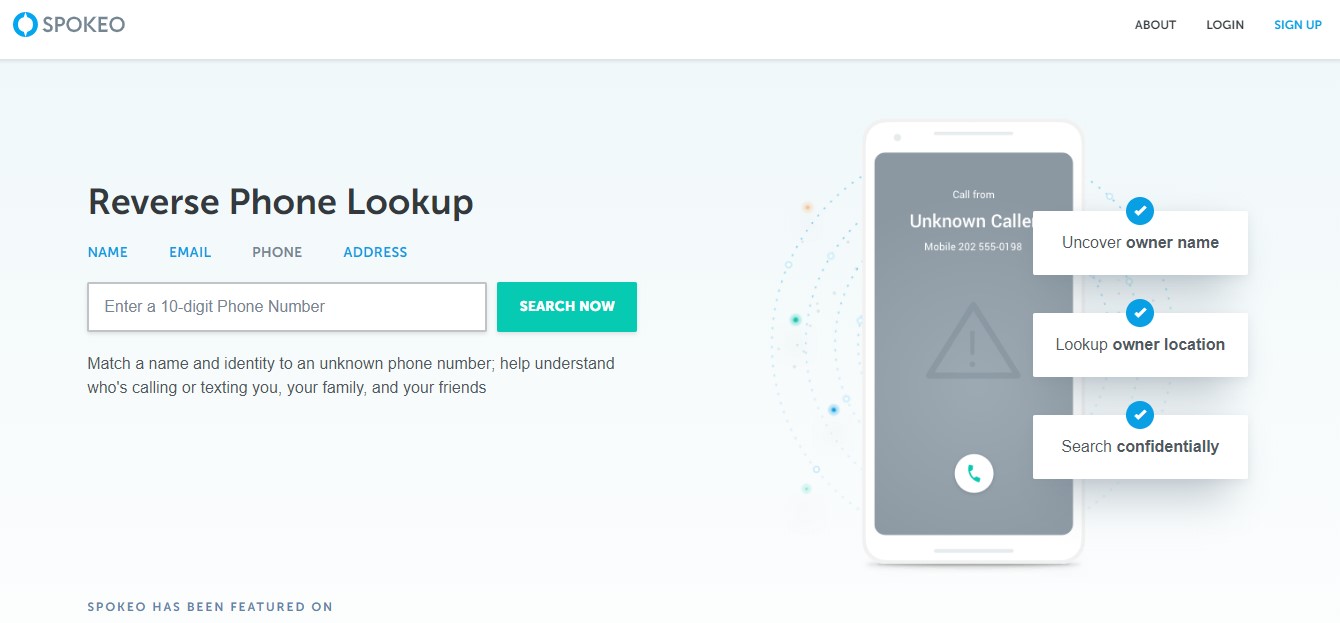 b. Type the full 10-digit number in the main search bar and hit Search.

2. Instant Checkmate
Instant Checkmate is a great phone number lookup service you can use if you want to find information on social media, contact information police records, civil judgments and more about a person. The service claims to operate by aggregating public records such as census data, social media accounts, addresses and arrest records.
It is a great reverse phone number lookup service to use to look up publicly available information on people like your new neighbors, family members and friends you lost contact with.
It makes it possible to search for anyone through a reverse phone number lookup. You`ll be provided with a list of locations and possible relatives for each search you perform to help you find the right person, but you`ll need to pay for a subscription to access the full report. To get a background report, which features the person`s current contact information, date of birth, location history, criminal record and potential relatives, you need to perform a background check based on the person`s gender, location and name. With the reverse phone lookup, you`ll also learn about the owner`s full name, gender, social media profiles, age and phone information.
Instant Checkmate also has an exceptional user interface. It's easy to navigate, reliable and good-looking. Everything on the site is well laid out that even a new user can use the site hassle-free. Navigating the different sections on the site is quick and simple. Understanding an Instant Checkmate report is also easy. The records are color-coded so you can easily see whether it's an unlikely, likely or possible match. You can also download the report if you prefer a hard copy.
To use Instant Checkmate's reverse phone lookup feature, follow the steps below.
a. Visit the Instant Checkmate homepage.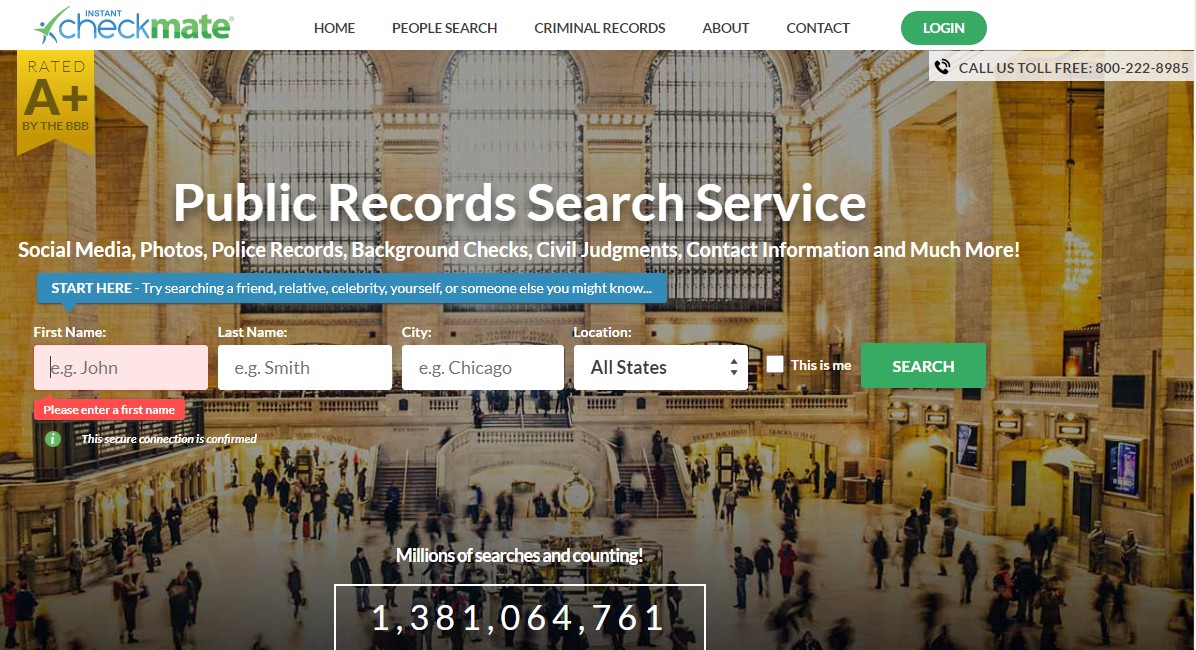 b. Type the phone number in the main search bar and hit the Search Now button.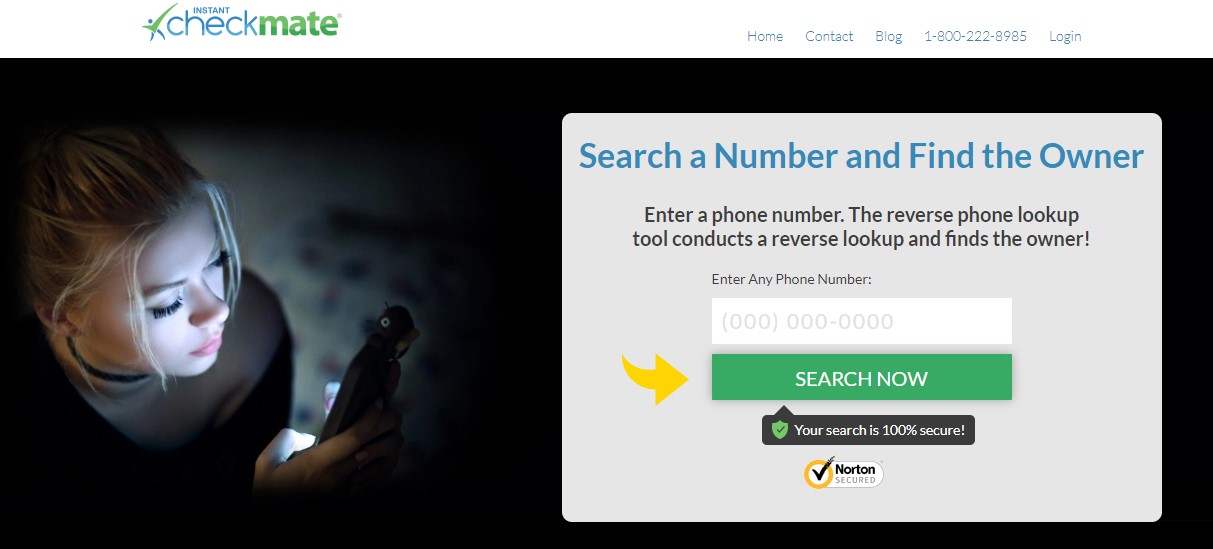 3. InfoTracer
InfoTracer allows you to perform and receive comprehensive reverse phone number lookup reports instantly on people you wish to know about. The service searches records and information from dozens of public sources, including criminal records, social networks, court documents and more.
One of the best aspects of InfoTracer is the details it includes in its reports. If you pay for the full report, you`ll receive a wide range of categories, providing all the vital information. If you pay for the premium plan, you get access to high-level, sensitive information which includes pilot licenses, detailed criminal records, weapon permits, corporate affiliation as well as property and tax liens. The service does a good job when it comes to offering detailed reports for criminal records or other personal information. The information is reliable as well. You get a good amount of details of most matters, including personal information like marital status, education, occupation and net worth.
When it comes to conducting searches, InfoTracer is also user-friendly. The menu system is simple and straightforward and you won't feel the need for a tutorial to use it. When you do a full profile search, the vast and detailed amount of information results in a long wall of text. The good news is that InfoTracer includes a side menu that allows you to jump to any requested part of the report. The menu is permanently pinned to your screen, helping you skip unwanted parts of the documentation.
For beginners, InfoTracer is a pay-to-use service. Although the site allows you to launch a custom search right from its front page, when you attempt to carry out one, you`ll be met with a payment request asking you to choose your package. You can either purchase a single report document for $19.95 or opt to subscribe to their service for $19.95 per year.
To use Infotracer's reverse phone lookup feature, follow the steps below.
a. Visit the Infotracer homepage.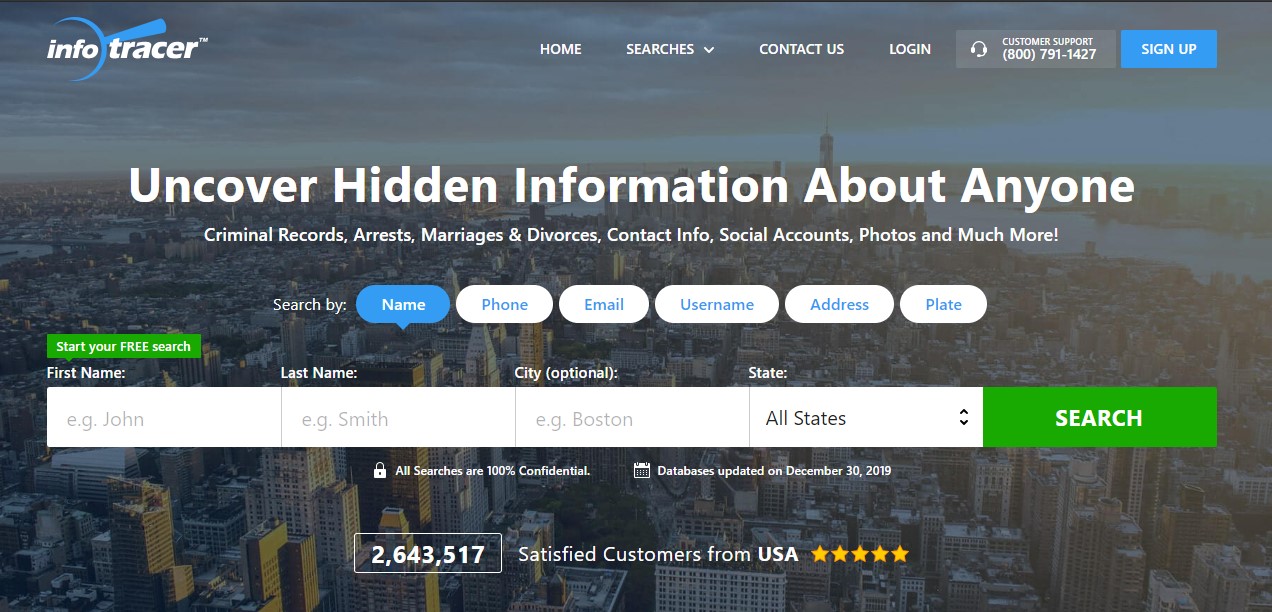 b. Provide the phone number of your target then hit the Search button. 

4. PeopleFinder
PeopleFinder claims to have one of the biggest public information databases and that they are the leader when it comes to background checking. When you use PeopleFinder for a reverse phone number lookup, you`ll be provided with information like the owner`s name and address among other pertinent information.
Its interface is one of the quickest and easiest to use and has standard features. In addition, to do a reverse phone number lookup, you can also turn up an address or other basic information by performing a people search report or gig up more comprehensive details using a background check report. If you need any information about someone or want to find information about a phone number that has been calling you, PeopleFinder can help you out.
A good background check provides you with information like email accounts, addresses, phone numbers, relatives as well as legal data, such as marriages, criminal judgments, assets owned and court records. One of its drawbacks, however, is that is doesn't include information about a subject`s work history or social media in its reports. Also, its reports aren't as well organized as you would expect. For example, information isn't presented in chronological order.
To use PeopleFinder's reverse phone lookup feature, follow the steps below.
a. Visit the PeopleFinder homepage.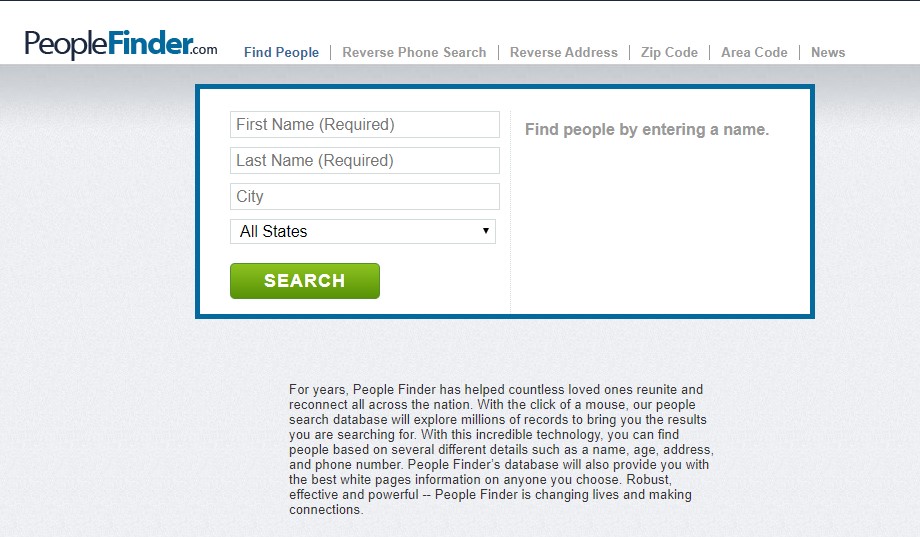 b. Provide the phone number of your target then hit the Search button. 

What are the Best Online Strategies to Do a Reverse Phone Number Lookup?
1. Google the Telephone Number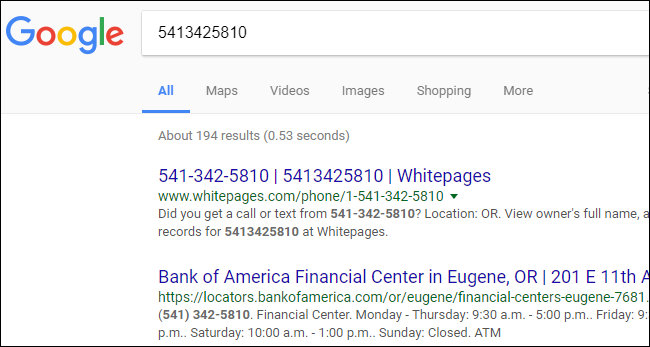 If you can`t find who a certain phone number belongs to using a reverse phone number search, try searching the number on a major search engine like Google, Bing or Yahoo. If the person or business has listed the phone number on a social media profile or website, it's possible to find their name and other information related to them.
2. Use Facebook

Many people don't know this but Facebook is a great platform to perform a reverse phone number lookup. Search engines might not be of much help when it comes to finding a phone number associated with an individual, but Facebook often will. You won't even need to be Facebook friends with your target. This is because Facebook has a feature that allows people to be looked up by their phone numbers.
Conclusion
Nothing is more annoying that a continuous ringing phone from unknown callers. That`s why these reverse call lookup sites, apps and strategies are there to help you out. They aim to help you uncover people behind unfamiliar phone numbers.
Over the years, search capabilities and information have advanced and now you can find more than just a person's name and address just by looking up their phone numbers. You can get their full contact information, including social media profiles, full address history and you can also receive background reports that include your subject's criminal records. Since there are numerous options when you`re looking for a reverse phone number lookup service, we`ve compiled above the best options you can choose. They all guarantee to provide you with the best reverse phone lookup service.
FAQs
What kind of information will I get from reverse phone number lookup service providers?
Different reverse lookup services offer different types or amount of information. The most common information they provide include name, address and type of phone.
Does it cost money to do a reverse phone number lookup?
Some reverse phone number lookup services charge money depending on the amount or type of information you need. The more detailed information you want, the more expensive it will be.
Will my reverse phone number search lookup confidential?
Yes. The service providers mentioned above claim that they keep searches completely confidential. They don't share your information with third parties.
What can't I do with the information I get?
You may not use it for unlawful purposes such as harassing or stalking any individual, employment screening and license eligibility among others.
Is it legal to do reverse phone number lookup?
Yes. It is legal to perform and access information using a reverse phone number lookup.