Knowing who to trust and who to let your guard around is difficult, well that is if you don't have Instant Checkmate to guide you through the vetting process.
Online platforms like Instant Checkmate swoop in to save the day. When you are about to meet that charming blind date, when you are about to leave your loved ones home alone but need to know they are safe, when you need to get in touch with an estranged friend, or family member, Instant Checkmate has got your back.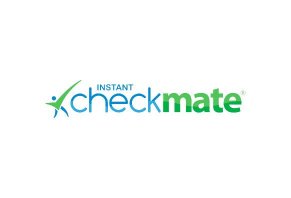 Now, since you are reading this, it's safe to assume that you are aware of the existence of several background check companies. And though you are glad you have options, you are not stocked about not knowing who to use. This confusion is okay and happens to everyone who just discovered the industry.
You see, some background check companies are great, and others are well below average. It's only through reviews that you learn where to put your money and which companies to avoid like a plague. In this piece, we have put together a comprehensive review of Instant Checkmate. We go through the pros and cons, features, pricing, and what others are saying about it.
Table of Content
What Is Instant Checkmate?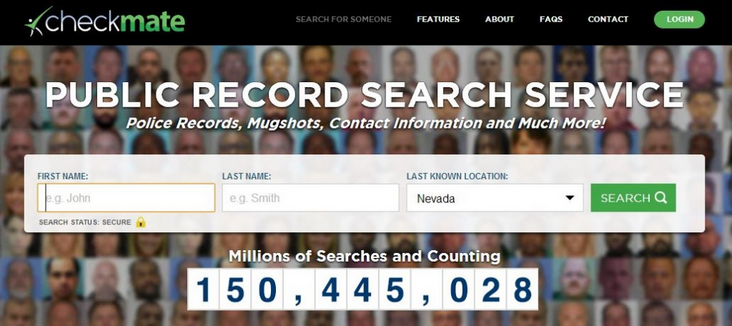 By this point, you know we are talking about a background check service. So yes, Instant Checkmate is a background check company that provides comprehensive reports of data sourced from public records. They promise to provide information on anyone that has or had a life in the US. It was launched in 2010, and the founders wanted to aid people in getting more information about people they were to meet online. But the idea evolved into what it is today – a powerful search engine.
The site aggregates public records, including arrest records, census data, addresses, social media account information, and more. Provided the data is public, Instant Checkmate will get it and add it to a report. However, there is a cost for this service (more on this later).
Now, we must mention one fact – Instant Checkmate doesn't provide true background reports, well not in the conventional sense anyway. This means that there are some missing information and situations where you cannot use the report they present to you. Instead, what the company does is that it pulls data from public databases. And you pay for the convenience of having the information in one place and processed in a manner that's easy for you to understand and find your person of interest.
The convenience and presentation offered are everything. They are the reason you cannot use Google to conduct a background check on anyone – even though the two platforms use similar search algorithms.
What are the pros and cons of using Instant Checkmate
Most background check companies have access to similar data in public records as well as social media. As such, the accuracy and quantity of the information you get don't differ with much. But the differences come in the interface, bonus features, and pricing.
Pros:
User interface – Instant Checkmate has done an exemplary job in creating their site. It has an excellent interface. It's easy to navigate, easy on the eyes, and above all, reliable. As a user, you'll know exactly where to go, what to click at every step of the search process. For people who are fond of meeting dates on dating websites and apps, the platform makes it easy to vet someone. Before you meet your date in real life, you'll know their full names and whether they have a criminal record or not.
Accurate information – though the Consumer Reporting Agency doesn't accredit Instant Checkmate, it is a legal platform, and it offers accurate information depending on the database it pulls the information from. And speaking of CRA accreditation, note that no background check company has the accreditation. You should, therefore, not take this as a con.
Gets information from social media accounts – social media is a world on its own. Some people are known to lead completely different lives on these platforms. With Instant Checkmate, you can verify the details of an individual across these platforms using information from public records as well.
Detailed sexual offender reports
Reports are clear and concise
Cons:
All information offered is available for free on other free platforms
The reports can be inaccurate at times (but this depends on the public records)
Some customers have trouble canceling the account
You cannot take legal action using the information
It's not transparent with its prices
What Can Instant Checkmate Offer?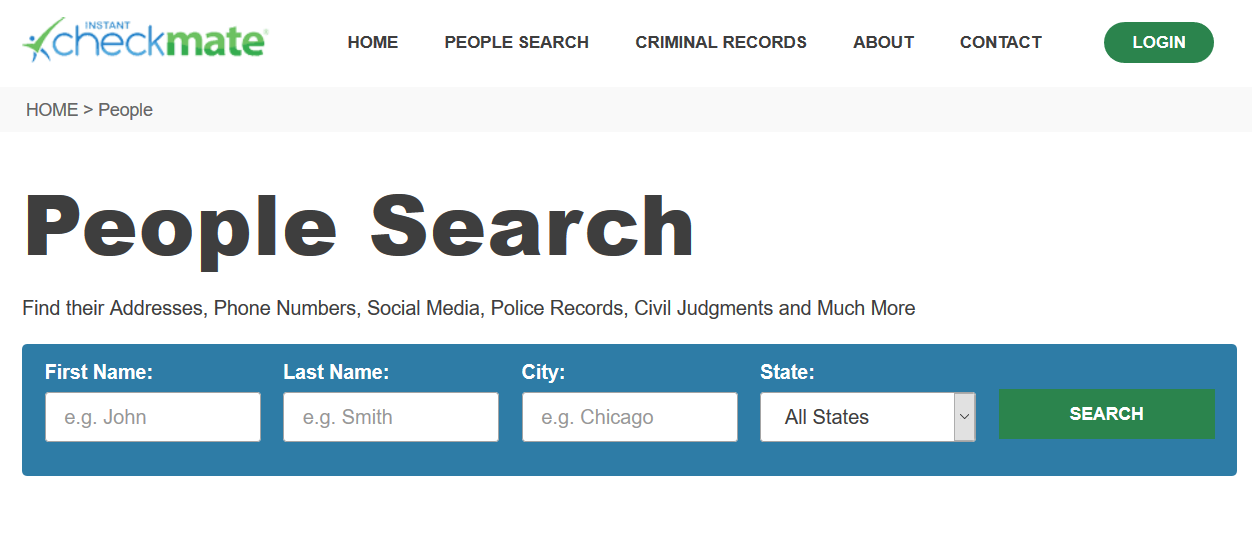 Background report
With this feature, you can search your persons of interest-based on the gender, name, and location. This search offers contact information, date of birth, location history, possible relatives, DEA licenses, and criminal records.
Reverse phone lookup
Spam companies are on the rise and can be annoying. You can search for a 10-digit number to learn more about the owner. The report contains phone information, the full name of the individual, gender, age, job history, social media profiles, and location history.
Reverse Email report
Email addresses are like identification on the internet. You cannot do anything without an email address. This means that there's a lot of information linked to emails. Instant Checkmate provides employment history, location history, online aliases, full name, social media profiles, and some possible connections online.
Mobile apps
Mobile apps are the in-thing. They offer great convenience in addition to the convenience already offered by the desktop platform. You can search for information online for free (only basic background check).
Criminal records
When you commit an offense, the records of the offense and the trial are part of a public record. Different states keep a database of their criminal records. As an individual living in one state, collecting data of another person in a different state can be a problem.
Luckily, Instant Checkmate makes it easier to collect criminal records regardless of the state. However, you do need to know which state the person of interest is from.
How much does Instant checkmate cost?
Instant Checkmate has monthly and one-time reports. However, the monthly option is more expensive in comparison to other background check companies. Most users are therefore interested in the standard report membership, which allows them to search by location or by name.
There are four pricing plans available. These include:
A 5-day trial – this costs $1, and you get a background check and reverse email lookup
A monthly report membership – it costs $34.78 a month. With this plan, you get a basic background check and reverse email lookup, as well as a few other pros.
A quarterly report membership – it costs $27.83 a month, and you get a basic background check and reverse email lookup.
Phone lookup membership – it costs $4.99 a month.
For the report memberships, you can use your PayPal account or credit card to make payments. Instant Checkmate will bill you at the end of every period (either monthly or quarterly depending on the plan you pick). This also means that if you sign up for the three-month plan, you will pay $83.47 at the end of the three months as a renewal.
When you are new, you can bet the $1 five day trial offer. This offer is a great way to test the waters and see if you like the platform without making a huge financial commitment. However, if you forget to cancel the membership in time, after the five days, you'll be enrolled in the one-month membership.
After going through the paywall and research a report, you can choose to upgrade to the premium option. However, Instant Checkmate doesn't have a way of showing you whether the premium reports have anything different from the basic background check report. It's only after spending the cash that you'll know. The premium reports cost $19.99 (this is only for viewing the report). If you want to have a PDF version of the report, you can purchase it for an extra $2.99. Yes, the PDF is a cleaner way of having reference, but theirs is always the option of taking a screenshot of the premium report.
If you are getting a lot of prank calls, or you want to find someone using their phone number, you can opt for the reverse phone lookup. This package is different from the other report plans, as aforementioned.
What do Instant Checkmate customers say about the service?
There are lots of customer reviews on Instant Checkmate. And though they vary below are the main points users have highlighted.
Inaccurate information – many users are not satisfied with the information. Some search results are incomplete, and others are inaccurate. The inaccuracies are mainly with the real estate history, the current address, and occupation. But in defense of the company, there's very little they can do since the accuracies depend on the accuracy of the public records. So most times, the inaccuracies on the report show the errors in the public records.
Excellent source of information – many loved the platform. They love that it is easy to use and provide information that is relevant to what they are looking for. Some have testified that the search results helped them track old friends and family. They love that the service saves them money and time.
Better information in comparison to competitors – those who have been on multiple platforms say that the information on Instant Checkmate is more accurate and relevant than other background searches.
Canceling charges – some users complain that after canceling the service and extra billing, the company does not reimburse the money.
How good is Instant checkmate customer support?
Customer support is also one of the pros of the company. It has friendly customer support that can be reached in two ways. These are:
They are available both on weekdays and weekends. They are available between 5 am and 10 pm EST.
Moreover, the platform has an FAQ section that covers general problems. It's not super comprehensive, but it does get the job done.
Conclusion
We can recommend Instant Checkmate to individuals to conduct a basic people search. The company is reliable, like other background services, and makes finding people information on people easier. To stand out, Instant Checkmate has excellent features. These include:
A five-day trial for only $1.
An email lookup, and phone number feature that is perfect for Craigslist transactions and online dating
It's also ideal for individuals looking to reconnect with family. You can try it for a dollar and see how you like it.
FAQs
How do I remove my information from Instant Checkmate?
The process is simple. You enter your details, including your name, city, and state, and search. You then select the most relevant record and click 'remove record.' Afterward, enter your email address, tick the reCAPTCHA box and you are done.
Is it easy to cancel an account?
You can cancel by phone, by email or online. The process is simple though it involves getting in touch with customer support staff.
Is Instant Checkmate Legal?
Yes, the platform is legal, but it's not a consumer reporting agency. You, therefore, cannot use this information to make decisions about employees, consumer credit, tenant screening insurance, or any other reasons that do not comply with the FCRA.
Who can I search for using Instant Checkmate?
You can search for anyone, including family members, friends, neighbors, online buyers, sex offenders, and sellers.
Is it free?
No Instant Checkmate doesn't have a free account. However, it has a five-day trial period for $1. This is a huge bargain for the value you get. It also has monthly subscriptions. Also, very few if any company offers free service.
Is the service a recurrent subscription?
Yes, the background check service is charged every month. However, you can cancel any time you please.
Does Instant Checkmate notify the person you are searching for?
If Instant Checkmate notified the individual you are searching for your activities, it would beat the point of doing it. Luckily, everything you do is anonymous – the individuals are not notified.