Did you know SeekVerify can help you do background checks? But, you may ask, "Why need such a tool in the first place?"
Look, there are times in life you meet people, and you aren't sure whether to open up your life to them or not. Why would you give them space in your life, you hardly know them? That aside, you could spend eternity with a person, yet they still keep a crucial part of their lives a secret from you. But with the best background check tool, you can look into them, get the information you need and uncover what they won't tell you. And you can do that in just a few minutes!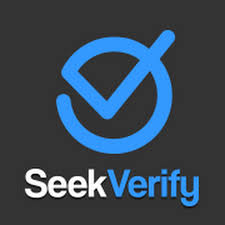 Now that you understand this, we don't need to explain why there are several background checks and spying companies. But in the era of fake news, you want to be careful about what you trust. Some of these service providers are nothing close to what they claim to offer. Don't want to fall victim to scams; get a legit background check software that will deliver on what it promises.
But is SeekVerify legit or a scam? We won't answer that question straight away. But we will walk you through what we found out when we did a background check on the master detective. We couldn't trust it to do the leg work for us until we vetted it. So, we've compiled this comprehensive review based on what it claims to offer and what we've found out. Read on.
Table of Content
What is SeekVerify?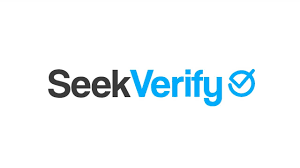 SeekVerify is a spy website that finds and furnishes you with private information about anyone you wish to know. All you have to input is their name and some distinct details like phone number, address, and email address.  The tool scrutinizes billions of data from the public records to unearth the untold secrets.
Based in New York, SeekVerify is an active trademark of Platinum Data Verify LLC of registration number 5262272, registered on Aug 8th, 2017. Its terms and conditions disclose Eric T. Fingerhut and Sharon A Meier as their active employees serving as attorneys.
What are the pros and cons of using SeekVerify?
Pros:
Resourceful – SeekVerify gives you firsthand information about the person you intend to meet, or you just met to help you make a judgment call on their character and avoid keeping wrong company.
Quickly downloadable reports – It runs billions of searches on records to generate the easily downloadable auto-generated reports.
User privacy – It carries out the searches remotely without compromising your identity, as your privacy is a top priority.
24/7 customer support – The website provides you with a 24/7 support, and the company staffs are available on various forums, including BBB, to answer to any rising concerns.
Cons:
Expensive – SeekVerify has various package offers. Regrettably, you must unlock a premium report that comes at a prohibitive cost, but which it claims is a result of complicated costs of cracking and retrieving such data from an extensive network of data sources.
Confusing subscription packages – It maintains a low-level package, which is potentially useless, as you must pay for the premium unit to get the information that matters. The trial and the discounts all amount to nothing as eventually you will be billed.
Lack of transparency –SeekVerify shrouds its operations with a lot of clandestineness, including the pricing and how it works. We wish they could make everything forthright. It is not upfront with the legal restrictions of background checks. Instead, it has hidden it deep inside its terms and conditions – which we both know most of us don't read – undoubtedly, their prayer is that you don't find it all.
Lots of red flags – There are so many grey areas about SeekVerify, from credible identifiable information about its corporate entity to its operations. Also, its domain is plagued with trouble, from litigations by its rival BeenVerified to negative consumer reviews.
What Can SeekVerify Offer?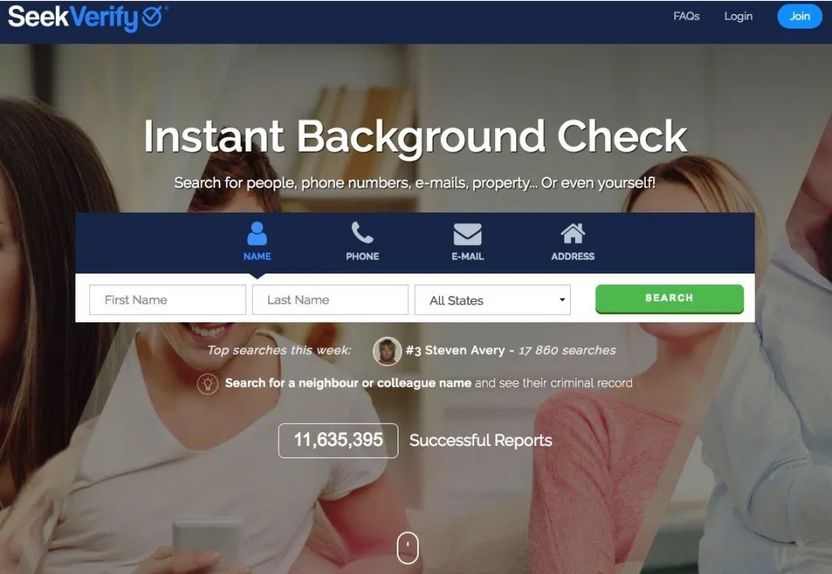 Once you input the necessary information, i.e., name, phone number, and address of the subject, the website runs billions of searches, retrieves and displays the information in a report in just a couple of minutes.
SeekVerify is not far much different from BeenVerified. Perhaps this explains the dispute between the two providers. The tool searches databases and matches names, phone number and email address you input to display pictures of individuals. It then becomes much comfortable for you to pick the person and uncover more detailed information about the subject.
Content of SeekVerify Report
Name – Just like a search report, the SeekVerify background report gives the name and aliases of an individual.
Email Address and social media accounts – the search compares the name, email address, and phone number to unearth all the other addresses related to the person.
Address – Of course, where a person currently lives and where he once lived, forms an integral part of his history and is part of this report.
Contacts – You may only have one phone number of the person you want to do a background search on, but the search will give all their other phone numbers unknown to you.
Weapon permits – Does he or she own a gun? If yes, what type? All that is available in gun-license, which the report will uncover for you.
Criminal Records – SeekVerify digs in the criminal records and reports all the offenses committed by the individual, including sexual offender records.
Financial information – You don't want to enter into a commercial deal or start a life with a person who lies to you about their financial wellbeing. Through SeekVerify, you know whether the said person is bankrupt or not.
Professional Licenses – What professional licenses do they hold? You'll mainly find this feature useful if you are offering someone a job or hosting a friend who wishes to start a life in a new state.
Sex offenders in the area – This function is useful if you are moving into a new neighborhood. You would want to know who your neighbors are and if your kids will be safe when you are at work.
Controlled substances permit – Many people hold controlled substance permits. If you are going to give someone a chance in your life as a partner or employee, you need to know this, but most of them will not reveal it. But SeekVerify can check it out for you.
All these functions and more are available, but some are only accessible in the premium packages. But at what expense?
How Much Does SeekVerify Cost?
As for memberships, there are two plans you can subscribe to – the PeopleFinders Memberships and the PeopleFinders Premium Membership.
SeekVerify has no transparent pricing system, and this has landed it lots of bad reviews online. However, we tried to make sense of the system.
For starters, you have a 24-hours trial period to access its database for $1, after which they charge you a monthly subscription fee of $39.95, and an extra $19.95 for premium reports.
We couldn't quite well understand its membership arrangement, but from all looks, it has a regular package and a premium one. SeekVerify is not upfront about it, though.
SeekVerify Regular Membership
The regular package goes for $39.95 per month. But this subscription searches offer you nothing more than Addresses, Phone numbers, Date of birth, Age and maybe Contact details.
But for five cents shy of 40 dollars, you would expect more than just a simple search report, which provides pretty much what Google offers for free. So, it is costly compared to many first-class online background search providers.
SeekVerify Premium Membership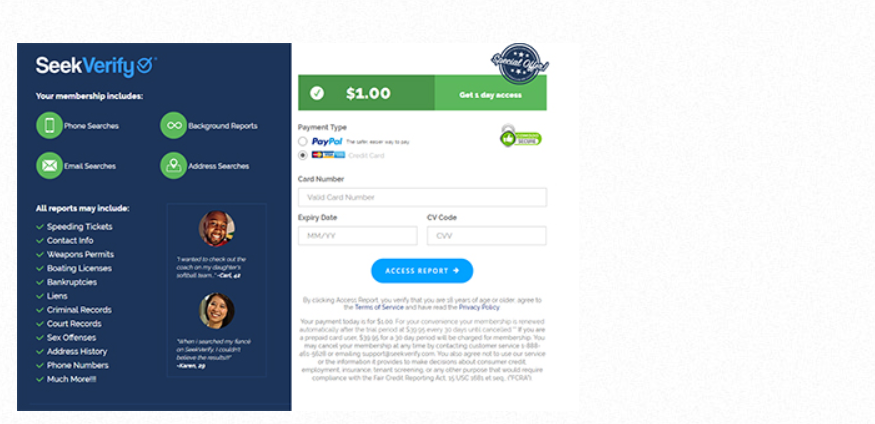 We had to pay $19.95 on top of the $39.95 to get a background report. Besides this trouble, it offers no discounts at all, not even if you choose to subscribe for multiple months.
Anyway, after spending $59.90, we were able to get a comprehensive background report with so many fields. They include:
Basic info, including name, alias, and contacts
Federal/State Criminal
Education & Employment Verification
Bankruptcy
Sex Offender Registry
Social Media
Past Addresses
Other Records
Be careful when handling the SeekVerify subscription. It is better to go for a premium package straight away than being taken into rounds. Even the much-hyped trial period of $1 for a day is not worth it, because in the end, you pay $39.95 for a simple search report.
Also, there are hidden charges. For example, they charge you for generating the reports. You want to pay attention to the terms and conditions before you commit yourself because it is easy to signup without being adequately informed.
A search report is useless; you want to go for the background report instead. The latter contains merely the elementary information like information the person's phone number, their current and previous home address, and their aliases if any. But in most cases, these are data you already have.
The background report is detailed. But it is only accessible to premium subscribers. So, by all standards, don't waste time on its trial or regular package. For value, albeit the high cost, settle for the premium account.
What do SeekVerify Customers Say about the Service?
Most customers who went straight away for the premium service seem to be content. But those who, like us, were taken in circles, are angry. Imagine starting with the trial, then you realize it doesn't help, so you go for the regular package. But after searching, you can't access the thorough report unless you pay the extra $19.95. What would you expect from such a frustrated customer?
But it is even worse for those who refused to subscribe to the premium service.
"So, I paid $39.95 for a simple Facebook profile?" ponders one of the customers at Better Business Bureau (BBB) – a nonprofit platform that helps North Americans find trustworthy businesses, brands and charities.
Also, a few customers lament about accuracy. Not all data that SeekVerify provides is accurate. Nonetheless, this is a problem across the industry. These spying companies heavily rely on public records, which sometimes are not valid. For example, if you were once falsely accused, the files remain public and a dark past in your history. Such records will find their way in this report.
The Quality of SeekView Customer Service
Even in the eye of the storm, SeekView support staff keeps a cool head. If you go through the reviews made at BBB, you'll notice that the team has responded to every concern raised by the customers.
Their contact details are as follows:
The support team is available (24/7).
Conclusion
Life doesn't come with a user manual, but one can always design their own. Fair enough, one's history is the manual you need to interact with them. SeekVerify can help you do a reverse engineer. Take notes, and conveniently come with the dos and don'ts on how to interact with them. This model has worked in Science, and it can work for us too, albeit our complicated social lives.
Be warned though, some of the findings might hit you hard. If you choose to dig filth on others, SeekVerify will find it and have the stomach for it, especially if they are people you hold with high regard. They may fall extremely short of your expectation when you discover their darkest secrets. Some shocking revelations people find includes a secret family, bankruptcy, criminal record, or even a different sexual orientation. But as always, it is better to be late than sorry, right? The tool can help you keep the wrong people away from your family.
FAQs
Is SeekVerify legit or a scam?
It's legit. It offers robust online background checks but it is much expensive than its peers. It has access to billions of public records, including sexual offenders files. Plus, it updates its systems every 24 hours such that it is pretty difficult to miss a file. However, it has a complex membership system that has left many customers bamboozled after they realize that they have to pay extra for in-depth background records. Also, it $1 trial plan, which runs for 24 hours, has rubbed so many people the wrong way as they forget to cancel and end up paying the regular monthly subscription fee.
What criminal records show up on SeekVerify background check?
SeekVerify criminal record check reveals felony, misdemeanor, sexual offenses, and any pending criminal cases. It also includes a history of incarceration, if any!
When can I cancel the SeekVerify Trial Period?
The trial period lasts only for 24 hours, and, therefore, you should cancel it as soon as you have done your search. If you fail to do so, the website will deduct a $39.95 monthly subscription fee.
Am I violating a person's right to privacy by doing a background check on them?
Background checks invade other people's privacy, and that's why in the case of employment, there are things an employer must seek your consent. But again, you are entitled to information, especially the person you are running checks on, will be part of your life, or even become part of your children's life. SeekVerify, like other internet background checks companies, hardly mentions the law that guides their checks. However, it states the legal constraints in the terms and conditions, which they know most customers don't bother to read.
Is SeekVerify Available as an App?
Sorry, but the website has no app, but this is something we take they are seriously considering.